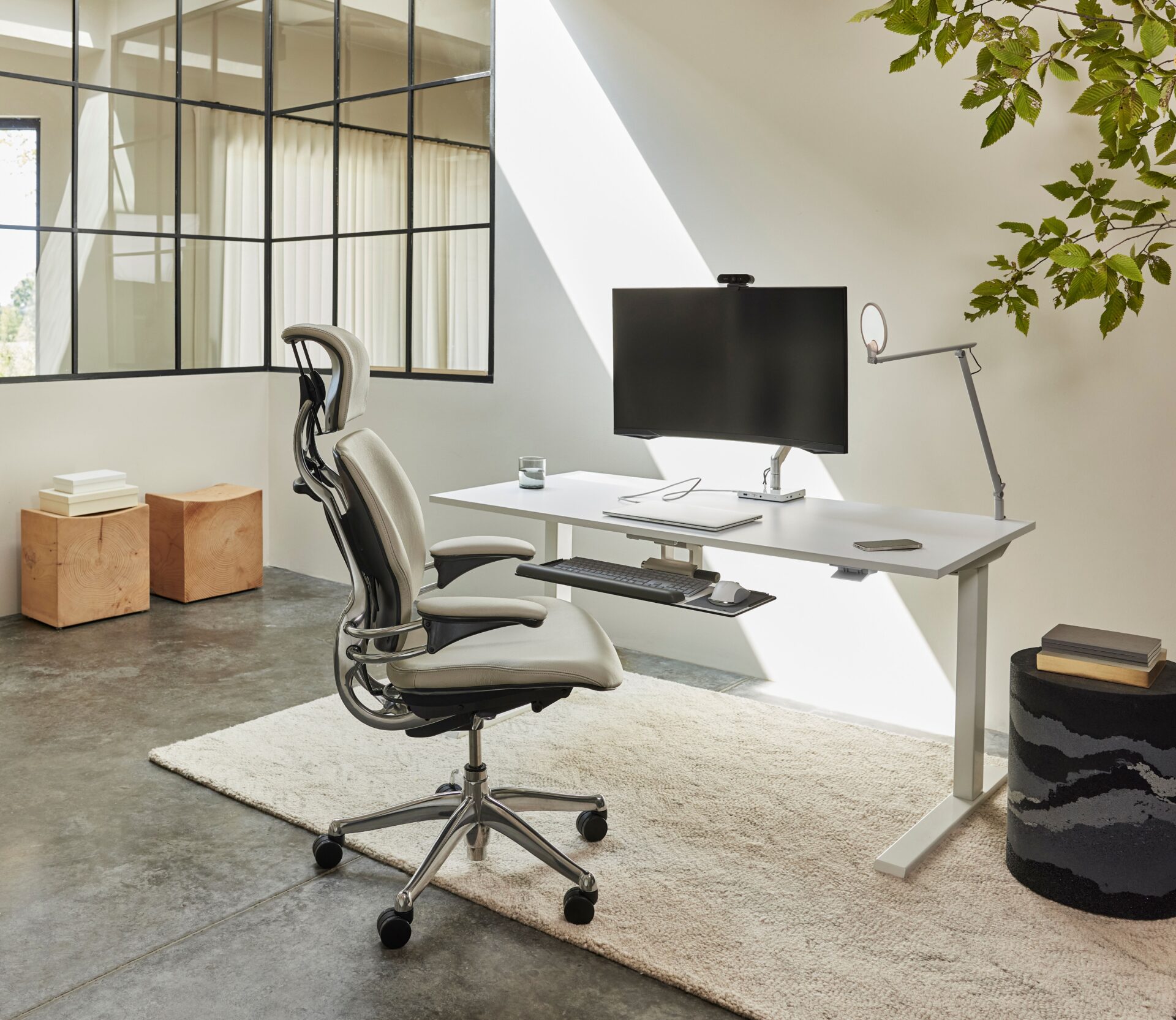 At Humanscale, "Less Bad Isn't Good Enough" For A Sustainable Future
Written By
February 20, 2023
New York-based Humanscale aims to lead the next wave in design, sourcing, manufacturing, and product lifecycle, even as its furniture supports a healthy, more intuitive, more active way for people to work.
Humanscale, a global leader in workplace ergonomics, guides all its operations by four pillars: Function, Simplicity, Longevity, and something it calls "Beyond Sustainability." Those ethics have been behind all its innovations in high-performance, robust, and adaptable office furniture. Since its founding in 1983 when it daringly proclaimed that desks and chairs and lighting ought to adapt to us, rather than the other way around.
The four pillars were behind the company's status as a true market leader with the introduction of its flagship Freedom chair in 1999, created by renowned ergonomics designer Niels Diffrient. Behind its first global recognition as a workplace ergonomics innovator in the '90s with the advent of revolutionary articulating keyboard systems that today we take completely for granted.
The pillars are behind the reason Humanscale's products find themselves featured on the sets of TV shows and movies including The Newsroom, New Girl, 24, The Bourne Ultimatum, Mission: Impossible III, & Mr. & Mrs. Smith.
And they're behind the philosophy and decisions of Jane Abernethy, its Chief Sustainability Officer, too.
Scaling up collective talent
Abernethy got her start as a senior industrial designer with the company, having spent more than a decade before working on and leading design teams through the development of new products — from sporting goods to medical devices, and eventually, to furniture.
Humanscale doesn't just make any furniture, though. Only those items, such as task chairs and adjustable desks and tables, that exert a profound effect on both our daily lives and our long-term wellbeing, happiness, and balance. And when they make them, they make them without damaging the planet.
"When I started my role leading sustainability within the company," says Abernethy, "I was coming from an industrial design background. I had spent years thinking about how we affect the world when we mass produce. So, those years of percolating and thinking and researching, it luckily landed on fertile ground."
"And when I was suggesting things we could do and changes we could make," she says, "They were open to that. I wasn't receiving answers like, 'Well, we've never done that before,' or, 'We don't do that here.' The idea of trying something new and looking at things in a new way was quite accepted and quite normal, not just from the founder, but throughout the whole company."
Under Abernethy's leadership, Humanscale has achieved too many awards to recount here. For example, it's been recognized as the first manufacturer to achieve the complete Living Product Challenge, the world's most advanced product sustainability standard. The LPC framework encourages manufacturers to create products that are healthy, inspiring, and offer more than they take across their life cycles.
That latter criterion fulfills Humanscale's fourth pillar, to go beyond reducing its negative impacts by making positive, regenerative ones.
Today, Abernethy speaks and has been recognized internationally, including winning the prestigious international Red Dot Design award & the Green Building & Design Women in Sustainability Leadership Award.
Global scale for global problem-solving
With more than a thousand employees, showrooms in 50 countries, and a presence far beyond, Humanscale is a major player in its space that always had the potential to become an industry leader in regeneration, says Abernethy. "When we manage our materials carefully enough that none are considered 'waste,'" for example, "we're no longer operating in the linear economy of take-make-waste," she has said. "And we can begin to make the circular economy a reality."
Serendipitously, Humanscale has always had a strong "focus on innovation, really looking at what people are doing in the workplace," says Abernethy. "We find innovative solutions. Not to move the needle slightly, but really rethink how people are doing things. And that innovation toward many more solutions and much more good, is a core part of the company," she says.
So, Abernethy employs the same four Humanscale pillars to her sustainability innovations as she did as an industrial designer. "We're going to look for something that is solving a real problem. From a sustainability point of view, when you have a product that doesn't work and doesn't actually solve a problem, it is immediately discarded, so all the resources that went into making it are a waste," she says. "You don't want your sustainability initiatives to become expensive distractions like that."
Next, she doesn't overcomplicate things. "Simplicity means using the least amount of 'material' possible. And then longevity, both in engineering, the product to last for a long time." This means engineering and warranting products for longer than industry standard, "but also designing them in a way where they're timeless in their aesthetic."
"The idea is that when you solve a functional problem as simply as possible, then the outcome can be timeless, because it's really based on that solution, not necessarily a trend or a fad."
So, the same applies to pushing sustainability into the future. The problems are many and manifold: Plastics. CO2. Biodiversity loss. Local community degradation. The solutions aren't easy, but they are simple, according to Humanscale. "To give back, replenish, and continue making a positive environmental and social impact on the world."
For some examples of the above, we need to look no further than Humanscale's activities during the pandemic. It rapidly developed and rolled out tools that support social distancing yet still met Humanscale's requirements to use healthy, fully recyclable materials.
It achieved its goal of removing 100 percent of toxic PFAs from its entire product line.
Its factories have diverted 90+ percent of waste from landfills, and all its factories installed rainwater capture systems that supply 100 percent of production water. It continues to focus on waste, water, and biodiversity, even starting to launch comprehensive plans, pilots, and systems to use its various grounds to support local biodiversity.
In this proactive way, not only does Humanscale exert a net positive impact — it helps reverse the harm done by others now and in the past. The company calls that goal "making more handprints than footprints."
The Next Wave
Under Abernethy, Humanscale is a founding member of the NextWave Plastics, a global collaboration of organizations and businesses aiming to keep ocean-bound plastic in the economy — and out of the ocean — through strategic initiatives within individual corporations and through the force multiplier of the consortium.
In tandem with these global initiatives, the company offers individual sites opportunities to support their local communities, charities, and concerns everywhere it operates. Animal shelters. Autism awareness. Solar projects. Food banks. Artists' communities.
Why? "For us," says the company, "becoming Net Positive means incorporating manufacturing into our environmental and social solutions. It means taking a close look at what we make and how we make it. It means considering each and every resource required to manufacture our products. And it means finding ways to go beyond reducing our consumption — to give back, replenish, and continue making a positive environmental and social impact on the world."
"Less Bad Isn't Good Enough," founder and CEO Bob King famously says. Abernethy agrees. We as industry leaders must go "beyond neutral. We actually need to start cleaning up, regenerating, and rejuvenating. We need to leave the world better off because we're here."