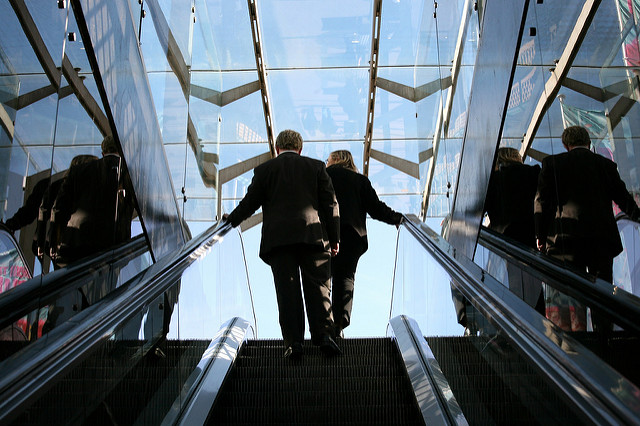 How to Avoid Gender Bias in the Workplace
Women have come closer to achieving equality in the workplace since Madam C.J. Walker – America's first female self-made millionaire – launched a hair company in the early 1900's that transformed the nation's cosmetics industry. However, gender bias and sex-based discrimination are unfortunately still pertinent issues in global corporate culture.
In fact, only 4 percent of fortune 500 companies are lead by female CEOs and, on average, women in America earn 21 percent less than men doing the same job.  More unsettling, studies show that a quarter of women have experienced sexual harassment on the job and 45 percent of women say they've been subject to gender discrimination. These disturbing numbers indicate how the scales are still drastically tipped towards male-dominated hierarchies.
Despite the unfair challenges women face at work, companies that support women to hold high-level leadership roles tend to be more innovative and more profitable. What's more, those companies are able to attract and retain top talent, better understand a wider array of consumer perspectives and contribute to building a more socially just society.
Here are 5 ways to avoid gender bias at work:
1) Ensure Equal Pay and Promotions: It sounds like a no brainer but in order to avoid gender bias you must offer female employees equal salaries and advancement opportunities. While hiring women is important, brands need to go beyond talent acquisition and make sure that top performing employees, regardless of their gender, can climb the ranks of the corporate ladder.
Equal pay and opportunity isn't just a "nice thing to do," it's the law. In fact, Signet Jewelers – which owns Zales, Jared's Galleria and Kay Jewelers – faced a massive class action arbitration case brought on by 69,000 employees who claim the company doesn't offer women fair pay or opportunities to progress and male managers subject women to sexual harassment. As a result, the company has received unwanted media attention and its stock price dropped 12 percent.  The lesson here is simple; establish gender-blind performance benchmarks to determine pay and promotion structures and reprimand employees who disrespect women.
2) Create Gender Neutral Working Environments: Although corporate culture is becoming more flexible, people who work a traditional 40-hour week spend roughly a third of their waking hours in the office.  It's important that employees feel comfortable in the physical spaces where they work and that goes beyond having a cushy chair or a nice desk.  Gender bias can be as subtle as decorations on the walls or background music in the halls.
Abby Maldonado, Diversity Programs Specialist at Pinterest, recently pointed out how physical space influences corporate inclusivity – that is, the feeling of belonging. In other words, displaying pictures of Sports Illustrated swimsuit models and keeping the fridge stocked with Monster energy drinks isn't as welcoming to both men and women as a well space featuring nature photos and a tea and coffee station.  An excellent way to foster an inclusive working environment is to ask female and male employees what makes them physically comfortable on the job.
3) Respectfully Portray Women in Advertising: While fostering internal gender equality is a key element of a cohesive corporate culture, external communications are critical to any brand's image and ethos. Therefore, it's vital to depict women in a respectful fashion during marketing and advertising campaigns.
While women have often been over sexualized in advertising, there is a growing movement to portray females authentically rather than as objects of desire.  Of note, Yves Saint Laurent recently experienced public backlash in response to a billboard campaign depicting women in scantily clad outfits in sexual positions and the city of Paris actually banned sexist stereotypes in outdoor advertising. Essentially, it's important for your brand image to tell human stories in marketing initiatives about women as they really are rather than male-driven fantasies.
4) Include Women in Corporate Governance: Corporate decision frameworks are often decided in the boardroom and board members have significant influence on how those policies turn out. Thus, it's imperative to have women involved in corporate governance decision-making, which will not only improve public image but also provide a more holistic view of consumer needs, improve employee and customer satisfaction, strengthen shareholder assurance and increase profit margins.
Studies increasingly show the benefits of diverse leadership teams, both individual and institutional investors are demanding women in the boardroom. In fact, State Street Global Advisors, an index-fund with nearly $2.5 trillion in managed assets, is pressuring the companies it invests in to put women in key advisory positions. The key takeaway here is that while gender diversity is important for ethical reasons, it's also about beating the competition – and some of the biggest asset managers in the world know it.
5) Practice what you preach: Stated company frameworks are a great way to set standards for equality in the office; however, you must ensure internal corporate culture matches publically posted practices.
Not walking your talk can hurt your public image and internal community as well as put your brand at legal risk. THINX, a feminine undergarment company focused on menstruation-friendly products, is facing a lawsuit from employees who allege that the CEO – a woman who prided herself on breaking male enforced stereotypes, supporting equal opportunity and female empowerment – sexually harassed females and underpaid staff.  Ultimately, equality is more than a corporate policy, it must be practiced and refined every day. An excellent way to avoid employee backlash – and potential lawsuits – is to address issues as they arise and bring in an external unbiased mediator to facilitate heart to heart problem solving.
It goes without saying that women and men deserve equal treatment in the workplace; however, many companies harbor gender bias without even knowing it. All companies will do well to create a safe space for employees to bring up gender bias, by having a structure in place for highlighting and addressing these concerns and bringing on an external consultant or having dedicated personnel can help.  Gender equality goes beyond moral imperative; it improves internal productivity, external image, and innovation as well as profitability. To make both men and women – as well as people from all denominations, races, cultures and genders – feel included, brands must not only ensure equal employment opportunities and pay, but also assure diversity in leadership roles as well as external communications.
Connect with We First!
Twitter: @WeFirstBranding
Facebook: WeFirst
LinkedIn: WeFirst
Youtube: WeFirstTV
Join our mailing list and invite Simon to speak at your next event or meeting.
Title image via Flickr courtesy of user Alex Proimos at https://flic.kr/p/7awEUJ.