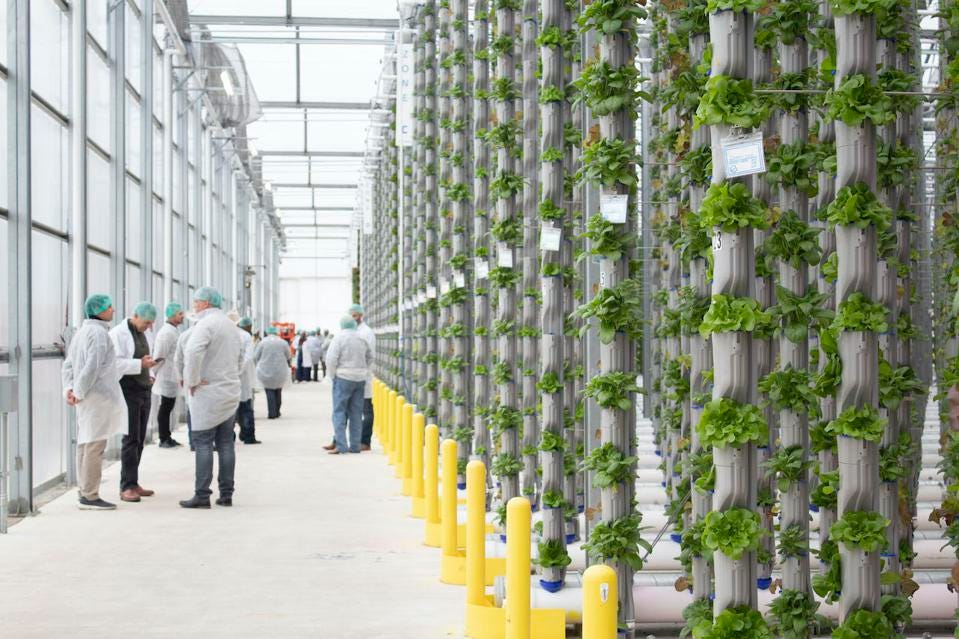 Eden Green's Planting Seeds & Sowing A More Efficient, Nutritious, & Safe Food Supply
Written By
February 2, 2023
Outside of Dallas-Fort Worth, a privately-held next-generation indoor agriculture company is changing the way we farm our produce and feed our communities.
Texas may be big, but Eden Green Technology aims to increase accessibility, affordability, and nutrition, globally.
The company offers cities and retailers, "turnkey solutions that can help them establish food safety and food independence"—in short, sustainable, scalable farming. How? Proprietary vertical farming technology stacks that produce hyper-fresh and hyper-local food to communities.
How Eden Green Stacks Up
AgTech solutions – "Farming 4.0" – abound of late, but few offer as promising an innovation as vertical hydroponic farming. I have covered several pioneers in the field, including Eastern Kentucky's AppHarvest and New England's Freight Farms.
Eden Green is especially influential in the movement to revolutionize food growing to become more resilient, ethical, just, and environmentally responsible. The company's proprietary microclimate environments, hydroponic vine systems, and cutting-edge lighting solutions allow for rapid construction and expansion, increasing access, and production profitably.
Each of its vertical greenhouses can produce 11 to 13 harvests per year and grow 200+ products, allowing for on-demand and consistent supply for its offtake partners.
"The 5,000- mile salads have got to stop," the company proclaims—and not only because they're so unreliable."
With Eden Green, "Your produce is guaranteed to always be locally grown, freshly harvested, packaged to your spec., and delivered within hours – not weeks – of being picked," the company says.
So, local consumers get access to hyperfresh lettuces, salad-, and cooking greens, herbs, fruits, vegetables such as cucumbers, bok choy, celery, and peppers—even some types of flowers.
And the benefits extend far beyond customers' salad plates. Employing Eden Green's growing method requires 99 percent less land and 98 percent less water, creates 94 percent less food waste, and necessitates 85 percent fewer food miles, according to the company. All of which triggers profound effects on the environment and the economy.
Eddy Badrina, Eden Green's CEO since 2016, describes the company's master plan as a nationwide system of modular, decentralized, high-density vertical greenhouses arrayed like a "mesh network."
A mesh network, a term borrowed from the tech sector from which Badrina comes, is an infrastructure topography of directly- and dynamically connected "nodes" (in this case, the greenhouses) that cooperate and trade with each other.
For example, in September 2022, Eden Green opened the first phase of a $47 million commercial vertical farm in an opportunity zone in Cleburne, Texas. The facility produces 1.8 million pounds of produce per year, in just 62,500 sq ft of grow space, making it one of the highest-yielding facilities in the controlled environment agriculture (CEA) industry.
As more of these vertical hydroponic farm nodes come online, says Badrina, they will together drastically shorten local supply chains, eliminating millions of excess food miles and their associated costs, environmental impact, and spoilage.
The real advantage of this innovation comes down to the ultimate cost to the consumer, says Badrina. You get "locally grown produce, but at scale for [multiple] communities. To have those all around and decentralize the food supply costs that are inherent in the system right now – as well as reduce the waste – then the price starts to lower meaningfully," he says.
"You can actually have really fresh, long-lasting, high nutrition, high-profile tasting greens that are affordable for everyone." The company is considering future licensing deals, but for now, directly supplies from its own farms. "Our whole business model is predicated on white-labeling and private-labeling instead of having our own retail brand."
In some cases, says Badrina, especially when co-located with, or adjacent to, distribution centers, it's possible to "basically cut every single cent out of transportation and logistics. Then we pass that onto the retailers and their consumers."
And when that happens, "you fundamentally change the nutrition and the eating habits of the culture around you."
That allows the company to give back. Putting its green where its mouth is, the company withholds 10 percent of each harvest at its North Texas farm to support hunger mitigation efforts undertaken by regional nonprofits. It hopes to make that a model for future farms and partners.
Meantime, says Badrina, we can all say goodbye to "sad, sad salad" browning in our fridge for two weeks.
Badrina's Roots
For 20+ years, Badrina's career has encompassed entrepreneurial, corporate, and government roles, including stints at the Department of State, and involvement with the White House, where he was part of an initiative for Asian and Pacific Island entrepreneurs.
Prior to Eden Green, Badrina co-founded and led BuzzShift, a digital growth agency for mid-sized brands and organizations, as well as two other technology startups, after graduating from Texas A&M, and the Bush School of Government and Public Service. He serves as an Advisory board member for Texas A&M's College of Agriculture, Agrilife agencies, and several research entities.
But he's in the business of growing businesses, even as he helps improve the planet and the lives of its inhabitants. Part of that includes building patent portfolios to constantly increase efficiency, yield, and possibility.
And partly, it's building a business case – and securing corresponding financial support – for the critical changes in the agriculture industry that our and future generations will depend on to survive.
Eden Green's still backed by private investors only, but Badrina reports the company is going out for a round with institutional investors.
"They look at us as greenhouse infrastructure. They literally look at us like a power plant, which produces a certain product, a certain commodity, and then it's sold on the open market. It has a return of invested capital. Same with our greenhouses."
For Badrina, the future of food is verdant: "I think the future of the food systems looks like a very collaborative dance between traditional, regenerative, and CEA," he says. "It really does. There are limitations to each, but if they can all focus on their strengths ...
"With traditional," Badrina argues, "it's just sheer scale. With regenerative, those work really well for smaller communities that are adjacent to those, so maybe peri-urban, ex-urban, or even rural-type communities where regenerative farming can be so very helpful in making those communities more resilient.
"Then you've got CEA," he says, "whether it's indoor or greenhouses, that provides at-scale commoditization. I think you have all three of those working together and collaborating. That is what the future of food supply looks like."
If you'd like to dive deeper with more purpose-led companies like Eden Green, check out the Lead with We podcast here, so that you too can build a company that transforms consumer behavior and our future