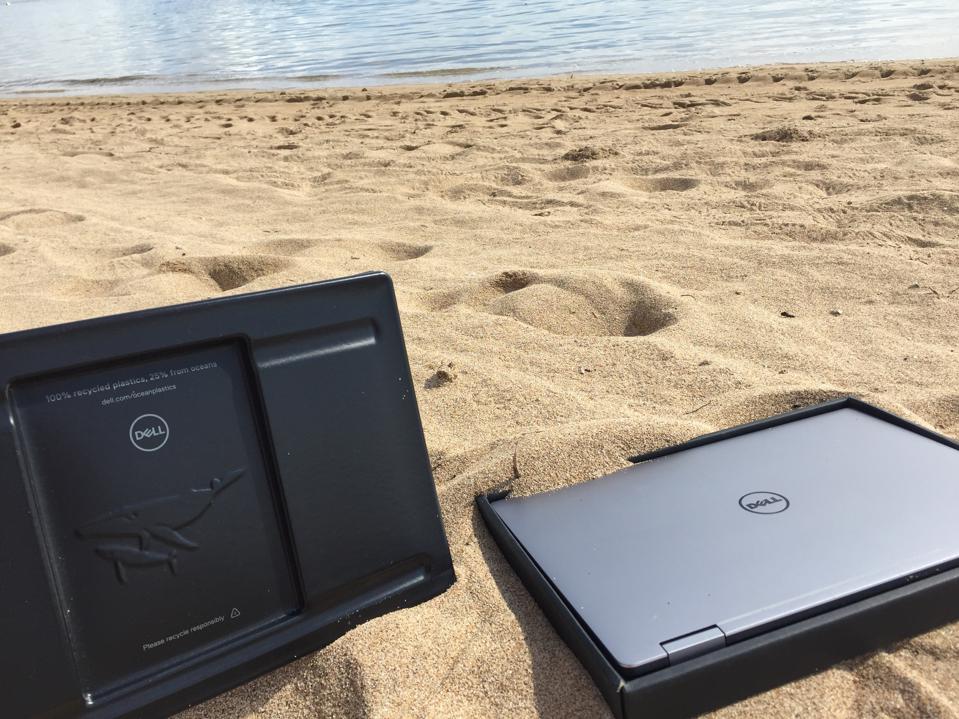 How Dell Is Leading The Next Wave Of Best Practices In Packaging Engineering
Written By
February 2, 2023
Oliver Campbell, Dell Technologies' Director of Procurement & Packaging Engineering, has been with the tech innovation vanguard for more than half the company's 39-year existence. At that time, the company first partnered with customers, pledging to build the "greenest PC on the planet. In the mid-2000s, Dell became the first IT company to establish a product recycling goal, fully implemented by 2006. The next year, it set a target to become the greenest technology company on Earth—for the long term.
Enter Campbell. He'd begun his career at Dell in manufacturing engineering, where he worked on the front line of the company's ambitious green goals. He branched out to operational strategy, then logistics, all the while committed to Dell's sustainability mission.
But at some point in the mid-2000s, the Texas-based company, today 31st on the Fortune 500 list and climbing, realized it couldn't ever reach its objectives if it concentrated only on its products. It would have to innovate its packaging, too. So, it tapped Campbell to head a new department that would attempt to revolutionize how its computers and other product orders were fulfilled, wrapped, secured, and shipped.
He turned it down. Not enough of a challenge, he thought at first. "I was like, 'Packaging, how hard can that be?'" When the company returned with a second request in 2008, he reconsidered, for three reasons, he says. Innovation was, of course, woven through the company's DNA, and that meant it was poised to make transformative changes that could alter the future of the industry's impact.
Secondly, he'd be able to leverage his extensive supply chain partnerships to scale that impact and make a real difference on global challenges such as the Great Pacific Garbage Patch, a vortex of marine trash at that point thought to be about the size of Texas.
Finally, Campbell's own DNA was also a natural fit for the position. The "Distinguished Engineer" knew how to innovate both manufacturing and supply chain processes. But underneath his tech knowhow was still a farm boy picking millions of pounds of blueberries on his parents' property. He felt intimately connected to the land, to healthy growth, and homeostasis.
Campbell took the job. As a triathlete, he was in it for the long haul.
Thinking outside the box
"Almost every person on this planet of eight billion people touches packaging multiple times a day," says Campbell. "If you're anything like me, you wake up, stagger to the shower, and it's packaging—everything. Shampoo, conditioner ... When you go into the kitchen and open up the fridge, it's another bonanza of packaging."
Nearly all of it ultimately proves toxic for the planet. So, Campbell, with support from partners, embarked on a yearslong adventure in packaging innovation, developing new materials to supplant oil-based plastics, an especially egregious villain in the battle to heal the environment, most notably the ocean.
Along the way, Dell experimented with, and ultimately adopted, industry-changing materials such as bamboo; mushroom; molded paper pulp; recycled newspaper, corrugated boxes, and ocean-bound plastic; and even "pollution ink" for any necessary text and images, made by condensing carbon-based air pollution. His innovations such as protective natural fiber cushions have become industry standard, and earned him and Dell awards and recognition—and Campbell two US patents.
"Blending bamboo waste materials like sugar cane pulp—you have this biomass as a waste product," Campbell has said. "And we started taking out fiber to blend it, and the combination of fiber properties created unique characteristics. In this case, it gives the material a very smooth feel. To the naked eye, it can be almost indistinguishable from polystyrene or plastic."
Meantime, the material makes a measurable dent in the huge problem of ocean-bound plastics. "I think everyone's seen some of the numbers," Campbell says. "By 2050, more plastic than fish if we don't do anything."
NextWave: The whole package
Under Campell, Dell co-founded NextWave, a cross-industry consortium creating a commercially viable, scalable, circular-economic supply chain that is focused on keeping plastics out of the ocean.
NextWave is a near-perfect Lead With We project: It's collaborative, open-source, scalable, and all aiming for a regenerative benefit for a "Higher WE."
NextWave had its genesis, Campbell recalls, in early meetings with Lonely Whale, the nonprofit co-founded by actor and environmentalist Adrian Grenier.It now includes 13 member companies and a network of ocean-bound plastic suppliers spanning 21 countries. Hewlett Packard, Trek Bikes, IKEA, Solgaard luggage and accessories, and MillerKnoll modern furniture are members. "So, there's quite a bit of diversity both across industries and also across size," says Campbell. "And that's a very deliberate decision."
Since 2017, NextWave has collectively diverted a total of 2,316 metric tons of plastic from entering the ocean - equivalent to removing more than 257 million single-use plastic water bottles from the waste stream.
Covering bases
Dell, NextWave, and all their collaborators take a multipronged approach to packaging improvement and reengineering. For example, says Campbell, "We have a government affairs team and we comment on pending packaging legislation, as part of the established processes where they take feedback from the industry, where we think that would be good practice and help move things forward.
"But we also listen very closely to our customers and what their needs are. And our strategy from a packaging standpoint is really twofold. One is elimination. So, if we can eliminate packaging, we can, because the best packaging is the packaging you don't need.
"And where we [can't eliminate, we ask], how do we find better, more biologically benign materials? So, our fiber-based cushions, which are kind of egg cartons on steroids to protect high-value products, we led the market in that. That's displaced a tremendous amount of single use plastic foam.
"But," Campbell admits, "we're still looking at more we can do. We've developed analytical tools on how to simulate the performance of these materials. That didn't exist. We had to develop it."
To that end, Dell's been part of the Tom Ford Plastic Innovation Prize challenge, for which Campbell is an advisory board member. In 2020, Tom Ford partnered with Lonely Whale to launch the only global competition focused on catalyzing scalable and biologically degradable alternatives to thin-film plastic polybags.
The prize totals more than $1.2 million. Winners will be announced in Spring 2023, and will receive significant support from experts in the following years to achieve market adoption.
Wrapping up
Of course, to maintain relevance and revenue for the $102 Billion company, all Dell's sustainability efforts need to be about lower cost, better performance, and environmental health.
"You hear a lot of people say, 'Hey, sustainability costs more,'" says Campbell. "And I would agree with that—if it's done badly. If you do it well and you work hard and you're smart enough – and I think we're living proof here in Dell packaging – it can actually cost less, much less."
If you'd like to dive deeper with more purpose-led companies like Dell Technologies, check out the Lead with We podcast here, so that you too can build a company that transforms consumer behavior and our future.