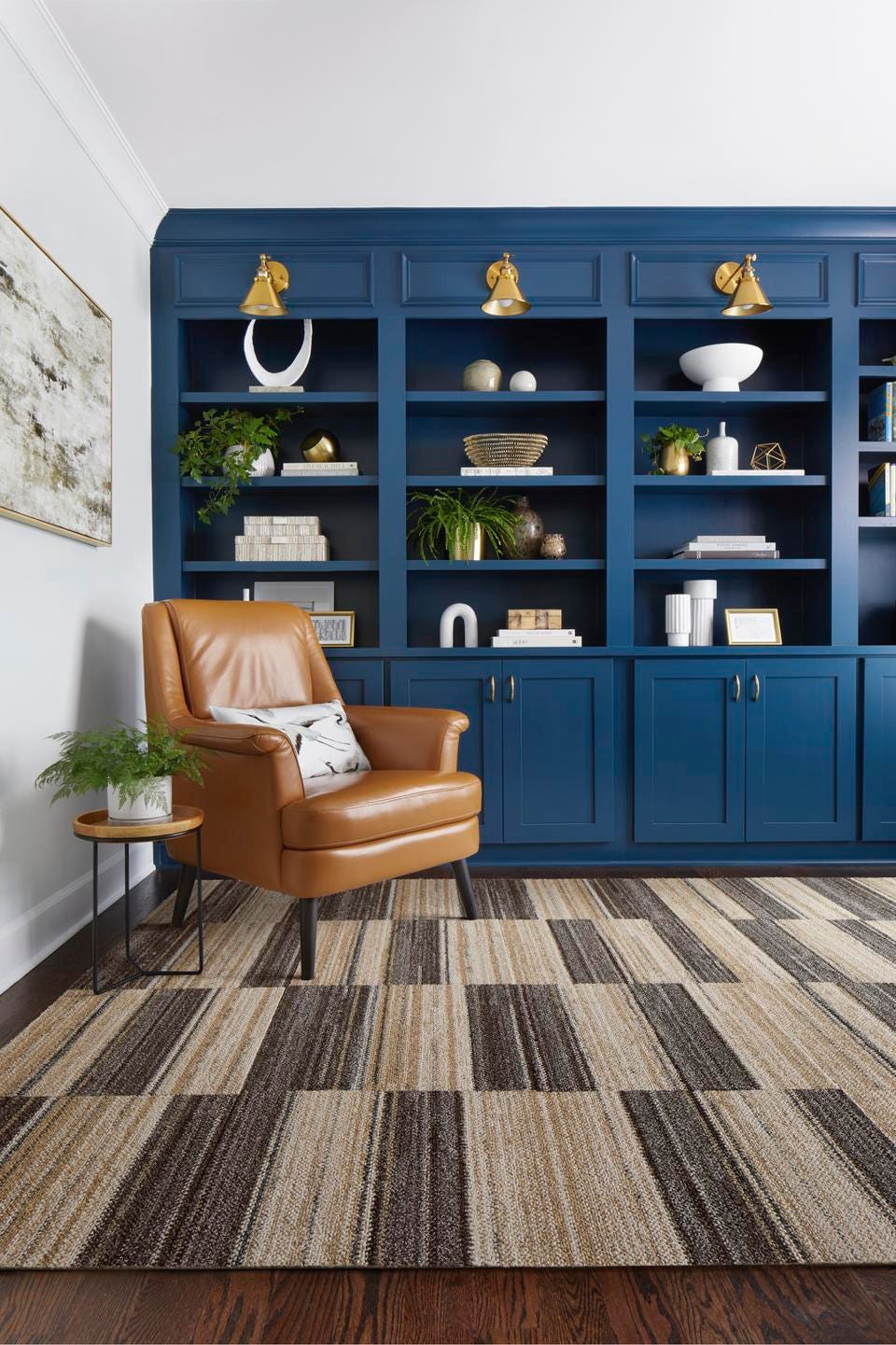 How FLOR Is Lowering The Carbon Footprint Of The Floor Beneath Our Feet
Written By
August 19, 2022
As the global climate emergency continues to worsen, people and businesses alike are finding themselves thinking more and more about our collective carbon footprint — both personal and corporate. But how many of us have thought about our environmental footprint on the actual ground on which we walk?
Over the last two decades, Atlanta-based floor covering manufacturer FLOR has established itself as an eco-conscious producer of customizable carpet tiles and area rugs, 100 percent of which are carbon neutral across their entire product life cycle. And recently, the company took its commitment to the planet ever further: It perfected the technology to produce rugs that exert a negative carbon footprint. Over the long haul, their manufacture and use actually removes carbon from the atmosphere.
To do so, FLOR combines the yarn made of regenerated nylon — made from nearly 100 percent recycled waste — that it uses for all its rugs with backing made from post-consumer carpet tiles, pre-consumer recycled materials and plant-based elements that have already sequestered carbon. From these materials it manufactures its products in a factory run on electricity from 100 percent renewable sources. The result? Rugs that, throughout the entire process from raw material extraction to manufacturing — often called "cradle to gate" — draw more carbon from the air than they release into the atmosphere. For its products that are carbon neutral, FLOR purchases carbon offsets. Its purchases in 2021 totaled 6.8K metric tons.
Walking the walk
Not only are FLOR rugs made from recycled materials, but they are also themselves recyclable. Customers just have to return what they no longer want using pre-labeled packaging provided by FLOR, and their used tiles will be recycled … into new tiles. This makes the entire enterprise a closed-loop system. In 2021 alone, FLOR recycled more than 74,180 carpet tiles.
In addition, carpet tiles themselves produce less waste than traditional carpeting because when part of a modular carpet gets damaged, you need only replace those individual tiles. This reduces demand for new products and their associated carbon emissions. And, in the case of FLOR, the damaged tiles will be recycled into new ones.
The company says its aim is to "do business in ways that give back whatever is taken from the Earth," and these are certainly some great examples of that. If you recognize this approach to floor coverings, it might be because you are familiar with Interface, an innovator in the area of commercial modular flooring that since its founding in 1994 has focused on minimizing its negative environmental impact.
FLOR is Interface's consumer brand. It was launched in 2003 to bring these types of products into the residential space.
A natural next step
Interface was prescient when it anticipated a growing consumer market. More than a million residential customers have added to its industrial base. FLOR conducts ongoing market research to learn more about what role environmental sustainability plays in consumers' purchase decisions.
Time and again, says James Pope, FLOR's director of marketing and sales operations, "They've told us it was incredibly important to them," and that they are making choices based on it.
In March 2022, FLOR began providing the carbon footprints of all its products on its website. Consumers can see, using real-life comparisons, the impact of any floor tile they are considering purchasing. For one of FLOR's carbon negative rug styles, for example, 10 standard 8x10 area rugs store the equivalent volume of carbon that 41.4 pounds of coal would emit when burned — or that would be used to charge a cell phone 4,562 times.
Another comparison is that an average FLOR tile has a significantly lower carbon footprint than a pair of Allbirds shoes. The key, says Pope, is to give consumers all the information they need to make decisions based on their values.
FLOR was well-positioned during the COVID-19 pandemic, when, in addition to growing concerns about the climate and our carbon footprints, spending an unprecedented amount of time at home led many Americans to reevaluate their space and — seen through a pandemic lens — rethink how their lifestyle and surroundings could be healthier for both their families and the planet.
The pathway to WE
For businesses, going from doing less bad to more good has to be a collective effort. Lead With We is about working together with, and incorporating the needs of various stakeholders — from businesses to consumers to the planet itself. And collaboration is the secret sauce that turns multiple discrete actors into a coherent and cohesive "we," the total impact of which is greater than the sum of its parts.
For FLOR, collaboration is the name of the game. It has partnered for the last ten years with Aquafil, the manufacturer of the regenerated nylon from which it makes its yarn, and parent company Interface produces the carbon negative backing for its carpet tiles.
FLOR also works closely with UPS and the companies that manufacture its boxes and shipping materials to ensure that the amount of carbon required to deliver their products to consumers is kept as low as possible. "That's ongoing work that we haven't finished yet," says Pope, "but we are having those conversations because it's not just the product. It's got to be the entire experience the customer has with the brand."
Leading the way
Pope says he is amazed at what's happened in the consumer space in just the last few years. Both individual and businesses consumers' focus on environmental impact has increased exponentially, he says, and asserts that FLOR is one of its industry's leaders in that cultural conversation.
"We hope that what we do and our conversations are going to amplify and accelerate what our competitors do," says Pope. "Because that makes it better for all of us," he says, and quotes from Interface's climate mission: "We want to lead industry to love the world."
If you'd like to dive deeper with more purpose-led companies like FLOR, check out the Lead with We podcast here, so that you too can build a company that transforms consumer behavior and our future.