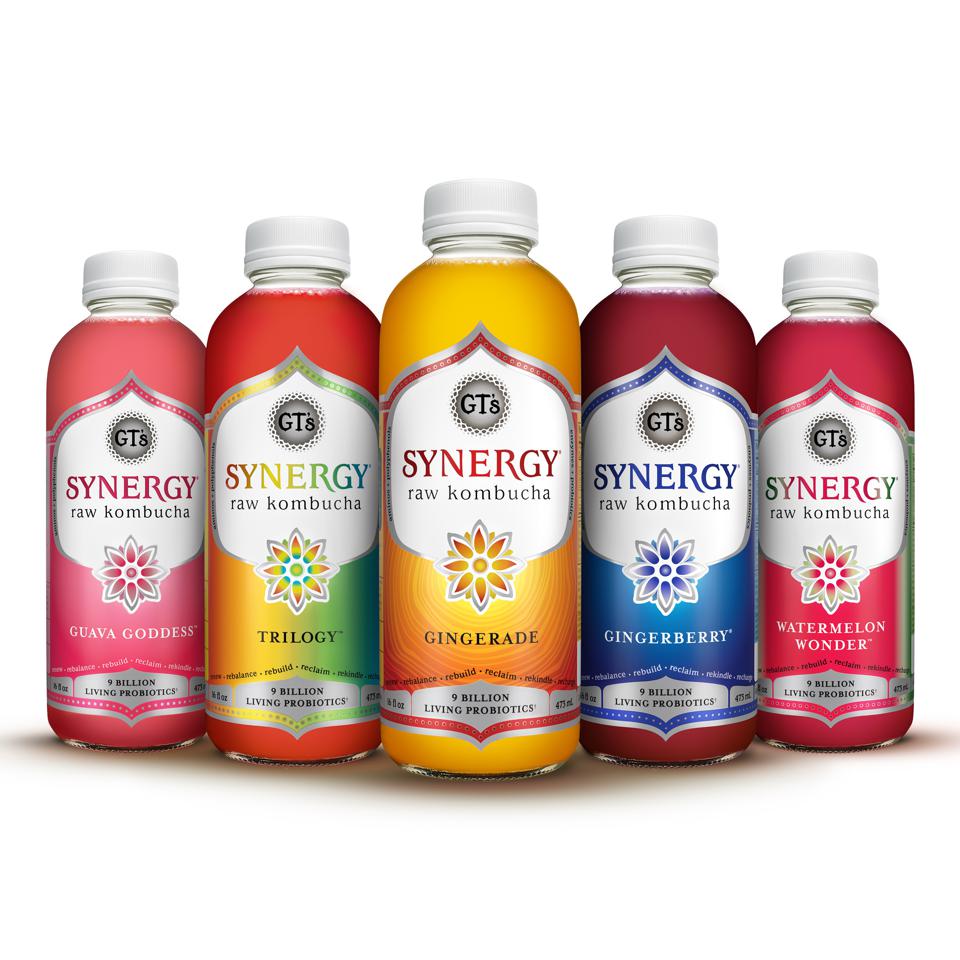 How GT's Living Foods Cultivates Health & Healing, One Batch At A Time
Written By
February 2, 2023
People make changes all the time. That's the nature of humanity. But a lot of those changes happen only on the surface, according to fads and our unrelenting quest to fit in. But to positively transform people from within, argues GT's Living Foods' founder and CEO, GT Dave, you need functional, living nutrition—and enlightenment. "We begin within."
Raised in Southern California under the strong Eastern spiritual influences of his parents, Dave ("First name, GT, second name, Dave") experienced his family receiving an unusual gift for his mother in the '90s while she underwent treatment for an aggressive form of breast cancer.
The Gift
It was a Himalayan Mother SCOBY—a Symbiotic Community of Bacteria and Yeast. Basically, it's a comfortable and supportive home for bacteria and yeast. The SCOBY feeds on sugar during the fermentation process. A SCOBY is what turns a sweetened black tea base into kombucha, a tart and slightly bubbly beverage. A SCOBY is often referred to as a mother. Most healthy mothers produce a baby SCOBY during the fermentation process. Baby SCOBYs can be left in the kombucha brew for several fermentation cycles.
Dave witnessed the kombucha working for his mother's healing. The family began brewing their own. He decided his purpose was "to share the gift of kombucha in its purest, most potent form to help people everywhere live healthier, happier lives."
"Back in 1995 when I was just a teenager," says Dave, "when I bottled my first kombucha, it wasn't with the desire to start a company, make money, or do any of those typical entrepreneurial aspirations. Not that there's anything wrong with that—it's just that there was a deeper source of my drive."
"I was a young gay boy growing up in Los Angeles, and I had lost my way and discovered I had no purpose. I got somewhat consumed or distracted or influenced by a lot of the aspects that even to this day still exist in LA—which are fame, fortune, popularity, fitting in, looking like everybody or behaving like everybody else. So, I got pulled into that—but kombucha gave me my sense of purpose," he says.
"And, so, that fire in the belly, which begins within all of us initially, became that catalyst for me to wake up on that fateful day and make the decision to drop out of high school, change my path, and then take this risk. Back then starting a beverage company at any age was insane," says Dave. "But especially for a teenager."
"That unwavering ambition was the driving force for me to start what I now do today. And I think all of us have that, whether you call it rock bottom or whether you call it that moment of realization. You have this awareness or this discovery that forces you to do something that maybe you wouldn't have done before or maybe that you were scared to do."
Success Bubbles Over
Insane it might have been, but the small batches of kombucha Dave began brewing in the mid-'90s became the first available on US shelves. In so doing, GT's Living Foods (GTLF) effectively revolutionized how US consumers think and feel about fermented foods, which had been familiar only to the Eastern World.
GTLF's distribution grew from local health food stores in LA to Whole Foods stores across California in 1999, then to national distribution in 2005, after moving to a larger brewing facility.
The company expanded again in 2016 to include raw living coconut yogurt, and over the next several years grew to a full line of products, including an "adaptogenic" mushroom elixir (adaptogens are active ingredients in certain plants and mushrooms that might impact how the body deals with stress, anxiety, and fatigue). The company also produces a non-dairy water kefir, wellness shots, and "hard" – meaning alcoholic – kombucha.
It's CMO, Kim Bates, boasts that all its products are "authentically fueled by organic plants, raw fermentation,​ naturally occurring probiotics, and ancient wisdom."
Bates joined the GTLF team in August 2022 after a long career working with blockbuster brands such as Chipotle, Starbucks, Unilever, Procter & Gamble, Reebok, Martha Stewart, Pepsi, Disney, Google, Apple, and many more household names. "The single thread is always trying to align with brand purpose and mission," she says.
Fermenting the Future
Bates is reinfusing that wisdom and the healthful, soulful "fire" in Dave's belly, which continues unabated, manifested in GT's products and company culture, they say. "The heart of our culture is to treat others as you want to be treated. And then through this ethos of kindness, compassion, empathy, love, selflessness—all of that …" Dave says.
"That is our foundation, and it's constantly being reassessed to make sure it's not changing unintentionally," he says.
From a product perspective, Dave argues, "We're not looking to make dumbed-down, mass-produced products that are just a mixture of a bunch of different snake oils or tinctures or tonics. We see ourselves more as farmers than we see ourselves as actual beverage manufacturers."
For Bates, that's one of the central stories she must tell on behalf of the company. "Marketing is sales and sales is marketing," she says. And both depend on communicating purpose and mission: "Sustainable for people and the planet."
So, through that "farming" mentality, the company's "cultivating, literally growing our products," says Dave. "And the cultures are self-sustaining. They reproduce themselves. And that allows us to have minimal waste just in that alone."
Whatever waste the company does generate tends to be natural and organic – "real ingredients," according to Dave. They become mulch or animal feed or are put to other use. "I was raised this way," Dave says. "I hate waste of any shape or size or form. And so, everything that we do is minimal, if not zero, waste."
The message is simple, but not necessarily easy to impart, says Bates. "I think consumers are very confused right now about what's healthy and what's not healthy on the shelf; what's real, what's truly living, what's unique, what's pasteurized. So, I think food and beverage companies really need to focus on really fighting misinformation and helping consumers on their journey in a very authentic way.
If you'd like to dive deeper with more purpose-led companies like GT's Living Foods, check out the Lead with We podcast here, so that you too can build a company that transforms consumer behavior and our future