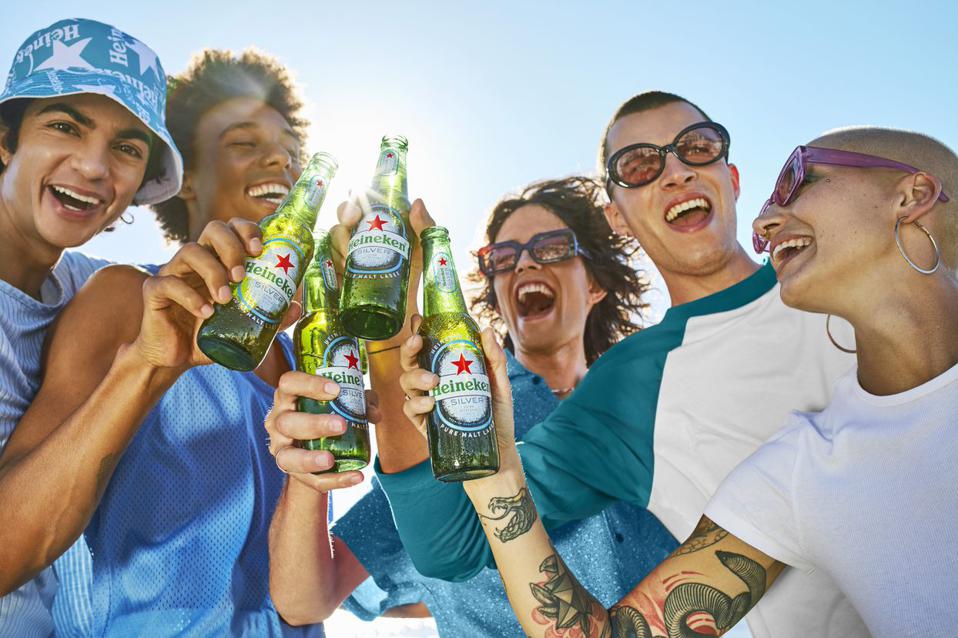 How Heineken And Its Brands Are EverGreen
Written By
April 13, 2023
You're probably used to associating the idea of "local" as a key component in the brewing industry, especially of late. So, how does the huge Heineken N.V. enterprise, representing 300+ brands all over the world, with around 85,000 employees, 70 operating companies, and 160 breweries, respond to consumer demand for local products? How does leadership at the traditionally decentralized company manage to not step on local toes?
As Dolf van den Brink, CEO, Chairman of the Executive Board explains, "typically for historical reasons, beer has always been a very local business, with local assets, local breweries, local employees, local suppliers, and local brands." But the Netherlands can – and should – learn from Nigeria, Brazil from Vietnam, and so on.
The Dutch multinational brewing company was founded in 1864, and since then has expanded to sell its beer in about 190 countries. Says van den Brink: "We have always been people who move around the globe, and really understand all the local nuances. And we've always deliberately kept decision-making very local. We believe that our local management teams need full empowerment to make their decisions with maximum proximity to our consumers and our customers."
"And by the way," van den Brink continues, "that's empowerment which comes with accountability. The responsibilities are crystal clear. A lot of global consumer goods companies became complex matrix organizations where that clarity of empowerment and clarity of accountability get diluted because they made multiple people responsible for the same thing. A lot of these companies are now trying to get the genie back in the bottle, to go back to that kind of local responsiveness. We never went away from it. That's one of our best assets."
An EverGreen Transformation
But there's a price to pay for a local focus, says van den Brink. And it isn't cheap. "The flip side of that local accountability and local empowerment," he says, "is that information doesn't spread rapidly across the boundaries of the operating companies."
So, in 2020, Heineken launched its EverGreen balanced growth strategy. EverGreen, says van den Brink, was meant to create long-term value for all stakeholders—including the planet itself. Its name was inspired by nature's resilience and its ability to adapt and renew itself. "We know it's not the biggest nor strongest that survive, but the most adaptable."
EverGreen's multiyear strategy is represented by the company's "Green Diamond" emblem, which encompasses Growth, Profitability, Capital Efficiency, and Sustainability / Responsibility.
The company assembled an initial team of 150 or so colleagues from around the world, and since then has been rapidly rolling out the strategy with a focus on key enables like culture, purpose, values and behaviors.
The company is trying to structure its many parts "much more as a network where we start connecting more horizontally," says van den Brink. "Historically, relationships have been vertical, hierarchical." A CEO and leadership team at the head office of the operating company.
"We're trying to flip that and say, no, it's much more. The head office is maybe at the center of the constellation—but we're all horizontally connected. And the dream is that information starts flowing very quickly across all the boundaries."
Part of shifting into more of a neural network is harmonizing your processes, your data definitions, your vocabulary, so that we all speak the same language, so that you actually unlock all of that connectivity."
"Silver" & green
In March, van den Brink celebrated 25 years at HEINEKEN. He started as a trainee in the Netherlands then worked around the world on all four continents in places like the DRC, Mexico, the US, and Singapore.
Having witnessed how markets successfully execute their individual strategies, now that he's at the helm, van den Brink also sees the value in working together to achieve more. He noticed that great practices often get stuck in one place when the rest of the network can benefit from them. HEINEKEN calls the effort to untrap these practices "learn-share-reapply."
It's that kind of thinking that's led to some of HEINEKEN's boldest global advances. Take Heineken® Silver, for example. The premium beer was invented in Vietnam a few years ago based on what were at the time viewed as local consumer insights. Heineken Silver's ice-cold lagering process removes proteins and tannins to create what local brewers expected would be a more "accessible" taste for the Vietnamese market.
"It took off like a rocket," says van den Brink. On a hunch (backed by a whole lot of research), the company tested Heineken® Silver in China—where sales also impressed. The team began to realize that the consumer insight in Vietnam could travel and was relevant in many other geographies. In 2022, HEINEKEN launched Silver in 22 European countries simultaneously, and this year, it will go even further internationally. Such a bold move never would have happened in the past, shares van den Brink.
A green-blooded culture
Because of recent corporate successes like Heineken Silver and Heineken 0.0, which offers a great-tasting beer for moments when consumers don't want the alcohol, a compelling, positive energy pervades van den Brink's communication and leadership style. Yes, he's a man with serious bona fides. Fellow at the Aspen Institute. Advisory Board Member of the Academy for Systems Change. But he's also a man who can still get really excited about beer. "Our purpose is bringing people together—and not in a serious, heavy way. We're the beer people and enjoyment of life is important to us.
As a 158-year old company, culture and people are at the heart of everything HEINEKEN does. "You need to be astute at sensing local relevancy and finding the right metaphors and the right language to touch people in their context," van den Brink says. "People deserve to be heard. People want to have a sense of direction."
And that direction has been moving more and more toward a desire to change the world for the better. In 2021, the company accelerated its path to zero impact on the environment; an inclusive, fair, and equitable world; as well as moderation toward no harmful use.
It's a tall order. To highlight just one major challenge, HEINEKEN operates more than 30 breweries in water-stressed regions. In these areas, the company is committed to balancing the water used in the brewing process and contributing to a healthy local watershed. Such transformation, from old-school sustainability into new realms of circularity and regeneration, are not part of a fad, says van den Brink. They're here to stay, and HEINEKEN intends to lead the movement.
Another big issue—what to do about Russia? How big a financial hit is it reasonable for the company to take—or are there no limits when it comes to an illegal and immoral war? Is it enough to wall-off ("ring-fence") the Russian operations financially while a buyer is sought? What about the impact on everyday Russian citizens who rely on their employment?
Some of these decisions are relatively easier to make given HEINEKEN's dual status as a publicly-traded company and a family-rooted business, with the majority shareholder still bearing the name Heineken. It's a condition van den Brink describes as "the best of both worlds."
As a publicly listed entity, HEINEKEN is "held to the highest standards of visibility and transparency," he says. "And at the same time, we are a family company that can really take a longer perspective, maybe be less obsessed about the quarterly cycle. We think in generations. And when you think in generations, you think about the long-term impact of your decisions."
"We bleed green here," van den Brink proclaims, alluding to the ubiquitous iconic Heineken® green bottle.. "That's our culture. That's literally how our people speak about it."
Van den Brink insists that a healthy, sustainable corporate culture starts first with listening to, then cooperating with, all stakeholders. For example, he says, the company "co-created with thousands, tens of thousands of people, our purpose. And it was not making up a new purpose. I believe that purpose was there all along. It was in our hearts from the very beginning.
"Brewing a Better World Through the Joy of True Togetherness"
It's a single green-blood pumping heart, van den Brink says, at the risk of sounding "cheesy." "And in a world that's polarizing and fragmenting, a world of pandemics and isolation, a world of hybrid ways of working, where people are not physically together, our notion of Brewing the Joy of True Togetherness is more meaningful and more important than ever. And that's really what starts to unite us across our vast network, across all those different manifestations in the world."
If you'd like to dive deeper with more purpose-led companies like Heineken, check out the Lead with We podcast here, so that you too can build a company that transforms consumer behavior and our future.
Follow me on Twitter or LinkedIn. Check out my website or some of my other work here.