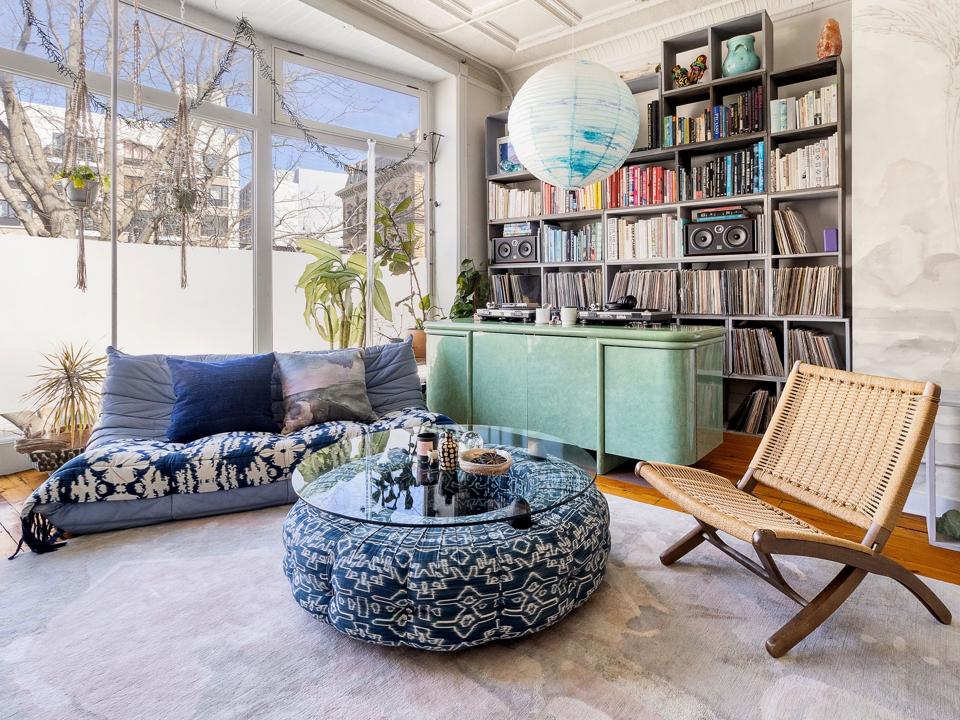 How Kaiyo Is Furnishing The US Circular Economy
Written By
September 11, 2023
If you've ever tried to buy or sell used furniture online, you know how frustrating and time-consuming it can be. You have to deal with unreliable sellers or buyers, low-quality products, high shipping costs, and the guilt of contributing to waste and pollution. But what if there was a better way to furnish your home that was good for your wallet, your style, and the planet?
That's the vision of Kaiyo, an online marketplace that offers pre-owned furniture with sustainable design, and provides pickup and delivery services. Kaiyo's mission is to make beautiful furniture accessible to everyone and sustainable for the planet, says Alpay Koralturk, founder and CEO.
From personal pain to social purpose
The idea for Kaiyo began when Koralturk and his wife moved to New York City in 2014 and wanted to buy secondhand furniture for their first apartment. They both cared about sustainability and wanted to avoid buying new products whose manufacture had already taken a toll on the environment and would, at the end of their life, contribute to clogged, toxic landfills. But they soon realized how hard it was to find quality used furniture at reasonable prices on platforms such Craigslist or Facebook Marketplace.
"It was such a frustrating experience. We just lost a lot of time, a lot of effort … We wasted money trying to make this happen. And we ended up buying everything new in the end," Koralturk says.
Researching through that process, Koralturk was shocked by the impact of waste and inefficiency in the furniture industry. He learned, for example, that the US throws away about 12 million tons of furniture every year. "It's by far the largest waste category in Western economies," he says. These "mountains and mountains of solid waste" made out of cheap "fast furniture" has grown 450 percent since 1960, according to the Environmental Protection Agency.
Simultaneously, Koralturk discovered a huge demand for secondhand furniture among the budget- and environmentally conscious. He launched Kaiyo in 2016 as a full-service furniture marketplace that handles everything from pickup to delivery, from cleaning to photography, from curation to customer service. All while reducing waste and vastly lowering carbon emissions in the industry.
"We really want to make it a no-brainer, so that if you've got something of quality, that there's always somebody who's going to come and get it from you, conveniently free of charge, so the seller can feel better about what they're doing," says Koralturk. "And if you're a buyer who wants to make a conscious choice of participating in the secondhand economy, there's an easy way, there's a convenient way where you have a curated selection. You're getting better products at a better price point, you're getting them more conveniently. And best of all, it's fully circular as well."
Building a brand that stands for something beyond sales
Koralturk's passion for sustainability and social impact has deep roots. He grew up in Turkey, where he learned about environmental issues from his parents and teachers.
He moved to the US in 2004, where he continued to explore his interest in social innovation while attending Wesleyan University where he studied math, computer science, and economics.
He moved to New York City in 2008, and worked for JP Morgan Chase & Co.
With Kaiyo, Koralturk says he wanted to build a brand that stands for something more than just selling furniture. He wanted to create a movement that inspires people to rethink how they consume and dispose of products, and how they can contribute to a more circular economy.
The name Kaiyo, coined by the company, was inspired by the word kaya, which has multiple meanings across different languages: in Sanskrit, it means "body"; in Japanese, it refers to a type of yew tree that withstands harsh conditions; in Hawaiian, it means "ocean"; in Zulu, "home"; and in Kolaturk's native Turkish it means "rock."
To solidify and amplify the company's impact, Koralturk says he favors collaboration with other stakeholders. For example, Kaiyo partners with the National Forest Foundation, which plants a tree for every sale.
In terms of scaling impact among likeminded consumers, Koralturk argues that demographics matter a lot. Consider the desire and willingness to contribute proactively as a consumer in movements to better the environment, for example: "We're very clearly far ahead with Gen Z and millennials than with older generations. But it is changing," Koralturk says. "We call it the 're-generation,' which is not a demographic age group, but rather a mental mindset; a group of people who share that mindset, who really think about how we have to change our ways.
"We have to start re-imagining the way we do business, re-imagine the way we consume products, the way we ship them, the way we recycle them. So that generation I think is a growing one. But I'd say, as a whole, for society, we're still in the earlier days of it. There's been a lot of movement in the last five to 10 years, but there's a whole lot more to come."
Growing a business that makes a difference
Since its launch, Kaiyo has grown as a customer-centric, data-driven, mission-aligned category shaker. The company has expanded from New York to Los Angeles, Philadelphia, and Washington DC. It has served 100,000+ customers and saved more than 4 million pounds of furniture from landfills so far. It has also planted more than 100,000 trees and offset more than 10 million pounds of carbon emissions, the company reports.
In 2021, Kaiyo raised $5 million in seed funding from Lerer Hippeau, Max Ventures, Correlation Ventures, and other investors. That money is helping expand Kaiyo's operations, technology, marketing, and team. In 2022, it raised a further $35 million in Series B funding.
Koralturk says he's happy with the progress Kaiyo's made so far, but he know there's more the company can do with the huge market opportunity and strong sense of social responsibility he and the other leaders at the company share.
"Five years down the track, we will be the 'overnight success story' that took 13 years to make. That might be sooner. Now, joking aside, I think we will be a beloved consumer brand, one of the most beloved consumer brands that hopefully will stand for more than just the product or services that we provide …
"We want to have a global legacy … This is a very aspirational company here. It started from a place of values and a mission." It started at home.
"In our view, home is really where it all begins and change can really, really start. It is the place where you relax, you recover, you hang with your loved ones, your family. And if we can make people feel good about the way they furnish their homes, to feel good about, and care about, the things in their homes, our hope is that that's going to have a ripple effect beyond furniture and beyond the home," says Koralturk.
"They'll care more about their community, their neighborhood, their cities, and hopefully all the way up to our planet as well. That truly would be the greatest legacy that we envision we could leave behind."