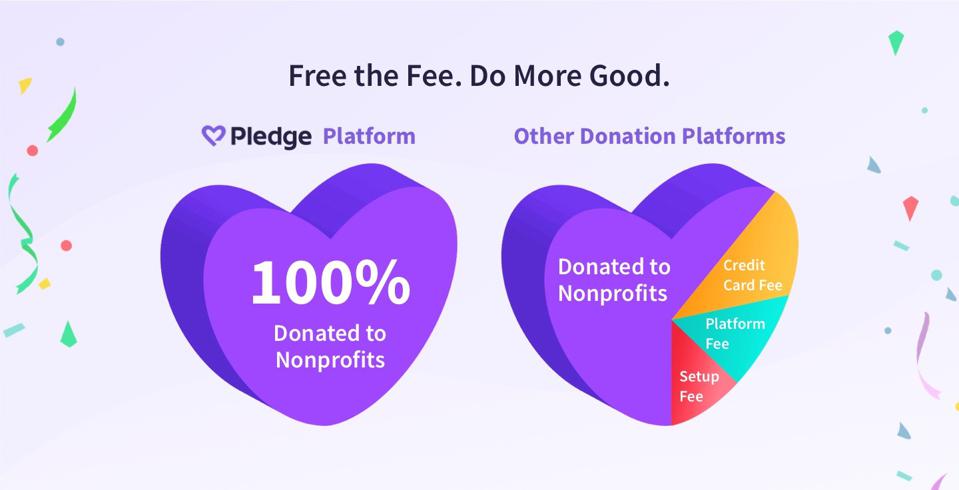 How Pledge.to Is At The Vanguard Of The Future Of Giving — Connected, Simple, & Seamless
Written By
October 25, 2022
In 2020 and 2021, as the twin crisis of COVID-19 and the recession overtook the world, some experts predicted that up to one out of three nonprofits were at risk of folding. But not because of donor apathy. In fact, the pandemic dramatically increased people's consciousness of major challenges. With that awareness developed a new mandate: We must all do more, more efficiently, and faster.
Today, there should be no doubt that the business world must work together WITH consumers and nonprofits in bold new ways to solve the pressing issues of our time, even as they drive economic growth. Data shows that people more and more want to donate to charities — but only if the process is "super-easy." Enter Pledge.to, an app that links consumers to charities through the businesses and services they patronize. Pledge powers such "super-easy" donations through leading online platforms, such as Zoom, which now features a "DONATE" button.
"With Pledge, every Zoom call, Clubhouse chat, Shopify store, and virtual event can become a fundraiser" for one of 2+ million verified charities, says James Citron, veteran social entrepreneur, philanthropist, and Founder/CEO of Pledge.
The Big Idea
Launched in 2018 as Pledgeling, a venture-backed startup, the company set out to demonstrate real ROI of social and environmental impact on a business. Its early research showed a 33 percent increase in lifetime value by integrating social good into a business. In 2021, the company rebranded as Pledge, still providing an easily-integrated and uncomplicated-to-use tool for people, businesses, and charitable organizations to do good in the world.
An early adopter was Apple Pay, and Pledge grew exponentially from there. Its reach and impact landed it on Fast Company's Most Innovative Companies and World Changing Brands lists.
Pledge's real innovation is that massive reach: Donors can contribute on many platforms, such as Evite, Shopify, Legacy.com, and the American Cancer Society, where they're already congregating. Or they can pledge funds nearly instantaneously as consumers on the websites of worldwide brands like Discovery, Snap, and Bird. Companies, organizations, and even the hosts of online group meetings — say, a birthday party or wedding — can offer participants the ability to crowdfund, contributing in real time to worthy causes in their own communities or across the world.
The app also regularly powers fundraising campaigns for many of the world's biggest influencers, including Ariana Grande, Garth Brooks, Jimmy Fallon, Kygo, Oprah, Ringo Starr, Taraji P. Henson , Jennifer Anniston, Brad Pitt, Kenan Thompson, and others. Support for nurses during the height of the pandemic. Childhood hunger. Natural disasters.
Three American citizens organized a drive to airlift more than a thousand people out of Kabul, Afghanistan in September 2021. They raised $2.5 million — $1.5 million in the first 72 hours after US withdrawal.
Thus far, Pledge has processed donations to 35,000 organizations among 2+ million verified nonprofits and charitable organizations of every size, from local to global. To date, more than 13 million donors have donated $70+ million dollars, and exerted impact in 130 countries. "Our mission," says Citron, "is to literally unlock the maximum amount of dollars to nonprofits around the world."
Free the Fee
On average, says Citron, "three percent of every single donation being processed around the world never even gets into the hands of the nonprofit." That three percent winds up in the coffers of credit card companies in the form of processing fees. "We said, how do we fix that? How do we at Pledge, a social enterprise …unlock three percent more to the non-profit by literally taking that credit card processing fee out of the equation?
"All told, that three percent accounts for $10 billion in the US, and roughly $30 billion globally," says Citron. "We launched this campaign called Free the Fee. Because of our mission, because we have to do this and it's the right thing to do, Pledge is literally going to cover the fee. So, when you give $50 bucks through Pledge to any nonprofit, that $50 is actually going to the nonprofit." Pledge covers those fees up to $1,000.
It also doesn't charge nonprofit partners. So, how does Pledge cover its own considerable operating costs? "We have a really disruptive business model," says Citron. "In many ways people think it's absolutely crazy, but we love it. Our entire business model is based on the generosity of donors."
This means whenever someone donates through Pledge on any of its partner platforms, they can leave an optional "tip" for Pledge. "And those optional tips, the generosity of donors, funds our entire business: our operating costs, our team, our staff, technology, cloud hosting, you name it. It covers everything," he says. "The business is literally built on believing in humanity and their generosity."
And people have been generous, even in tough economic times. Even when they're out of work or underemployed. For example, says Citron, "If we took a swath of the demographics of America, and we look at folks making below the poverty line up to the billionaires, if you broke it apart like the census does, do you know the population that gives the most [to charitable causes] as a percentage of household income?"
"It's the family household that's just above the poverty line."
If you'd like to dive deeper with more purpose-led companies like Pledge, check out the Lead with We podcast here, so that you too can build a company that transforms consumer behavior and our future.