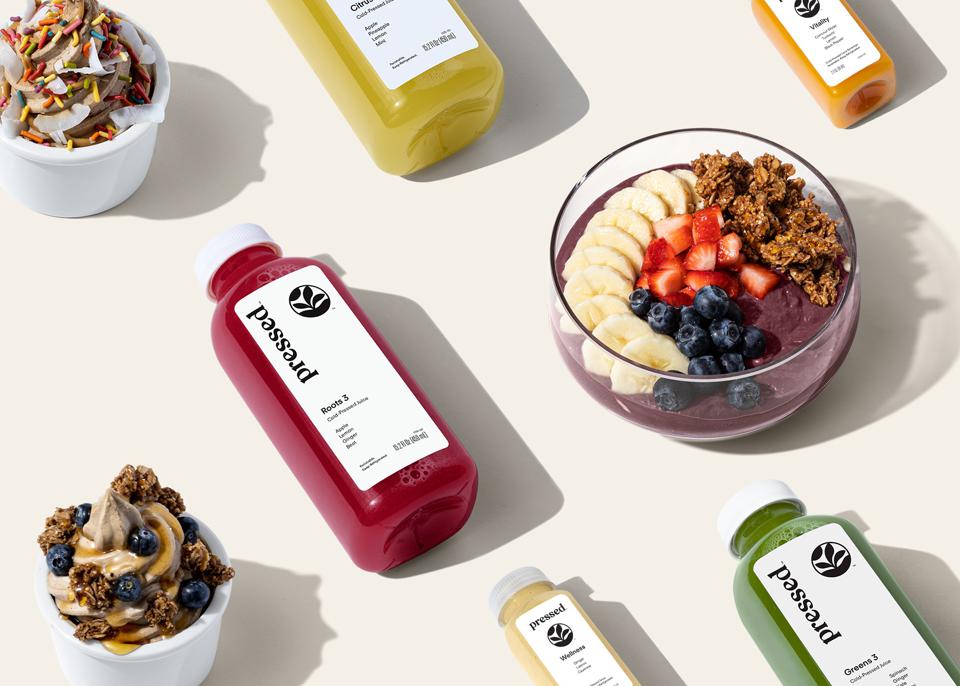 How Pressed Brings Fresh Juice And Health To Its Communities
Written By
August 1, 2022
As demand for sustainable products grows, so does the list of companies working to meet it. From clothing to beauty to home improvement, both consumers and corporations are concerned about how the items we use every day affect the health of the planet. When it comes to what we eat and drink, however, there is a unique opportunity to positively impact the health of the individual as well as the planet. Pressed is an example of a brand whose mission encompasses both of these.
From juice closet to grocery store shelf
Pressed started out more than a decade ago in LA as what it likes to call a "juice closet," and has since grown into a lifestyle brand that sells cold-pressed juices and healthy treats in grocery stores, online, and at its more than 100 retail stores across the country. It focuses on making plant-based eating and nutrient-dense food more accessible and affordable — compared to, say, what you might find at an upscale juice shop in a big city like New York or LA — which is its stated mission.
And while Pressed's products are by definition focused on helping people live healthier lives, it is also making admirable strides in contributing to a healthier planet. The company is still based in LA and its manufacturing facility is in the Central Valley, where it partners with farmers and suppliers to source its fruits and vegetables locally. This helps streamline production to reduce the company's carbon footprint and enhance the freshness of its products. Thanks to this extremely short supply chain, its juices can be bottled in as little as three days — what they refer to as "farm to bottle."
A perfectly imperfect partnership
Pressed is also working toward its goal of a net-positive business by using seasonal produce and "imperfect" fruits and vegetables, which now make up more than half its produce. Doing so has already saved 11.5 million pounds of produce that would likely have ended up in landfills. Its current goal is to reach 85 percent imperfect produce for its products.
According to its Chief Marketing Officer, Michelle Peterson, Pressed baked this kind of sustainability into the business from the beginning, even though at the time that was not yet a trend. The company's founders decided to partner with farmers to buy produce that was otherwise going to waste and turn it into their cold-pressed juice. "It's now more branded as 'imperfect produce,' she says, "but it really wasn't then." The company saw the opportunity to reduce waste in the food system, says Peterson, and took it.
Pressed's efforts toward a circular manufacturing process carry over into its packaging. It recently converted several of its bottles to part or whole recycled polyethylene terephthalate (rPET) and anticipates that this will collectively save more than 300,000 pounds of plastic annually — a 30 percent reduction in the company's use of virgin plastic. Its shipping boxes are sustainably crafted and recyclable, including the box liners, and — perhaps most impressive — its ice packs are made to be recycled as plant food.
A truly pressing issue
While originally, Pressed's founders were looking for a way to make it easier for people get more fruits and vegetables into their diet, the company is now also taking on the larger issue of food inaccessibility in communities that are labeled as "food deserts" — where residents don't have ready access to healthy foods and fresh produce.
"The very core of this brand has always been giving back. Our founders did it for a long time and didn't really talk about it. Now, with every campaign we do, we do a give-back," says Peterson. One of her favorites, she says, was Pressed's most recent Black History Month campaign. The goal was to raise awareness about food inaccessibility — and money to donate to the cause.
The company partnered with three Black female artists in Dallas, LA, and New York, who created artwork for limited-edition labels for Pressed products. The company used the sales proceeds to purchase community food refrigerators in the same markets where the artists sell their work. Their designs were also featured on tote bags, which were offered to community members for carrying home their food from the refrigerators, and were also sold in Pressed stores to raise additional money.
This partnership, Peterson says, was the company's way of saying "We want this to be a lifestyle, but we also understand it's a bigger issue in the US, and we want to contribute to that as well." As with any systemic issue, the greatest impact is always found where a solution is needed most, and Pressed is committed to ensuring plant-based eating and nutrient-dense food is as accessible and affordable for the widest number of communities.
If you'd like to dive deeper with more purpose-led companies like Pressed, check out the Lead with We podcast here, so that you too can build a company that transforms consumer behavior and our future.