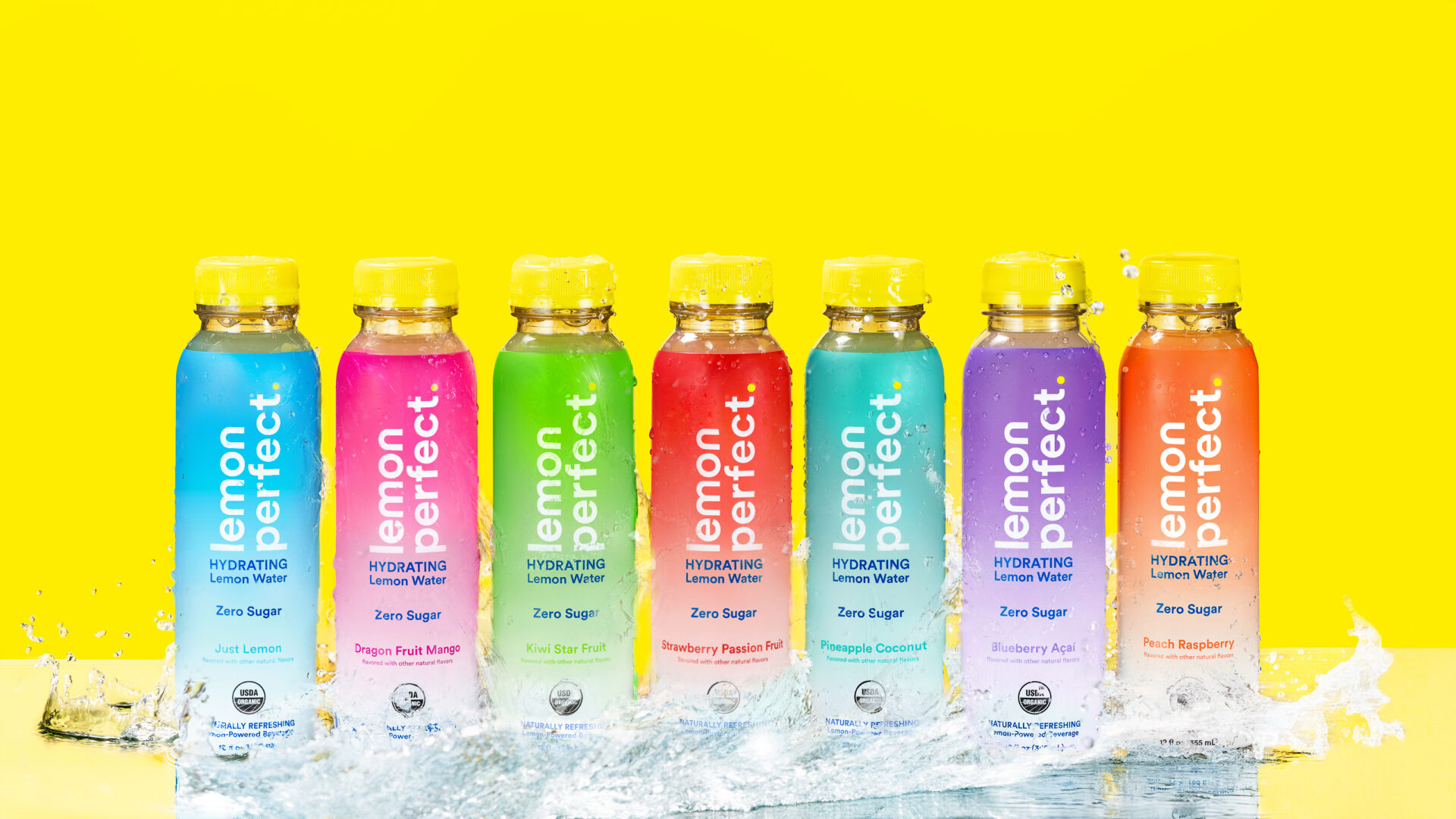 Lemon Perfect: Tastefully Disrupting The Enhanced-Water Beverage Market
Written By
September 12, 2022
Some businesses start out with a dollar and a dream. Yanni Hufnagel's started with a dream of disrupting the way that the US drinks beverages and . . . lemons. In 2016, when the founder and CEO of the Atlanta-based Lemon Perfect Company was coaching basketball at the University of Nevada in Reno, he began a ketogenic diet routine that called for starting every day by drinking organic lemon water.
Although aggravated by having to squeeze his own lemons each morning, he found drinking the fresh lemon water made him feel great, so he stuck with it. One day, he noticed that all of the players and coaches in the locker room were drinking a popular anti-oxidant infused water, and a lemon-shaped light bulb went off in his brain: How about pairing great flavor with something that's good for you? Something that might even make the US a healthier place? And so, Lemon Perfect was born.
Sweetening the deal
Hufnagel says that for him, "Sugar is the root cause of so much of the destruction of (the) health of the American consumer, and it's a lot harder to eat five hamburgers than it is to drink five sodas. The truth is that so much of the dislocation of health in America, especially in the most underserved communities, is by what people drink, not by what people eat." This, he says, gave his company the chance to, "remove millions of pounds of sugar from the American diet."
Much of the US population lives in food deserts and communities with too few healthy options available, leading to rampant diabetes and other negative outcomes, including poverty.
Because our beverage ecosystem is still dominated by high-calorie, high-sugar options, however, Hufnagel knew he had to "deliver sweet to the market." "Otherwise," he says, "people aren't going to keep coming back." So, he set out to create a brand that delivers the flavor profile of many of those mainstream beverages but with an innovative and healthful twist—a drink squeezed from real, organic fruit.
Wanting to stay as far away from anything artificial as possible, he focused on using natural sweeteners. While its main competitors use synthetic versions of erythritol and stevia leaf extract, Lemon Perfect sources organic, non-GMO versions of those sweeteners for its certified organic, keto, vegan, kosher, and gluten-free beverages.
And its flavor profile has clearly won over consumers. Since its 2017 launch, Lemon Perfect has captured the seventh largest market share in the multibillion-dollar enhanced water category, in June 2022 becoming the fastest-growing brand in that category for the past year. The company aims to scale to more than 40,000 points of distribution by the end of 2022, and will shift its focus to convenience retail and foodservice channels in 2023 and 2024.
Healthy body, healthy planet
But America's sweetened-beverage addiction has not only harmed its people; it also contributes to the declining health of the planet. Here, too, Lemon Perfect is leading the way. In addition to being carbon neutral and making its bottles from recycled PET (polyethylene terephthalate) plastic sourced from previously recycled plastic bottles, the company plans to become "plastic neutral" by October 2022.
This is particularly important to him, Hufnagel explains. "Whether you're using 100 percent recycled material or 100 percent virgin material, you're still producing a form of PET that's going into the marketplace."
He wanted Lemon Perfect to go a step further, he says. "So we're now going to remove the equivalent amount of plastic from the environment, one for one." Going plastic neutral is an endeavor that will cost millions of dollars, but will be very important to the company as it scales its business, Hufnagel says: It will make Lemon Perfect the first plastic-neutral brand in the enhanced water category.
"We want to continue to be at the forefront of positive change," says Hufnagel. "Anytime that we have a chance to lead the way and to be an innovator, we want to jump through that circle."
No "lemons" here
Having spent 10 years as an assistant men's Division One college basketball coach, Hufnagel knows a little something about teams. The most important thing, he says, is to surround yourself with great people and believe in what you're doing and what, collectively, your team can build.
Lemon Perfect is "building something that people put in their bodies every day that gives them a chance to live a healthier lifestyle," Hufnagel says. And at the same time, "we get to create a business that can have an enterprise value of a billion dollars, and then in between all that, we've got these amazing people," he says. The team of 72 he has assembled all believe strongly in the brand.
Hufnagel has tried to keep the hierarchy to a minimum so that folks are able to interact more as teammates. Key to this dynamic is that everyone in the company owns shares, which he believes is an important motivator. It makes Lemon Perfect's team members feel, he says, "like they're truly building something that's their own."
Says Hufnagel, "We're building a great business and we're building a business that can at the same time do real social good."
If you'd like to dive deeper with more purpose-led companies like Lemon Perfect check out the Lead with We podcast here, so that you too can build a company that transforms consumer behavior and our future.
Follow me on Twitter or LinkedIn. Check out my website or some of my other work here.