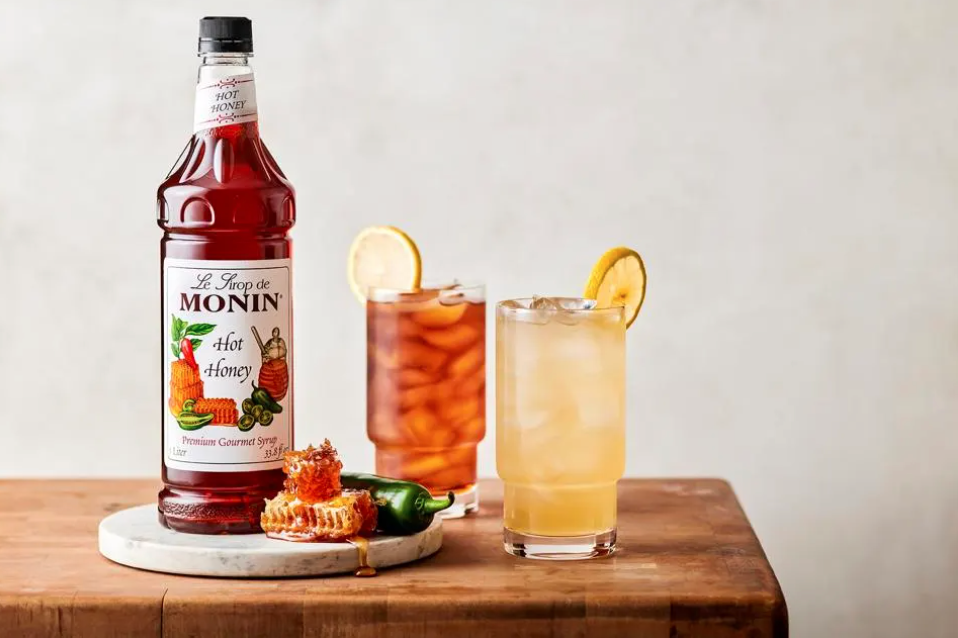 Monin, Inc.: Crafting Flavorful Innovation With A Commitment To Sustainability & A Yes-First Mindset
Monin, Inc., a third-generation family-owned global company, has been a key player in the flavoring industry since its founding in France in 1912. With headquarters in Clearwater, Florida, Monin oversees sales and operations throughout North America, South America, and the Caribbean.
The company manufactures and distributes a wide range of syrups, fruit purées, liqueurs, and sauces, which are used to flavor food and drinks in top restaurants, cafes, cruise ships, and concerts around the world.
The 200 or so Clearwater staff produce about 95,000 bottles of flavoring a day, an average of 25,000,000 bottles a year.
In addition to France, Monin operates a facility in Kuala Lumpur, a brand office in Shanghai, and operations in Australia and Dubai. It opened second NA manufacturing facility in Sparks, Nevada in 2020. Monin employs about 600 people globally, with an estimated annual global revenue of $299.8M ($30.5M NA)
Creating a rewarding workplace culture
Monin's demonstrable commitment to quality, sustainability, and social responsibility has earned it a reputation as one of the Best Midsize Workplaces in the Tampa area.
According to CEO Bill Lombardo, who's been with company since 1999, the "secret syrup" that makes Monin a rewarding place to work lies in Monin's commitment to its employees' growth and development.
Lombardo highlights the company's dedication to maintaining a safe work environment that rewards teamwork and encourages "a sense of urgency balanced with careful thought and safety." Urgency, however, does not mean strict adherence to quotas as Amazon has been accused of. It has more to do with an employee mindset than operational way of being.
Says Lombardo, "We have put a high priority on obviously hiring the right people, but developing a very close, linked culture." The company talks a lot about its "family ownership," he says. "And we speak openly about joining the Monin family. 'You want to be part of the Monin family? You got to be part of the family and you've got to act like a
family member.'"
Not to say Monin family membership is ever a guarantee. It must be earned, and continually so. "From the get-go, I said, we will never hesitate to fire somebody," says Lombardo. "I don't care how skilled they are, how bright they are, if they don't fit the culture, if they don't align with our values …
"So, we promote those values to people. We have this whole program, and 'program' is probably the wrong word because it's something we live with all the time. It's called Monin Secret Ingredients. But it has nothing to do with flavorings and colorings; it has everything to do with the way we interact with each other."
"The Monin Secret Ingredients are a living, breathing entity that we talk about openly every day, whether it's on the plant floor, in the warehouse in the team, or [in the] administrative [offices], because those ingredients actually drive our … forward [motion] and [help us] stay connected with each other," says Lombard. "We just have a very open, honest approach to things."
Overcoming communication challenges in a global enterprise
Lombardo admits that communicating the company's mindset, values, purpose, and policies can be demanding given the company's size and distribution, but emphasizes the importance of effective storytelling. By ensuring that the company's philosophy is well understood across different cultures and regions, Monin maintains consistency in its operations and messaging.
"At Monin," says Stasha Johnston, SVP Marketing, quality begins and ends with a commitment to its customers, the environment, and communities by focusing on four key social responsibility pillars:
Natural ingredients for authentic flavors, without compromise.
Strategic partnerships with like-minded, trusted suppliers.
Protection and regeneration of our environment.
Commitment to our local and business communities.
Just one practical example of that purpose in action concerns pillars 3 and 4, and Monin's 15-year quest to help avoid colony collapse among the US bee population. The company donates minorly imperfect product that it would otherwise have to pay to ship to landfills. "It's food grade syrup, which we give away to farmers across the whole US. Supplying millions of bees," says Lombardo. "Ironically, the more we make the occasional mistake, the better the bees eat!"
Innovating flavors & aiming for optimal health: cost & benefit
Innovation plays a critical role in the flavor space, according to Lombardo. This is especially true in the upmarket space. Monin manufactures and markets its products as gourmet and premium. It has a long-standing focus on using natural and high-quality ingredients. Lombardo emphasizes the company's commitment to sourcing "real and wholesome ingredients," even exploring the use of natural colors, despite the added cost.
"We're using natural ingredients at a great expense," says Lombardo. "And sometimes people come and say, 'I don't understand why your Blue Curacao is so expensive contrasted to the other stuff.'
"And I say, 'Well, the other stuff's made with corn syrup, artificial flavor, and artificial color … I'm sorry, but no matter what I do, I can't make it competitive. So that's the choice. You have to make that choice of where you want to be."
And people are increasingly making that choice. Lombardo notes a significant shift in consumer preferences, with people more and more willing to pay for "quality and naturality."
The company recognizes the importance of balancing this premium quality / optimal health and wellness mission with the necessity of sugar in its core products. Lombardo highlights the use of Florida Everglades' pure cane sugar as a key ingredient, distinguishing it from ubiquitous and far less healthful processed white sugar.
Clean label promise & supply chain standards
Monin is dedicated to its "Clean Label" promise, which involves using natural ingredients and minimizing artificial additives. Lombardo acknowledges that not all its products currently meet the criteria, but the company is actively working to increase compliance with Clean Label requirements. It strives for transparency and to maintain high standards throughout its supply chain, partnering with like-minded and trusted suppliers.
"We are not 100 percent [Clean Label]," says Lombard, "and probably never will be. We're always going to be 98 percent or something like that but very, very close to a hundred."
Says Johnston, "I think that a lot of decisions that we make when it comes to our partners and our suppliers is all based on keeping the customer at the center point, and always doing the right thing by them. So, if any partner that we are with is not following that, we look to find others that are. We want to align ourselves with those that believe in the same ethos that we believe in."
Flavor preferences in a globalized world
As the world becomes more globalized, flavor profiles are evolving and influencing each other strongly. Lombardo shares that consumers are increasingly open to flavors once popular only in specific cultures. This shift reflects a growing appreciation for diversity, and a notable departure from Western tastes dominating other cultures—a kind of anti- McDonaldization. Predicting the next trend, such as the popularity of pumpkin spice or sriracha, requires a combination of market research, consumer insights, and a willingness to innovate.
It also means listening to its B2B customers, such as Sysco, Outback Steakhouse, Au Bon Pain, and Ruby Tuesday, because they're in touch with their own customers' tastes and demands. Monin's 67,000 square foot Clearwater facility includes an onsite café designed to allow clients to test out and sample its 230+ flavors—and its future fare.
The power of Monin's innovation and growth derives, say Lombardo and Johnston, from the "Yes" mentality in Monin's customer service model. "We says 'yes' whenever possible," says Lombardo. Of course, the whole "yes first" policy has limitations, he argues. Balancing customer demands, feasibility, and business objectives is essential to ensure sustainable growth and maintain high-quality standards.