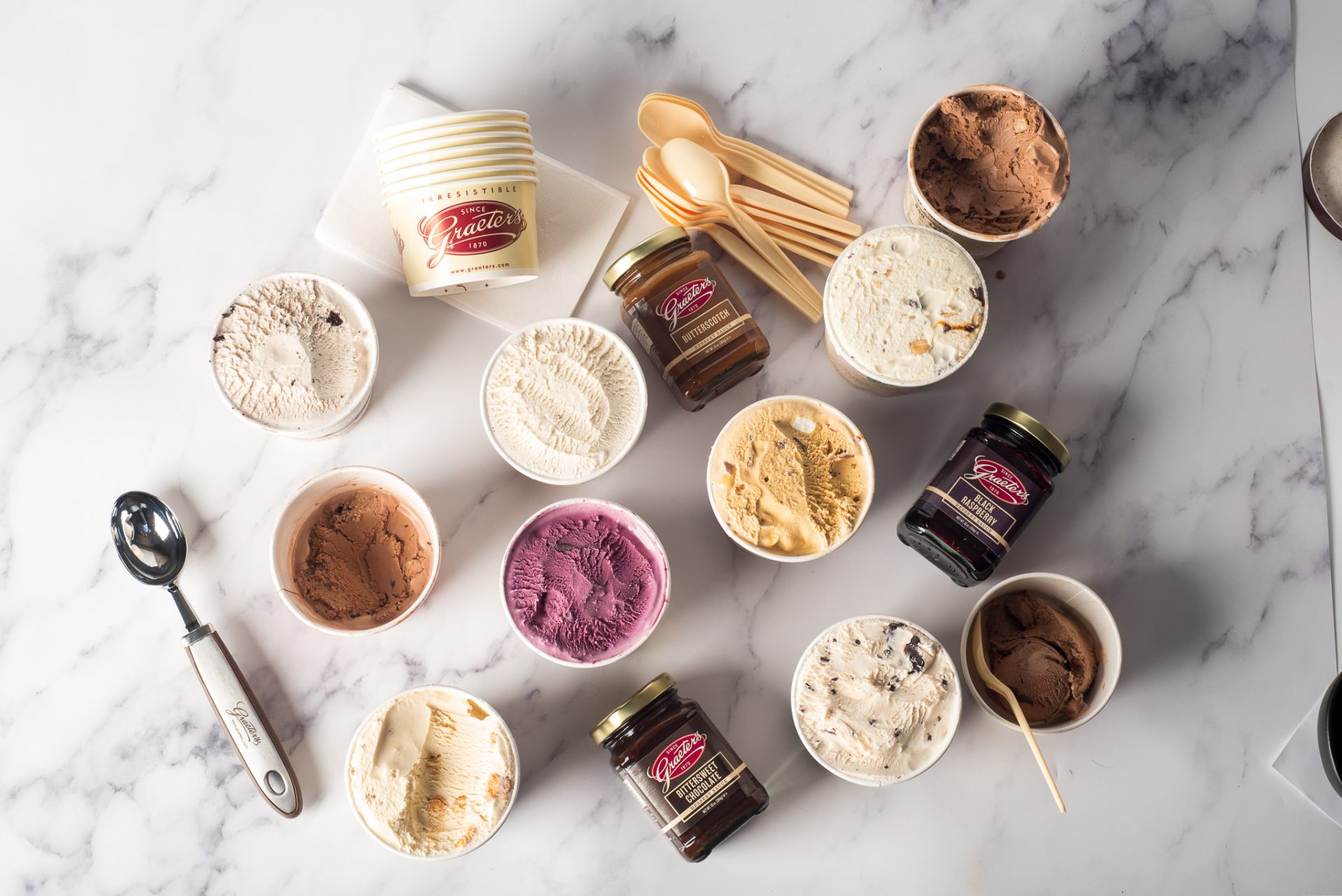 Purpose At Work: Graeter's Ice Cream's Ingredients Success
Written By
September 30, 2020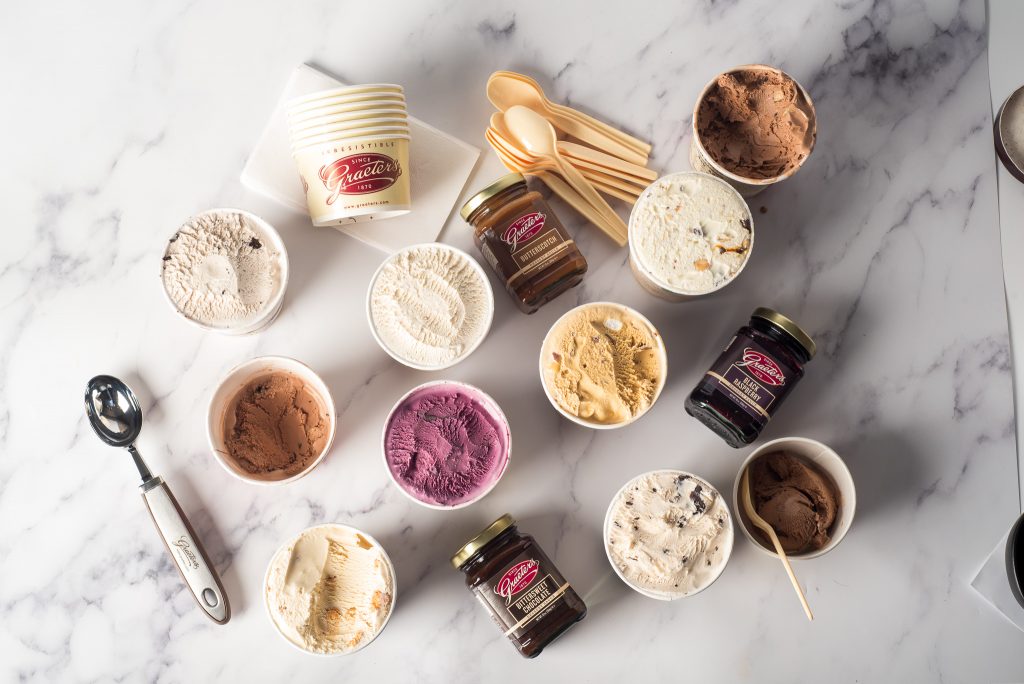 What makes some businesses grow for centuries and others fail within a year? "It's all about people," Richard Graeter, CEO and President of Graeter's Ice Cream, tells We First. That and selling a great product.
Mr. Graeter's great grandfather, Louis Charles, started making Ice Cream in 1870, in Cincinnati, Ohio. It wasn't until Louis' wife Regina took over the business in 1919, that the company started to scale. Today, the small town ice cream parlor has grown into an American favorite, with 55 brick and mortar locations and national distribution via Kroger, which owns grocery stores like Ralphs, Pick n Save, Food4Less and others. 
While the company has expanded, it hasn't changed the way it crafts its beloved cold deserts in over a century.  "We use the French Pot Freezer," Graeter says with pride. " We use a batch process that takes about 15 minutes to make two and a half gallons. It's very laborious. When it's done, it's thick and has to be scooped out. To this day, every pint we make is packed by hand."
In 1926, the Continuous Process ice cream machine transformed the way ice cream was made. Via a whipping process, it allowed brands to make more products, faster. This put many family parlor's out of business.
"It ruined ice cream," Richard pleads. Like her great grandson, Regina Graeter wasn't sold on the industrialized method. Although it's faster, the Graeter's say it doesn't taste the same. So, Regina kept churning ice cream the old fashioned way. "We are the last company on the planet that uses this process at a commercial scale to make ice cream," Richard shares.
Business during COVID-19:
While Graeter's Ice Cream's employees and products have helped distinguish it from the competition, the brand's purpose and mission have acted as a compass through difficult times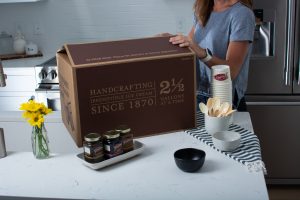 "In a word, our purpose is indulgence," Graeter says. "During happy times, it's about enjoying everything in life. In hard times, it's about providing comfort." 
Graeter's Ice Cream is there to give Americans a little something sweet while other aspects of pandemic life are so hard to swallow. The frontline team has been working hard to keep grocery store shelves stocked, especially during the initial scarcity at the onset of the virus. 
The ice cream maker's efforts have paid off. "Typically, 50% of our volume occurs between Thanksgiving and Christmas. April alone was like Christmas in terms of sales," Graeter says.
While quarantined-Americans are seeking a scoop of Graeter's in grocery stores, they're also looking for sweet treats at home. The family owned business has seen impressive growth in its ice cream delivery service, which many other ice cream companies don't offer.
By staying true to its purpose and meeting consumers where they are, Graeter's has been able to turn a difficult challenge into a profitable opportunity.
Purposeful Partnerships:
Another way Graeter's Ice Cream wins the hearts and mouths of American's is by finding ways to leverage their business for the greater good through purposeful partnerships. 
One of the company's long standing collaborations is with The Cure Starts Now Foundation. The Foundation focuses on finding a cure for a rare pediatric brain cancer that only affects children. After Graeter's auctioned a make-your-own-ice cream flavor experience at a fundraiser dinner for a family friend that had the illness, a partnership began.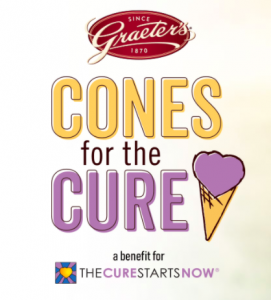 They decided to sell the flavor, Elana's Blueberry Pie, for two weeks and donate the proceeds to the Foundation. The flavor was a success and led to the Cones for the Cure initiative. "Every September, Customers can donate to the charity by buying a package from Graeter's," Richard explains. "We've raised nearly a million dollars for the foundation."
Another example of Graeter's social impact innovation shines through in its partnership with the Cincinnati Zoo.  "They had a baby hippo named Fiona that was born premature," Richard says. "We teamed up with the zoo and a local artist to come out with a flavor called Chunky Chunky Hippo." A percentage of proceeds go to the zoo and gardens. The zoo posted Fiona's recovery on social media and both the hippo and the ice cream became a local favorite. "We're part of the fabric of the community," Graeter says.
The takeaway here is that by connecting with causes and organizations you believe in, you can scale the reach of your marketing initiatives, cultivate meaningful relationships with consumers and build happier communities.
Innovative ways to connect with new consumers:
When selling any product, it's important to know your customers and connect with them in a way that they understand.  While many companies target a specific age group, Graeter says that his company wants to connect with the whole family.
"Butter pecan is what grandparents like. Nut based ice creams were popular in the thirties and forties," he explains. "Black raspberry chocolate chip, that's for mom and dad. People in their twenties probably want coffee or mocha. Teenagers want cookies and cream. Little kids want 'blue flavor,' so we have cotton candy." 
To build stronger ties with the millennial demographic, Graeter collaborates with a craft beer company called Braxton Brewing Co. Braxton makes a "black raspberry chocolate chip milk stout. They actually used our Black Raspberry puree and roasted cocoa beans." 
Richard says the collaboration helped the small beer company get shelf space at grocery stores and positioned Graeter's in front of younger demographics. "It gave us an aura of cool," the CEO says. Essentially, by collaborating with complimentary brands you can find mutually beneficial ways to build business.
The key takeaways from Graeter's Ice Cream on how to Lead With We are to build a culture around purpose and community, collaborate with unlikely partners to scale impact and growth, and never sacrifice quality for scale.