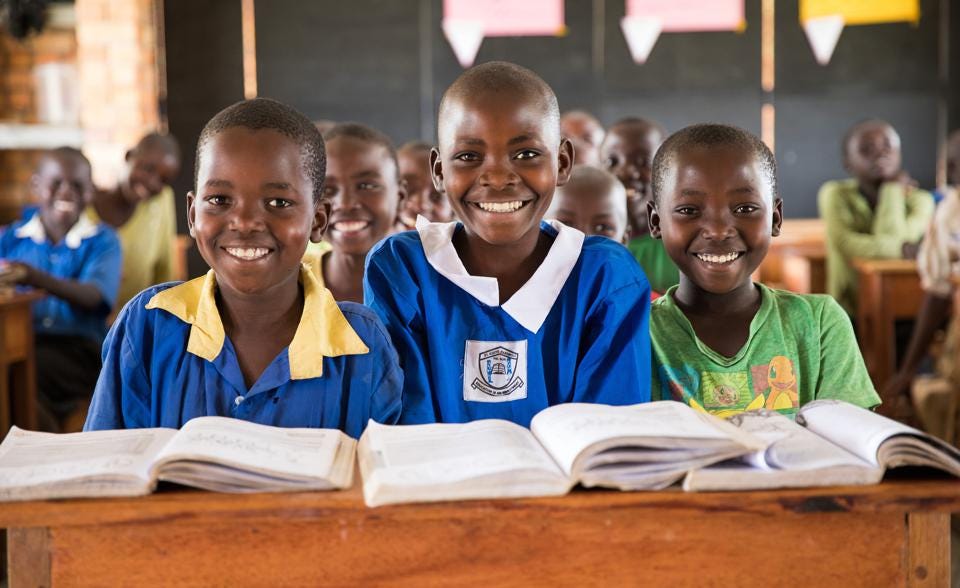 Purpose At Work: How Australia's Cotton:On Drives Growth Through A Purposeful Culture And Storytelling
As CEO, Peter Johnson has been integral in the growth of The Cotton:On Group (COG), Australia's largest global retailer, which specializes in affordable fashion clothing, planet-conscious sportswear, quirky stationery, decorative arts, and some housewares. Johnson's been with the company 17 years, and supervised the store footprint's expansion from 50 Australian Cotton:On stores in 2004, to now about 1,500 stores globally, and a suite of eight brands, operating in 22 countries, supported by a global workforce of more than 17,000 people.
"You can see store numbers growing [10–20 percent annual square-foot growth], and brands growing, and countries growing, and everyone assumes it's a typical retail business that's got this obsession with opening more stores and getting bigger and stronger," Johnson tells We First. "And that's true. There's a strong sense of competition and pride in that aspect of the work. But from day one, our owner, our founder [Nigel Austin] has just wanted to do it differently. 'Rebel' is the wrong word, but he doesn't want to be a big corporate. He doesn't want to follow the same rules as everyone else. He's a disruptor. He likes to do things … because they're the right thing to do, not because the manual said, 'This is how you run a retail business,'" Johnson says.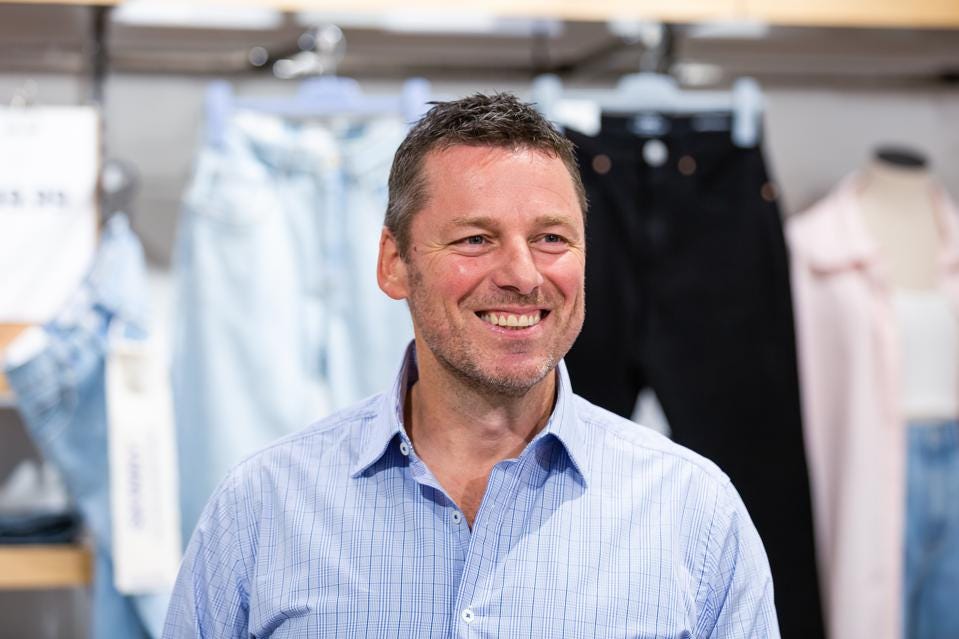 Cottoning On to the company culture
"Here's how we do things," Johnson explains. "Around this deeper meaning. We do things beyond the P&L. It's how we treat people. It's how we treat our [850+] suppliers. It's not walking past things that we know are wrong."
COG calls it a "People First" value, and it's the primary engine for the company's growth.
"We're a group of people that love being together," the company wrote in September 2020. "Our work mates are our real mates — so connectivity has been the driving force behind the way we've pivoted to meet the changing needs of our people when it comes to working together."
Much of the company's internal storytelling derives from its origins, and Austin's "People First" priority. Austin, according to Johnson, once told him, "'I want so-and-so to walk down the street and feel bloody good that he's part of this amazing business that he's been able to contribute to. And he's a rockstar. People see him and they say, "Hey, that guy works for Cotton On,"' Johnson relates. "So originally it was all about, 'Let's do good for our people because the better we make this business for the people who work for it, the better the business will be' … It all started with 'Let's just do the right thing for our team.'"
Doing the right thing includes celebrating inspirational team members' — not the company's — values-based accomplishments. Team members are recognized quarterly and annually, and rewarded for their operating efforts, love for customers and their teammates, and contributing to the overall good COG is doing both on the corporate level, and through its philanthropic arm, the Cotton On Foundation, which focuses on the development and support of projects within the communities it touches.
"Being private," Johnson says, "we never talk about [these good things we do]. Well, historically we haven't. That's been changing the last few years. Not because we've had to, but because we think it's important to share. We think it's an important story to share and it's getting more important. [Customers] want to know because they know [our society's] in trouble."
Cottoning On to consumer concerns
"You've just got to watch the customer," Johnson advises, still echoing Austin's precepts. "They're telling you something every day. They're telling you what they want. They're telling you what they don't want. And even in this space, it's really important … the customer's telling us they want brands with purpose. They're telling us they want brands who do something beyond just making them feel good in the t-shirt they're wearing."
So, the company's "People First" value "evolved over the years to include consumer" needs and demands, says Johnson. It learned to "blend the two things together: Always watch the customer, always respond to the customer's need — and do good for our team." It learned to "make this business a business that looks after them and contributes to their life — not just one-way traffic.
"We should be doing the same thing for our customer as we are for our team." So, COG's brand building and societal service "grew out from that internal focus," Johnson says.
This is one main reason we acknowledge COG as a Lead With We frontrunner — it's leading up a Virtuous Spiral of purpose through its company culture and out into the communities it serves — then beyond, working on solutions to global problems.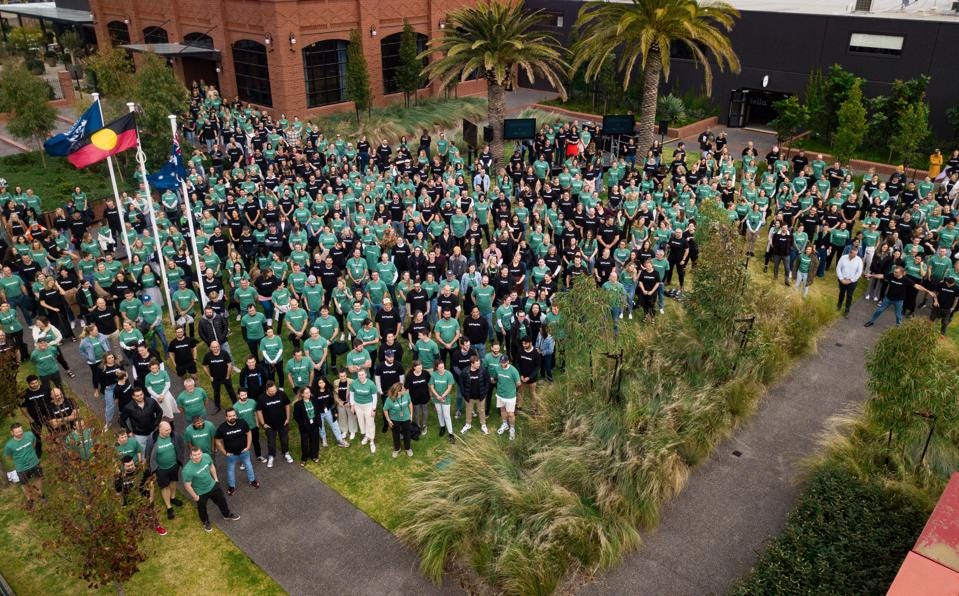 Cottoning On to community architecture and societal change
"Making a positive difference in people's lives is COG's purpose," the company states. "It's what gets us out of bed in the morning and drives our every move." Leaders describe it as "kind of like a really strong cup of coffee."
"The Good" COG does stems from its "purpose to make a positive difference in people's lives … that's our North Star," says Johnson. Efforts include ethical sourcing, sustainability measures and commitments, and community partnerships (a "support your mates" mentality). The latter includes anti-hunger, children's health care, clothing the needy, mental health, family empowerment, regenerative agriculture, and firefighting — essential of late in Australia and elsewhere. The company's even a major long-term sponsor of the AFL Women's, the Australian rules football league for female players, which gets all its kit from COG.
Taking advantage of its strong philanthropic history in South Africa and Uganda, COG is also helping UNICEF deliver an equitable distribution of 1 million COVID-19 vaccinations to the world's teachers, healthcare workers, and others most vulnerable to the disease.
"We're here to create meaningful social and environmental change for our current generations, and future ones, too," the company says. "It's a movement; a constantly evolving journey to make good on our purpose of making a positive difference. For people, the planet, and the things that matter."
Johnson's counsel
Johnson offers the following advice for leaders at businesses of all sizes to follow COG's lead:
Stick together around a collective purpose, seeking broad buy-in. "One of my frustrations about this pandemic [is that] early on, everyone just put aside their political bias and their egos. And it became, 'Hey, this is serious. The best way to do this is together.' But it's been frustrating that it has disappeared over the journey, unfortunately. To build a brand with purpose, as opposed to building a business that sells product [requires that] every day, that's the message we've got to drive through our organization. And there's [maybe thousands of] people who've been trained to sell products. So, it's going to take time to really embed it as a core part of your being. But if you focus on that and if you stay true to that, I think [that] brand with purpose will solve the climate change issue, and the sustainability issue, and the way we treat people. So, embed the brand with purpose at every stage of your vision, and your strategy, and your strategic priorities. And it comes through, it cuts through every part of your business."
Focus on the supply chain. "We've got to work with our suppliers and our partners, and we've got to keep challenging and working on solutions for that. And I mean real solutions. I don't mean tick-the-box solutions … The suppliers want to do this. Suppliers aren't sitting there saying, 'We don't want to be involved in the solution here.' They know. They're not silly. They know that to be a preferred supplier of a business like ours, they have to really partner with us. They have to do these things. So, we're seeing no pushback. There's no challenge to the things we're trying to do with them. It's just a matter of catching up. It's just a matter of getting the technology in place, whether it's the denim washing that we do" or updated packaging, or converting into solar energy and LED lighting.
Aim high. The confluence of crises the world is facing are only getting more dire, more intertwined. And companies like COG are both admitting they've got a ways to go, but still trying to live up to bold commitments on carbon neutrality, ecosystem degradation, workplace fairness and justice, and a host of other challenges to business and society. "Just saying, 'We're getting better at this" is not good enough anymore because getting better might mean you're miles behind."
If you'd like to dive deeper with more purpose-led companies like Cotton:On, check out the Lead with We podcast here, so that you too can build a company that transforms consumer behavior and our future.
Follow me on Twitter or LinkedIn. Check out my website or some of my other work here.