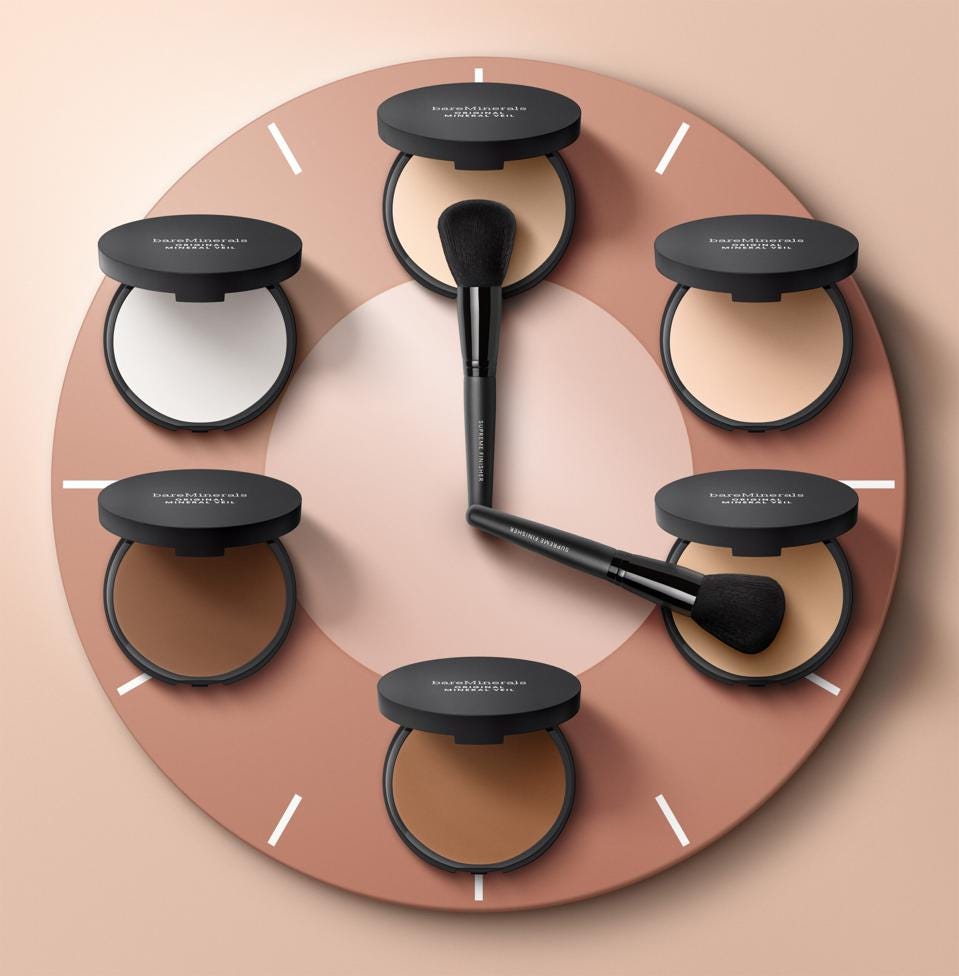 Purpose At Work: How BareMinerals Created A Community Of 'Bare Beauties' Sharing Each Other's Impact
"Clean," "conscious" and "cruelty-free" beauty products are rapidly eclipsing the toxic, harmful competitors of yesteryear in the gigantic ($500+ billion) woman's beauty market.
But it was Leslie Blodgett, a pioneer woman — meaning way back in the mid-1990s — who first revolutionized skin care, for a faltering concern called Bare Escentuals: She made arguably the first truly clean mineral makeup product.
A few years later, Blodgett was regularly selling out of her loose powder foundation kit (with application brush), touting its clean USP late nights on QVC, purportedly roping in $1.4 million an hour.
By 2011, the New York Times dubbed Blodgett the "Queen of Beauty," a massive influencer in the industry: "Move over Estée Lauder."
Around that time, Japan's biggest cosmetics conglomerate, Shiseido, didn't blush, spending $1.8 billion for the brand.
"It was sold. It got a little irrelevant," Jill Scalamandre, president of Bare Escentuals, which runs bareMinerals and the BUXOM brand, tells We First. It had gotten lost among 78 subsidiaries of the behemoth. And it grappled in an ever more competitive market. "So, when I came on three and a half years ago, I needed to sort of reboot it, if you will," she says. "And I went back to the roots of what Leslie had built. I said, 'You know what? We are a brand that really cares about our users and cares about using minimal ingredients — We don't need to put the whole kitchen sink on your skin. We care about people and the planet."
Who makes up your community?
"We needed to really go back and make [the brand] more relevant to our users," says Scalamandre. It got a little vanilla since it was sold, and then passed around."
Scalamandre had been influenced by Lead With We companies Toms, Warby Parker, and Patagonia. "I think those are brands that really walk the talk." But it was Blodgett — and her followers — who remained the touchstone for the restart.
"Leslie became a girlfriend to everybody who used bareMinerals," says Scalamandre. "I mean, she created this community of women who shared their stories with her. She went across the country and became this social pioneer, because this is 25 years ago."
The dawn of chat room technology buffeted that road trip community-building. The bareMinerals chatroom bustled with hundreds of eager voices, coming together in what we now call a "viral" way within hours of Blodgett's first appearance on the channel.
Blodgett herself recalls that experience in her 2020 book, Pretty Good Advice: "I'd never heard the word 'community' used as a business term." She had jumped in, listened, intermingled, and became an icon. Blodgett left Bare Escensuals in 2016 to become a full-time student — an amazing story on its own, and one that sums up the confident, nontraditional spirit she originated for the company.
Today, reports Scalamandre, bareMinerals's customers are still fiercely devoted to the brand and its purpose — To create clean, conscious beauty that's good to your skin, good for the community, and good to the planet. "I mean, these women are very loyal, our core users, because we … talk with them about their challenges. We adapt to what they're doing."
And celebrate them — the community — rather than looking inward and making the company the celebrity. "All under our mission, which is to help women feel good about themselves, their community, and their impact in the world."
Despite some ups and downs over the past few years, bareMinerals is available in 21 countries and regions, 5,050 doors. The company reports that "a full 30 percent of American women use the brand."
Its only-five-ingredient Original Foundation ranks No 1 among prestige brand mineral foundations in the US and UK.
Not to say a brand can't lose consumer trust and reputation almost overnight, Scalamandre recognizes. More and more, for example, bareMinerals's brand community is wondering things like "Where does your mica come from?" she notices. "We say that we're ethically sourced because we have every single vendor" vouch for their own ethical sourcing. Now the company's beginning to scrutinize "the whole transparency in blockchain," Scalamandre says. "It's getting our suppliers, and their suppliers, and their suppliers to unlock this. It's not easy."
Highlighting some breakthroughs
As the clean company cleanses its supply chain, it's restricted more than 2,500 ingredients, including the 1,400+ banned in the EU. Three quarters of its formulas are vegan, including every new product since 2020 — and it's aiming for total vegan ingredients by the end of this year.
Note the industry leader in clean formulations is not letting perfect become the enemy of the good, Scalamandre argues, when it comes to operations and distribution (Blodgett is famous for her "always set the bar low" counsel). While the company appears to continually push its own standards forward to create products that are safe, responsible, and proven effective, it regularly examines and revises its ESG goals, and has already made some bold headway in sourcing, packaging, and recycling more sustainability.
On that last front, bareMinerals customers can request a pouch through its Give Back, Get Back Recycling Program, helping ensure their "beauty empties" — even competitors' products in some cases — that would normally get dumped in landfill can be recycled or repurposed into reusable plastic.
"That little pouch is $15 that we are absorbing," Scalamandre admits. "But it's because we believe that our consumers will love us more because we're helping her make an impact in the world — and other brands are not doing that. So, we think it gives us a competitive edge. Plus, we know it deepens our connection with the consumers."
Further bolstering those community connections, bareMinerals's Power of Good Fund supports women's empowerment. Focused on education, it works with philanthropic partners Room to Read and Girls Who Code (because girls who receive equal access to education go on to earn higher incomes, have a voice in making decisions that affect them, and are more likely to lead healthier lives). Currently, 1 percent of all purchases will help change the lives of women — $1.35 million raised so far in the US, with a goal to expand the fund around the globe and top $5 million in total donations within five years.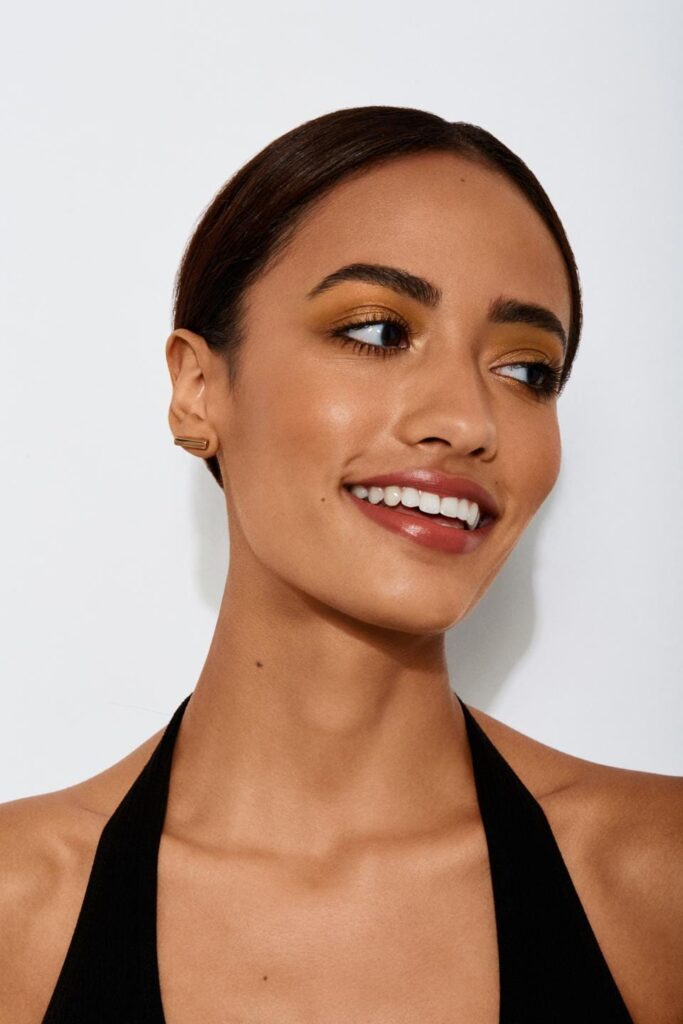 Layering the foundation through storytelling
"When I came on to the brand, back to the roots of what Leslie had built with this whole story around product — minimal ingredients, clean ingredients — I said, 'You don't even know that you're a clean brand, which is a big movement in our industry right now. You've been clean for 25 years! So, I think we have to declare it and seize this opportunity."
But, "to be really transparent," says Sclalamandre, "We're still in the nascency stage of this. We have our pillars, we have our foundation, we're actively doing things. But I think we need to do a better job in communication. And that's my mission for 2022, to really make this brand [even more conscious], weave it into everything that we do so that it becomes more woven into the DNA of the brand."
Looking in the mirror
"I didn't get into this business because of vanity," says Scalamandre. "I got into it because I love the fact that when women wear makeup, they feel more confident and better about themselves. And so, for me, that's why I love this brand. Because it's really making women feel beautiful and telling them they are beautiful. That's the voice of the brand. It's very warm, it's authentic. It's not dictating to women what they should be doing. It's really about "How do you feel? You look beautiful."
But, based on the onslaught of traditional media tricks, what does the average woman see when she looks in the mirror nowadays? "They get depressed because they don't look like that filtered Instagram face" that bombards them, including by cosmetics models, says Scalamandre. So what of bareMinerals's main model, Hailey Bieber, who's previously done turns for Ralph Lauren, Guess, and Tommy Hilfiger. Surely Bieber's not exactly the woman most women might see when they look in the mirror?
Says Scalamandre: "We want to stop the filter movement," which the company has committed to rolling out in 2022. "You're beautiful as you are. And you know what? We're not going to retouch — and neither should you."
If you'd like to dive deeper with more purpose-led companies like bareMinerals, check out the Lead with We podcast here, so that you too can build a company that transforms consumer behavior and our future.
Follow me on Twitter or LinkedIn. Check out my website or some of my other work here.