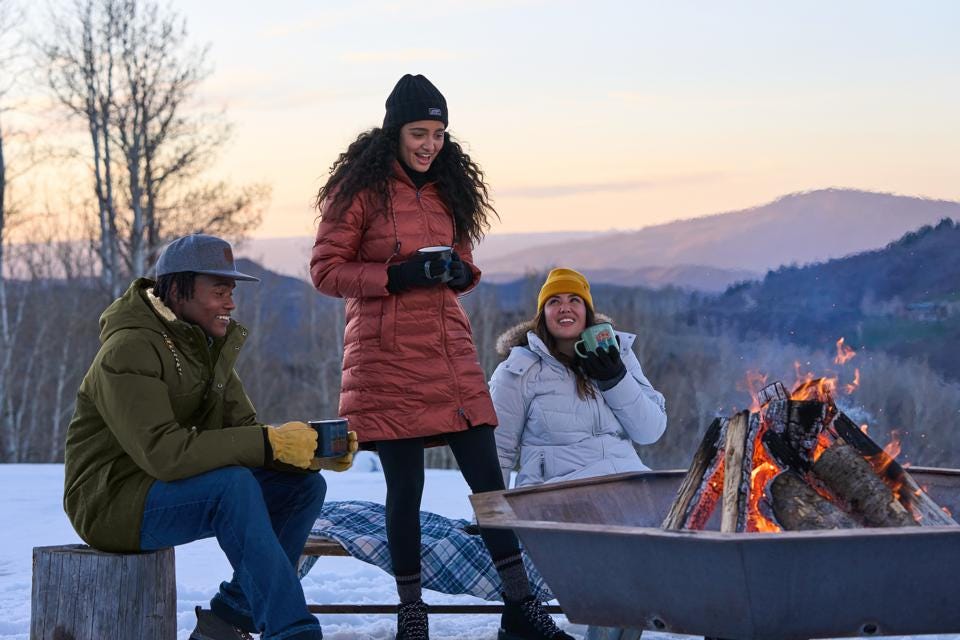 Purpose At Work: How Eddie Bauer Inspires And Empowers Everyone To Experience The Restorative Outdoors
Online and at more than 370 Eddie Bauer stores, customers of the iconic U.S. clothing store chain headquartered in Bellevue, Washington, come to outfit themselves for outdoor adventures — or to look stylish in the brand's made-to-last casual clothes.
But few, even among the company's 10,000 part- and full-time employees, readily recall Eddie Bauer the man. Bauer (1899–1986) founded his brand on a workbench rented from a Seattle gun shop. That was 1920. The brand is older than Unilever. Older than the Empire State Building.
Yet one hundred and one years later, Kristen Elliott, VP of marketing, often uses Bauer's original mission as a touchstone, she tells We First. He "was all about empowering people to have outdoor experiences," Elliott says. "Here locally, he knew where to go, what to put on your back so you were comfortable when you went out and had whatever adventure you were going to have."
Eddie Bauer and his corporate progeny grew the company over a century on the strength of its respect for the outdoors, which of late meant stepping up its sustainability practices. It empowers its business by increasing customer access to the great outdoors and deepens its relationship with employees and customers by solving social and environmental challenges.
Like all companies, Eddie Bauer's journey was sometimes a rocky one. In 1971, General Mills bought the company after Bauer sold his interest. Then in 1988, Spiegel, Inc. bought it from General Mills. During this era, the company focused on women's sportswear and accessories. Then as part of Spiegel's 2003 bankruptcy, all its assets — except Eddie Bauer — were sold or liquidated. "But for the rest of our 100 years," says Elliott, "we've been a brand that gets people outside."
Outdoor adventures are "a personal passion of mine too," says Elliott. "I've had my own experiences … that are very transformative. You're doing something big, like climbing a mountain — but they can be equally transformative on a small scale. When you're just going to your local park and absorbing all the things around you. You're reconnecting with yourself, reconnecting with others," and reconnecting with nature, according to Elliott. "It's a part of your daily self-care or wellness practice. It's a beautiful thing."
Especially over the past "18 months of tragedies," Elliott says, "one of the 'benefits' that I see, if I can say that, is that a lot more people are realizing the value of outdoor experience right now."
So, how does Eddie Bauer help as many people as possible achieve those transformative outdoor experiences? How does it Lead With We? It recognizes that its purpose — its business, in fact — depends entirely on the supporting people — and the environment.
Eddie Bauer's people
Internally, "we've been really lucky at Eddie Bauer because from the start, from the top down and everywhere in between," Elliott reports, "we have been fully aligned on all of these issues and admitting where we're not meeting the mark and then acknowledging when we can meet the mark, what our goals are, and being held publicly accountable."
And in terms of building a brand community, it's all well and good to encourage people to get off their couches and get outside. But what are the obstacles in the real world? Seems physical and financial challenges top that list.
Accessibility, according to Elliott, means more than "just performatively changing the types of people that you photograph or collect with your video content or that you share out on social media." Instead, "it's really about engaging as many people as possible to continue understanding what is not accessible about the outdoors so that we can then, in turn, change that by affecting the accessibility in some positive way."
On that democracy of access front, "One of the things that we're about to launch — so you get to hear it first — is an adaptive ski kit for … sit-skiers." The kit consists of a specialty jacket and bib that protects the wearer differently than somebody who stands to ski.
"For us, it's less about watching the competitive set and trying to outdo them, [or] gauging what we did yesterday against what we want to do tomorrow," Elliott asserts. Instead, the brand "builds our own goals" by working with internal partners and some supply chain allies, listens "to figure out what their needs are." Innovations and initiatives follow from that process.
So, for example, "If we're going to stand for making sure that everybody can get outside, then we need to be providing more types of product for more types of people in the way that they get outside. I think we really need to think about what accessibility means and include that kind of financial element."
Thus was born rentals.eddiebauer.com. "It's a place for people to go and spend far less than they would to buy the item," Elliott says. The company offers a full range of products to rent — "you can get t-shirts, leggings, technical pants, outerwear gear, anything you need for an adventure for far cheaper than buying it. It gets delivered to your door. You return it back really easily and you get to see what you like, what you don't, what you might be interested in eventually purchasing." Elliott describes the new service as "just a way to include more people in getting outfitted for outdoor adventure."
Along with 400 other corporations, the company has also partnered with Good360 to "provide comfort and hope" through the distribution of sample products and other merchandise to people facing challenging life circumstances, using a global network of 100,000 vetted nonprofit partners.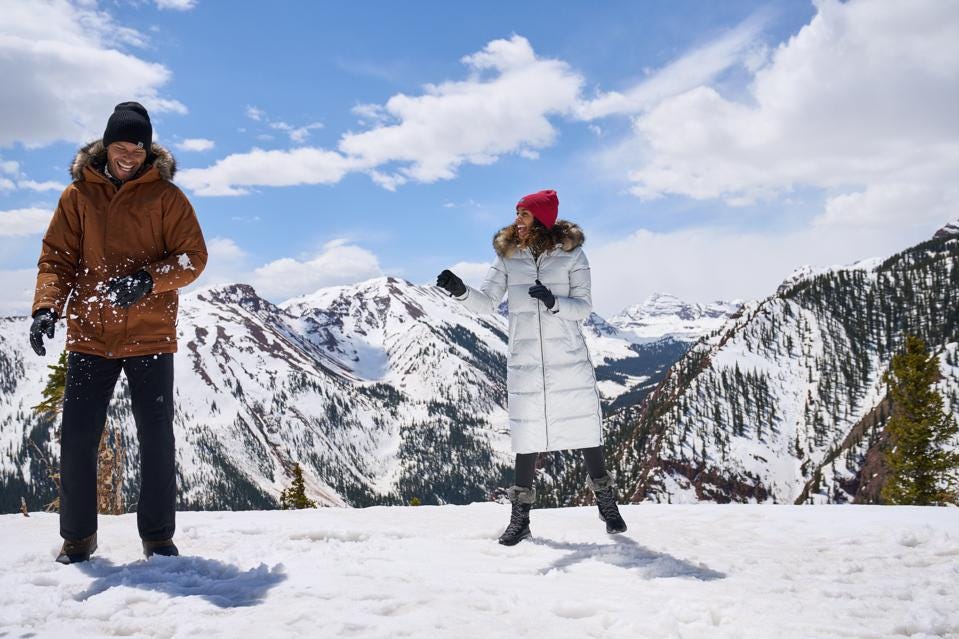 Eddie Bauer's outdoors
The company is "having inter-industry conversations about how best to move [environmental protection] along as an industry," says Elliott, "because … if we don't band together as the outdoor industry to affect climate change, then we're not going to have a business." For Eddie Bauer, says Elliott, that would mean "We're not standing for what we say is important, which is ensuring everybody can have an outdoor experience."
"We are lucky in that regard as we have internal buy-in, but it definitely helps having the support of tools and resources from the industry as well," says Elliott.
The brand, like many, gets a lot of support and counsel from its partnership in "a great governing body in the Outdoor Industry Association," says Elliott. The OIA is a 600+ member organization that promotes and lobbies for recreation and trade policy, sustainable business innovation, and increasing outdoor participation. "We're definitely partners in the association, who's putting some well-structured tools in place to be able to help outdoor industry companies set their sustainability goals and be accountable for them," says Elliott.
"More and more people are signing on to the OIA's climate pledge, Eddie Bauer included," says Elliott. The pledge is the OIA's new aspiration to make the outdoor industry the world's first climate positive industry by 2030. "So, I do see the swell of companies that are really trying to do the right thing, where it might have been the management of optics in the past," Elliott says.
For 25 years, Eddie Bauer has partnered with American Forests, a woodland restoration donation program. "It's a misnomer because they're a global company," says Elliott. Together AF's reforestation partnership with Eddie Bauer has helped plant more than 8 million trees in threatened forest ecosystems in 37 US states and 4 Canadian provinces.
"But they also do a lot now with urban reforestation," says Elliott. "We're going to be working with them to affect our urban centers as well. And as more and more people move in and out of those zones, the trees that are planted in those urban centers can really help with climate change and global warming as they create a different kind of canopy."
Speaking of which, Eddie Bauer has joined the Canopy Style initiative — "being stylish doesn't have to cost the Earth" — committing to working with only suppliers that do not use ancient and endangered forests in their cellulose fabrics such as rayon.
The brand also subscribes to the independent, voluntary global Responsible Down Standard, and is RDS-Certified. Meaning it regularly audits and ensures ongoing humane treatment of the waterfowl that provide down and feathers for apparel and home products for brands like Columbia, Under Armour, and Eddie Bauer. Farmers and other suppliers respect the welfare of the birds at all times, so, for example, live-plucking and force-feeding are strictly prohibited.
5 Lessons from Eddie Bauer via Kristen Elliott
Look inward & outward — & get help. "You have to look holistically at all of the sourcing and the materials that are going into your products," Elliott says. Eddie Bauer's working extensively with the sustainability consultant Shift Advantage, which utilizes corporate responsibility and sustainability expertise to empower organizations such as Walmart, Nike, Tommy Hilfiger, and the OIA, to meet new market demands, reduce costs, create a competitive advantage, and foster long-term growth. They are "really helping educate us and lead this for us …," says Elliott. "We looked holistically at the organization and all of the different touchpoints and impacts. And this has been a multi-month process to get educated, to dig into the details … and figure out, okay, if what we had been doing was impactful and necessary, or did we need to shift our resourcing and our focus?"
Innovate all the time. Eddie Bauer is now constructing some of its performance styles with Seawool, a novel, sustainable fiber created from reclaimed oyster shells and recycled bottles. Not only is it environmentally friendly, the company asserts, it also wicks moisture, protects your skin from the sun, and helps control odor — not to mention replaces down. "It's not a proprietary component, which is actually great," says Elliott, "because many companies can adopt this and increase the sustainability of their products. But we launched products using SeaWool a couple of years ago in soft, durable, really quality products. But also you feel good about what you're buying because at least a portion of the garment is made sustainably."
Respect the past & empathize. "I think the number one leadership trait that's really important and that has been tantamount to our success across the board is empathy," says Elliott. And I always hear empathy talked about as a soft trait, but it is one of the most valuable traits that you can have as a leader. Considering everyone's experience and point of view, not just your own, and then leading from a heartful place. So, what is the best decision for the company? Yes, but also for the people, for the impact on the world, for the things that are going around us from a social nature." Along those lines, Eddie Bauer is unique in its industry for acknowledging and honoring Indigenous communities and recognizing the Indigenous homelands and resources upon which its store locations were built. "We partner with an organization called NativesOutdoors. NO is A Native-owned athletic and creative collective in business to empower Indigenous communities through its products and storytelling for a sustainable world. "We ask them to come in and do a full audit of all of our patterns and all of our naming conventions and make suggestions for where we might even be slightly looking like we're appropriating because we don't want to appropriate anything and we want to make sure that everybody gets credit. And to your point, that we partner in an honorable way with people."
Total re-engineering is possible. For example, Elliott recounts, "Eddie Bauer was traditionally a heavy cataloger. So, when I came into the business, we were producing 90 million catalogs a year. Now we produce zero. As a cataloger and as a company focused on the outdoors, I think it was just inherent in our DNA to look at what we were producing and to understand that those impacts might not be the best for the environment and so to take steps along those lines. And that's the advice that I would give to any company or individual looking to affect their footprint or their sustainability. It's just to look at where you think the leaks might be. And then find a partner, do some research and shape up a plan that is most beneficial to the future of the company."
Commit as wholeheartedly to sustainability as you can. Why? "Because at the end of the day," says Elliott, "we do exist in some form or function to keep the business going by making money. But honestly, I think we all see that not only is it the right thing to do to expand our work on the sustainability front as a whole, but it is a good thing for business. Both in the short term but in the long term and so it's really that balance of looking at short-term gains and also building for long-term eventualities. So the ROI might be less evident upfront, but you've got to think long term about what happens if you don't do these things."
If you'd like to dive deeper with more purpose-led companies like Eddie Bauer, check out the Lead with We podcast here, so that you too can build a company that transforms consumer behavior and our future.
Follow me on Twitter or LinkedIn. Check out my website or some of my other work here.