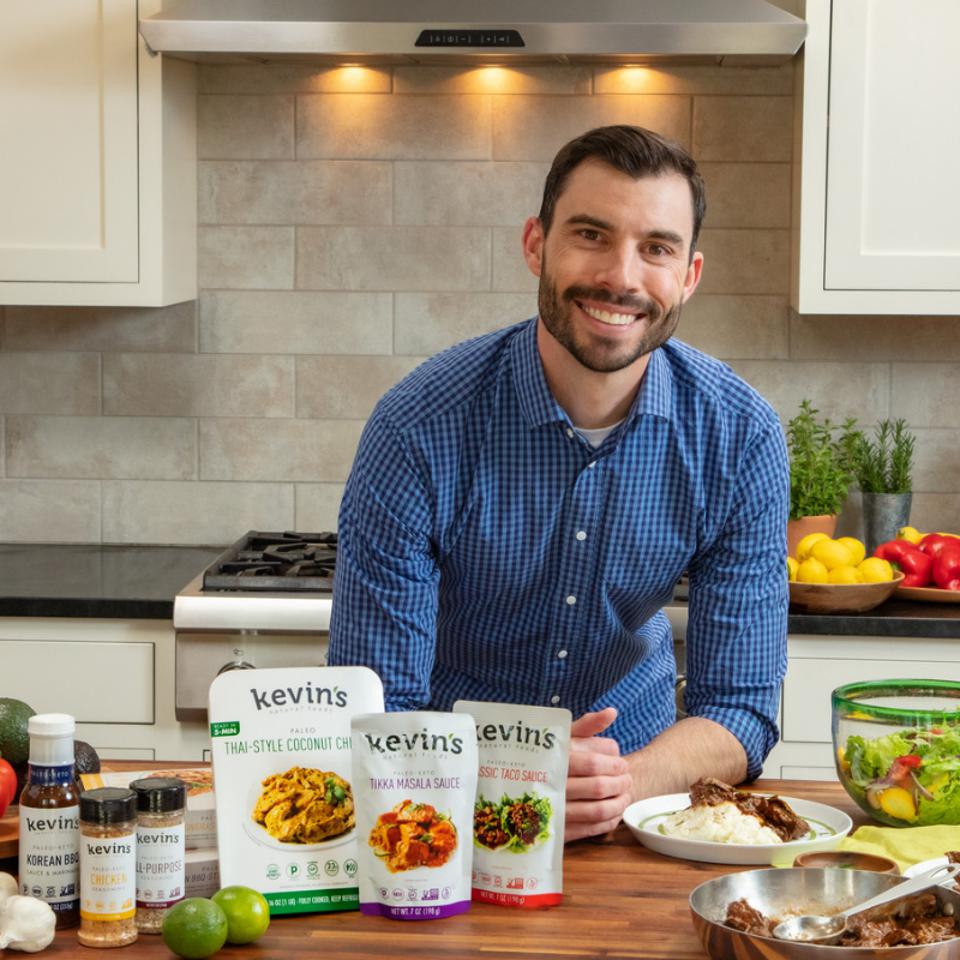 Purpose At Work: How Kevin's Natural Foods Leads A Clean Eating Revolution
Written By
August 23, 2021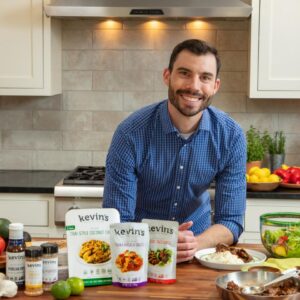 Kevin's Natural Foods of Stockton, California seems like one of those classic near-overnight success stories of business legend and lore. The first natural and health-focused refrigerated entrée brand in the nation, Kevin's recorded $4.5 million in sales during its first quarter of operation.
"We shipped our first product of Kevin's in August of 2019," co-founder Kevin McCray tells We First. "And this year, we're on track to do $100 million in sales."
In fact, by the end of 2021, Kevin's projects that it will be in more than 12,000 retail locations, having added 6,000 in its first 12 months. It's multiple SKUs are sold in most major outlets such as Costco, Albertsons, Ralphs, Aldi, Food Lion, Hannaford — and on Amazon.
All that while staying committed to the Lead With We purpose on which it was founded: To provide a line of healthy — "clean" — entrées, sauces, and seasoning blends intended to make clean eating not only taste delicious but also fit seamlessly into any lifestyle.
Of course, growth doesn't happen by accident. No overnight success, after all. Instead, Kevin followed a simple — but not easy — formula of increasing collaboration and nonstop listening. They built their brand With all their stakeholders.
Clean out of the blue
It didn't always look as though McCray would succeed to the extent he has. While on his way to earning a business degree at SDSU, he was hit with an auto-immune disorder — severe, chronic, and intractable. He was in his 20s — and suddenly in and out of hospital wards. The revolving door of hospital care seemed never to end. "This story," he says, "unfortunately, is becoming more common."MORE FOR YOUIn Crypto 'Arms Race' For Mass Adoption, Companies Ink Sports Sponsorships Worth Hundreds Of MillionsCAA Signs Jenkins The Valet: Is This A Sign That Hollywood Is Embracing NFTs?HPE's Sandy Ono On Insights At Hyper Speed To Drive Growth And The Value Of Marketing's Currency
Trounced and exhausted for five years, doctors ultimately homed in on what was happening, but not why. They couldn't offer any "cure" because the cause triggering the attacks remained elusive. "So, I was in this cycle where they would just treat the symptoms whenever they flared up," he says. "But there was no preventative medicine."
McCray undertook his own extensive research, eventually discovering the Paleo diet, a controversial but popular eating plan generally based on the diet of many prehistoric humans. Could that be the preventive medicine he needed?
Clean bill of health
"I happened to stumble on a paper about how the Paleo diet could be effective in reversing autoimmune disorders," McCray recalls. "I adopted the diet that would change my life forever. I returned to good health, kicked my dependence on conventional medicine, and have been an advocate of clean eating ever since."
It was 2009. "At the same time, there was a shift in the zeitgeist around food," he notes: "People had gone from needing an education and needing motivation to eat healthy to everybody wanting to eat healthy. I say 'everybody,' and I use it a little bit loosely. But the numbers are shocking."
Now, more than a decade later, McCray says, "Most people are really paying attention to what they put in their bodies, and at least have some aspiration to improve what they're eating. And with this newfound motivation and newfound desire to eat healthy, we really wanted to change the world and affect the mainstream shopper. That was really important."
Clean shelves
"So, I really became passionate about the fact that [clean eating] is not a problem of motivation anymore. It's an execution challenge," says McCray. "So, I started thinking about that more and more, thinking: How did I do this? How am I living this way? And it came down to things like meal prep and using culinary shortcuts like sauces, and finding different ways to make the food interesting."
And interest came from all corners of the B2B landscape. The company faced little resistance selling its idea to the retail side, because "There's not a CEO of a supermarket chain who's not out there now saying we need to bring our healthy, convenient products to our customers," says McCray. "It's in the corporate standards now. It's what they're talking about at their quarterly meetings."
But, says McCray, "One of the first things I came to terms with was that the world doesn't need another food company that's trying to solve the problem in the same way as everybody else." He started a careful analysis of the industry, both the health and mainstream wings. "Almost immediately, you start looking for white space out there in the world. And how can we really help?"
Concurrently, McCray was realizing he'd become passionate and purposeful about clean eating. He recalls his desire to proselytize:" I had become one of those zealots. Everybody has a friend or a family member that has changed their life through eating better. And then, that's all they can talk about. So, I kind of had that natural inclination to want to share this knowledge with the world."
At the intersection of those passions and that real problem out there in the world was born Kevin's Natural Foods. And what would become the businesses' core equity — what they do well, and only they can do.
All that came together with the exhaustive research that uncovered the blue ocean ahead — that white space that turned out to be the middle of the consumer's plate. "A lot of brands were tackling snacks and desserts and convenience, and things that had a little bit lower of a barrier to entry than dealing with going after the center of the plate — the meat. Meat's hard to process; it takes a special expertise," says McCray.
He started thinking strategically even while trusting his instincts. In terms of locating a position and figuring out the best way to help people, the answer became clear: "I just was obsessed with dinner. It has to be dinner. I want to own that part because that's where a lot of damage is done in our diet."
Whole Foods. Target. Winn Dixie. Vons. Sprouts. Roche Brothers — It seemed retailers everywhere agreed. "Here's the key," says McCray: "It sold. Because if the velocity didn't keep up, all the passion in the world wouldn't have mattered. You have to earn your space."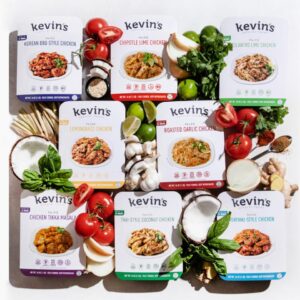 Mr. Clean & Mr. Production
Although he started in advertising, McCray was no stranger to the food space. He had been the executive director of marketing for the Save Mart supermarket family, a 250-store chain in Northern California and Nevada.
"While I was there," he says, "I met an entrepreneur named Dan Costa, who became the co-founder of Kevin's and my business partner." Dan had a much longer history in the food industry. "He understood the manufacturing side, and was completely enamored with the idea" of starting Kevin's' kind of business.
The two made for strange yet effective bedfellows. "We were like peanut butter and jelly. We had branding, marketing, planning — we would say, 'Okay. If it's done in the front office, I got that. If it's on the production floor, that's Dan.'"
They would realize early on that they would have to manufacture their own product lines. Out of a USDA-certified production facility in Stockton, they make everything themselves "under one roof."
"We started with the sous vide [vacuum sealed] chicken entrées, and have expanded those lines to include beef and pork. We got into vegetable-based side dishes, like General Tso's cauliflower and mashed sweet potatoes and some other green-based sides. And then, we have a line of simmer sauces, condiment sauces, and seasonings," says McCray."
"We just got to work," McCray says of the early days. "And it became an iterative process where it just built on itself. And it built quickly. It was like a series of breakthroughs. And the first big breakthrough after we decided to focus on the center of the plate was stumbling on the sous vide technology … We started with chicken breasts. You put that in a pouch, and you suck all the air out of it. You seal it. And so, you have raw chicken in a pouch.
"And then, you actually cook it in a hot water bath. So, you submerge it in water, and you set the temperature. And you cook it for a long time at that steady temperature … the beauty of sous vide is you have this meat cooking in its own juices at a precise temperature for consistency. It cooks the same from end to end."
Why was that extant French-invented cooking method employed by Michelin-star restaurants everywhere such an "aha" moment in Kevin's origin story? He summarizes: "It was the only cooking technique we found that not only helped to give you the shelf life you need to make it through the supply chain — but it actually improved the quality of the meat … So, that was process number one."
As more than an ancillary benefit, the vacuum sealing technique turned out to be cost-effective and scalable, too.
That, and control of all its own manufacturing was critical during the pandemic, when many food companies suffered or went under. "That's why we didn't short a single order in the pandemic," says McCray. "We made it through the whole pandemic without putting anybody on allocation." This took "flexibility in our operation and just not going home. We just would not leave until the orders were out. We'd work the overtime. We'd do whatever it took. We are just planning animals."
Now with protracted pandemic easing slightly, the biggest challenge in expanding the clean food movement into the mainstream, says McCray, "is going to be scaling further, and driving the price points down. You're in a tough place because, in order to make your brand successful, you're inherently going to be at a slight premium over a conventional product because it's just impossible to price where they are. But you have to make that premium manageable … just at that layer right above where the conventional is, and you can get there through effective manufacturing."
Cleaning crew
After collaborating with each other, McCray and Costa looked to their staff — now numbering 250 — to guide the company's direction and aspects of its growth. "First off," says McCray, "every single employee here is a shareholder of the company. You need everybody to step up, from the top person to the secretary, janitor, supervisor. Everybody's got to step up. So, everybody's a shareholder, and everybody has skin in the game."
Beyond the employee equity pool, McCray leads a thriving company culture. "Just by talking to the employees about the mission and living it every day and doing events together." And because it's so easy — especially at a fast-growing startup — "to get wrapped up in the work because there's so much work," says McCray, "every now and then, we'll sit back and say, 'Man, we haven't done anything fun in a few months. We better get something going and get back with everybody."
Clean supply chain & sales stream
Kevin's partnerships kept piling up: Publix, Raley's, Schnucks. "And it was just like, 'We're all in this together trying to fill the shelves,'" as McCray puts it. "It was an industry-wide communal situation. There was no 'gotcha' or trying to pin you or gouge you on this or that price. Everybody was in on this thing together. It was very communal."
Does collectivizing corporate interests make you vulnerable to risky competition? White space doesn't stay white very long. A boat on the Blue Ocean attracts a fleet of others looking to capitalize. But, says McCray, "the retailers know who's working hard, and who's trying for them. They know when you're phoning it in, and when you're working hard for them." To stand out, stand up, every time, for the right thing, the right way of doing things.
And if you're not sure what's right, consult your community. Beyond the internal and retail partner collaborations, Kevin's relies heavily on listening to the people at the end of its food chain. Says McCray: "We're big in talking to the consumer. It's a big deal. We do monthly focus groups … here's what we do: Basically, we develop a hypothesis, put the product out there. See if it's actually solving some problem. Then see how we can solve the problem better, and iterate."
It was that simple but profoundly co-creative process that led to Kevin's SKU expansions.
"Our strategy is to continue to innovate but only in the areas where our customers give us permission. If they ask us, we'll do it. We're not going to be presumptive," McCray says. And unless there's some "overwhelming demand for something that is really going to make my life easier if you do that — we're just not going to make it."
Cleanup up in the industry aisle
Kevin's ambition is no less than to change the world by democratizing access to healthy food. It's a powerful, big idea. And in order for that movement to really take hold in society, the company's finding it has to lead cultural conversations around the problems and the solutions to better, cleaner eating.
And to do that, they need not disrupt the rest of their industry, but to offer them a place at the table, a platform, a voice, and an opportunity for their own and the group's shared potential impact.
McCray, like so many other Lead With We vanguards, is both realistic and optimistic. He sees changes in the industry as foreshadows of a significant cultural shift. Especially after the COVID-19 pandemic radically altered the ways people shop for, purchase, and even eat food.
It's easier nowadays to find clean and ethically sourced ingredients, part of the regenerative economy that is one destination of the clean eating movement. Cage free chickens abound. Coconut aminos flow. Higher quality oils and healthful sugar substitutes are all much more available, according to McCray.
Clean slate
Want to achieve the kind of growth and success that Kevin's Natural Food has? Forget most of what you've learned about legacy business thinking and practices, McCray advises. Remember, his formal education got interrupted by a dire illness: Most of what he learned, he learned from his own pain points.
Successful business today is all about solving that real problem in the real world, something you personally care deeply about, and someplace where you and a team you assemble just might be able to innovate an effective solution. How? Says McCray:
Research and re-research. "It turned out that you have to source like an animal. Research, go to shows, study throughputs, model supply chain costs." Know your stuff and plot and predict carefully. It won't be perfect — Kevin's' was off by a little — but that will allow you to stay in business and keep helping people. That's a virtuous cycle.
Branding is your company's essence manifested: "We laser-focused on the fact that our product had to jump off the shelf. And it had to be interesting enough to get people to pick it up — and that's when we came up with the art direction we ultimately chose." Uncomplicated visual branding. Consistency. Seamless white background. Lots of white space. Read: clean. The company tested 20 or more versions of its packaging. "They were all loud at the beginning: purple, orange, whatever. And we'd put them in the supermarket and take pictures and ask people about them. And the louder we got in the branding, the more it blended in. Because supermarkets are so vibrant and loud. There are so many visual things happening." Once the company settled on the clean look, the brand took off. "It just had a presence and earned that pick up."
KISS. Along similar lines, McCray has learned from his experiences starting and growing Kevin's, "There is that old saying: If you say too much, you wind up saying nothing.' The hardest thing we did was design that package and not say everything we wanted to say on the front. It took so much discipline. And I lost so much sleep over it. So, now it's a mantra of ours on the marketing side. And on the production side, it's the same thing … If you can, don't complicate your line. Stick with what you can make, and what you can make well to where you don't start diluting your value proposition … stick to the things that are your fastball. We say that all the time. And just get really good at making those."
If you'd like to dive deeper with more purpose-led companies like Kevin's Natural Foods, check out the Lead with We podcast here, so that you too can build a company that transforms consumer behavior and our future.