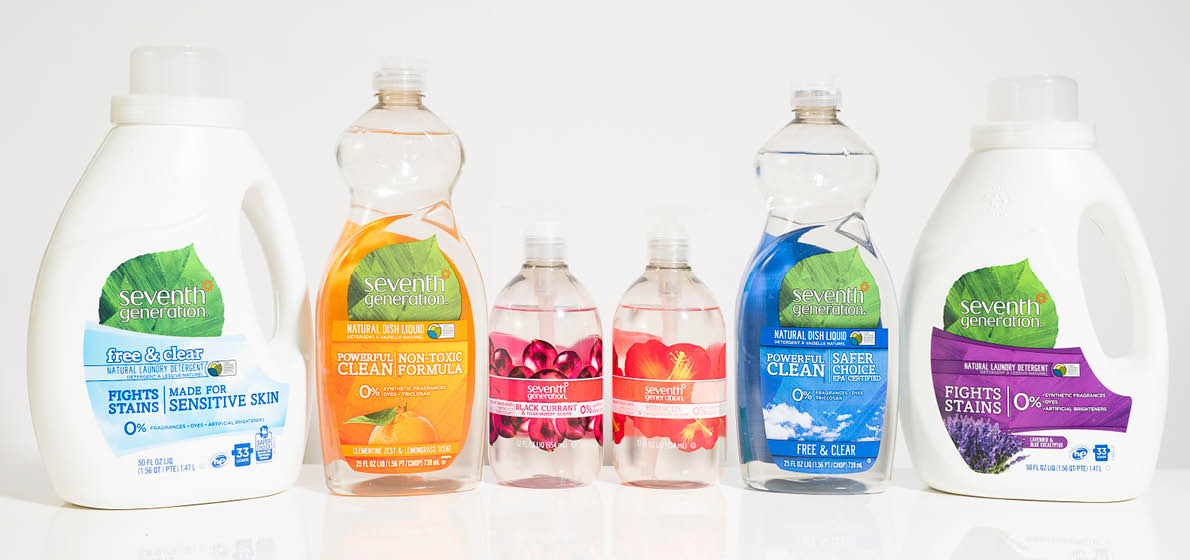 Purpose At Work: How Seventh Generation Accelerates Sustainable Growth
Today's consumers want to support companies that build great products and a better world. Brands that follow suit are rewarded with consumer goodwill, earned media and purchases. Seventh Generation is the largest eco-friendly cleaning supplies seller in the United States. Its commitment to human health and sustainability has led the brand to industry leadership, consumer goodwill and accelerated growth.

Many brands market themselves as sustainable leaders. Yet, it takes careful planning, dedicated leadership and engaging storytelling to build a financially and environmentally sustainable business. Seventh Generation's mission to inspire "a consumer revolution that nurtures the health of the next seven generations." This mission is a guiding light for the brand's leadership, operations, and marketing. It is the authentic touchstone for all its decision-making.

Here's how Seventh Generation generates sustainable growth:

Purposeful leadership:

Purpose must be implemented at all levels of your organization. This is especially true for leadership. When your leadership demonstrates a deep and persistent commitment to purpose, the rest of the organization will follow.

Seventh Generation was recently purchased by Unilever. Mergers and acquisitions can challenge a company's vision. Unilever, on the other hand, was attracted to Seventh Generation because of its purpose. As CEO Joey Bergstein said, "Unilever is "only committed to boosting our shared social and environmental mission, they're giving us new power to achieve it." To further integrate purposeful leadership, Seventh Generation created a Social Mission Board. This senior leadership committee ensures the brand implements, measures and meets its CSR goals. Allocating such leadership focus to meeting purposeful goals is key to running a sustainable business.

Implement sustainability benchmarks:

Sustainability is more than a marketing catchphrase. You must incorporate environmentally sound business practices throughout your value chain. This means weaving sustainability into both your operations and your bookkeeping.

Seventh Generation's 2025 goals include operating with 100 percent renewable energy. The brand is committed to sourcing all natural or recycled materials. It also plans to use solely zero-waste packaging and increase internal diversity. Further, Seventh Generation takes environmental accountability to the next level. It implements an internal carbon tax. The Social Mission Board is advocating for the company to double its carbon tax to $12 per ton of greenhouse gases emitted. This tax increases internal incentives to be sustainable. The natural product maker also uses money from the tax to invest in eco-friendly retrofits and advancements. Setting goals, measuring your impact, and linking financial and environmental goals is key to championing sustainability.

Join cultural conversations:

Incorporating operational sustainability is a key step to leading with purpose and growing your business. That said, if you do not share your impact-driven story with the world, consumers won't know about the great work you are doing. That's why social good storytelling is a critical component to gaining earned media and consumer advocacy from your CSR initiatives.

Cause marketing is becoming increasingly popular. Brands want to position themselves as social leaders. Brands that partner with outside organizations and individuals working towards a shared goal scale impact and the organic reach of their campaigns. This also improves a brand's image in terms of authenticity and accountability.

Seventh Generation's #ReadyFor100 initiative is a great example of how brands can join social movements. The brand partnered with Sierra Club to encourage cities to commit to going 100 percent renewable. The campaign is a call to action for consumers to encourage their local mayors to join 70 plus cities who have committed to sustainable energy. What's more, Seventh Generation operates its business out of Burlington, Vermont. Burlington was the first city to power its electricity needs from renewable sources. In short, using your brand to advance a social cause is crucial to marrying purpose and profit. Collaborate with a social impact partner, enlist your own business as a sustainability ally and invite consumers to join your mission.

Long-term growth and environmental and social sustainability must go hand in hand to lead in today's marketplace that is being increasingly defined by issues like climate change. Seventh Generation's environmental and financial success, and how they achieve it, is a great learning opportunity for impact-driven brands. Ensure leadership buy-in. Link financial and environmental benchmarks. Measure progress and join cultural movements. All to build your bottom line and positive impact.