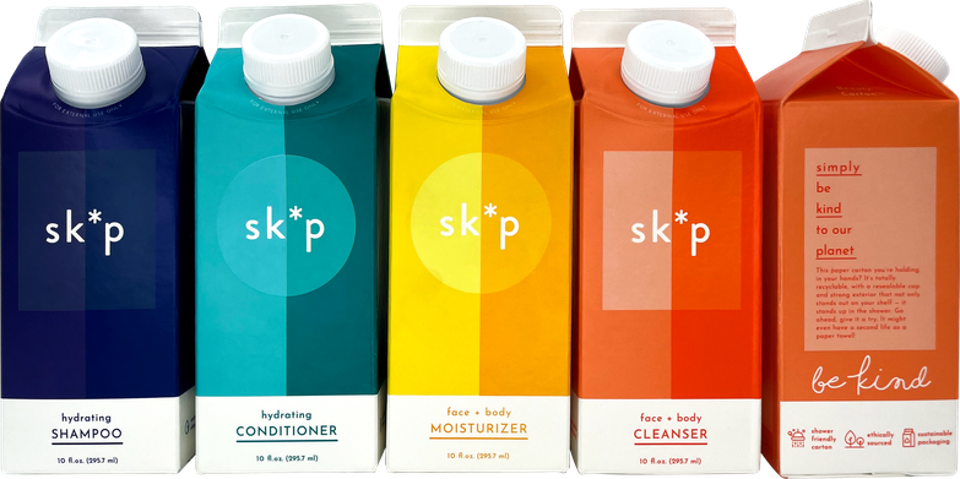 Purpose At Work: How Sk*p Beauty Is Challenging The Beauty Industry Even If It's Inconvenient
In order to understand the genesis of the startup Sk*p, you have to start with its elder half-sibling, Farmacy Beauty.
And that starts, not in a boardroom, but out in the wild. Mark Veeder, co-founder of the three-month-old Sk*p brand of personal care products, has the rare distinction of having discovered a plant in 2008. It was a heretofore uncatalogued strain of echinacea that was blooming bright green. "I knew that green was a healing color," Veeder says. "And I knew that echinacea didn't bloom green."
He patented the plant and had it tested. "It turns out that the plant is 300 stronger in the active ingredient" than readily available echinacea. And that active ingredient was the basis of the independent New York-based personal care company Farmacy Beauty that Veeder co-founded.
Farmacy's farm-to-face skincare launched with the goal "to share the potent power of natural ingredients and support small farmers" while ensuring farm soil's facility to recycle nutrients. Its vertically integrated, clean-beauty network includes the gradual goals-based acquisitions it achieved along the way: a second-generation, family-owned Indian drumstick tree farm in Southern California, and an acerola cherry farm in Northeast Brazil.
Veeder left Farmacy in 2018 during a period of smart growth. In September 2020 Farmacy unveiled the fruition of its former goal, its "very own certified organic, non-GMO, regenerative" operation in partnership with regenerative farming pioneers in the Hudson Hemp farm network. The company maintains a list of nine hundred "no-no's" that includes practices and ingredients the company avoids. For example, David Chung, founder and CEO, told me last year, "Our 2021 agenda is to assess each product['s packaging] and ask, 'Is it 80 percent or 90 percent carbon-free?' If not, how can we change the packaging?" Farmacy is aiming for 100 percent zero-waste packaging by 2022; 80–90 percent non-virgin material use by the end of 2021; and 100 percent conflict-free ingredients.
Now enter Sk*p. Veeder co-founder it to accelerate goals and impact like Farmacy, but from the ground up.
Field of Dreams
Veeder was born in Maine and raised on a mountaintop farm in Upstate New York. "My father was a renaissance man," says Veeder. "He made his own solar collector to heat the water" and chopped trees from the wooded lot for wintertime heat. "After school, I had to pick rocks. We had to clear fields to have animals, and plant a garden."
The Veeder lot-turned-farm evolved into a Christmas Tree farm, then a zero-waste, wind-powered Christmas Tree farm. "He drilled into me respect for the planet from day one," Veeder says of his father. "And his term at the end of every conversation was, Make it better. Make the world a better place. And that stuck with me."
Sk*p is an acronym for "Simply be Kind to our Planet." It was also Veeder's father's nickname. "It's kind of an homage to him, a nod to, 'Hey, Dad, I listened to you all those years, even though I was complaining all the time.'"
Veeder's now passing on a love of nature, a sense of responsibility, and an entrepreneurial spirit to his twin girls, almost seven. The impetus for Sk*p was the "mind-blowing, super scary" experience of child-rearing in a world on fire, says Veeder. "Now, as a parent, you think differently. You think about everything that you throw away."
The company was further inspired by "the generation it was created for," says Veeder: a generation that's into self-care, but eco-aware. It's reminding consumers, "You know that taking care of our planet is just as important as taking care of your own skin and hair."
"We launched Sk*p in partnership with the Earth Day Network on Earth Day 2021," Veeder says. "We don't want to shame people into [eco-consciousness]. We just want to give them something that's a better choice."
"Anytime someone asks me about Sk*p," says Veeder, "my first line is, 'We are on a mission to break the beauty industry's addiction to plastic.' Does that kind of slap the industry? Not really," he says. "It's kind of innate that the beauty industry is a plastic industry, and we have to turn the tide."
"In this industry, you just say, 'Oh, yeah, you make it from plastic — and it gets thrown away.'" Which is why the beauty industry is one of the dirtiest industries, Veeder claims, "putting 80 billion pieces of plastic into landfills every year."
Thus Sk*p was born. "We didn't want to be just a product company. We wanted to be a company that starts a movement," says Veeder. "Our mission was to break the beauty industry's addiction to plastic, and start this movement in the industry and amongst consumers, to decide, 'Yes, I want to do something better for the planet; I don't want to pick products that aren't good. I want to do the right thing all the way around. So that's hopefully what Sk*p does."
Hopeful and happening, Sk*p is engaged in a Lead With We movement. "I think we begin by introducing what we have, introducing packaging and formulas that are the most sustainable in the industry," Veeder says. "But we don't stop there. We continue to educate, and we start with young people. My daughters and my co-founder, April Hardwick's daughters inspired this brand and we educate them so that they can become the mouthpiece for the next generation. And quite frankly, they're the ones that push their parents to do the right thing."
"And if we, as this little engine, can get consumers, can get a product out there that is so fun to use, good for you, visually stimulating, all of that stuff — and good for the planet," says Veeder: "That's how we're going to Lead."
Beauty is a matter of the whole package
The proof of purpose is in the pudding — and the packaging. Sk*p uses natural, sustainable ingredients (including a real bio-fermented honey extract from its own farm), as well as recyclable, eco-friendly packaging. The idea is to "help your skin without harming your world."
Historically, in the beauty industry, Veeder says, "packaging signified luxury. So, you had packaging upon packaging. And that's what created this wreck that we're in. So we're the first ones to create a carton" for Sk*p products such as shampoo: its proprietary BeautyCarton. "It's a simple idea," says Veeder. It's a paper carton, a boxed water carton. It stands up in the shower. It's designed to be destructible. It will destruct after so many months in the shower — but that's what it's supposed to do."
The brand launched with a twist-off cap and spout system, too — and it's applied for a patent on the next iteration of the technology. The current spout is 50 percent post-consumer recycled material and 50 percent fully recyclable PET (polyester). All told, says Veeder, "It's not a small tweak … It's 95 percent less plastic than traditional plastic packaging and traditional beauty packaging." Sk*p packaging is certified by the Forest Stewardship Council. The FSC is a market-based certification program seeking to influence transnational environmental policy — one of Sk*p's longer-term goals.
"I want everyone to use our BeautyCarton," says Veeder. So, if L'Oreal or Procter & Gamble or whoever — if we could just get them to put 1 percent of their product into paper cartons, that's going to be a huge change right there."
Of course, "packaging is one thing, but a consumer is not going to buy it again if it's only a pretty package," says Veeder. "Even if they are trying to save the planet." So, the formulas for its line of skincare and haircare products are equally sustainable.
Take, for example, surfactants — a key ingredient in shampoo, soap, and detergent. "Surfactants used to all be fossil fuel-based," says Veeder. "And now they're coconut-based. And on the experiential side of things, our plant-based surfactants lather really amazingly, and the wash-off is clean. I really commend the raw material manufacturers that are leading the way, and giving us more raw materials that are actually efficacious and good for you and the environment."
With those two imperatives — product and packaging — in place, Sk*p can say to potential consumers, "Here's a paper carton with amazing, clean, nontoxic products — and here's a plastic one" full of who-knows-what poisons. "Which one do you want?"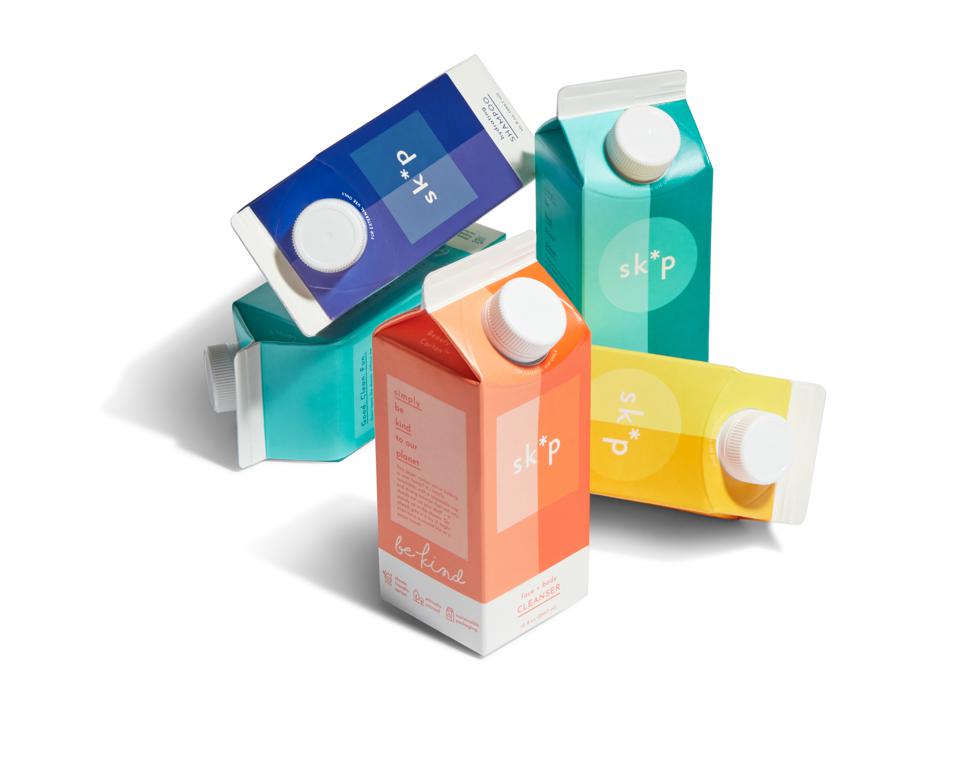 (Collective) Personal Care
As Sk*p garners more customers who choose the eco-responsible route, it's building an influential network, even after just one quarter. "We're creating a community where we can pull together these young activists," says Veeder.
"I'm so impressed with the Greta Thunberg and Hannah Testas (Hannah4Change) — these kids that are just out there rallying to change the planet. So, we want to create this community and this place where people can share accomplishments, share ideas, and join this movement together."
The company also just assembled what might be the industry's first all-youth board of directors. "Not only are we going to look to them to help with product development, testing, messaging, branding, and all of that, but we'll also give them an opportunity to learn that you can make money out of passion," says Veeder. "If you're really passionate about something, you can make a living out of it, and you can be an eco-entrepreneur. And really, hopefully, we'll be churning out this new generation of changemakers.
Outside the company, "We're focusing on a lot of collaborations as well," says Veeder. "It's not just a beauty industry problem, plastics and saving the world."
Sk*p is also working as a beta tester for buyVerde - a search engine that connects you with brands working towards change. And, says Veeder, "We're collaborating with fashion, food, apparel, and other brands that are on that mission so that together, we can team up and get that message out. And everyone wins at that, because we're showcasing how it's easier now to buy green and to buy [consistent with] your values."
"I really believe that it takes innovation — I saw this with Farmacy — " says Veeder, "it takes small entrepreneurial companies to create buzz, and to get the big dogs to pay attention and do better."
If you'd like to dive deeper with more purpose-led companies like Sk*p, check out the Lead with We podcast here, so that you too can build a company that transforms consumer behavior and our future.
Follow me on Twitter or LinkedIn. Check out my website or some of my other work here,