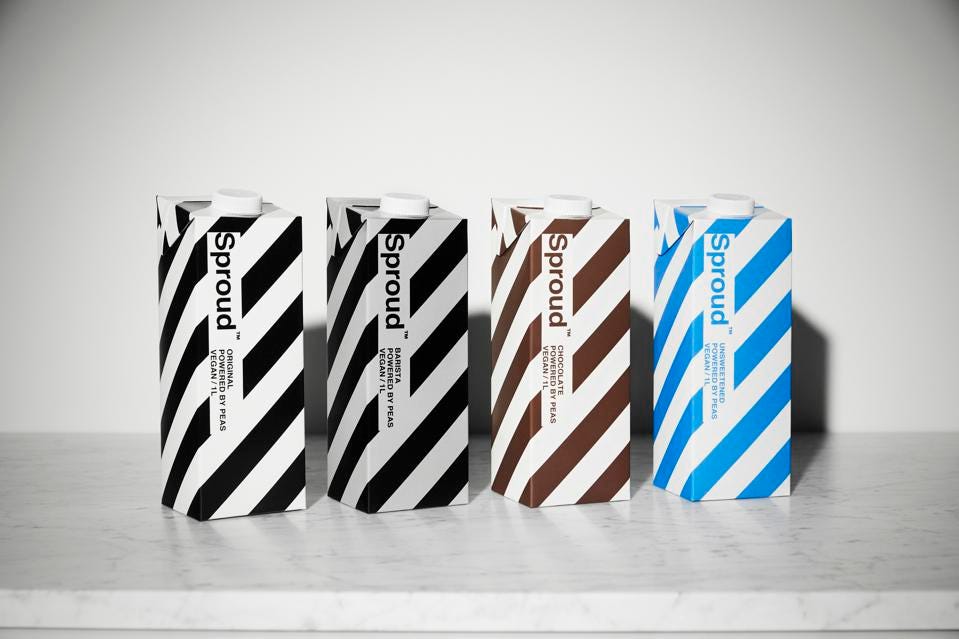 Purpose At Work: How Sweden's Sproud Is Turning The World Green One Split Pea At A Time
Harvested and processed in late summer in Canada and France, the humble split pea could be a critical key in easing several interrelated global challenges, from human chronic disease to animal welfare, from soil and water depletion to the greenhouse gas emissions implicated in the climate emergency.
The Swedish alternative dairy startup Sproud has been planting the seed of that idea since 2017, when it was first conceived and co-founded by Maria Tegman, former CEO, now Global Marketing Director.
Sproud was born and grew up in Malmö in the south of Sweden, a progressive city where many food, health, and lifestyle trends get started (It's the birthplace and home of the oat milk pioneer Oatly).
After a strong start, Sproud recently entered a new phase of significant growth, with the goal to reach 500 million SEK (nearly $58 million) in revenue within three years. It's well on the way, with London-based VGC Partners having invested $6.6 million in early 2021. The growth capital investor specializes in the next generation of food and beverage brands, with portfolio companies including JUST, the plant-based alternative to eggs, and Ugly Drinks, a producer of zero-sugar sparkling water and energy drinks.
How does a relatively small company sell $58 million of a dairy alternative? Sproud's 17 employees, spread among teams in Malmö, the US, and the UK, intend no less, says Tegman, "than to mimic cow's milk" with its "m*lk" made from protein powder extracted from legumes, "so the texture, the taste, and actually the ingredients mimic real cow milk … the closest taste to real cow milk, but it's also both healthy and sustainable."
Milking life experience
Tegman grew up on a farm. Always interested in "digging into people's fridges and seeing how people eat, what we consume, and how we live," she tells We First, she earned a degree in marketing then went to work for Orkla Foods Sverige, the largest food company in the Nordic countries.
What she intended as a two-year stint cutting her teeth on designing and launching products turned into a 16-year term working with the household brands in the Orkla portfolio. "You learn a lot from selling ketchup," she quips.
A turning point of Tegman's tenure at Orkla was innovating products in the Paulúns line of health foods, which Orkla acquired in 2004, enticing Tegman into the plant-based space. She realized, she says, "This movement will happen so fast that the giants won't be ready."
At the time, many young influencers in Sweden were turning vegan, and more and more plant-based products came to market — most focusing their innovation and marketing around taste, Tegman recalls. "They were not talking about specific ingredients but instead, trying to make indulgent products. And that really fascinated me."
Research Tegman recounts "proved that in Sweden, we have a 40 percent LOHAS [Lifestyles of Health and Sustainability population], when the rest of the world is around 20." There was an obvious blue ocean for innovative plant-based products.
But the final piece of the Sproud origin story didn't happen until Tegman's serendipitous discovery of Ripple Foods. The midsize San Francisco company, whose shelf-stable pea-protein dairy alternatives were turning the dairy industry on its ear the same way its founder, Adam Lowry, disrupted the cleaning product category with his former company, Method, which had already caught Tegman's eye, along with other disruptors such as Thrive Market.
With the advent of a portmanteau name ("Proud" + "Sprout"), Sproud was born, with some provocative taglines: "***K, THAT'S MADE OF PEAS!" "***K, THAT'S HEALTHY!" and "***K, THAT'S SUSTAINABLE!"
Today, Sproud's 100 percent vegan plant protein; zero sugar; lactose, nut and gluten free; low carb; and low glycemic products are available across North America and Europe at major retailers such as Target, Sprouts, Meijer, Harmons, Safeway, Foodland, Sobeys (CN), Waitrose (UK), Amazon, and Whole Foods Market.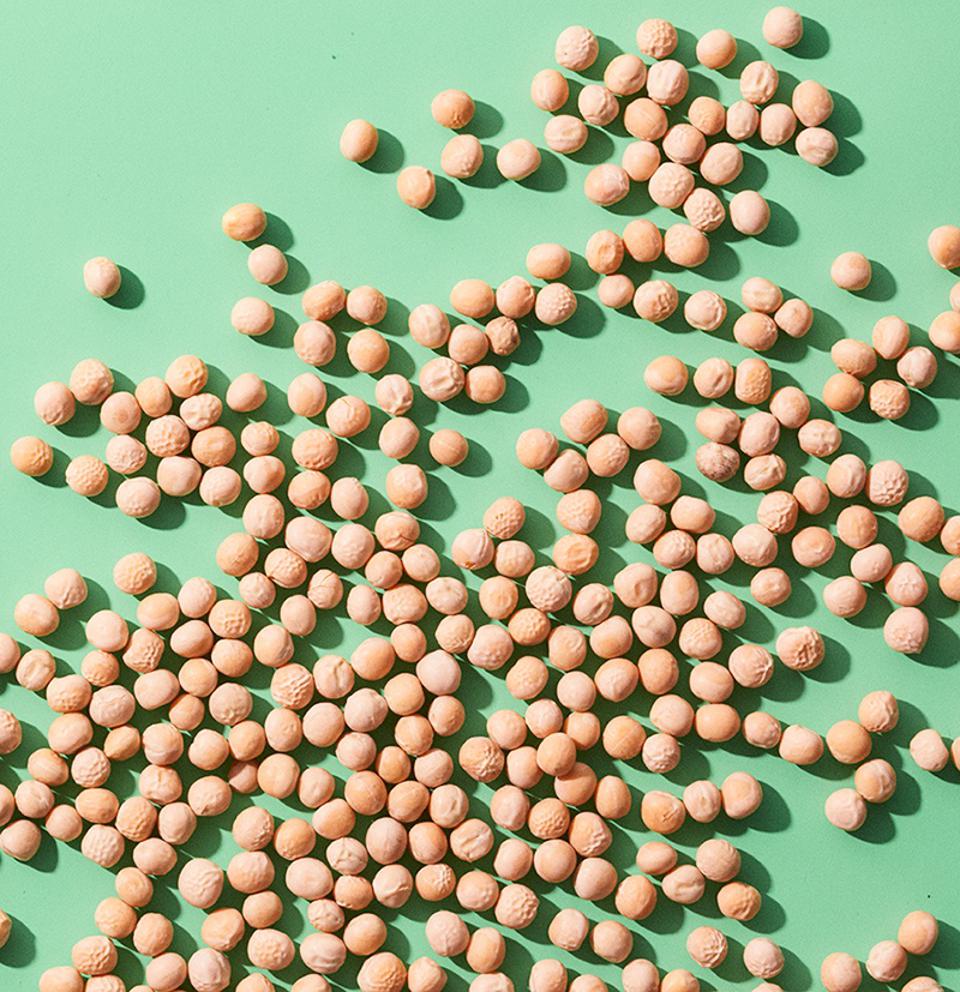 Got Milk? From where?
More than a quarter billion dairy cows satisfy humanity's 10,000-year-old thirst for nonhuman milk — and variously degrade the environment. Their famous flatulence and their voluminous manure produce greenhouse gas emissions proven to contribute significantly to the climate emergency. Sloppy handling of waste and fertilizers can damage local water resources. "And unsustainable dairy farming and feed production can lead to the loss of ecologically important areas, such as prairies, wetlands, and forests," according to the World Wildlife Foundation.
And none of this is to mention the links between cow's milk consumption and many chronic health conditions, including obesity, diabetes, coronary artery disease, some cancers, even for those who are not intolerant of lactose. "If she's not your mom — it's not your milk," goes the PETA slogan.
The pea, on the other hand, comes with no known significant downside. Tegman describes it as "one of the most ancient vegan proteins. It's been used so much, but no one really puts it up as a hero."
Studying all the benefits of pea-based dairy in health (5x more protein than almond milk, 3x more than oat milk, etc.) and sustainability (80 percent less water usage than almond milk, 75 percent lower carbon footprint than dairy), Tegman early on realized "This must be the third generation of proteins," she says. "This is the protein of the future."
Sproud's challenge from the onset was whether to lead with its product's novel ingredient and neutral taste — or its ESG and sustainability message. "I think we did both," Tegman says. "First of all, creating a brand with a strong purpose to power change for good — real good — just by creating the brand. Then, it needs to be a protein and it needs to be an ingredient that really can stand up now and can still stand up in five years."
As for the sustainability message, says Tegman, "I think there will be so much we can talk about. There will be so many stories." Such as "how much the world could change if we all started cultivating more peas … Food stands for one-third of [our carbon] footprint in the world, so food is so important for us to [revolutionize]."
Like its pulse cousin the lentil, "The pea," says Tegman, "is actually a regenerative grain." It rebuilds soil and sequesters carbon. Sproud's process uses much less water than what's required for almonds, and less land than oat or soy, "making peas a far more sustainable ingredient."
Plus, "You won't find us in the fridge section in your grocery store," the company boasts, "further reducing our carbon footprint by 30 percent."
"But my first need," says Tegman, "in the early stage of the funnel … is to convince consumers to try a milk that's not made from soy. It's not made from oats." It's made from another protein."
Milk train
In its marketing — more akin to "movement-making" — Sproud, like all disruptive Lead With We companies, doesn't go it alone. Instead, it leverages partners from its communities, internal and external, from its supply chain affiliates to its consumers, all of whom become ambassadors for the brand in ways traditional advertising dollars cannot buy.
"Partners are a really important factor," Tegman says. "We know we're superior in taste." But it's not enough for the company execs to claim that. "We work a lot with the professional sector, so a lot of baristas, chefs, bakers, etc., that really are a credible name in this sector and really can stand up and say that they really love our products. That's the way I'm building this brand," she says.
"We work with places where people go and have a coffee and really are open to try a new alternative. I think one of the biggest successes has been putting the brand on the market at small cafes, with known baristas, and also hotel and coffee chains that you can find all over Sweden, all over the UK, or all over the US, where you sit down and have a really nice experience when you try the brand for the first time."
The company also sends out samples to vegan chefs and other influencers. "We do a lot of sampling, [especially] since COVID came and we couldn't go out to the cafes, we couldn't work with baristas," Tegman says. "We're finding profiles or people that are doing purpose-driven things and believe in the plant-based change" and collaborating with them.
"There's been some countries in Europe where we started with feet on the streets, having people going out there, tell our story, making people try it — and that's really where we've [had] the fastest and the best success."
Responses to all these tasting initiatives, according to Tegman, have surpassed Sproud's early expectations. The company hears "every day about how fantastic this tastes and how much they liked the product," she says.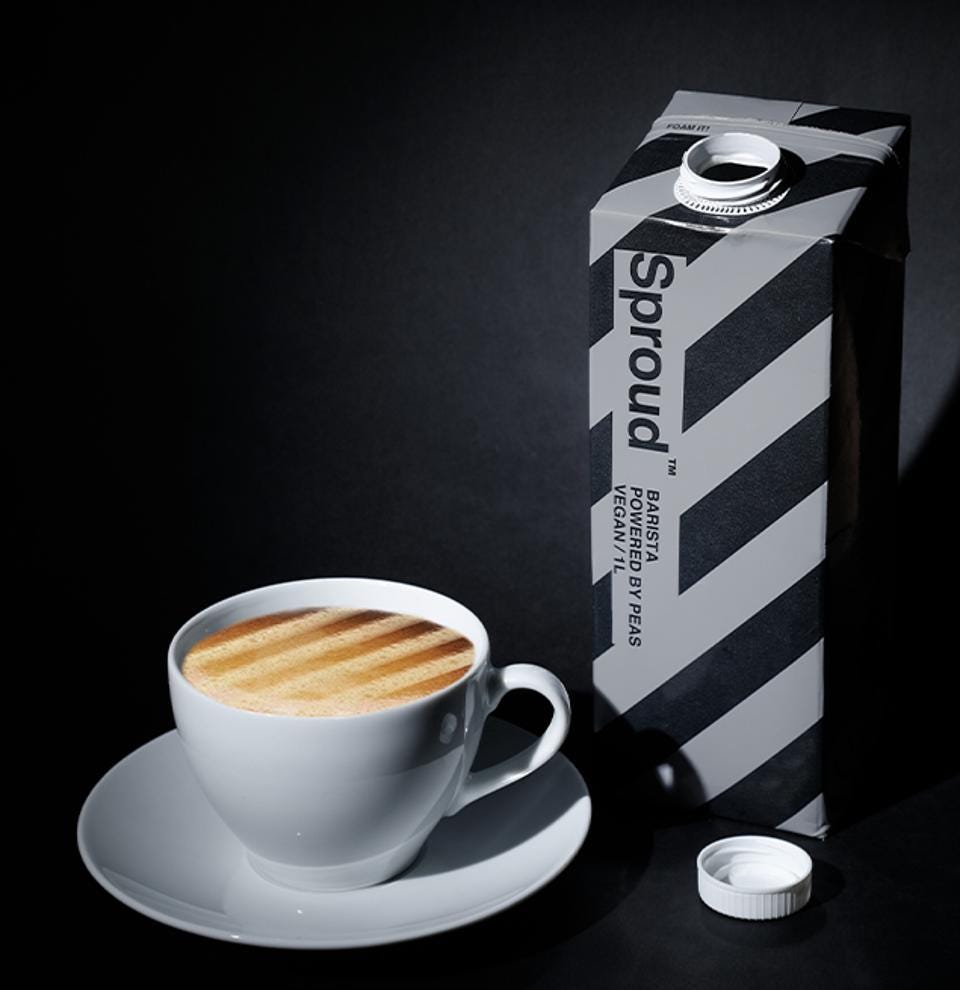 A high-protein movement
Tegman suggests three ways to fortify your Lead With We thinking to spark your business's progress:
Build a strong company culture. "It's all about the people. I left the top position at Orkla with a fantastic future salary, etc., and all that. I think I had such a wish to do something more, working with something that I really believed in and really take my 16 years of marketing and turn them into something that can [make] a bit of a change in the world. And I think if you look into my company today, all these people, they have passion, they share the same thoughts. And you know this by listening to so many leaders that create big brands, big companies — that at this moment, it's all about how we build the culture internally, how we really believe in each other, how we believe we can change. It's that really good feeling when you go to the office every day [and find] a bunch of believers. You have to have this extra passion and you love both your colleagues and the product — then it's all possible. Then you can move mountains. So, it's all about culture. A fantastic product, a hero product together with a good culture, [and] this brand is going to be invasive."
Think more circular & more local at the same time. Such as investing in or partnering the regenerative agriculture space. "I would say that [our society will become even] more circular. We will think so much more about how we put together our meals and what we sell and what we buy in our food stores. I think we will go back, be so much more inspired by seasons and what the country that we're living in can give us. Of course, we will still import and export things but if we don't want to get into the horrible fact of food being so expensive, we need to think more about what we have close to ourselves."
Accentuate the positive & don't bash the competition. "For me, I'm not the one that believes in building Sproud by throwing bad things at the cow milk industry. That's not what I intend to do. I want to talk about pros about Sproud." Like, for example, pea protein being ideal for people with allergies (lactose, soy, wheat, eggs, etc.), and being generally easier to digest than dairy and its other alternatives.
As in the Hans Christian Andersen fairy tale, "The Princess and the Pea," a tiny pea can make all the difference in the world if you happen to be authentic, passionate, and committed to change the world for the better.
If you'd like to dive deeper with more purpose-led companies like Sproud, check out the Lead with We podcast here, so that you too can build a company that transforms consumer behavior and our future.
Follow me on Twitter or LinkedIn. Check out my website or some of my other work here.