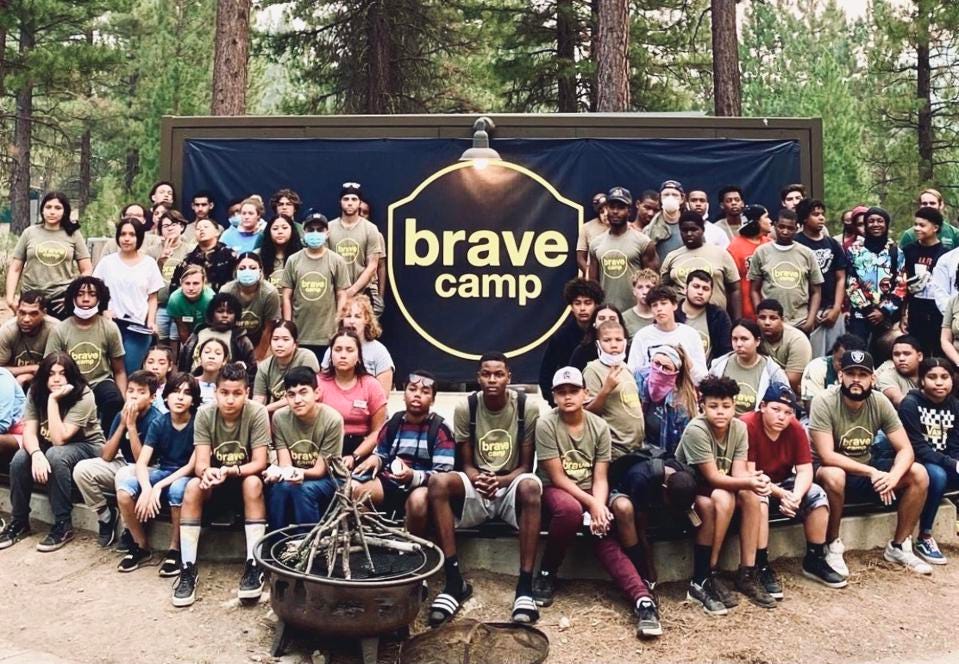 Purpose At Work: How Today, I'm Brave Rallies Advertising Agencies To Support BIPOC Youth
Written By
September 13, 2021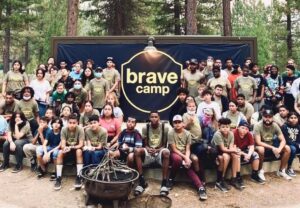 No one brand or organization can solve the world's problems on its own. When collaborators gather around a common purpose, great impact can prevail. Similarly, by presenting opportunities for other organizations to do something meaningful, you can establish a role for yourself as a leader. An excellent example of an organization bringing people and companies together around youth empowerment is Today, I'm Brave. The non-profit brought together individual donors and over 100 advertising agencies to offer $1,500 scholarships to fund low-income and BIPOC youth to attend Brave Camp, a transformative week-long intensive to inspire self-confidence through immersive wilderness experiences.
The camp took place at Grizzly Creek Ranch in California's Sierra Nevadas from July 25th to July 31st. Today, I'm Brave partnered with Improve Your Tomorrow and Project Optimism to select Sacramento teens and Sierra Nevada Journeys to help with confidence building, emotional development, nature therapy, and exploratory activities. Additionally, mentors and guest speakers shared insights to lead activities like poetry, art, rope courses, Jiu-Jitsu, yoga, and more. The non-profit developed what they call the Brave Transformation Journey, which includes 6 pillars: "Community, Empathy, Adaptability, Uniqueness of Self, Confidence, and Superpower 'Brave Mountain,' where the children's own personal superpowers were illustrated on their individual rocks and placed on the mountain for years to come," the organization shared in a press release.
"When I look at all of the agency, company, and even individual support of our Brave Camp youth, it fills my heart with so much light and gratitude — as they were part of an experience that helped these teens unlock their brave inner voices. It's a perfect example of when our hearts are aligned, we are a greater force for change," Lindsay Stein, CEO of Today, I'm Brave, said in the announcement.
Ultimately, by highlighting an issue, offering a plan to address it, and presenting companies the opportunity to help, Today, I'm Brave was able to start a program that can have a long-lasting impact on the lives of underprivileged communities. The organization's example offers insights for brands looking to Lead With We.
Lessons from Today, I'm Brave on building partnerships around purpose
Clarify your purpose:MORE FOR YOUIn Crypto 'Arms Race' For Mass Adoption, Companies Ink Sports Sponsorships Worth Hundreds Of MillionsCAA Signs Jenkins The Valet: Is This A Sign That Hollywood Is Embracing NFTs?HPE's Sandy Ono On Insights At Hyper Speed To Drive Growth And The Value Of Marketing's Currency
By having a clear purpose, you gain insight into your business and social impact strategy. Today, I'm Brave's purpose is to help "others overcome their greatest challenges — no matter how big or small." That commitment to inspiring bravery translates across the organization's programs. Purpose serves as a guiding light for decision-making, both in terms of what to do and also what not to do.
Find a course of action:
The direction that comes from purpose translated into clear courses of action. Throughout Today, I'm Brave's projects, from the 100Roofs Project to Brave Library in Sierra Leone to Brave Camp, the mission and purpose to inspire bravery is palpable and persistent.
Brave Camp, in particular, is an excellent demonstration of how the non-profit is acting on its purpose to ignite bravery. The camp focuses on issues around self-confidence, guidance, and space for creative exploration in underserved youth. By creating a camp experience, Today, I'm Brave, is fostering a tangible way to build bravery in the world.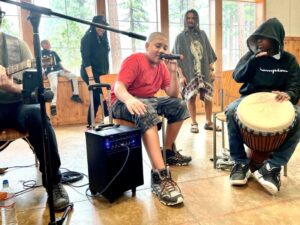 Invite others to join you:
By welcoming partners to assist you in your purpose-driven initiatives, you can effectively expand your ability to do good, scale the reach of your communications campaigns, and build mutually beneficial relationships.
With Brave Camp, not only was Today, I'm Brave able to secure financial backing for the project, making it completely free for participating youth, it was also able to collaborate with inspiring leaders that made the experience especially impactful. Speakers and mentors included Jiu-Jitsu masters Rener and Ryron Gracie, yoga and fitness specialist Michael Carter, hip hop artist Nadirah X, and more."I think about the kids often and how many seeds were planted in those young minds and what fruit they will bear in the years to come," Carter shares.
Essentially, by creating opportunities for other companies and experts to give back, you are able to inspire others, do more good, and position your brand as a social impact leader.
Share your story:
While right action is paramount, sharing your story can help you build your network, create goodwill, and attract new partners. To get the word out about Brave Camp's first year, Today, I'm Brave is working on the Brave Camp Documentary. The organization hopes the film will help them bring more teens for next year's camp and inspire more organizations to join the cause.
Measure progress:
To authentically maximize impact over time, you must have a way to measure progress. To assess the impact of Camp Brave on the young campers, Today, I'm Brave and Sierra Nevada Journeys are surveying youth and will assess the qualitative results. Those findings will help inform future camps in California and beyond.
Today, I'm Brave and its Brave Camp [made possible by its sponsors] is a powerful model for how shared values and a common purpose can build lasting impact that also creates a powerful halo effect and storytelling for participating brands.
If you'd like to dive deeper with more purpose-led organizations and brands, check out the Lead with We podcast here, so that you too can build a company that transforms consumer behavior and our future.