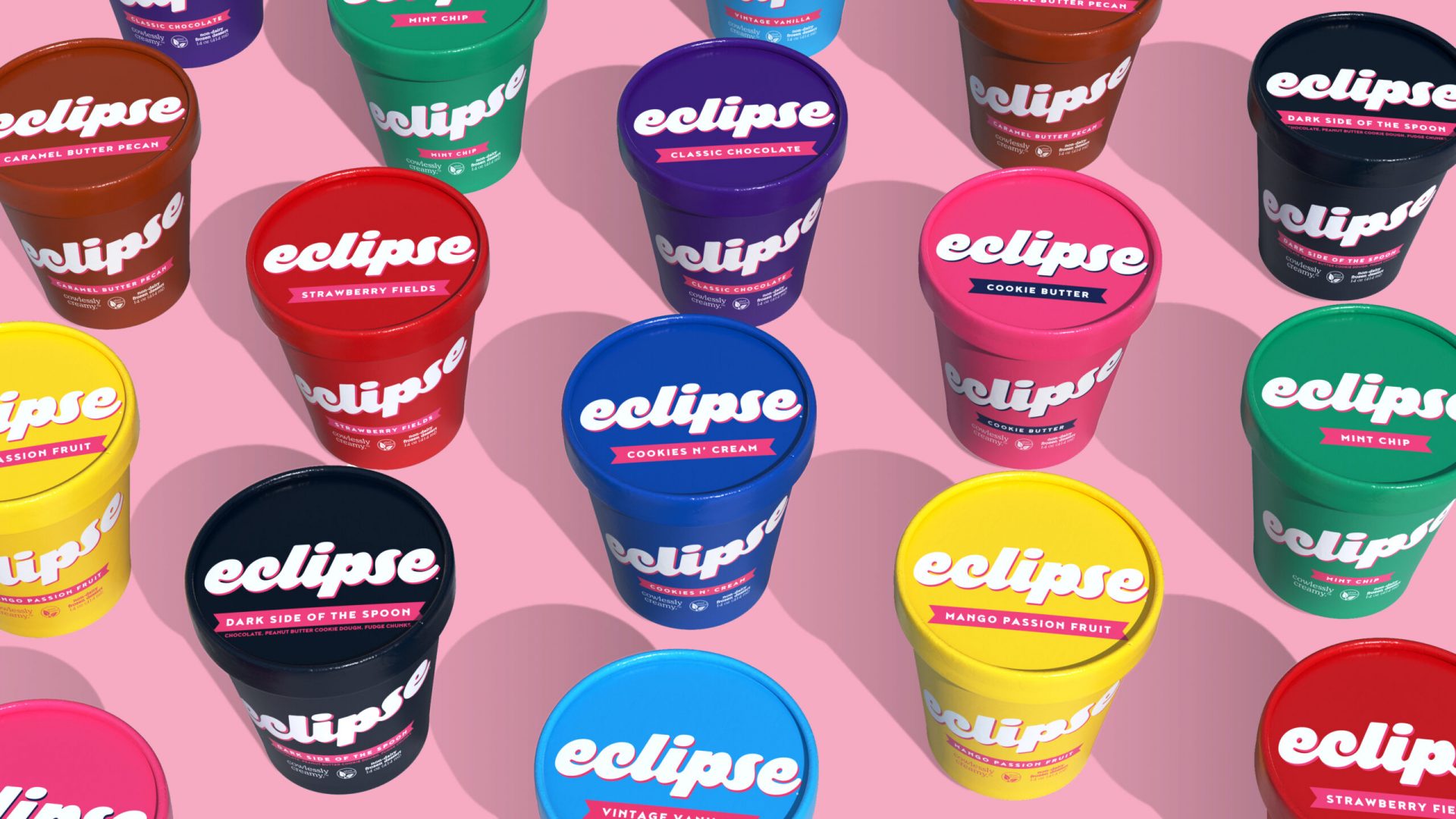 Purpose At Work: Is One Small Company Trying To 'Eclipse' The Brightest Stars In The Dairy Industry?
Written By
August 25, 2021
At 11:49 p.m. on an otherwise ordinary January 26th, a bearded man was burning the midnight oil in a food lab. He had worked at 16 Michelin star restaurants, was named a Zagat 30 Under 30, and was twice nominated for the James Beard Rising Star Chef award. Tonight, though, he was a scientist.
He heard a weird noise in the mixer into which he'd tried thousands of iterations of ingredients and processes — like Edison seeking a filament for the light bulb — and finally, that noise — a churn rather than a hum — was a breakthrough being made.
He took a picture and sent a text to his friend and business partner, who was equally invested in the consequences of that churn: "You're not going to believe this."
The partner stared at the photo he'd received. It looked as though, somehow, the liquid had strained to the bottom of the mixer — and there were solids clumping on the side.
"What am I looking at?" he asked the bearded scientist.
And he answered, "Well, we're getting the equivalent of curds and whey."
What's so monumental about that achievement?
There were no dairy products in that mixer — no animal products at all.
It was a pivotal moment in the birth of Eclipse Foods, the Oakland, California startup motivating significant change in the world through people's food choices. The company says the food industry must change post haste in order to reduce climate change, animal suffering, and human health crises.
That's why the two men had been working so hard on new tech. That's why they would apply on the last day of the late deadline to Y Combinator, the seed money startup accelerator that had helped launch Stripe, Airbnb, DoorDash, Coinbase, Instacart, Dropbox, Twitch, and 2,000 other hopeful businesses. And why the incubator took them on after a taste-test at their application interview — where three out of four of the board couldn't tell the difference between Eclipse sour cream and the best-selling sour cream in the U.S. (not to mention all correctly identifying the leading vegan brand).
Total eclipse of the heart-healthy food
When they were both children, the company's co-founders — the two men in the midnight Eureka text exchange — tech innovator and alternative protein industry expert Aylon Steinhart and award-winning chef and food scientist Thomas Bowman both saw full solar eclipses. Bowman's father was an eclipse-chaser, and took his son out in a boat in Mexico to witness the extraordinary phenomenon. Steinhart remembers the summer in Palo Alto, California that he, too, stood in awe at his first eclipse.
So, when they launched their plant-based food company in 2018, intending to create and market "the Impossible Burger of dairy," the pair looked to "the symbolism of it," CEO Steinhart tells We First. "An eclipse is a really, really rare moment in which something super tiny — relatively, like the moon — is able to block something that is massive, in this case, the sun. It's the stars literally aligning to create something improbable that is just so spectacular that everyone stops what they're doing and looks up — and it really moves them."
Star of the show
To garner maximum buy-in and distinguish themselves from some of the heavy-hitters in the plant-based food space, Eclipse focused on a mission to make products that require no sacrifice on taste, texture, or consistency. In other words, they wanted their ice cream, milk, and cheese to be "indistinguishable" from consumers' favorite non-vegan brands. Changing the consumer experience became the central goal of the company's initial R&D phase that saw the "bonkers engineering" and endless iterations of Bowman, according to Steinhart.
For his part, Steinhart looked to trailblazing CEOs Ethan Brown of Beyond Meat and Pat Brown of Impossible Foods as "two of the pioneers that really showed that it is possible to make plant-based products that are indistinguishable from their animal counterparts."
Steinhart had worked with companies such as Kraft Heinz, Nestle, and Kellogg's. And in the nonprofit sector, he started The Good Food Institute's innovation department. The Good Food Institute is an international 501 that promotes plant-based meat, dairy, and eggs as well as cultivated meat as alternatives to conventional animal products. "I was essentially running an incubator for the plant-based, cell-based, and fermentation-based space, so I was really learning what companies were doing. And where are the white spaces?" he says.
At the same time, he notes, "I was also evangelizing entrepreneurship. I spoke at all the top universities to get people to start companies that radically change the food system."
"So, it was fantastic to be able to work on that mission of creating a more sustainable, healthy, and humane food system, as I myself gained the skills to then be able to go and start a company in this space," says Steinhart. "Eclipse was really the culmination of that passion, but also all of that knowledge of what's missing from the space."
Because the tech was still missing, Bowman became a natural partner. He had been behind other top-selling vanguard plant-based products — such as JUST Mayo — to create a line that offered consumers "amazing dairy flavor, texture, and functionality you love without the health, environmental, and welfare issues attached to traditional dairy. It's that simple," the company says.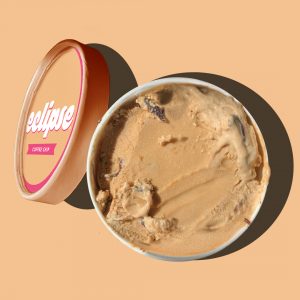 Stars aligning
But simple is seldom easy.
In the big picture, that purpose — though achievable — can be elusive. "Figuring out the scaling of sustainably and growing sustainably" is a challenge, says Steinhart, "because from the outside, growth is the most amazing thing and everyone wants it, and then from the inside, it presents a whole host of challenges, whether that's how we make sure that we have production lined up with inventory, lined up with ingredients, lined up with demand, lined up with personnel, lined up with … all the things have to come up around the same time to really make it happen."
And more immediately, it wouldn't be easy to revolutionize how ice cream is made by avoiding its traditional main ingredient. In that mission, Bowman was vital to turning Eclipse's dreams into edible reality. Formerly the director of product development at Hampton Creek, JUST's predecessor, and JUST, "this guy is like a total genius," Steinhart says, "with a super unique and rare skillset of food science, deep culinary experience — and he's also an engineer. He's just, like, this mastermind thing."
Bowman started innovating the technology that would lead to the seminal moment on that January 26. "We essentially looked at milk on a molecular level. We said, 'what makes milk milk?'" Steinhart recalls. The answer has to do with casein protein, and specifically, its microscopic structure called the micelle. "It's a spherical micelle, which is the structure that essentially encapsulates fat, and basically makes the emulsion, the magic of the milk," he says. And key to its transmutability from liquid milk, to semi-solid cream, to solid cheese.
"We said, if we can do this in plants, then we're going to be able to unlock that functionality, and that mouth feel, and that taste. That's exactly what we did," says Steinhart. "We've created the first ever one hundred percent plant-based milk that uses micelles that … mimic the micelles of casein in order to replicate that taste, texture, and functionality of milk." Eclipse has a patent pending on that proprietary process.
"So, our secret sauce is literally our secret sauce," Steinhart quips.
In the weeks after the curds-and-whey "unlock moment," as Steinhart calls it, "Thomas [Bowman] went absolutely engineer bonkers, and developed every product he could. We had cheese, and ice cream, and cream, and all these different things."
So where to begin in the marketplace? Steinhart and Bowman had researched the dairy industry from economics to genetics, from biochemistry to agriculture, and along the way made a simple but stark discovery. Says Steinhart, "Dairy is usually the co-star. People will go for cereal and milk, a bagel and cream cheese. Ice cream is one of the few dairy products that are actually the star of the show, so if we're building a consumer brand, we want something that is a star of the show; we want something that people think about, that people fall in love with."
So, Eclipse would hit the ground running with a revolutionary ice cream line — its "core, hero product," says Steinhart — and eventually spin that success into "all the different categories within dairy … with one consistent brand across, so that we could essentially use that brand equity, and also the consumer trust that we're building."
There was just one problem: With a few notable exceptions, most vegan ice cream is lackluster at best. Crystally, chalky, bland soy-, oat, and "other"-based ice cream is usually a poor substitute for the "real thing." No one had truly succeeded in convincing a broad swath of consumers that dairy-free ice cream could be just as good as their favorite animal-derived brands — so most plant-based dairy ice creams were frozen out of the mainstream marketplace.
Light at the end of the tunnel
It would take a lot more engineering to finally create Eclipse's signature ice cream product based on the original casein-mimicking micelle formula. From the beginning, says Steinhart, "We wanted to create a consumer-facing brand to capture the full value of the technology and to really transform the way that the industry views plant-based, because we have to show the world that plant-based does not equal sacrifice."
The company leaders "want [consumers] to have the following moment," Steinhart says. They're standing in the ice cream aisle. "And they say, 'Okay, both of these products are the same. They taste the same, they're priced the same, same level of enjoyability — and the only difference is that one is better for me, better for the planet, better for animals, and is in line with my values. And by the way, it doesn't hurt my stomach, either.' The obvious choice, the default choice is the plant-based choice, and the better choice for everyone," says Steinhart.
Planetary transit
Of challenges along the way, Steinhart recalls, "I would say there were tons of obstacles." Eclipse had launched with food service partners, high-end ice cream shops. "We were following that Impossible Foods playbook," launching with "the best of the best to prove that we are good enough to be accepted by the best of the best," he says. "That worked really well, and they brought us in, and then there was a lot of press around it, and that brought in lots of inbound leads. It was like the rocket ship was taking off."
This was November 2019. The "rocket ship was taking off in February 2020," Steinhart says. When the Covid lockdowns happened, "We were done. Like ninety nine percent of our revenue overnight just disappeared. And we don't have a retail product and we don't have a D2C product, and so we had to restart the business."
Eclipse learned to pivot on short notice. During the pandemic, retailers weren't taking new brands' calls. "They were just trying to keep the shelves stocked, and there was so much uncertainty going on." With retail off the table, the partners decided, "Well, the only thing we can really do is direct to consumer, so why don't we just do that?" Steinhart says.
The company repackaged unused food service product into pints, and put them online. "Then we worked with some of the best chefs in the nation, like Michael Tusk of Quince, a three Michelin Star restaurant, Corey Lee at Benu, which is also a three Michelin Star restaurant. Ken Oringer is a James Beard award winner at Little Donkey. So, all of these really, really incredible chefs" collaborated with us, says Steinhart, "because we already had that culinary backing by working with those high-end restaurant shops." The company worked with the chefs to create custom limited-time only Eclipse pints that they offered on D2C. "And then all the proceeds from that went to support the charities of those chefs' choice," further endearing the brand with consumers.
The company is a Lead With We model in the way it looks at and treats its partners and its 20 team members. "If you look at our partnerships with the ice cream shops," says Steinhart, "it's about being in places that people already love, and having that Eclipse logo there, or working with chefs that people really, really trust." And "It was a great way to keep the brand going to really expose people to Eclipse in a time where we really had no other channel," he says.
As Covid restrictions started lifting, some retailers started reaching out requesting the new pints. "It was a really slow trickle at first," Steinhart says. In 2020, Eclipse had made it through "zero retail doors." Now it's available in all but one major US region. "And now we have the retail side, the food service side, and then D2Cs still exist for people who can't get the product in either of those channels.
Bright advice
The evolving Eclipse story offers several takeaways:
Filter everything through the confluence of mission, passion, purpose, and expertise. For example, Steinhart's touchstone has always been nature, since he was a seven and tending daily to the animals at the community zoo his parents ran. "I'd clean after the monkeys, and I would feed the porcupine, and that was my heaven … And then fast forward, many years later, I co-founded a software business in the photo and travel space. It had nothing to do with nature or food, but I always was really attracted to, from a career perspective, innovation, entrepreneurship — really bringing something to the world that solves problems for people. There was a pivotal moment in my life where I was [developing] this business, I still love nature, care deeply about climate change and I was not contributing to the solution," he says. So he used that purpose to catapult a business into consumer consciousness, and toward real impact.
Think carefully about a consistent brand voice. "If you want it to be inclusive," Steinhart advises, "it needs to be friendly, it needs to be accepting, it needs to be something that people feel an emotional connection to — as opposed to an aversion to." He points to research showing "vegan can feel threatening … vegan is a word that puts people off, and makes them think this isn't for me … We want to make people feel very, very welcome." It is possible to radically shift consumer behavior by telling a compelling story and offering an excellent product.
Be open to opportunities. Collaborate as much as possible. Widen the "Breadth of your With." When Eclipse started to work with Y Combinator, for example, "that really unlocked a lot of noise from a funding perspective," says Steinhart. "Alexis Ohanian, founder of Reddit and Initialized Capital — already investing in Impossible — came on board for the seed round. Its Series A was with Forerunner Ventures. "We had a good relationship with them even before we wanted to start fundraising, and they were extremely supportive and interested in the space." This is where Eclipse landed Seth Goldman, [then] chairman of Beyond Meat.
So, the company doesn't really want to "eclipse" the major players in its industry per se — but together, With them, eclipse old, unsustainable mindsets and practices. "The metaphor is like David and Goliath," says Steinhart. "We're a small plant-based startup, but the stars we believe in, and I think a lot of the industry believes, are perfectly aligned for us to really eclipse this massive dairy industry."