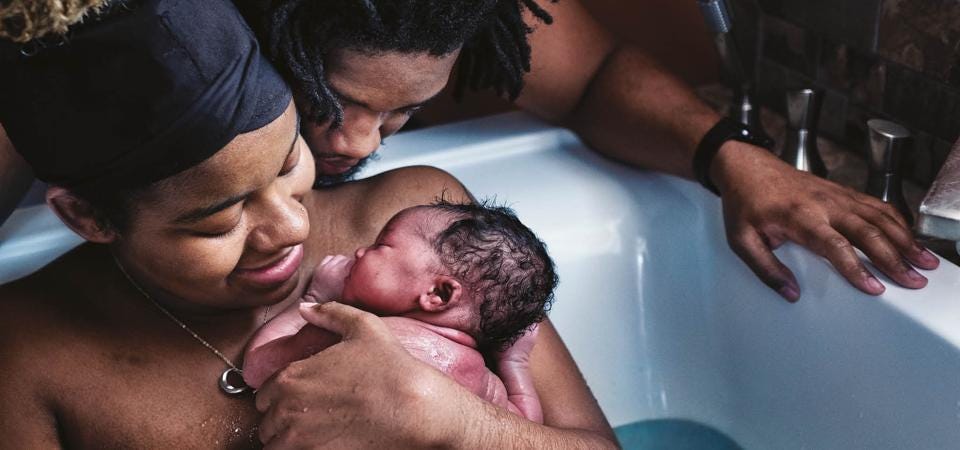 Purpose At Work: Lessons From Dove On Joining Cultural Conversation Around Black Lives Matter
Written By
September 7, 2021
Purpose is now a social currency that consumers expect from the brands they buy from. In fact, Unilever found that within its portfolio, 28 Sustainable Living Brands with actionable commitments to social and environmental causes scaled 69% faster than brands without a stated purpose in 2018. Those purpose-driven brands were responsible for 75% of Unilever's total growth. It goes to show the power of marrying purpose and profit if you want to compete in today's marketplace. With overwhelming challenges like COVID-19, Black Lives Matter, and the climate crisis, such purpose commitments are more important now than ever before.
On August 24th, Unilever's Baby Dove brand launched and donated $250,000 to the Black Birth Equity Fund. The fund offers Black pregnant mothers the opportunity to apply for up to $1,300 to pay for doula birthing services.
"We've expanded into this space because for too long, black mothers have received a sub-optimal level of care and face judgment throughout their pregnancy journey," Sally Brown, Global Brand Director at Unilever, tells We First. "Black moms are dying three times faster than white moms through the giving birth process." Doulas can reduce complications by 50%, she says. "Those statistics just knock you over. We felt like we had to do something about it."
While brand-fueled contributions are critical to building a better world and a loyal customer base, it can be challenging to take on a sensitive racial issue let alone something as personal as giving birth. Sally sheds light on key lessons for brand owners on how to participate meaningfully as a brand in today's complex and challenged world.
Find the right partnerships:
No one wants to put a bandaid on an issue. At the same time, no one brand can fix all of the world's problems on its own. How do you navigate that? MORE FOR YOUIn Crypto 'Arms Race' For Mass Adoption, Companies Ink Sports Sponsorships Worth Hundreds Of MillionsCAA Signs Jenkins The Valet: Is This A Sign That Hollywood Is Embracing NFTs?HPE's Sandy Ono On Insights At Hyper Speed To Drive Growth And The Value Of Marketing's Currency
"Nothing happens overnight," Brown says. "It needs to be a commitment over time." Baby Dove has partnered with Black Mamas Matter Alliance to build and act on the Black Birth Equity Fund. "This is a long-term effort and we're just at the beginning," Brown explains.
It is critical that brands work with the right partners that can bring expertise and help them deliver on their social promise. While brands may have great intentions, they are typically not experts at addressing a deeply entrenched social issue. They are experts at developing and selling their products and services.  By working with Black Mamas Matter Alliance, Dove is able to harness the Alliance's network and expertise in Black maternal health. This gives Dove critical credibility and increases their chances of making a meaningful impact over time.
Be authentic and transparent:
Before making a commitment, it's critical to understand the issue at hand. Without a genuine understanding of what is going on in the communities you seek to help, you risk coming off as disingenuous.
"We are constantly evaluating larger trends. We speak to a lot of people as well. When creating the Black Birth Equity Fund, we spoke to a ton of Black moms, a lot of industry leaders, and key partners like the Black Mamas Matter Alliance," Sally says. "One piece is understanding an issue, the second is understanding how you can actually do something about it."
Taking the right actions is an essential component to developing accountability and transparency around your brand. "We can be very transparent with the Black Birth Equity Fund because of who we're working with, how much is going to the women, and who's receiving that," Brown says. "Communicating the message long-term is important, but it must be done in a way that it's not without adieu."
Ultimately, when you embark on addressing issues of social justice, health equity, and joining conversations around the Black Lives Matter movement, it is vital to hold your brand accountable, walk your talk, and share stories that convey your authentic commitment.
Measure progress:
A key part of accountability is backing up your storytelling with data. "We track the results of what we're doing in terms of sustainability for the planet and people. We share those publicly," Brown says. "We also have the Dove Self Esteem Project, where we monitor the impact of the lives of every child we reach. All of those things are built into what we do on Baby Dove as well." Essentially, measuring impact is a critical component of authentically engaging in meaningful solutions to vital social issues.
Engage Retailers & Consumers:
Both retail partners and consumers want to feel like they are part of building a better world. By offering ways that they can contribute to your purpose-driven cause, you can scale the impact of your initiatives. What's more, you build consumer goodwill and strengthen customer relationships.
In addition to its $250,000 initial donation, Baby Dove partnered with illustrator Keturah Ariel to create Baby Dove gift sets. 100% of the profits from each set will go to the Black Birth Equity Fund, offering a sustainable source of long-term financing.
"Walmart's been a great partner in that they have been so focused on the consumer and serving the consumer that has been underserved. We're launching the gift pack with them. They've been great partners in making sure they weren't making solely business-focused decisions, and giving us room to bring the purpose to life together," Brown says.
Not only does the gift set allow Walmart to offer products with purpose, it also invites consumers to engage in contributory consumption. Essentially, by creating a product or service that triggers a social giveback, you can harness customer goodwill and build brand loyalty while scaling your impact. 

Build on a movement:
The Black Birth Equity Fund builds on Dove's larger commitment to fostering safety, equality, and opportunity for Black women, men, and children. To build a brand-fueled movement, you must go beyond a single initiative and incorporate ongoing action into the core of your brand.
An excellent example of how Dove is contributing to the Black Lives Matter Movement is their role in the CROWN Coalition. In 2019, Dove partnered with Color of Change, National Urban League, and the Western Centre on Law and Poverty to develop legislation that forbids discrimination based on hair. So far, the Act has been adopted in 14 states and presented federally. In 2020, July 3rd was deemed CROWN Day and marks an annual celebration of black beauty, hair, and freedom of expression in school, work, and public life.
Additionally, the brand launched the Dove Men + Care's Father's Day Taken initiative. With a $1,000,000 donation, the brand is committed to supporting families that have lost Black fathers to hate crimes and acts of aggression.
Dove has taken big steps in the national policy arena that can have real impact on the movement. That said, Brown reminds us to be humble. "We've been doing things at Dove that give us some level of credibility, but each time you must start by making sure you understand very well the issue at hand."
How to apply for the Black Birth Equity Fund:
To qualify for a Black Birth Equity Fund Grant you must be Black, pregnant, live in the USA, and be interested in working with a doula to assist with birth. If you meet these requirements, you can apply via this page on Dove's website. The first round of applications will be open until the end of 2021, with the possibility of subsequent rounds starting 2022.
If you'd like to dive deeper with more purpose-led companies like Dove, check out the Lead with We podcast here, so that you too can build a company that transforms consumer behavior and our future.Follow me on Twitter or LinkedIn. Check out my website or some of my other work here.