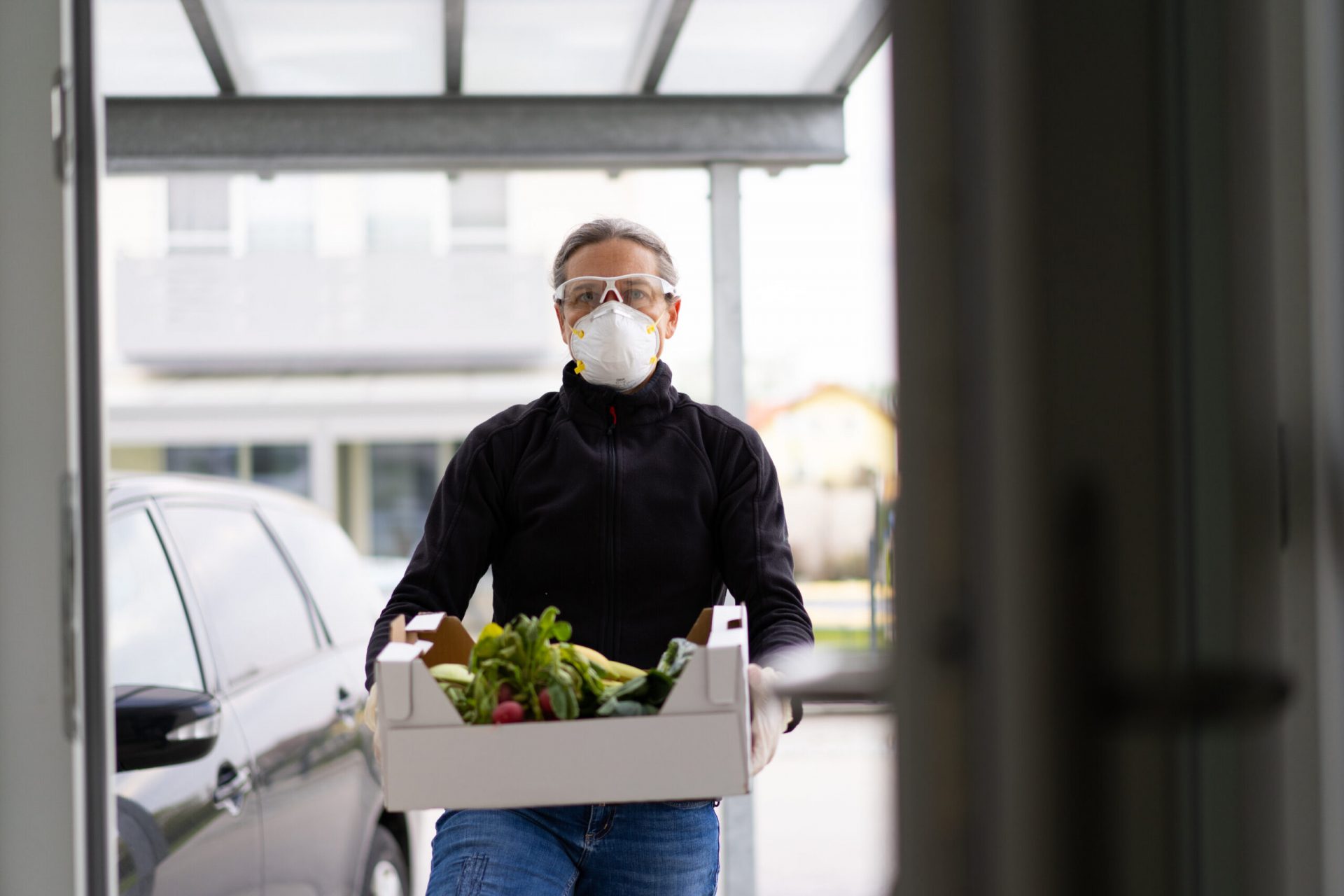 Purpose At Work: Lessons From Lyft On How To Transform Lives Through Transportation
More and more vanguard companies have begun to radically re-imagine and reengineer business based on the idea of collectivized purpose—to Lead With We. They're showing us that how we live, work, and grow together in new and necessary ways can restore and protect the social and living systems on which all of our futures depend. That's exactly what ride-hailing company Lyft has been doing since its founding in 2012.

Operating in more than 650 cities across North America, the $24 billion company's founders and leaders recognize that for the first time in human history, we have together created a confluence of crises – environmental, economic, and sociopolitical – that threaten our own survival. But the business world is best positioned to lead us all into solutions.
Why a ridesharing company hates cars
"The idea behind Lyft was to create a model that got people to ditch their cars," the company's Director of Social Impact, Lisa Boyd, tells me. "Lyft was very much founded on social and environmental goals at its base. Our mission statement is 'To improve people's lives with the world's best transportation.'" And one of Lyft's "big picture visions" is to reinvent cities "around people instead of cars, and replace parking lots with green spaces and parks." 
"Car ownership is terrible for the environment," says Boyd. "The average car is used only 4 percent of the time" and with only "one person occupancy." That's a huge inefficiency. Not only that, but "76 percent of people commute alone," according to Boyd. "And we have enough parking spaces in the US to cover the entire state of Connecticut." That's simply not sustainable.
Despite all those cars, not everyone has access to one
For the past few years, a comprehensive suite of Lyft initiatives under the banner of "LyftUp: Transportation for all" seeks to address this inequity in underserved communities. It's not about car ownership. In fact, the company would love nothing more than to end that aspect of modern capitalism. Instead, it's about solving a critical challenge, that "millions of people lack access to basic needs because they can't get a ride."
So, the company aims to ensure everyone has access to affordable, reliable transportation to get where they need to go—no matter their age, income, ZIP- or postal code. Where do they need to go? It starts with jobs and groceries, and extends to voting, vaccines, and other health care.
Stay in your lane 
Boyd's leadership is based on purpose as a point of departure and a route to solve real problems. The LyftUp program, and indeed, the company itself, grew out of "the core insight and thought that our most authentic and unique value-add to the world is transportation," says Boyd. The larger company has expanded beyond cars to bikes, scooters, public transit, and rental cars.
"We try to stay as focused as possible on transportation," says Boyd. When considering any new proposals, collaboration, or actions, its leadership asks, "Is there a core reason why transportation is a problem here? And do we have a unique value-add in this circumstance?" With voting, for example, Lyft and its partners uncovered "disturbing, but interesting" data: "In 2016, it's estimated that 15 million people did not show up to the polls because they did not have a way to get there. That's a clear way that we can make a difference."
Lyft employs an entire team that focuses on sustainability work. Its most notable commitment is to have 100 percent electric vehicles on its platform by 2030 in service of a carbon neutral society. Most of the cars on the Lyft sharing platform today are brought by the drivers themselves. But the company also maintains its own fleet of rentals, and aims to make those all electric. It's already begun deploying hundreds of long-range EV's in key locales.
"We're banking on major societal shifts in the way that people own and uptake electric vehicles," Boyd says. "And we are really focused on advocating for the types of policies that will enable broader and more equitable" adoption. The company is advocating, for example, for government EV incentives, as well as equity of charging placement. "Right now, there's a lot of charging in spaces that are higher income, and not in areas of the cities that tend to be lower income," including multi-family households and apartment buildings, Boyd argues. That "discriminates against, or makes it much harder for, lower-income individuals to have access to electric vehicles." 
By tackling such large-scale, multidimensional problems within its specific scope of expertise, the company strives to avoid controversy in an increasingly polarized world. By "really focusing on making sure that there is a reason why we are doing it," says Boyd of the company calculus for deciding to engage in a given initiative, "and there's a clear way that transportation can be a benefit from our efforts, that allows us to try to stay, for lack of better term, non-partisan in our work." 
For example, "We are responding to third-party research that says that transportation is a need in this specific circumstance. And then, especially with voting, we work exclusively with nonpartisan 501(c)(3) organizations who are not taking public stances on any candidates. And we're super careful about all of that. It comes down to just making sure that you're thoughtful and authentic in when and why you're acting." 
Drive efforts both proactively and reactively
"Anyone can write a check for cash to a nonprofit," Boyd reminds us. "But we have a unique value-add in our operations and our products that we can offer, and we lean into that." That includes the core foundational programs that it runs all the time—and readying itself through constant communications with its community and partners to respond to emergent crises on the ground.
The company had plenty of time to evolve with partners, research, and trial and error, its initiatives in job- and grocery access. The success of its Round Up and Donate program, in which riders can choose to round up any fare to the nearest dollar to support a nonprofit partner, spurred the more recent Fund-A-Ride program, wherein anyone can pay the fare of a rider needing a COVID-19 vaccine. The company aims to keep mobilizing partners and community members to help provide access to 60 million rides to and from vaccine appointments.
For that vaccine transportation initiative, many companies would have had to struggle to develop infrastructure and programming on the fly, under pressure. But Lyft could act as a first-responder, because, like literal first-responders, it trained and prepared in advance. Same again for all the work it does in disaster relief.
Then there was BLM. Many companies, Lyft included, came out with strong commitments after the murder of George Floyd in summer 2020. But "instead of say[ing], 'Oh, God, now we need all these people to respond to this thing,'" Boyd reflects, "We had done our work beforehand. And I think this might be obvious, but I don't think everybody does that work in the times when there is not a spotlight on these issues. So, making sure that you are really thoughtful in your partnerships and the way that you're developing your programs at all times so that when there is a really poignant moment, your response is tied to long-standing work instead of a quickly thrown-together immediate response."
Bring all stakeholders along for the ride
At Lyft, that starts with drivers and riders. Its efforts are "not a siloed arm that you do on the side, where you do nice shiny things over here to distract from all the bad things you're doing here," says Boyd. "All of it, and how it plays together is what makes up the way that you show up publicly," first and foremost with your core community.
The company's efforts tie into all of its core stakeholders' concerns. What brings its employees to Lyft? "Or our clients that choose us because of our values and the … alignment there." Then "our investors and what makes them excited or willing to invest in Lyft. How we engage with our Lyft business B2B partners?" and so on. 
Across that spectrum, the Lyft community has been concerned about Diversity, Inclusion and Equity, since well before the BLM movement took center-stage. It's not Boyd's department, but she takes ownership of the company-wide efforts toward DI&E. "We have a huge mentorship and sponsorship program internally to support communities of color who work at Lyft, and to help their growth and development within the company," Boyd says.
For four years, there's been a pay equity program, which starts with an audit of everyone's compensation, to make sure that there are no discrepancies. There were none found in 2020. "We do that every year to make sure that we're being thoughtful, and everybody is being paid fairly," Boyd says. "We have diversity hiring goals around both at all levels. We have an internship program that is our most diverse cohort. I think five out of six individuals who came in through that program to be full-time employees were women and/ or individuals of color."
At the leadership level, the company has adapted the National Football League's "Rooney Rule," which requires league teams to interview ethnic-minority candidates for head coaching and senior football operation jobs. "Here," says Boyd, "we have what's called the Rooney Rule 2.0, which basically means that for any director level or above, you need to have a woman and an individual color on the final candidate list in the final round of reviews."
You're not honking your own horn
One central tenet of successful purpose efforts is effective communication among all stakeholder segments. "We really think across the board about how we can take our programs and ensure that we are messaging them out and storytelling to the right key stakeholders so that it can drive positive business benefit at the same time that we're helping communities," says Boyd.
Many in corporate communication could do this more effectively, Boyd thinks. They assume, "'Oh, I do this program, and then we tell people.' But who are those people? And you don't have to tell everybody the same story. You can think about what is going to resonate with who a specific audience is. Perhaps you don't want to say [certain things] to your consumers. But perhaps you say it to your investors." Boyd's not recommending inconsistency in these different channels, nor among different audiences. Just an awareness that different stakeholder classes care about different things. 
In any case, "the more authentic and real you are in it, the less it feels self-serving, and the more it feels like an actual thing that you're invested in," and you have a good reason to share it. 
Where the rubber hits the road
But what should companies share? This new iteration of the purpose journey requires impact assessment, and the regular measurement of milestones. Accountability is essential for building trust and building this movement of movements. Yes, Lyft started out with an ambitious mission, to change the face of transportation, but in reporting the fulfillment of its purpose, it has historically tended to focus on what Boyd calls "specific use cases" where the impact is both meaningful, measurable, and simple to communicate. 
But now, "we research using third-party experts, not just the outputs—but the outcomes." This is a key distinction that Lyft might not have included in its reporting had it not gone public in 2019. There's an increased expectation on all companies to report on Environmental, Social and Governance (ESG) metrics. In Lyft's case as in many companies, investors started demanding it. "But there's still not clarity on what exactly should be reported. So it's still this weird space. However, the focus from investors on the value and importance of ESG is absolutely changing the sector more than anything did previously," Boyd says.
Consumers care, too. Businesses have long recognized the "marketing value" and the "brand value of social impact reporting," and how it's important to communicate to consumers those values and the specific ways you've shown up, Boyd says. "But I think now we're starting to get a broader appreciation among folks who were maybe more skeptical or traditionally business-minded to the fact that ESG across the board is integral to business"—and the "bottom-line." 
What does this latest iteration of outcomes assessment model look like? Boyd argues it's the difference between being "able to say, 'We supported X number of people, or we provided X number of rides,' and taking "that a step farther to say, 'Okay, if we get somebody to the grocery store over a period of X months consistently, what is the actual impact on their health, maybe on their claims data with insurance companies?" 
Given current vehicle utilization rates, what's the potential impact of the company's and its sector's move toward transportation into a service model rather than an ownership model? More people per seat. More EV's. Some urban reengineering. Changing minds and culture en masse. Well, that's incalculable. But, "It's expected that the transitioning of a Lyft vehicle to an electric vehicle alone would have three times the impact of transitioning just a personal vehicle to being electric." That's a compelling story.
Share the ride
Needless to say, LyftUp and the greater Lyft haven't achieved this level of success in addressing ESG issues and changing culture on their own. They might be in the driver's seat, but it's a high occupancy vehicle they're steering. 
In terms of affecting the company's internal culture, Lyft collaborates with "a ton of partnerships through our diversity hiring team that are focused on building our pipeline of Latinx, Black communities, etc., coming into Lyft," Boyd says.  
For community and cultural initiatives, they work with hundreds of partners, from neighborhood groups to national organizations. Last year, Lyft launched a new program called Access Alliance that was focused on bringing together some of its long-standing partners for more advice, guidance, and collaboration in terms of how the company can make an impact through transportation. The company is listening.
For example, Lyft brought together leaders such as the National Urban League, the NAACP, the National Action Network, and others alongside many local partners who focus on racial justice initiatives or directly support communities of color "to have conversations about what we can and should do using transportation to make an impact on challenges" – such as food and job access – "that have been caused by systemic racism," Boyd tells me. The company always asks, "How do we … think strategically about the partners we're selecting, to execute those programs in a way that tries to address those challenges in communities as a result of racial inequities," rather than launch inauthentic, ineffective, one-off programs. 
"And this is probably obvious," says Boyd, "but it's all about relationships, and actually investing in those relationships in times when things are not the hot topic in the news." For example, "when the murder of George Floyd happened and there were massive protests across the country, we weren't scrambling to find new partners, we were reaching out to partners that we had long-standing relationships with, done work with before, and we knew personally." 
Boyd has also learned the importance of distinguishing between the highest and best use of national versus local partners. "There are major organizations that we work with, like the National Bail Fund Network or the NAACP, for example, that focus on very different things and have a different way of operating than hyper-local organizations who are community-based and working on the ground with respect to jobs access or any specific issue locally."
You have reached your destination
So, remember, Boyd advises, "Find your focus. Being focused, to begin with, and finding a focus that is unique to your company, and really makes sense, authentically, with what you do as a business, what your values are, internally what your product looks like, and how you've showed up in the world to date. And by finding that core focus, it allows you to more easily say no to things, and to say, 'Yes, this is where we should go all in.'"
Then "lean into what your specific role in the big picture landscape looks like, and how you can build smart partnerships with nonprofits, with the public sector, with other companies, etc., to be able to get beyond just the purview of what is an obvious social impact, philanthropic program to do something in a much larger scale." 
Finally, don't stress about the "letter soup" of ESG, CSR, and other metrics. Just "think of the entire company. What is the way that these values … in terms of the environment, the social impacts, etc. show up through every part of our business? How is it relevant in the way that we pick our suppliers and our contractors? And how does it play out in our employee base in the products that we build and how we serve them up to communities?"