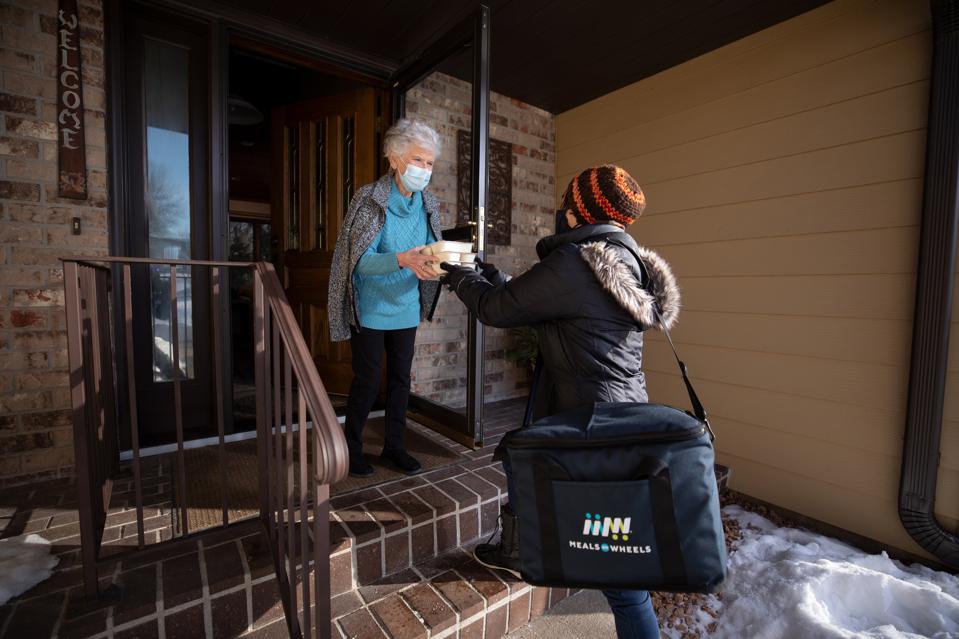 Purpose At Work: Meals On Wheels America Delivers A Whole Lot More Than Food
You'd assume that the import, influence, and legacy of Meals on Wheels would need no introduction. After all, since the London Blitz of the 1940s, its earliest organizational ancestor's been on the street bringing nutrition, dignity, and fellowship to underserved and at-risk communities such as seniors and the disabled. So much so, and so well, that its name has become the generic title for many nonprofits providing the same benefits. But there might be a lot you don't know about Meals on Wheels. The Meals on Wheels America, parent organization to more than 5,000 local programs, delivers a lot more than just food.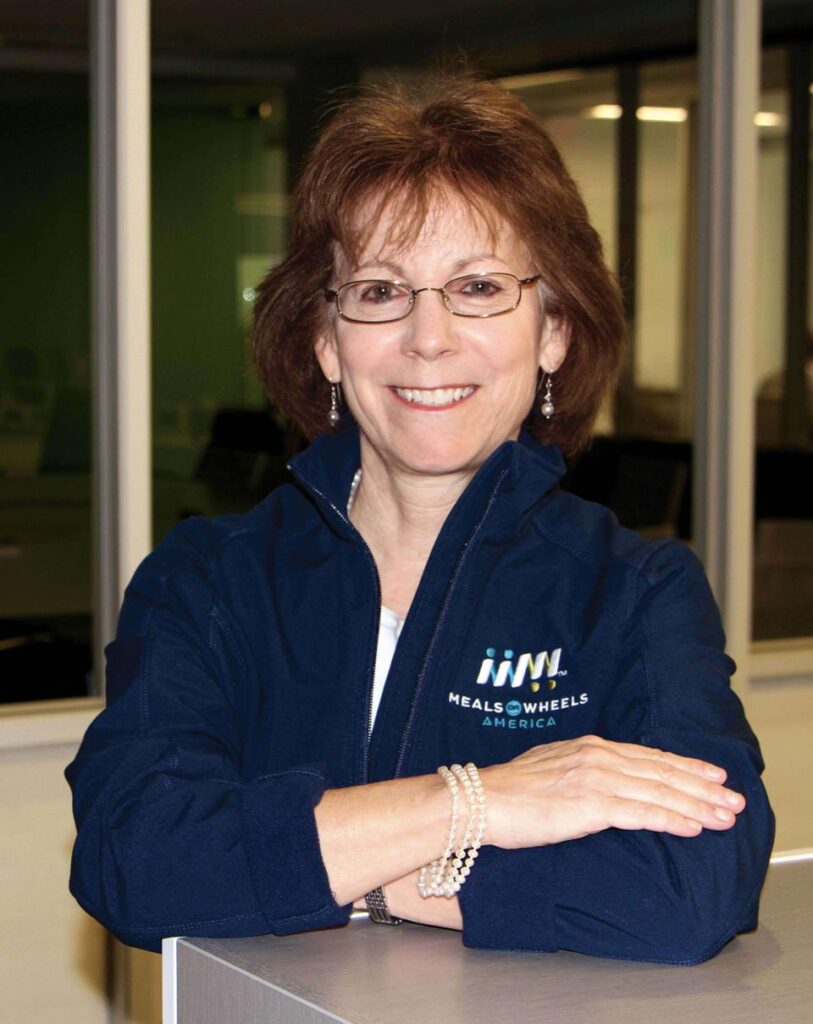 Ellie Hollander, president and CEO of Meals on Wheels America since 2013, says, "I always like to say the meal's just the 'entrée' into the home. It's as much about the human connection, the socialization, and companionship." It provides "eyes and ears" in the home, including checking for overall health and safety, she says.
"We establish a relationship," for example with the seniors while volunteers visit. In addition to offering necessary nutrition and socialization, the organization provides "More Than a Meal:" "We're able to notice a change of condition," Hollander says. "a safety hazard in the home … If something doesn't seem right something's awry," the organization can contact medical professionals, community services, or other agencies that can step in with further support. But Meals on Wheels is "often the first point of contact. The first door, if you will," she says.
Uncovering What's Hidden Behind those Doors
Hollander reminds us that "there are hidden epidemics that are going on. Forget about the pandemic: Senior hunger and isolation have been growing epidemics for years." So, she's been working on rebranding Meals on Wheels for nearly a decade now. Yes, the organization enjoys an exceptionally high level of public trust, but of late required reintroduction to a country full of problems — and problem-solving organizations, "so we don't get lost in the shuffle," she says. "We've had to evolve to be more responsive" to the challenges of nearly 10 million American seniors experiencing hunger, and millions more living in isolation, "and try to be top of mind" for those in need, and those with the means and will to help.
Bottom line, Hollander says: Meals on Wheels might deliver 220-plus million meals every year. But its underlying purpose goes way beyond that: "We are about enabling independence." There's a social and ethical benefit to that, obviously, says Hollander. But maybe not so obvious is the economic advantage: "We can feed a senior Meals on Wheels for an entire year for the same cost of that same senior being in the hospital for one day or a nursing home for 10."
Of course, no one, especially someone in Hollander's position, is actually "forgetting" the Covid-19 crisis, which has been steadily stripping such independence from millions of seniors. In fact, the pandemic has fundamentally changed the public's awareness of and attitudes toward the Meals on Wheels programs nationwide, and the services they provide. "That's been the silver lining of the pandemic," Hollander says. "That people in general now understand what it's like to wonder where your next meal is coming from. And to wonder if you're going to see another person on a given day or a week, right? This is the life of the seniors that we serve every day."
That emerging understanding has significantly contributed to what Hollander describes as "an outpouring of generosity and public awareness that we have never seen previously."
That's good because the need is great. Unfortunately, seniors have been disproportionately impacted by the pandemic, Hollander hardly has to note. In addition to food becoming more expensive and less available, "Families are more transient, and many more seniors are living alone with no family anywhere nearby. [Finally] even more seniors who previously were able to be more mobile now have been thrust into homebound status" by lockdowns, quarantine recommendations, and fear.
Compounding the problems is the greater likelihood that seniors have comorbidities such as heart disease or diabetes, and you have a particularly vulnerable demographic. Meantime, people older than 85 represent the fastest-growing segment of the American population, and the number of seniors is projected to double over the next three to four decades, according to Meals on Wheels. Those seniors joining the ranks of Meals on Wheels recipients are, according to Hollander, "here to stay, but the resources have not kept pace," despite that recent upsurge in support.
Keeping the Wheels Rolling Over Bumps in the Road
"The Meals on Wheels staff and the volunteers that keep our wheels rolling have really been unsung heroes," says Hollander. "They are frontline, essential workers in their own right. Because what we're trying to do is keep people out of the hospital and out of nursing homes — which during a pandemic is even more important."
But many among its network of two million trained and vetted volunteers are themselves, seniors. "A number of volunteers had to shelter at home during the pandemic and still are, just to be safe," Hollander report. Over the past nearly two years, the organization has been forced to scramble to recruit new volunteers, adjust delivery protocols to national and local health code standards and recommendations, increase research, and identify as many as possible of those newly isolated people in need of services. "The analogy I draw?" asks Hollander: "The metaphor is being on a treadmill on high speed with no pause button."
All this while advocating and lobbying extensively on Capitol Hill for more critical appropriations, all the more necessary in the wake of the million more seniors in need due to COVID-19.
On top of these challenges, the organization faces ballooning budget programs — "the same things that you and I deal with going to a grocery store," says Hollander — including food cost inflation, limited supplies, the need for PPE, and the requirement for expensive cleaning products and protocols. Despite that, as of July 2021, Meals on Wheels reported serving 57% more meals and 44% more seniors than before the start of the pandemic.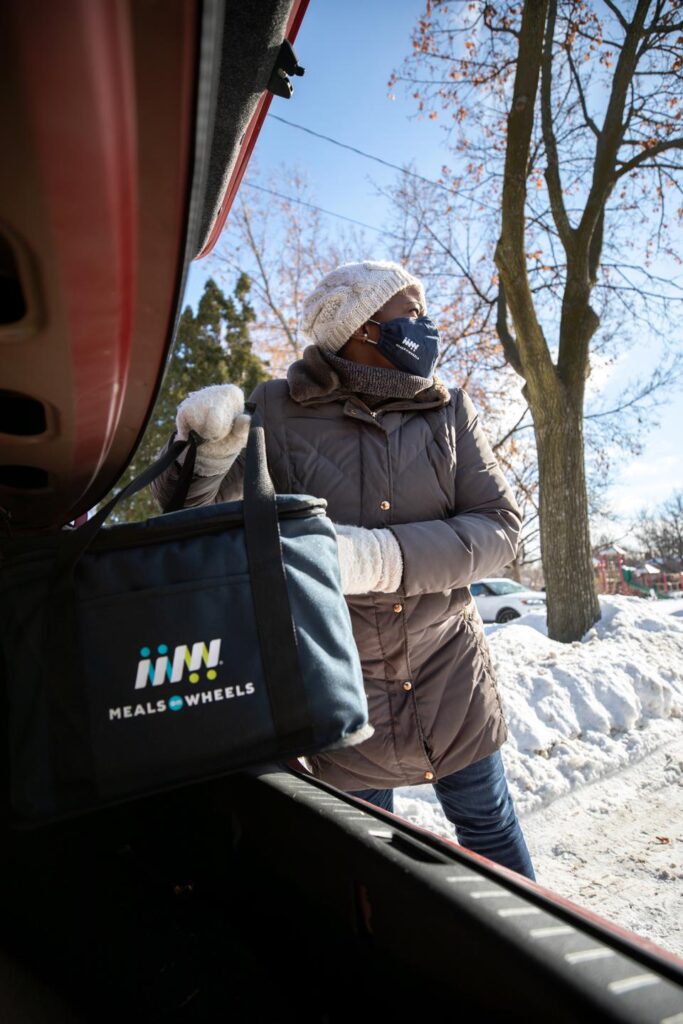 Bringing Partners to the Communal Table
Meals on Wheels is as effective as it is because of its Lead With We mentality and practices. In fact, Meals on Wheels exemplifies the Lead With We mindset and provides a best practices blueprint through its extensive on constantly iterating networking and collaboration initiatives: It works in cooperation with government agencies, hospitals, and corporate partners — whoever can do the most good, most effectively.
For example, when the pandemic hit, Meals On Wheels set up a Covid-19 response fund almost immediately, "so that individuals and companies could donate," says Hollander. "And then, in turn, we gave grants directly out to local programs on the order of $35 million." Which is significant for such a short amount of time. Among many different programs, Meals On Wheels coordinated large corporate donations of masks and other PPE from manufacturers, to bulk food from restaurants temporarily shut down.
And among many of its notable partnerships is working with PetSmart Charities on its "Meals On Wheels Loves Pets" initiative for the one-third of the seniors the organization serves who share their homes with pets. The partnership distributes hundreds of thousands of dollars in grants to local programs supporting senior nutrition program pet services nationwide. These programs go a long way, according to Hollander, in preventing the heartbreaking practice of seniors feeding their meals to their beloved animals.
It also works with the Home Depot Foundation, highlighted here in July, in helping veterans and their families live longer in their own homes. About one-in-five Meals On Wheels clients — that's half a million seniors — are veterans. "Since we're in their homes," says Hollander, "we can tell if somebody needs a ramp built, if they need a new roof, if they need in the bathroom, or a railing to make sure that they're not falling in the shower, because falls are real big issues for seniors — and very expensive issues."
The Wellness Wheel
So, it's not just food that Meals on Wheels volunteers deliver to seniors (and their pets!). Over the past 21 months, the organization has also worked with health and human services agencies of the U.S. government, as well as local health departments, and gotten increasingly involved in delivering health information about Covid and the vaccines that can prevent it. "Our volunteers are trusted messengers," says Hollander. "They're in the community. They're known. We have the ability to encourage, to educate, to help better understand vaccine hesitancy, to work with local EMS or visiting nurses to actually bring vaccines or shots in arms directly to seniors, either in their homes or in a senior center."
The idea, according to Hollander, is not necessarily to persuade older Americans to get the shot, but simply to provide "more information so that people can make informed choices."
Such "trusted messenger" programs are a major reason that, after hundreds of thousands of early senior deaths from COVID — The New York Times reported in December that a staggering one out of 100 older Americans has already died from COVID-19 — today, close to 100% of U.S. adults ages 65 and older have now received at least a first dose of a Covid-19 vaccine, according to the Centers for Disease Control and Prevention.
Finally, it's not just doors to the housebound where Meals on Wheels serves. The organization's wraparound services also include senior centers where more mobile people can socialize, exercise, and eat together.
If you want to volunteer or if you know of a person who could use their help, go to Meals on Wheels America.
Follow me on Twitter or LinkedIn. Check out my website or some of my other work here.