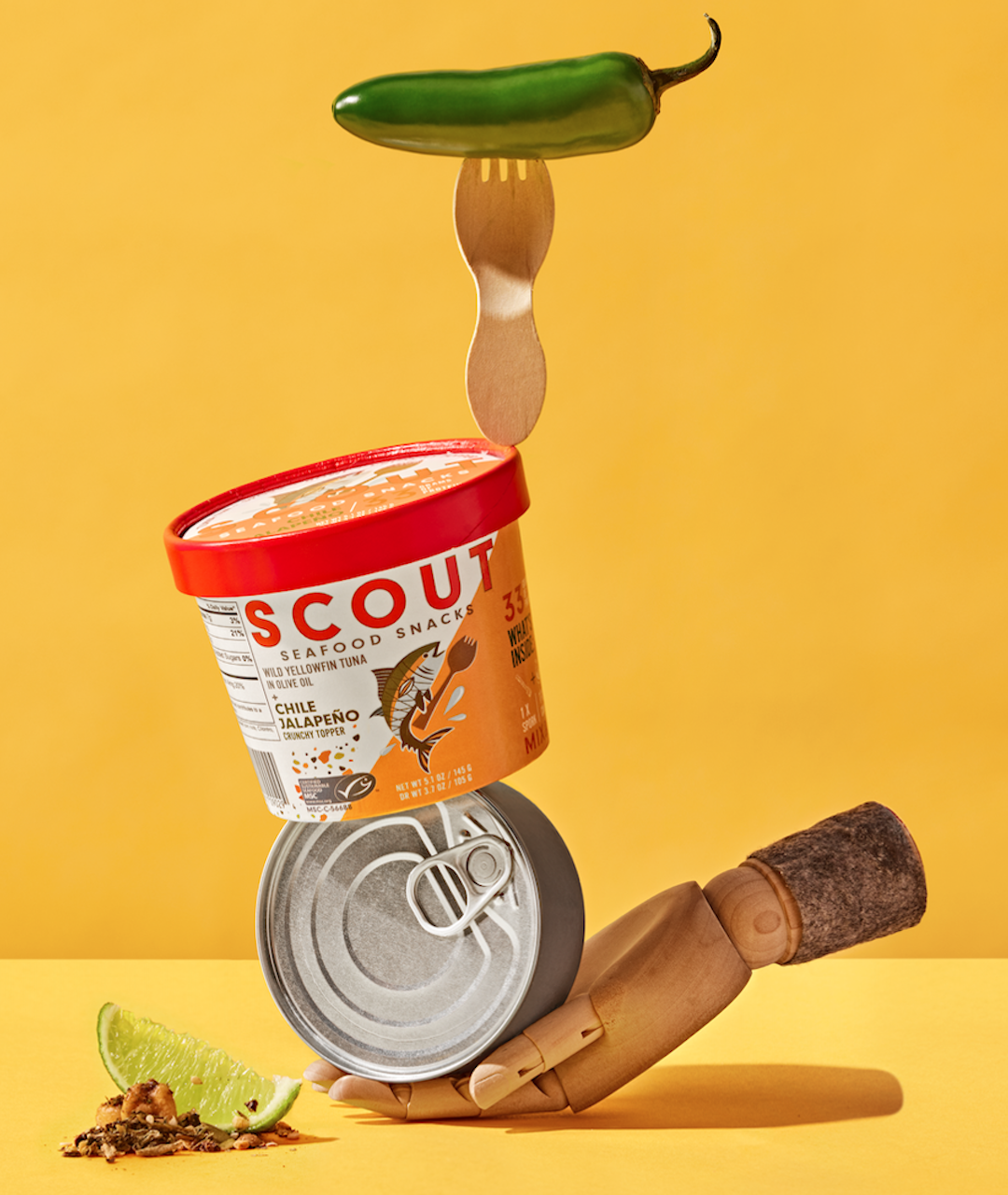 Scout, the Future Of Mindfully-Sourced Seafood
Small fisheries. Sustainable farms. Fair wages. Human rights. If Scout Canning gets its way, such attributes will matter just as much or more as the price to the average consumer in the canned seafood aisle.
Scout, a North American craft seafood cannery, is the brainchild of Chief Culinary Officer, Charlotte Langley, and co-founder and CEO, Adam Bent, along with COO, Nate Dunn.
Scout was founded in 2019 on a couple of key principles: It's important for consumers to know where their seafood comes from; all sourcing decisions should be mindfully made with consideration of the future health of our planet; and the company and its partners should focus on promoting biodiversity by working with a greater variety of species that have been deemed safe and abundant by third-party auditors: e.g., tuna, salmon, mussels, trout, and lobster.
None of that kind of mindfulness happens by accident.
Scouting support for growth
Langley, a successful chef, and Bent, who'd grown up fishing in Canada and wound up shaping companies and building products that make a positive impact on people and our planet, had been friends for a decade in the mid-2010s. Knowing his penchant for bringing an empathy-led approach to leadership with a culture-first mentality (not to mention 10+ years of experience in operations, growth, and commercialization), Langley asked for Bent's help to expand her "side hustle," he says.
"It was really an extension of her chef career. She was cooking seafood in restaurants … She saw the intimidation that most people have about cooking seafood at home. She had started to package up her recipes into cans to take home. They were refrigerated with only a one-week shelf life."
For years, Langley had been building a customer base by selling at farmer's markets, and "cool cocktail bars in Toronto," says Bent. "As a sideline supporter and her friend, I watched her create this really artisan, bootstrapped little brand around Toronto. Then I was serendipitously leaving my last business and Charlotte asked for a little bit of help on planning. She wanted the business to grow to that next stage."
"A little bit of help" turned into an obsession and a quest to disrupt the industry. When Bent began to dig into the category, he found that most canned seafood brands battled to win shelf space and convert customers by offering "the cheapest products they could possibly make," he says.
Under those impulses, the global canned seafood market does continue to grow. It's expected to reach $27 billion by 2025.
"But the category was not built on product innovation or on really great brand experiences," says Bent, nor "on high-quality taste, nutritious profile, or really clever marketing. There was just this huge gap where we have nameless, faceless dancing fish on cans, or the average picture of a fisherman on [a] fish stick package. There's all this ocean imagery and ocean-esque little things that were being used but not really connecting consumers to climate action, not connecting consumers to [the reality of what's happening in our] oceans and waterways," says Bent.
"That was the genesis of the opportunity that we saw. The white space."
Fishing for awareness
Thus, was born the Vancouver- and Toronto-based company, which went to market in the US and Canada in 2019. It sources and cans its tuna and other seafood on Prince Edward Island on the east coast of Canada, and from the Pacific Northwest to Tapachula Mexico. All of it is fully traceable.
Its online partners include Thrive and FreshDirect, and it's also available at Eataly, on its own website, and in about 2,000 stores, including Whole Foods nationally; Central Market in Texas; Wegmans; and hundreds of small shops, boutiques, wine bars, and natural and premium groceries across the US and Canada. "We'll grow to about four to five thousand stores this year with our new product line, the seafood snacks that are launching."
That kind of growth is possible only because of consumer's growing concern for sustainable products. Seafood companies and seafood consumers all have a role to play in protecting the most precious ecosystem and food source on Earth by the decisions we make, says Bent.
Scout partners with 1 Percent for the Planet, re-investing 1 percent into climate action projects that help protect oceans and waterways.
Scout's consumers don't have to take the company's word on its responsibility. It partners with The Marine Stewardship Council, an independent, not for profit organization that sets standard for sustainable fishing. Langley is the Canadian Chef Ambassador for the organization.
Scout's primary objective is to grow its business by working with nature, which requires balance, mindfulness, and transparency, says Bent. But communicating that is not easy nowadays. "It's a constant conflict trying to educate and engage on responsible seafood consumption, and then the climate emergency that we're living in, but without causing climate anxiety."
With seafood as the primary protein source for more than half the planet, simultaneous to the terrible damage daily wrought upon our oceans and waterways by human activity, it's critical that companies like Scout get the balance right in their operations and in their storytelling.
"As an emerging brand," says Bent, "we've tried everything from running campaigns on human trafficking and [the] global seafood [industry], to talking about oil spills, to the over-fished populations and why tuna shouldn't cost two dollars. All of that has worked with some of those early adopters in the more engaged consumer base, but it does actually start to push out and exclude consumers who don't want to be engaged on those topics. They want to be entertained and they don't want to have more people telling them that the world's messed up."
Fishy versus trustworthy seafood
But the world is messed up. With seafood sourced only from responsible fisheries, Scout's one of the few North American seafood companies to earn a B Corp certification. In so doing, it's helping heal the planet, even as it's expanding the canned seafood market beyond tuna with a product line consisting of chef-crafted recipes such as Atlantic Canadian lobster, rainbow trout with dill, organic PEI mussels, and smoked wild pink salmon.
Scout raised $4 million in its second round of funding in 2022 ($5.9 total). It's using that seed round to accelerate its omni-channel brand strategy and operational expansion.
Scout's strategy starts with clean, creative packaging, and "something as small as putting a sourcing map on our products. No other tinned fish company commodity does that," says Bent. "I mean, we're telling consumers where their product is actually coming from and celebrating this taste of place. Like, hey, your salmon is from Alaska or your tuna is
from the Pacific Northwest. We're starting to create more of that connection to where their seafood's coming from and then the story behind where their seafood's coming from. That's the why.
"Why have we chosen to source from this region? Why is it important? Then that's where our other brand values and attributes support that choice," says Bent. Both company and customer therefore make responsible choices. For example, with clarity that whatever fishery sourced the product, it prioritizes worker and environmental well-being. Says Bent, that's why "the consumer can feel like they can trust us."
Trust is critical in the category, recent research shows. Consumers report that are more likely to buy seafood that is wild and sustainable, with 86 percent agreeing they would buy seafood before any other protein if it was "wild-caught." And 85 percent say they would buy more seafood if it was "sustainably sourced," according to retail consumer research from 2021. As such, trust is a force multiplier for brands like Scout that are deeply committed to people and planet, and today's market forces and the complex environmental challenges we must solve together will increasingly make this true for all brands.