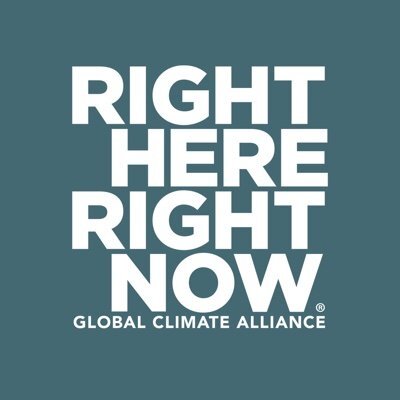 We First Joins Forces with 'Right Here, Right Now' to Scale Climate Action
Written By
April 14, 2023
We First, a brand consultancy that builds purpose, sustainability, climate, and impact initiatives for purpose-led companies is proud to announce a strategic partnership with the Right Here, Right Now Global Climate Alliance.
Right Here, Right Now is the largest public-private coalition in the world taking on climate change as the human rights crisis that leading scientists and human rights advocates, including the United Nations High Commissioner for Human Rights, have declared it to be. They have named We First as their preferred agency of record, as they are specialists in building purposeful brand movements, to engage all stakeholders around climate action through art, education, music, sport, tech, policy change, and more. The goal being to mobilize the best that humanity and culture have to offer to address climate change with urgency and scale.
This "all-hands-on-deck" approach continues at Right Here, Right Now Boulder Impact Forum, hosted by UN Human Rights, from April 13 - 16, 2023.
There, panelists from the United Nations, the US government, the State of Colorado, the City of Boulder, and CU Boulder will share updates on the Right Here, Right Now Human Rights Climate Commitments while making calls to action for states, subnational governments, education, and business. In this way, Right Here, Right Now is building concrete commitment modeled after the UN's 1948 Universal Declaration for Human Rights. The three-day event includes a Mini Global Climate Concert hosted by the Recording Academy featuring Wesley Schultz of the Lumineers and Yola, a Photography 4 Humanity exhibit, and a Climate 5K run.
We First's role is to accelerate and scale commitment and momentum throughout the Right Here, Right Now community by leveraging a strategy it calls 'lead with we.' That is, to inspire all stakeholders in our shared future to 'lead', 'with' as many other participants as possible, to benefit the largest 'we' including humanity and the planet. Having done this work for purpose leaders such as TOMS, Timberland, and Traditional Medicinals, as well as global enterprises such as VF Corp, VSP Vision, and Avery Dennison, We First is honored to bring its movement-making expertise to such a critical collaboration. As We First founder and CEO Simon Mainwaring states, "The challenges we face were created together and we must solve them together, and the starting point for the solution is a disruptive 'We' mindset and plan of action." Right Here, Right Now founder David Clark adds, "We selected We First to be our preferred agency of record because of their track record of success, in bringing disparate stakeholders together to create purpose-driven movements with impact, that shape culture for the common good."
We First and Right Here, Right Now invite you to join us in our ongoing effort to rapidly scale climate action through the power of purposeful business – whether you're a potential partner, donor, thought leader, or simply a concerned citizen. Visit http://www.righthererightnow.global and https://wefirstbranding.com to learn more.
About Right Here, Right Now
Right Here, Right Now was launched at the UN Climate Change Conference in Glasgow Scotland (COP26) by United Nations Human Rights and supporters such as Leonardo DiCaprio. It has emerged as the largest public/private climate partnership to promote climate justice in the world. Fighting climate change lies at the very heart of the United Nations efforts to protect human rights, and in 2022, the United Nations General Assembly adopted a historic resolution declaring access to a clean, healthy, and sustainable environment, a universal human right for the first time.