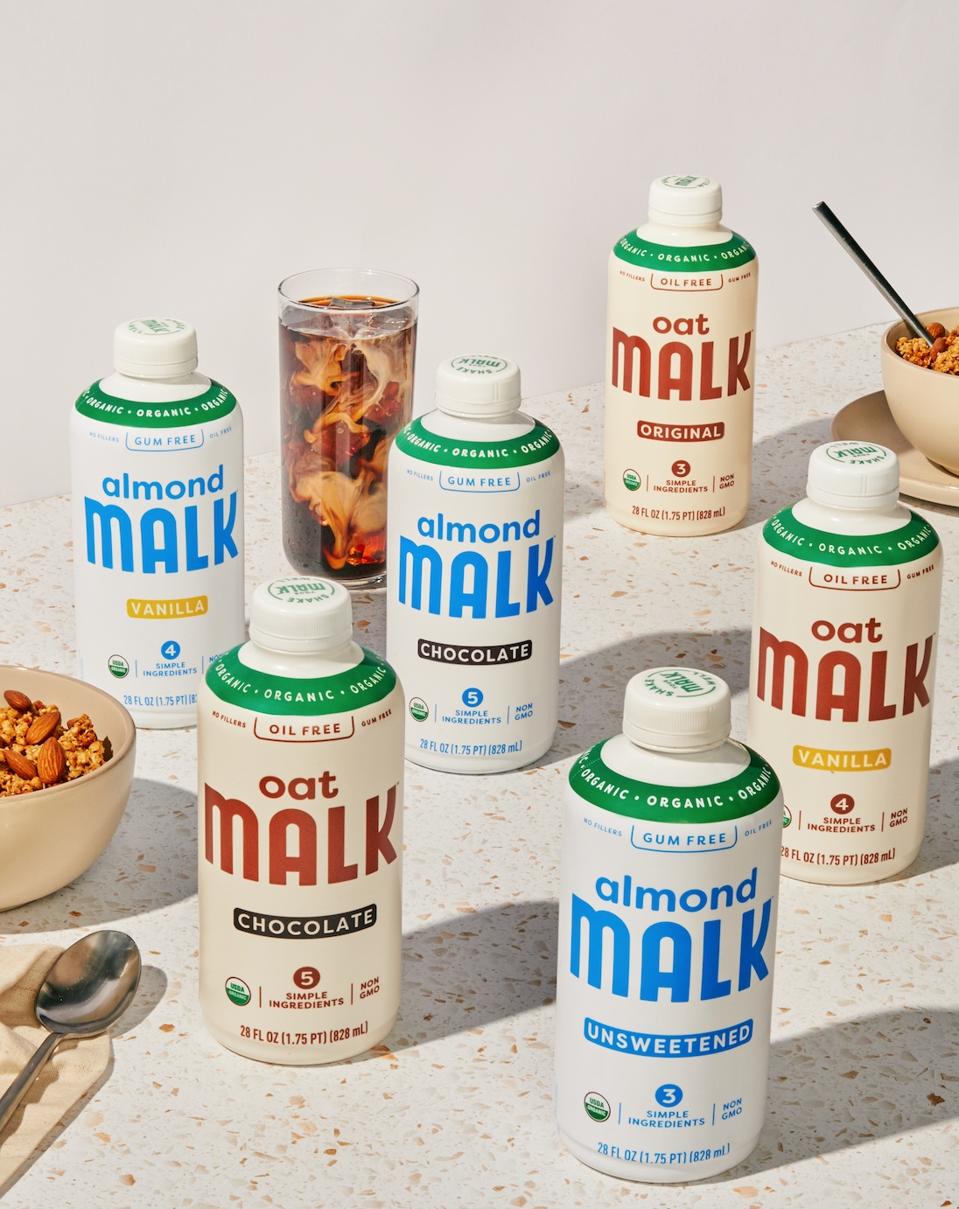 Why MALK Organics Is Really Into Labels
Longtime specialty brand manager Jason Bronstad's daughter was around seven when he first joined Austin Texas-based clean, premium plant-based milk company, MALK Organics as interim CEO in 2020. At the time, Bronstad has been leading a family conversation about labels.
"So, one day, my daughter turns around a bottle of ketchup and says, 'Hey, Dad, what's high fru— … What is this word?' Fructose. 'Oh, yeah,' I said. 'We should get that out of the house, my Dear.'"
"That's the beauty of transparency," says Bronstad. Consumers can make informed decisions. MALK worked with the Austin-based agency, Door No. 3, which specializes in challenger brands like MALK. The campaign they came up with, #turnitaround, has defined the brand's philosophy ever since. 
Transparent almond & oat milk
"We want to simply show you what we are. At MALK," says Bronstad, CEO since 2021, "We love our logo, but the back of the bottle is where the real action is. Our ingredient information isn't a legal disclaimer, it's a full-on brag. When you've got nothing to hide, it's easy to show 'em what you're made of. Not sure other plant-milks will be bragging much about gellan gum and dipotassium phosphate."
If you test this theory at home, turning the average container of dairy alternative milk around, you might encounter more than the few simple, familiar, pronounceable ingredients contained in MALK.
Take rapeseed oil as an instructive example, says Bronstad. The ingredient is common in many oat milk brands. "The studies that we've seen suggest that those oils are genetically modified. So, you have a GMO presence, you've got pesticides, you've got Roundup likely, that can truly upset your digestive system. Think about all the food that we're slowly poisoning ourselves with for decades.
"How do we know those [potentially toxic ingredients] are actually influencing you?" Bronstad asks. "Well, you've got to start an elimination diet. You have to start to remove those dynamics from it. And I can say that in my household over the last three years, we have turned into a much healthier family. We feel better, we've been sick less, because we've chosen to bring in a very focused mission on organic foods as well as simple clean ingredients."
With its radically transparent policies, MALK products make that elimination process easier. With a slogan of "Simply Made. Nothing To Hide," the high-quality, certified organic ingredients – such as organic coconut sugar as sweetener – are plainly stated, easy to understand, "and with ingredients you can always count on one hand," Bronstad says.
Paying more to get "less"—the market responds
According to sales register data, MALK's revenue has crossed $40mm in the most recent 52 weeks. Especially for a challenger brand, it's enjoying a strong market share in its industry.
Revenue growth, too, is more steady than the industry average, Bronstad reports.
Since its founding, the company has grown faster than the industry average, and Bronstad credits the company's mission "to establish that premium tier of plant-based products with our clean and organic products. To be able to lift people up and show them, no matter if you're shopping at a Harris Teeter in North Carolina or you're shopping at a Ralph's in South Carolina or a Publix in Florida, there should be that top option for consumers to buy. That's what the team [approaching 30 employees] is focused on today."
The company recently transitioned from self-manufacturing to co-manufacturing, Bronstad reports, to give it the ability to scale. "And with that, we took that opportunity to be more pronounced about who we are, especially within that premium organic [sector]. There are very few organic players in the space because it's expensive. It's hard to make margin on an organic raw material because all the way up the value chain from how farmers are making the choice about how they treat their almond orchard or oat crop, there's higher expenses at each step in the ladder as you ratchet up.
"However, at the same time, consumers sit back and go, 'There's no pesticides, there's no fertilizers. This is as clean a product as Mother Earth can give us."
That choice was made, says Bronstad, "because it's what the original founder wanted to provide her son—the absolute cleanest product possible." Malk launched in 2015 by cleantech pioneer August Vega in response to her then one-year-old son's dairy allergy.
"That's become the DNA of who we are as a company," says Bronstad. "And in all the choices we make, we want to make it easier for consumers to make that healthy choice and know that they can trust the name of MALK, and that we are going to give them clean, simple-ingredient products."
"You could go make your own almond milk at home, you could make your own oat milk at home," Bronstad says. "People do it all the time. It is a very tedious process, and we're trying to make it easier for you to consume healthier products."
That simple philosophy, say investors, is what's given the brand its competitive edge. So, #turnitaround, says Bronstad. "It doesn't matter if it's MALK or any other product in your house. Turn it around and look at those ingredients. Because it's truly the ingredients that matter—that's the stuff you're putting into your body."