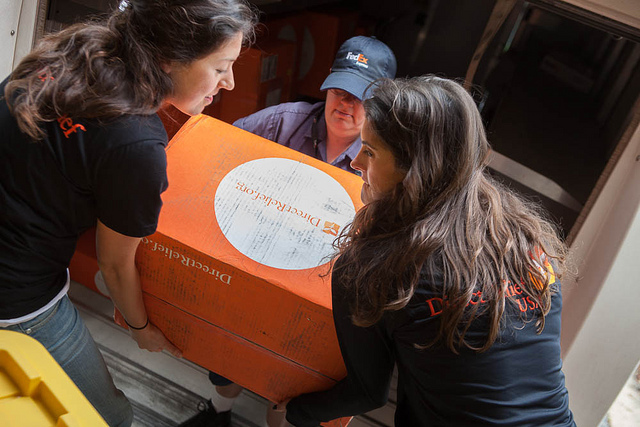 4 Lessons from FedEx On Marrying Core Business and Social Impact
Written By
October 26, 2017
Purpose is fast becoming a driving factor in business strategy for startups and global Goliaths alike. Influenced by a growing consumer demand for companies that give back, brands seek goodwill, earned media, and loyalty by showcasing support for social and environmental causes.
There are numerous ways for brands to display purpose-driven leadership. The trick is to build corporate social responsibility (CSR) into the fabric of company culture. This means working inside – with employees and supply chains – and outside – with impact partners – to scale the effects of your contribution as well as the organic reach of your communication campaigns.
FedEx is a good example of a brand that's using its core business to advance a cause. The logistics carrier leverages its resources and positioning to help communities impacted by natural disasters.
Not only is this an efficient way to pivot core product and service offerings from profitable to purposeful device, it's also an excellent way to combine marketing initiatives with CSR campaigns.
Specifically, as part of its Delivering for Good campaign, FedEx is shipping essential supplies, engaging employees to support disaster relief, and has donated the equivalent of $3 million this hurricane season. The brand is also connecting with pop culture influencers and nonprofits to build partnerships. These collaborations help generate both brand recognition, a sense of purpose in employees and impact on the ground.
Here are 4 lessons from FedEx on how to intertwine your company and your cause.
1. Build an Infrastructure for impact:  No matter what cause you align your brand with, it's vital to lay the groundwork for authentic and impactful CSR initiatives. This means defining the cause that your brand will stand for and making that known throughout your internal organization. It also means preparing your social impact strategy and reserving the resources needed to carry it out. Additionally, your brand should have a clear media strategy that will help you efficiently scale the reach of CSR communications.
FedEx did a great job of establishing the necessary physical and social infrastructure needed to help communities impacted by natural catastrophes.
Not only did the logistics carrier use its fleet to help with the relief, the company also established relationships with numerous nonprofits such as Direct Relief, International Medical Corps, American Red Cross, Heart to Heart International, Team Rubicon, Water Mission, The Salvation Army, and Arbor Day Foundation.
These relationships provide FedEx with information on what's needed, where it's coming from and where it's going, as well as on the ground distribution.
It's important to note that many brands made substantial contributions to disaster relief this hurricane season. FedEx distinguished itself as a leader by preparing for disasters before they happen, rather than making a contribution as an afterthought, and utilizing its core business to scale impact.
From a branding perspective, doing one off donations can be received as "me too" marketing. Instead, pick a cause that could naturally be progressed by your products or services.
2. Collaborate with partners: In addition to making partnerships with nonprofits, which can be fundamental to laying the groundwork for impact, celebrities and brand influencers can help you scale the reach of your CSR strategies and turn more eyeballs towards your brand.
FedEx has made connections with Puerto Rican sports stars and entertainers such as former Yankees catcher Jorge Posada, Pittsburgh Pirates' Hall-of-Famer Roberto Clemente, and singer Ricky Martin.
Ultimately, it's important to have relationships with both organizations at the scene of the catastrophe to mobilize your social impact. And establish relationships with media icons and outlets to ensure your CSR efforts don't go unseen. In other words, combine your social impact with brand storytelling.
3. Tap into culture: When a natural disaster like Hurricane Maria takes lives and devastates communities, the world takes note. People check on loved ones, seek ways to send supplies and open their wallets to aid those in need.
What's more, the media pays heightened attention to the affected area and relief efforts taking place, especially immediately after the initial impact.
Therefore, natural disasters are a natural focusing point for FedEx's Delivering for Good campaign. Not only is the shipping company showcasing its core services to help others, it's also generating earned media.
By making partnerships with famous Puerto Ricans, FedEx also establishes association with household heroes within Puerto Rican culture.
Brands can also align with social, political or environmental movements to join cultural conversations. This means taking note of current events, moving fast to establish an authentic strategy and getting involved when the time is right.
It's important to note that while well intended, poorly planned social commentary can tarnish your brand; so, proceed with care.
4. Leverage employees, products and services: When it comes to connecting your business with a social cause, it's important to think about how that cause relates to your brand ethos.
Consider what your brand stands for. What does your target audience care about?
How can you make a purposeful contribution in a way that strengthens your brand image? And how can you be most useful?
It makes sense that FedEx helps disaster relief victims with transportation and supplies, and supports employee team members to participate in giving. The company also displays its ability to adapt to uncertain weather patterns, which ultimately promotes the image of its fleet's reliability and flexibility.
A great example of how FedEx used its core services to help disaster relief is the brand's the supplies and animal rescue mission. To make more room for displaced animals in disaster areas, FedEx donated an airplane to help transport shelter animals from hurricane zones in Florida to no-kill centers in California. On the other leg of the journey, they loaded the plane to bring supplies back to Florida that could help impacted communities in the state and the Caribbean.
Essentially, deploying your core products and services to build a better world is an excellent way to position yourself as a force for good, show off the utility of your core offerings and make a positive impact.
The key takeaway is that for corporate social responsibility to be impactful, memorable and profitable, you must weave purpose throughout your company culture, utilize your business as a tool to progress social impact and share your social good stories in an effective way.
Connect with We First!
Twitter: @WeFirstBranding
Facebook: WeFirst
LinkedIn: WeFirst
Youtube: WeFirstTV
Join our mailing list and invite Simon to speak at your next event or meeting.
Title image via Flickr courtesy of user Direct Relief at https://flic.kr/p/eD1Zao.