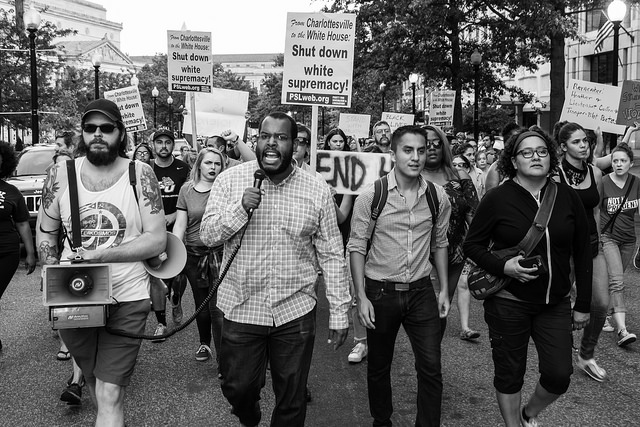 The Complex and Critical Role of Brands in Social Crises
Written By
August 22, 2017
The protest this month in Charlottesville, Virginia turned violent when a group of white supremacists held a "Unite the Right" rally against the removal of a statue of Robert E. Lee. The white supremacists clashed with counter-protesters who were standing up for equality, leading to one woman dead and multiple others injured. In the days following, multiple brands have reacted to the horrific events.
GoDaddy tweeted on Sunday that The Daily Stormer (a white supremacist and neo-Nazi website) had 24 hours to move their domain to another provider, and after The Daily Stormer moved to Google Domains, Google followed suit, removing The Daily Stormer from their domain service as well. AirBnB, in line with their brand promise of belonging and inclusivity, removed white nationalist rally participants from their AirBnB units. Co-Founder Brian Chesky explained, "We require those who are members of the AirBnB community to accept people regardless of their race, religion, national origin, or age."
In response to the violence in Charlottesville, however, President Trump missed an opportunity on what could have been a defining moment in his Presidency. Rather than addressing the violence of racism and hate in our country he said, "there is blame on both sides."
Honorably, many brands have spoken out against not only the attacks, but also President Trump's response. Today, it is no longer purely of political or economic domain to address such cultural and social injustices. As we are seeing, companies are standing up for their values and beliefs which further demonstrates the importance of defining one's brand purpose and social consciousness in order to have a cohesive and aligned stance on such issues. For instance, Apple's CEO Tim Cook explained how Trump's response to the violence contradicts American values and that he strongly disagrees with the President, pledging to donate $2 million to anti-hate groups. Additionally, multiple brand representatives left Trump's American Manufacturing Council. The knock-on effect is staggering, with Merck, Intel, and Under Armour representatives leaving the President's Advisory Council to take a stand against far-right extremism and Trump's lack of condemnation.
The increasingly complex role now expected of brands means that they must address concerns beyond traditional self-serving motives of profit and shareholder values. In order to maintain and grow relevance in today's social and economic climate, brands must authentically commit to, advocate for and take action in supporting significant social, environmental and cultural issues that align with key company values and beliefs.
Connect with We First!
Twitter: @WeFirstBranding
Facebook: WeFirst
LinkedIn: WeFirst
Youtube: WeFirstTV
Join our mailing list and invite Simon to speak at your next event or meeting.
Title image via Flickr courtesy of user Michael Sessum at https://flic.kr/p/RpHwT2.