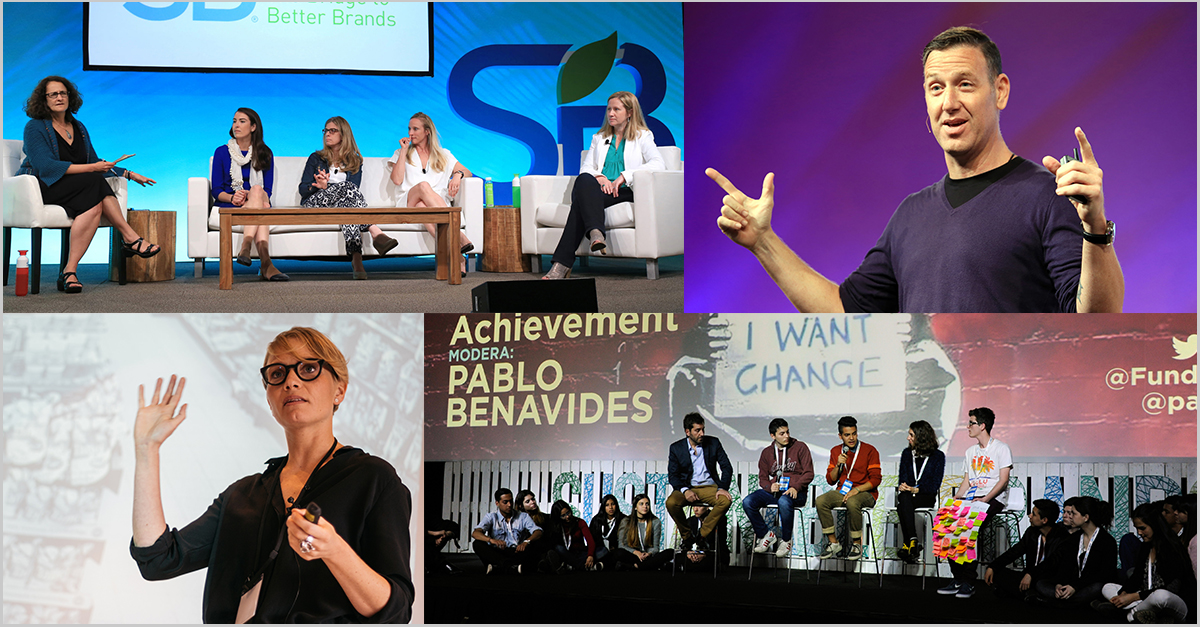 The We First Guide to SB'17 Detroit
The Sustainable Brands 2017 Detroit conference is a 'must go' for social entrepreneurs, business leaders and marketing professionals looking to better understand how social trends and consumer values are reshaping brand culture, or 'Redefine The Good Life'.
From May 22nd to May 25th thought leaders from the world's most purposeful and innovative corporations, startups, nonprofits and institutions – including Google, Harvard, The United Nations, Apple, Lyft, Unilever, The Nature Conservancy, Walmart, REI, Procter & Gamble, UPS, Kellogg's, Salesforce, and many more — will share their insights on how brands and consumers are redefining capitalism to support social and environmental transformation.
There are so many amazing speakers and interesting panel discussions throughout the 4-day conference, that it can be tough to decide what to attend. To help navigate the event, we've selected 8 sessions that cover an overview of essential insights on consumer trends, leadership, branding and marketing, employee engagement, supply chains, shareholder advocacy, measuring purpose and coalition building.
Here's an overview of each of our 'do not miss' sessions:
Consumer Trends: Before rolling out any business plan it's critical to understand your target audience. The Good Life through the Lens of Consumer Preferences and Global Sustainability Influencers (05/23/17 at 9:10a CST) session will showcase data-driven insights on what consumers value and how brands can give it to them. This panel will feature: Koann Vikoren Skrzyniarz of Sustainable Brands, Wendy Salomon of The Harris Poll, Raphael Bemporad of BBMG, Chris Coulter of GlobeScan, and Mark Lee of SustainAbility.
Leadership: Clarity of direction is essential to business strategy and long-term progress. In the session titled From a Golden Past to a Glorious Future: Reinventing Brands Inside and Out with Compelling New Visions (05/23/17 at 11a CST), Simon Mainwaring of We First, Inc will moderate a discussion between Deanna Bratter of Danone North America, Michael Arena of General Motors, and Kimberly Kleiman-Lee of General Electric on how these iconic companies developed their brand's purpose overtime and how internal teams can shape business strategies.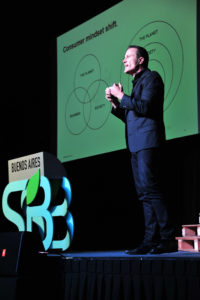 Supply Chain: Operating a sustainable and equitable supply chain is vital to running a purposeful business. Additionally, creative, equitable and environmentally responsible value chains not only empower businesses to "walk the walk", but also provide amazing storytelling potential for brand communications. To learn more about how to leverage your supply-side operations for media and marketing purposes, check out the Making Supply Chain Innovation Compelling: A Visual Design and Storytelling Strategy in Action (05/24/17 at 5p CST) session hosted by: Ben Pawsey of Thread, Charlene Wall-Warren of BASF, and Erika Ferrin & John Kester III of The Sustainability Consortium.
Consumer Engagement: Once you've clarified your vision, it's important to share your purpose-driven story with consumers in a relatable, relevant, and engaging fashion. The panel discussion, Emerging Opportunities to Engage Consumers in Fundamentally New Ways through New Technologies (05/24/17 at 5p CST), is an excellent place to learn about how you can increase consumer engagement in the digital world. Panelists include: Henk Campher of Salesforce.org, Andre Angel of TangoTab, Dana Griffin of Knotch, Cullen Schwarz of Done Good, and Mathias Wikström of RBK.
Employee Engagement: While connecting with consumers in meaningful and exciting ways is essential to brand growth, employee engagement builds internal communities and increases workforce loyalty, productivity, and satisfaction. The Engaging Employees in Win-Win Partnerships that Boost Morale, Strengthen Brand Purpose and Create Shared Value (05/23/17 at 11a CST) session will provide insights from Alison DaSilva of Cone Communications, Matt Holton of PayPal, Lisa Hogen of Kiva, and Christopher Marshall of GOOD Worldwide, Inc. on how to instill meaning into employee culture.
NOTE: the above session conflicts with the Leadership session. An alternate session on employee engagement is the Analyzing the Pros and Cons of Co-ops and Other Employee Ownership Models panel session (05/25/17 at 9a CST).
Shareholder Engagement: The demand for responsible investing and ESG-rated assets is rising, especially among millennial investors. To learn the best practices in discussing sustainability metrics in relation to risk reduction and financial performance, check out the Positive Impacts: Engaging with Customers and Investors (05/24/17 at 12:15p CST) luncheon, hosted by the TrueCost financial research and advisory firm.
Measuring Purpose: You can't change what you can't measure. Thus, monitoring the social and environmental impact of your initiatives, as well as related financial returns, is crucial to long-lasting success. The Research Roundtable: The ROI of Purposeful Leadership, Consumer Trust and Employee Engagement for Sustainability (05/25/17 at 9a CST) includes a discussion with Susan Hunt Stevens of WeSpire, Dimitar Clahov of Sustainable Brands, Emily Chan of Edelman, and Esther Kyte of the University of Michigan about the latest data-driven trends on the correlation between purpose and revenue, stock price, brand image, consumer advocacy and more.
Scaling Impact With Coalitions: While it's crucial that each and every one of us contribute to cultivating a sustainable and socially just planet by practicing We First Capitalism, we need to work together to truly build a better world.  The Collective Change-making for the Win: A Guide to Making the Most of the Global Sustainable Brands Community (05/22/17 at 1:30p CST) panel, hosted by Greg Hemmings of Hemmings House, Xavier Dubois of EVOX, Mark Goerner of EQOGO, and Alton Parker of TheGrio is a great way to learn more about how to maximize your connections with the Sustainable Brands community.
To join the community of more than 300 speakers and over 2,000 thought leaders on the cutting edge of responsible business, register for SB'17 Detroit and save 20% when you use promo code: NWboardSB17d — we hope to see you all there!
To stay tuned on the latest Sustainable Brands 2017 Detroit news and the join the conversation around sustainably-lead innovation, follow @sustainbrands and check out #SB17Detroit hashtag on Twitter, 'Like' them on Facebook, and follow them on LinkedIn.
Connect with We First!
Twitter: @WeFirstBranding
Facebook: WeFirst
LinkedIn: WeFirst
Youtube: WeFirstTV
Join our mailing list and invite Simon to speak at your next event or meeting.
Title image courtesy of Sustainable Brands. 
Related News
TOP TEN REASONS YOU MUST LEVERAGE PURPOSE TO BUILD YOUR BRAND

Why You Should Attend the We First Brand Leadership Summit

Purpose At Work: How The Home Depot Is Empowering Everyone To Live Sustainably