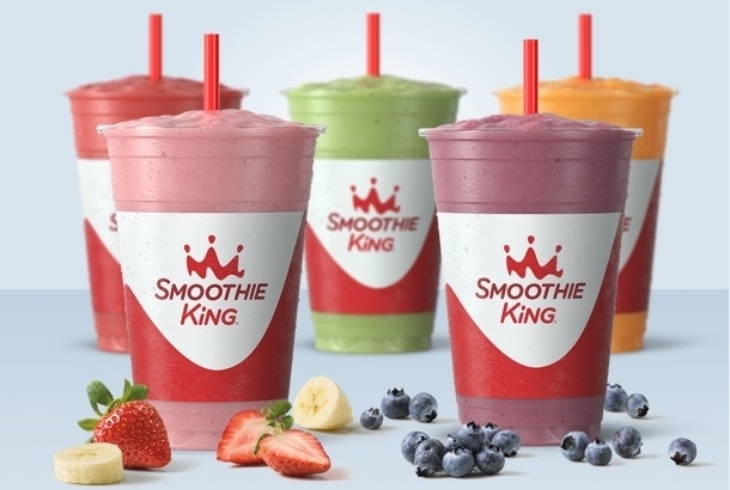 Purpose At Work: How Smoothie King Drives Impact Through International Franchises
Brands that nurture corporate culture and a higher purpose create community. They are able to attract and retain top talent. Consumers reward them with goodwill, loyalty and purchase. By leading with impact, you can strengthen the bond between you and your market. 
It's challenging enough to cultivate a culture of purpose in a small team, let alone an international franchise. A company doing an inspiring job of scaling purpose is Smoothie King. With over 1,100 stores, the health and fitness focused beverage company is scaling both its business and its contribution to those in need. 
I had the opportunity to speak with Wan Kim, owner and CEO of Smoothie King. Here's what he shared:
Simon Mainwaring: When you purchased Smoothie King from founders Steve and Cindy Kuhnau, what was it about the brand that caught your attention?
Wan Kim: I started as a franchisee. I was able to build about a hundred Smoothie King stores in South Korea over seven years. The Korean market was getting saturated. I realized that I wanted to keep doing this. 
Of course making money is important, but if I was selling junk food I don't know if I would feel great about it. Our mission is to inspire people to live a healthy and active lifestyle. I love that. I also love seeing our guests smile.
I thought about buying the company. I approached the founder in 2010 about it. He wasn't like, 'Oh, why not?' so I waited. About a year later, he called me. He said, "I've been thinking about this. You should do this because you really do believe in our mission. You believe in what we do. It's not always about the money. And I don't want to sell off this company to private equity.' That's how I was able to close that deal.
SM: What inspired you to take this purposeful approach?
WK: When I bought the company, we had the mission. We did not have the vision of where we wanted to be over the long term. We had to align our vision with our ambition. We asked ourselves if this is the market trend? Is this what people want? Can we really do this? Is this our DNA? 
When people think about fitness they think Nike, Fitbit, Planet Fitness. It isn't something typically associated with the restaurant sector. No one else is taking that approach. I believe the brand identity will attract more people. 
SM: How did you transition the brand to be more purposeful? What was that process like?
WK: We asked our team members if they truly believed in our mission and vision. People said, 'I do.' But when they take action, it speaks louder. We went through a team change. It took about two years. As more people believe in the mission and vision of the organization, you start to see people who don't. They just cannot work there. They just cannot fake it.
Based on our vision, we looked at our menu. We looked at our product. We asked our guests what they like and what they don't like. We found that many people believed our products were not healthy. That was the problem.
It's a never ending journey for us. Every year the trend changes. 20 years ago nobody thought sugar was bad. Now sugar is bad. That's why we made a lot of changes to our 'no-no list,' which shows all the ingredients we don't use.
We've hired a lot of marketing folks from the restaurant industry. They are good at two things. Number one, they always look at the flavor. The other thing they do is coupons or discounts. It was difficult for us to change that mentality. We eventually did it by identifying the purpose.
SM: How do you decide what to do and what not to do?
WK: We assessed the health and fitness space. It's not really about the flavor, it's always about the purpose. I don't think anybody in the smoothie industry or restaurant industry is really going after this space. 
SM: How do you connect your purpose to your products through your impact work?
WK: Our mission and vision is always our compass and filter. We actually looked at 200 different charities. Challenged Athletes showed us what they can do. That definitely inspired us to be more active. That's why we chose them. 
American Cancer Society is very meaningful to us. A lot of people who are going through chemotherapy are looking to gain weight back. When our founder invented his product, it was for his neighbor. She was going through the chemotherapy. She was losing so much weight. She came to him saying, 'Steve, I need to gain weight. Can you help me?' That's how Steve actually invented this product. It's called the Hulk and it has a thousand calories. We believe about 30,000 to 40,000 people who go through chemotherapy use our product. That's when we recognized we had to update that product. We asked, 'can we actually make it even better?' We went to American Cancer Society and then American Cancer Society and Smoothie King worked together on the product. Now that's called our Daily Warrior. 
SM: How do you manage the dialogue consumer needs like this?
WK: Even though we have over 1,100 stores, 95% of our business is franchisees. We talk to them all the time. We believe the franchisee understands what our guests want. 
We also have a focus group every six months in the marketplace. We have a guest survey tool. But at the end of the day, we need to identify what people are looking for. For example, high intensity workouts. We provide for that now because that's what we identified in the marketplace. It's a whole new guest who is coming in because they were looking for a product and nobody was selling it. 
SM: How do you build the same culture internally? 
WK: We believe everyone should have their own definition of a healthy and active lifestyle. People talk about their lifestyle and what they do and need. Whenever we think it's a good idea, we adopt it. We actually have a committee of people in that community that drives every activity. They decide monthly activities that we do. They don't tell us what they are going to do. I don't even know until I participate. It's fun because it comes from the bottom up. We just keep the yearly budget and they lead it.
SM:  How do you create a respectful relationship with the franchise owners?
WK: Recruiting. We choose our franchisees. I'll be honest, 10 years ago we were accepting whoever. Now, if you don't want to inspire your people to live a healthy and active lifestyle, please do not join us. 
We used to have a lot of franchisees who did not believe in our mission and vision. Some people said, "This is not why I joined Smoothie King". We gave franchisee's the option to leave with a graceful exit. Once we reached the tipping point when more franchisees believed in our mission and vision, all of sudden everything changed.
SM: What lessons would you share about making that transition for the company and managing those franchisee relationships?
WK: Your people need to align with what the company believes in. It takes a long time and it's a never ending journey. Sometimes these people will push me. If I make a decision that's not in support of our mission and vision, you start to see the pushback. That's when you know your organization is ready. 
SM: How does your purpose shape your vision for the company moving forward? 
WK: We have identified different products missing from our menu board. The new products in our pipeline are definitely after the purpose of promoting a healthy and active lifestyle. When you start to talk about purpose, it doesn't really change. There will always be someone who wants to lose weight. Our goal is that people recognize us as an integral part of their health and fitness journey. 
SM: What would you want the legacy of Smoothie King to be? 
WK: We believe that if we have more stores than McDonald's the world would be a better place. We can help people be more healthy and active.
SM: As an entrepreneur, what's one lesson you learned on the way that's kept you going? 
Wan Kim: You have to really believe in what you're doing. If you are doing it, but you don't believe in it, people can smell it. If you don't believe in what you're doing I would recommend pursuing your career in something else. It's going to be a lot harder for you to succeed if you don't believe in your purpose.
Related News
Purpose At Work: Lessons From Interface On How To Lead With Purpose

We First Webinar Part 1: The Most Costly Mistakes Brands Make in Their Storytelling and How to Fix Them

Jean Oelwang, President and Trustee of Virgin Unite, to Speak at We First 2015 Brand Leadership Summit