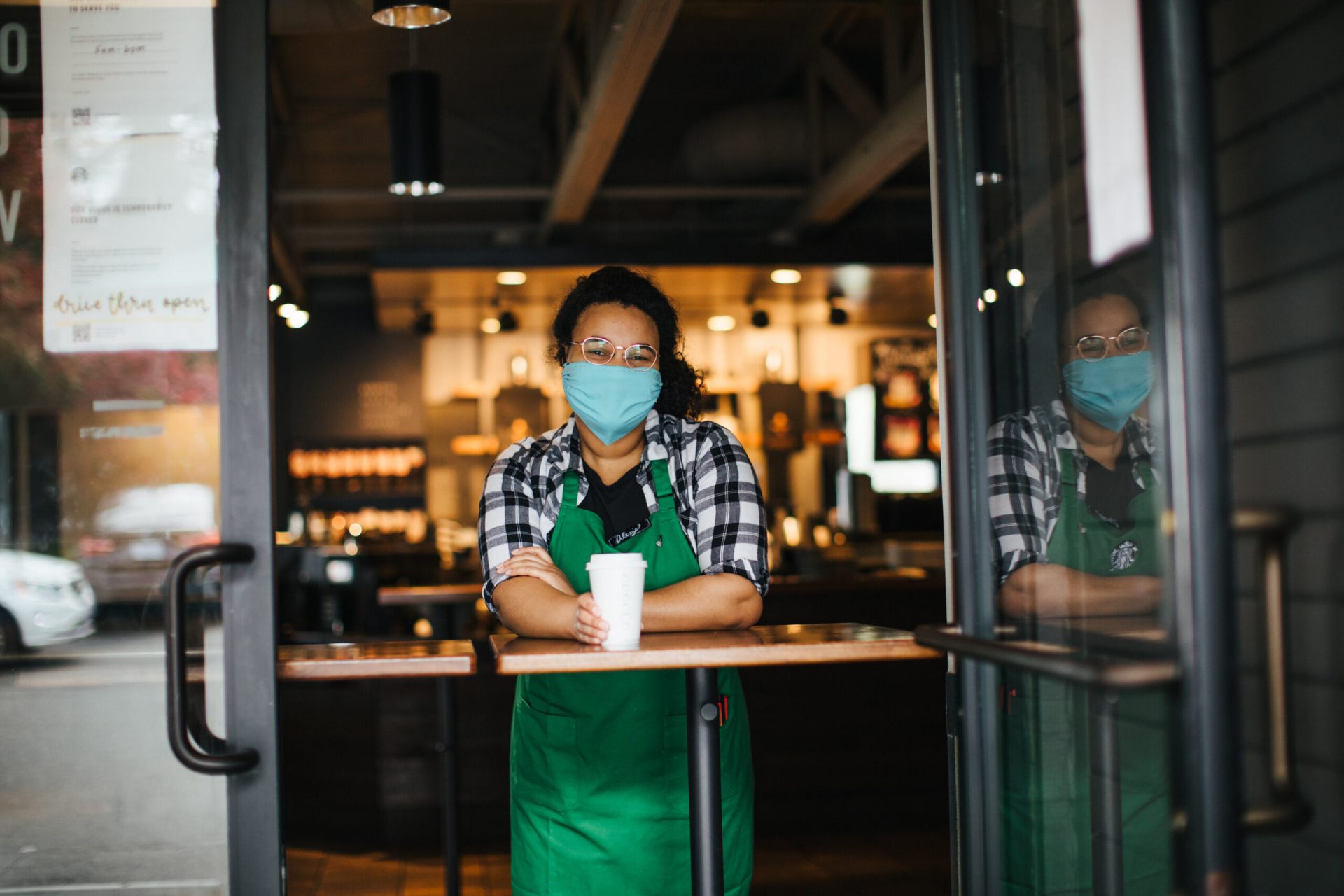 Purpose At Work: How Starbucks Scales Impact By Listening To All The Stakeholders In Our Shared Future
Starbucks Corporation, the American multinational headquartered in Seattle, Washington, is the world's largest coffeehouse chain. Celebrating its 50th year in business, it boasts 400,000 associates at more than 33,000 stores in 80+ countries. Trinidad and Tobago? Yes. Uruguay? Yep. Andorra? Bahrain? Kazakhstan? You'll find Starbucks. It famously opened two stores every day on average for 20 years—and even opened 50 stores during the pandemic in 2020.
Averaging more than $30 billion in annual sales—led by coffee, its "black gold" staple—Starbucks is the second most valuable brand of fast service restaurants in the world, after McDonald's.
Yet in a culture where a common perception is "big is bad" (think Big Pharma, Big Tobacco, Big Government), Starbucks, albeit a behemoth, has strategically managed to retain a reputation for a human-centric, community-minded, and impact-driven culture—they call it a "people positive" philosophy and MO. Except there's nothing miraculous about it. It takes a clear purpose, an unwavering commitment, and non-stop listening, according to Virginia Tenpenny, Chief Global Social Impact Officer.
A business as resource rich as Starbucks can take on multiple issues at once—and probably must in order to stay relevant in ever-changing markets. In Starbucks' case, all the issues coalesce in the overarching mission—To inspire and nurture the human spirit—one person, one cup, one neighborhood at a time—which becomes the unifying and organizing principle around all of its activations.
Leading this vital work is Tenpenny, who told We First she had always assumed she was destined to work at a nonprofit. Instead, she "stumbled upon an opportunity at Nordstrom, where I discovered the role of business in effecting social change." Then she found her way to Starbucks, "a place that attracts people who are looking to be part of something bigger."
Bigger, indeed. Starbucks has pioneered and overseen programs that express multiple manifestations of purpose and impact, of the company's devotion to Lead With We, from helping underserved communities, to ethical sourcing, women's empowerment, civic engagement, hunger relief, and marriage equality, just to mention a few highlights. Its carefully curated and brand-appropriate mission has allowed Starbucks to address issues as wide-ranging as political donations, post-traumatic stress disorder, refugees, job creation, sustainability, gun violence, and more.
It's a model for the compounding of purpose, programs, and partnerships.
"At Starbucks," says Tenpenny, "we do well because we do good, and it permeates every part of the business."
Listen to partners and lead with "Impact"
Starbucks refers to its employees as "green apron partners." "Since we opened our first doors in 1971 … it's always been bigger than coffee. It's always been about people," says Tenpenny. From the beginning, "there's been an ethos about empowering our partners."
That starts with listening—and that starts internally. "When you are consistently listening to your people and understanding that they need to feel that sense of purpose, to feel that sense of connection to the company," says Tenpenny, "that really guides us in terms of where we can have the greatest impact."
That powerful philosophy—avoiding the mistake of thinking your business is all outbound and top-down—is a key driver in Starbucks's eminent legacy of responsible leadership and social impact. "So much of leadership is about listening," says Tenpenny. "It's about being curious. It's about consistently looking at what are old ways of doing things that maybe no longer serve us … It's about having the courage to look at things that need to be radically different," and asking "where do we need to leapfrog into the future?"
Every day at Starbucks brings a new opportunity, Tenpenny argues, for "creating a learning environment, where we're comfortable to be vulnerable, where we're comfortable to explore and learn and sometimes not get it right, but be committed to continuing on that evolution."
"Our 50-year legacy of really listening to people, recognizing where there is an issue, where Starbucks has a unique ability to have a positive impact, and ideally bringing other companies along" is at the core of Starbucks's culture and business strategy. Tenpenny says, "We want to set up the DNA of the company to ensure that these decisions, these values continue to be embedded into every part of the business. We've established a framework through our "people positive" [philosophy], which is how can we have a positive impact on the well-being of all who touch Starbucks, from farmers in origin countries producing great coffee, to our partners making the experience come to life for our customers, to the neighbors and the communities that we serve."
Listening requires a constant "grappling" with meaningful issues that exert significant impact on real people's lives, Tenpenny reminds us. Smaller businesses—and whose isn't?—might take some solace in the fact that even megacorps like Starbucks wrestle with the same conundrums we all do. "Whether it's gun violence, or right now, our response to the crisis unfolding in India," it always requires profound listening; deep thought; and careful, decisive action.
The calculus about whether and how to get involved in individual issues, either by taking a stand as a brand, or proving more direct support through the Starbucks Foundation, always comes down to one simple compound question for company leadership, Tenpenny says: To what extent and in what tone should (or shouldn't) Starbucks insert its voice in a given cultural conversation—and do we know why? Ask: Have we developed and maintained some credibility on this issue, and a response that's a natural, logical, organic outgrowth of our purpose, and our legacy of leadership?
How does Starbucks answer those questions? It listens. "We listen to our partners," Tenpenny says. "They guide the way. They tell us when we're at a tipping point and we need to lean in and make a public statement on something."
Yes, sometimes that means listening to the national or even global zeitgeist. But more often than not, the execution of impact-oriented initiatives begins locally. "And how do we make it local?" asks Tenpenny? "Who knows our neighborhoods better than our partners?" So, Starbucks launched a Neighborhood Grants project in 2019. Since then, it's given away $4 million—all directed by its internal partners. "Our partners tell us what's happening in their communities. And then we nominate local organizations," Tenpenny says.
"I emphasize that it all comes back to our people," she says. "When you have the right listening channels to understand what people need to hear from Starbucks … you'll increasingly see us use our public-facing channels to make sure that we're standing up for the things that we most care about."
"Were you listening? It's all about listening," Tenpenny reiterates.
Earning a green apron
For Starbucks, listening begins at the interview phase. Hiring right-skilled, purpose-aligned partners is essential—as the 2018 Philadelphia racial profiling incident reminded Starbucks's leadership and the world.
"We make sure that we're taking care of our partners," says Tenpenny, "so in turn, they can take care of the customers and the communities we serve." Pretty simple recipe, but not easy to execute.
In hiring, Tenpenny says, "we really assess character. You can teach people just about anything. We have robust training systems to help people understand how to make that perfect cappuccino, but we're also really looking to understand people's personality and connection. Do they have that capacity to be able to really connect with someone?" Do they possess "that intention to deliver a meaningful experience?"
It helps that its diverse partners—69% women, 47% BIPOC—represent its customer base and the communities it serves, at least in the U.S.
It also tends, both informally through its culture, and formally through official programs, to hire younger people. "Starbucks is in a position where we can drive scaled impact. When we first launched our commitment to Opportunity for Youth … our goal was to show other businesses the value in hiring what was often an overlooked talent source"—the nearly 5 million 16 to 24-year-olds in the U.S. who are not working or in school. These young people face obstacles and are disconnected from the individuals, institutions, and experiences needed to help them succeed, the company says.
So, according to Tenpenny, "We launched a coalition called the 100,000 Opportunities Initiative, which now has more than 50 members [including Alaska Airlines, Cintas, and Potbelly Sandwich Shop], companies who recognize you can reach into this overlooked talent pool that has immense value to offer, bring them in, and get them set up for success." The coalition surpassed its initial goal of 100,000 youth hired within its first three years.
Just hiring young people is not enough. How are you supporting them? 70 percent of Starbucks partners are students or aspiring students, in part because the company offers through a collaboration with Arizona State University the opportunity for all partners to attend college at little personal cost. In its first five years, ending in 2019, the program had graduated 3,000 Starbucks partners with Bachelor's degrees.
"Every day," says Tenpenny, "I am reminded of the conviction, hope, and optimism of the younger generation. Generation Z, who's emerging, they're our partners," Tenpenny says. "They're our customers." They share the company's optimism and conviction. "They will only work for companies whose values align with theirs. They want to be at companies that will give them a platform so that they can show their values on and off the job. The younger generation gives me immense hope."
Much of that hope lies in diversity. Starbucks hires by "removing barriers to opportunity for people," says Tenpenny, "from refugees to veterans, military spouses, or people needing a second chance. And then we bring them into the family and we give them a sense of belonging. We give them the training and tools and resources, experiences, connections, and care to really help unlock their potential. And then we set them on their way, whether that's after getting a four-year college degree debt-free with Arizona State here in the U.S., or in China, that's providing healthcare benefits to our partners' families, particularly the elders in their families, where they otherwise may not have had access to healthcare."
"Mental health has been a huge challenge for anyone living through the past 14 months, and for many who are still struggling in different parts of the world," Tenpenny says. So, the company launched a new mental health benefit called Lyra, which gives its U.S. partners and their eligible families broader access to customized mental health care—providing access to 20 sessions a year with a mental health therapist or coach, all at no cost to the participant.
"We also launched an expansion of our Care@Work benefits" through Care.com, Tenpenny reports. That program offers employees flexibility and choice—such as backup care for children and adults, senior care solutions—"so parents don't have to choose." "When employees have peace of mind that their loved ones are being properly cared for," Care.com asserts, "productivity goes up. Absenteeism goes down. And top talent wants in."
A diverse menu
"Recognizing there were so many stress points through the year, whether it's health or mental health … and then you throw the racial equity crisis on top of that—we knew we had to be very explicit about our role, our commitment to create more racially equitable communities, and all the ways that we invested accordingly," Tenpenny says.
Tenpenny recalls the highly publicized 2018 incident at one of its Philadelphia locations that led to daylong company-wide closures at 8,000 U.S. locations, for 175,000 team members to discuss racial bias. Such conversations are a necessity for transforming a company's culture.
"That was an example of a crisis, an internal crisis," Tenpenny says. "And that crisis gave us clarity about … the internal work that we had to do to ensure that we were truly living up to our commitment to create a welcoming space for all." The company had to learn to walk its talk.
It conducted a full civil rights assessment. It invited external stakeholders "to really look at all of our practices, all of our policies, all of our results—and share that with the world: 'Here's where we are today. Here's where we're doing okay. And here's where we have ongoing work to do.'"
In 2021, the company released its third civil rights assessment, which notes significant progress, and other places still ripe for improvement. Notably, Starbucks has reported 100 percent pay equity throughout its U.S. workforce. And when George Floyd was murdered by police in 2020, reinvigorating the BLM movement, the company's DI&E efforts were already well underway. The urgency of 2020 "helped us, again, sharpen our tools." Tenpenny says. Now, I think we're on course to really be part of the Civil Rights 3.0 movement that I believe businesses, governments, all organizations will have a role in advancing."
Coming in out of the cold
As the internal partners align with the company spirit, and the company exerts impact in communities, of course the customers, too, must co-create the culture of the brand.
That might be especially true at a company founded in part to provide safe and comfortable spaces that extend both customers' homes and workplaces. "There's a loneliness epidemic," Tenpenny laments. "Over the years, it's gotten worse. Our partners recognize that for some people coming through our door, that may be the only time they hear their name all day. And so, our partners understand that the attention they give to our customers, the connection that they make, it makes a meaningful difference in their lives. We know that's part of why people continue to come back. We serve great coffee, great food. But at the end of the day, people come back because of that experience and the connection they have to our partners."
Tenpenny drives home this point: "People come to Starbucks because they need an escape sometimes," she says. "They need a sense of hope and a sense of optimism. And so, we really have to balance being true to our brand and delivering on that hope, that respite, that escape, that moment of connection, which maybe takes you out of the loneliness that you feel because of Covid or the trauma that's happening all around us."
In fact, Starbucks's most loyal coffee drinkers (about 20 percent of its sales) visit the chain 16 times a month—or every other day. For millions, it really is a home away from home.
Brewing hope on a Venti scale
"We look across all of our resources and ask what we at Starbucks can do to ensure we're consistently directing any resources we have to focus on problems for communities most in need," Tenpenny says.
Community needs skyrocketed in 2020. But it was also a terrible year for many businesses—perhaps especially the restaurant business. Starbucks lost nearly a billion dollars because of Covid. Not only were thousands of stores temporarily shuttered during lockdowns, but consumer behavior shifted dramatically in some parts of the world, requiring a completely new business plan, still unfolding, which demands many locations close permanently.
But even throughout that lean time, Starbucks didn't shirk in its efforts to Lead With We. It offered employees "catastrophe pay" for working during the 2020 lockdowns. The company also used the pandemic as an opportunity to reassess its community service, and, as Tenpenny puts it, "to channel despair into positive impact."
For example, it learned that during 2020, food banks went from serving 37 million Americans to 54 million, Tenpenny says. "So, we've gone on to provide philanthropic support to food pantries across the country." And because Starbucks also maintains a massive armada of commercial refrigerators, it offered space therein to local food banks to make up for capacity demands that outstripped their own resources—an example of creative collaboration during a crisis.
Through a six-year-old partnership with Feeding America, Starbucks was already feeding tens of millions of food insecure people with unused, nourishing "leftovers." "At every store at the end of every day," says Tenpenny, "there's no food wasted. All of that food is recovered and delivered to food banks to ensure that it's given to neighbors that need it."
One ostensibly small community-minded project the company undertook during the pandemic was to honor first responders. "We decided one way we could take a stand and show up in an optimistic way was to offer them free coffee, to say, 'Come in and let us give you a moment. Let us recognize you and the role that you're having in the community right now,' and ideally encourage other people to join," Tenpenny recalls.
"When you're faced with so much hardship, one way to escape that is by showing gratitude, is by giving and showing an element of generosity."  You get by giving.
When it comes to impact, "it's not just what we say," Tenpenny emphasizes. "We're not just using our voice. We look at our hiring power, all the other things that we're doing to show that we're fully invested in taking a position on issues … We look at our supply chain and we know that through our purchasing power, we can have great positive impact, not just through focused efforts on supplier diversity and ensuring that we are invested in finding organizations who otherwise may have barriers to working with Starbucks."
Barring no additional business interruptions, Starbucks is projecting a strong rebound in the next few years. Meantime, it stuck to its guns, and never wavered from its mission. "We have a mission statement that we're all deeply tethered to. You create that psychological safety and an environment where people can explore and learn and evolve, and to me," says Tenpenny, "that's what I see as core leadership at Starbucks."
The top ingredients of purpose
Starbucks has identified three key areas of focus that motivate all its capacity and drive all of its impact, according to Tenpenny. They can be scaled for your company too:
Inclusion and ensuring that we're providing a strong sense of belonging, both for people who work for us, and those who come through our doors.
Opportunity, and all the ways we make sure that we're removing barriers to entry and growth in the company. That could mean our farmers, for whom we're providing agronomy techniques to maximize their yield and make sure they're growing coffee in the most sustainable way, to our partners, where we try to really understand their educational and career aspirations, then ensuring we're delivering access to programs so they can grow with us.
Communities, and recognizing there's a mutual dependency between our success as a business and our communities thriving. It's about getting in and understanding where we are uniquely positioned to have the most impact in our communities.
Related News
Purpose At Work: Starbucks' Special Ingredients To Scaling Impact

President Trump Ushers In Tomorrow's CEO: Chief Environment Officer

We First 5: Twitter Trolls, Patagonia Protests, & Starbucks Serves Legal Aid