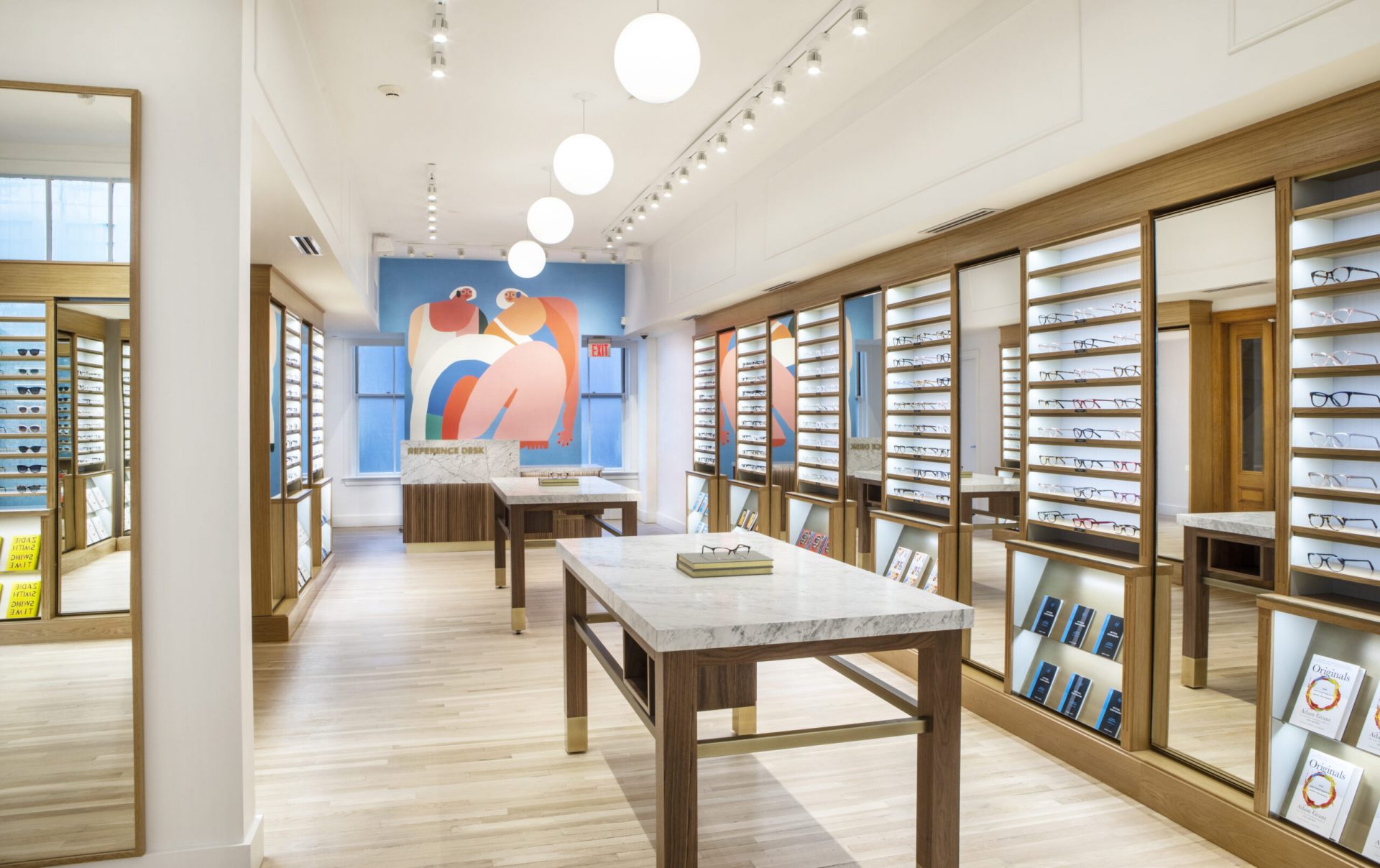 Purpose At Work: Warby Parker's Keys To Success
Written By
December 8, 2020
Today, the most successful businesses are driven by a marriage of humanity and technology, purpose and profit, story and data. While many aspire to champion social good and scale income, it's easier said than done. Warby Parker is a standout example of a company that's leveraging its impact for business growth. Profits fuel impact and impact fuels profits, creating the sweet spot of social entrepreneurship.
The eyewear company that distributes a pair of glasses to someone in need for every pair purchased was recently valued at $3 billion by Fortune. "We view our investment in our social mission as having an incredibly high ROI over a long time frame," Dave Gilboa, co-CEO and co-founder of Warby Parker, tells We First.
Since inception, Warby Parker has been dedicated to ensuring everyone has the gift of sight. Through ups and downs the purposeful brand and its founders' success presents valuable insights for business leaders looking to Lead With We. 
Finding your purpose
After working in finance and consulting for several years, Gilboa decided to leave his commitments and cell phone behind to backpack around the world for six months before he started business school. He lost his glasses on the way. When he got back to school he needed a phone and glasses. 
He was complaining to his Wharton classmates about how he had to pay $700 for glasses when he could buy an iPhone 3 for $200. "That just didn't make sense to me," he said. 
One of Dave's co-founders, Neil Blumenthal, had worked to supply impoverished communities around the world with glasses. "Neil realized that there was nothing in the cost of goods that justified these high prices for glasses," Dave recalls. That sparked discussions that eventually led to Warby Parker.
"We spent an equal amount of time talking about the business model innovation and structural features of the optical industry that would enable us to create this disruptive business as we did talking about how we could build a social mission into this for profit business," Dave says.
Dave's parents were doctors and he grew up wanting to make a positive impact. "I almost became a doctor," the co-founder says. "Then I saw that applying business and management skills to problems that could help large numbers of people was another way to meet those goals."
Payback on purpose:
While it might feel good to do good, what's the real benefit to the business? "We are firm believers that our social mission makes our business better. It will create more value, allow us to grow faster and be more profitable over the long term," Gilboa says.
One of the reasons that values-driven messages are so important is because it resonates with employees. "We didn't realize how fundamental that would be in attracting and retaining talent that would also be driven by these goals around impact," Dave explains. 
It also helps the founders stay inspired by the business over the long haul. "We want Warby Parker to be one of the most impactful brands in the world a hundred years from now," Gilboa says. "Even 10 years into this journey, we're still really building the foundation for our brand."
What's more, consumers want to feel like they're contributing to building a better world. "When customers connect to our values they want to talk about us. They develop loyalty to the brand," Gilboa says. "It would be penny wise and pound foolish to cut these efforts."
The growth journey:
From its purposeful beginnings the company has built a powerful eCommerce presence, grown to fill over 120 U.S. retail stores and employs more than 2,000 people. "Half the time I feel like we're still scrappy, working out of one of our apartments," Gilboa says. "I'm terrified of acting like a big company."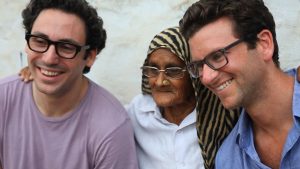 The socially driven eyewear disruptor works hard to stay agile and avoid bureaucracy. "One of our core values is to take action. We break big decisions down into smaller ones," Dave explains. "We take a long term project and break it down into shorter time periods." 
Warby Parker's nimble approach draws from some of the methodologies typically applied in software development. The company is breaking norms where other retailers are typically slower to move. When you open a store, you typically sign a 10- to 15-year lease, Gilboa says. Instead, Warby Parker signs 18-month to five-year leases. This allows the company to test out new locations and build out modularly.
Another way Warby Parker stays true to its roots is by immersing employees in its impact programs. Team members that have worked for the brand for at least three years are offered an all expense paid trip "out in the field" to a place like Guatemala or El Salvador. The trips include working with nonprofit partners to facilitate eye exams and deliver glasses.
"They're able to see firsthand the power of their work. They bring back those stories where that grandfather who lost the ability to read – and his favorite thing to do was read to his grandchildren – can do that again," the Co-CEO says.
Essentially, staying true to your values, never losing that bootlegging attitude and investing in your culture is critical to staying true to your roots as your business grows.
Justifying purpose to investors:
When it comes to raising money, don't investors care more about ROI than purpose? How does a company validate investments in impact to shareholders? 
Warby Parker views purpose as a competitive advantage. The brand shares metrics like the number of glasses distributed to recipients of its Buy a Pair Give a Pair program via partners like the Pupils Project and VisionSpring. They also leverage stories to appeal to investors and board members.  
Investors know what Warby Parker stands for. "We're very clear that impact is super important to us. It has driven our great results to date," Gilboa says. "We have raised over half a billion dollars from investors who are certainly profit motivated. They believe the best way for us to create value over the long term is to continue to invest in our social mission."
The takeaway here is to combine metrics with storytelling. Create a track record of the mutually beneficial relationship between purpose and profit. Just like your employees and consumers, you will attract investors that share your values. 
Turning COVID-19 into possibilities to scale
COVID-19 required Warby Parker, like so many other businesses, to make changes quickly.  On March 13th they closed all of their stores and transitioned to remote work. They also shut down the optical lab for a day and "unbolted production lines, moved workstations at least six feet apart, instituted new daily health screenings and safety protocols so that we felt like it was a safe environment that we could continue to operate," Gilboa says.
The majority of optical retailers and eye doctors don't have eCommerce options. "Consumers were panicking. Many of them called us and said that they needed glasses on an emergency basis. We wanted to make sure that we were able to serve those customers," Dave recalls. 
The digital native brand allows customers to try 5 frames at home with a free shipping return label. Customers can also use the iPhone app to try on glasses virtually as well as an at home vision test app that connects them with an ophthalmologist who can write a remote prescription.
"We saw a massive surge in demand for these services and our eCommerce sales started going through the roof," Gilboa says. While online sales were good, the business quickly remodeled their retail locations to be contactless. They also limit traffic and enforce social distancing, allowing them to safely reopen shops.
In addition to scaling online retail, Warby Parker is pivoting and amplifying impact during the global pandemic. It had to cut back on a lot of its 'buy a pair, give a pair' activities but found a new way to serve communities. 
To help meet the huge demand for personal protective equipment (PPE) the company collaborated with nonprofits and supply chain partners to "source equipment that would be most helpful," Gilboa explains. "We started distributing masks, gowns, face shields, gloves and relief kits to healthcare workers as well as communities in high risk countries." With support from Warby Parker, by the end of 2020, VisionSpring will have distributed PPE to more than half a million people.
Stand up for what you believe in
There are so many issues that need attention; it can be overwhelming to pick which causes your business is going to support. "We try to be selective and not too vocal on every issue," Gilboa says. "We focus on things we think we can actually impact that conflict with or affirm of one of our values." 
An issue that Warby Parker recently stood up for was voter registration. "It wouldn't be appropriate for us to take a stand on partisan issues. But we do believe that every business should be an active part of the communities in which they live," Dave says. 
To show support for the communities in which their 120+ stores are located, the social enterprise registers employees to vote when onboarding for a new job. The company also provides information about the issues and gives all employees at least two hours of paid time off on Election Day to get to the poles. They even paid employees to volunteer as poll workers and make calls encouraging people to vote. 
Another example of Warby Parker standing for its values was its action against Tennessee's discriminatory bathroom bills. "We thought that this goes against our values around equity and equality for all humans," Gilboa says.
The company has hundreds of employees in Nashville and around the state. "We saw it as an opportunity where our voice might have some impact. We took a vocal stand by writing letters to the governor, signing on to certain lawsuits and spreading awareness."
The lesson here is that you don't have to act on every issue. If you try to grab on to too many causes you will spread yourself thin and it wont come off as a genuine expression of your core values. Be selective about social impact and stick with it once you commit. 
Three keys to success  
After years of successfully scaling growth through impact Gilboa shares three key tips for business success.
 Start early with purpose:
"The earlier you build this social mission into your business and P&L the easier it is to do," he says. "If we didn't have any programs in place, and all of a sudden we showed investors our 2021 budget, allocating tens of millions of dollars to new social programs, we would probably get a lot of pushback because it's unproven." By starting with seeds of purpose you can show proven results, incrementally invest and set up your business's impact to blossom on the long term.
       

Focus on problems that matter:
Make sure the programs you implement solve real problems. "Ensure it's not just something that looks good to your customers or from a marketing standpoint," Gilboa says. "It should address the source of problems that need attention."
       

Find good partners:
No one can do everything on their own. It's important to focus on what you're best at and leverage your business to help others scale impact. "We are unapologetically a for profit business," Warby Parker's co-founder says. "If we tried to set up these programs all over the world, it would cause us to lose focus on product development and delivering great customer experiences. Organizational partners, like VisionSpring help set up programs and deliver impact where it's needed most."
Related News
Purpose At Work: How Cotopaxi's Purpose Moves People, Products And Mountains

Conversation Leadership – How Brands Build Business & Inspire Change by Leading Proprietary Conversations

Purpose At Work: How Tazo & American Forests Built A Partnership Solving Multiple Social Issues