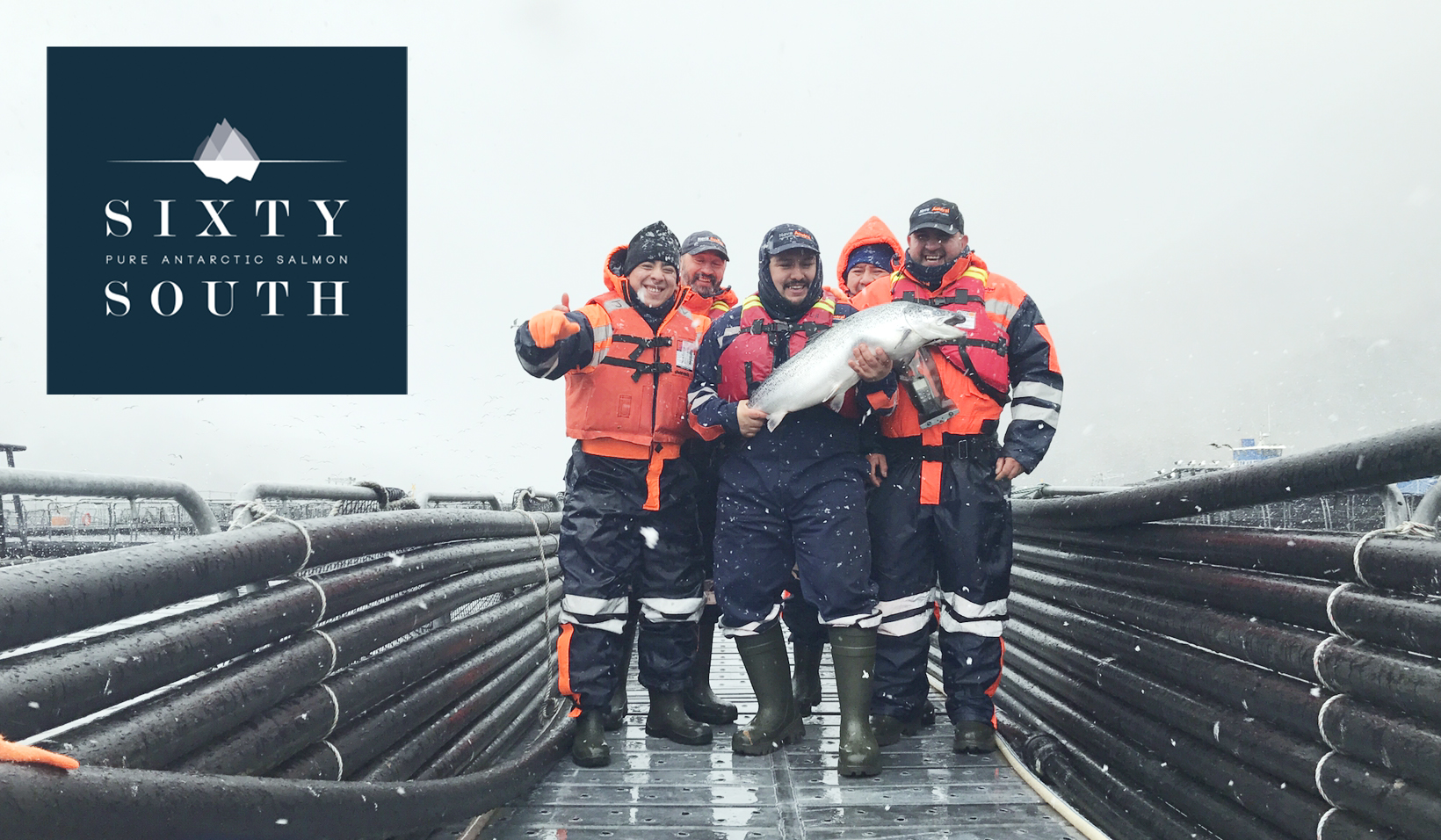 Sixty South: How to Turn Sustainability into Business Growth
Written By
September 10, 2018
Today's consumers are increasingly concerned about the impact their purchasing decisions have on the planet. People want to know how products they buy affect social and environmental ecosystems, and are paying more money for and attention to healthy foods and consumer goods.
As a result, brands that build supply chains, products and messaging around social and environmental impact have an advantage over companies that don't implement or showcase their purpose-driven initiatives. Furthermore, businesses consciously making healthy and sustainable products can gain consumer trust, goodwill and purchases by positioning social and environmental responsibility at the core of their brand story.  
An excellent example of a brand effectively leveraging sustainable business practices to build awareness partnerships and win consumer support is Sixty South. The Antarctic salmon brand is proud of the fact that its antibiotic and hormone-free salmon are sustainably farmed in Tierra del Fuego, home to some of the coldest and purest ocean waters on Earth. These conditions have allowed Sixty South to deliver quality control and sustainability standards that have earned it the "Good Alternative" certification by the Monterey Bay Aquarium Seafood Watch. On the strength of such credentials, the seafood company, which launched in the United States in early 2017, established contracts with Lunds & Byerlys, Heine's Supermarkets and other restaurants chains accelerating its growth and commercial success. As such, Sixty South offers valuable insights into how to leverage sustainability to accelerate their business:
Take On Industry Challenges:
Innovative business leaders see problems as opportunities. Sixty South saw industry aquaculture practices in need of improvement and by committing to the highest standards, a potential to distinguish themselves from the competition and build brand reputation. In doing so, they aligned themselves with the larger cultural conversation around ocean care and responsible industry practices.
Sixty South shaped its supply chain around solving the primary criticisms of the farmed salmon industry. For example, critics justly point out that many salmon farms don't clean out fish waste. This is often left to pile up beneath netted cages. Additionally, farmed salmon are often fed with ground up wild fish and other animal products, which depletes wild varieties and reduces overall food supply. What's more, farmed salmon are typically injected with antibiotics and hormones to prevent them from catching diseases. Sixty South consciously chose to address these issues to overcome these health and sustainability concerns. For example, the netted cages are cleared by tidal currents running through the Alberto de Agostini National Park, which keeps their tanks and surrounding areas supplied with fresh water.
The seafood company also uses a combination of vegetable and animal-based feed to yield more fish using less wild feed. In other words, they have a net positive food output to input ratio. What's more, the 38 to 49 degree waters of Sixty South's location in the Antarctic region make it more difficult for bacteria and diseases to grow in the fish, which enables them to commit to being hormone and antibiotic-free.
By having clear answers to consumer concerns over quality, sustainability and corporate responsibility in how products are produced, Sixty South is gaining consumer trust and making partnerships. Ultimately, the lesson is that by building your business around solving an industry-wide and even societal challenge, brands can rapidly gain loyalty and spur business growth.
Secure Industry Certification:
Before building your brand image around social good, you must implement programs with measurable results that demonstrate the authenticity of your commitment. While consumers demand responsible products, they are increasingly savvy and can sort out brands that simply pay lip service to social impact from those that are making real change. A great way to earn that consumer trust and verify your social and environmental credibility is receiving certification from an accredited third party. This not only validates your hard work, but can also provide valuable insights on where you can improve.
In addition to the Monterey Bay Aquarium Seafood Watch accreditation, Sixty South is certified by the Aquaculture Stewardship Council (ASC), Best Aquaculture Practices (BAP), and Global Good Agricultural Practices (Global GAP). In turn, the salmon brand is able to use its sustainability certification as a selling point to wholesale companies like Lunds & Byerlys that want to supply shoppers with certified sustainable products. Ultimately, getting certified is essential to showing stakeholders that you "walk your talk" when it comes to sustainability. It can also lead to clarity around business strategy and lead to measurable results.
Share Your Story:
Your brand story has a significant influence on the way people feel about your company and whether they are going to buy your products. What's more, to see a positive return on investment from your social good projects, it's vital to share what you're doing with the world. Sixty South does this by building its brand story around sustainable business practices by putting purity at the core of its identity. The extreme southern location of their facilities, as well as their ecologically responsible business practices, helps them win over consumers focused on health and sustainability. The salmon sellers also fund community development and housing projects in the community close to their operation. Sixty South's nets are located hundreds of miles from city centers, so it is critical to their business to build strong communities where they do business to attract and retain quality employees they need.
The key takeaway here is that it's imperative to tell compelling stories about your brand's social and environmental contributions. Storytelling that help consumers connect with your brand on an emotional level to distinguish your business from the competition is also key.
Conscious consumers want to support businesses that are actively building a better world. Sustainability practices and social impact present vital opportunities to earn consumer goodwill, loyalty and purchases. To ensure your good social work advances your mission and your bottom line, commit your business to solving industry challenges. Additionally, secure accreditation by independent and respected third parties and share your stories to inspire goodwill, advocacy and sales.
Note: We First is a branding partner with Sixty South.
Related News
Purpose At Work: How Poppi Leverages Purpose To Bring Health To Soda

The We First Guide to SB'17 Detroit

Five Emerging Marketing Trends That Should Reshape Your Branding in 2015