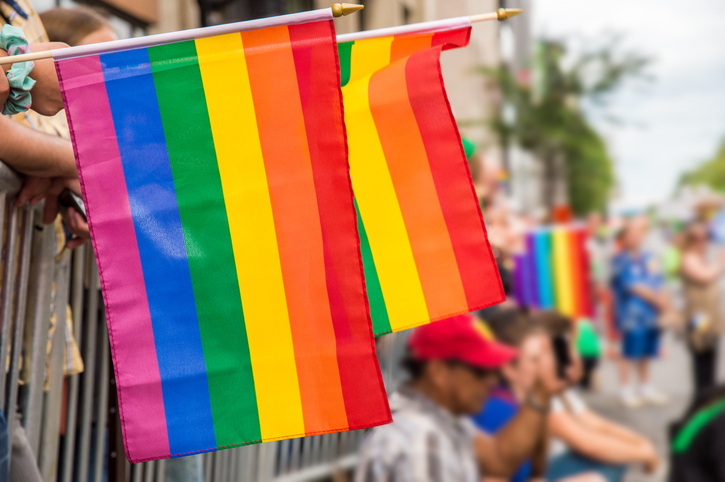 How This Year's Brands Have an Authentic Voice in Pride
Across the country, individuals and brands alike are showing support for the LGBTQ community during Pride Month. While most Pride events occur in June to commemorate the anniversary of the Stonewall Rebellion — which is considered to be the birth of the modern LGBTQ movement — there is definitely a continued voice to this cultural movement year-read.
Increasingly, we see brands speaking out for LGBTQ rights. Oreo famously came out with an ad showing a multi-colored Oreo back in 2012, and Doritos later followed suit by releasing limited-edition rainbow chips in 2015. Luxury brands are also supporting the community – Tiffany & Co. featured a same-sex couple in a groundbreaking engagement ring campaign in 2015. This year, brands have shown up in unprecedented ways to support this important cultural space, through creative ad campaigns, limited edition products, and store installations.
One stand-out is Equinox's LGBTQ Alphabet short-film. The luxury gym collaborated with The LGBTQ Community center in New York City to deliver an impactful message. The concept comes from the confusion behind the proper way to "label" or address people in the LGBTQ community. The film pronounces "Six letters will never be enough", and goes through the alphabet listing a word applicable to the LGBTQ community for each letter such as "drag", "femme", "masc", and "vogue". The short-film is meant to be a celebration of identity, diversity, and queerness, and the goal was to show the more serious and thoughtful side of pride — beyond the rainbows, parades, and electronic dance music.
Although Equinox has participated in Pride initiatives before, this is the first time they've actively involved members of the community. While creating the short-film, Equinox was careful not to dictate meaning around the LGBTQ community or attempt to fully understand the community as a whole. Instead, they celebrated and showcased insights of real people at the The Center and what the alphabet means to them, rather than defining the ideas for them.
Nike also released a short-film in honor of Pride month, building off their #BeTrue campaign. The video features the "Wonder Woman of Vogue", Leiomy Maldonado, who was the first openly trans woman to appear on MTV's America's Best Dance Crew. The groundbreaking transgender athlete is seen warming up, working out, and dancing with her crew. The clips are paired with an inspirational voice over from Princess Ebony, a transgender artist, declaring boldly "What did you do to make your mark on this world? What mountains did you climb? Which angels gave you their wings?"
The ad received praise for stepping away from the rainbow-clad stereotypical view of Pride. Nike instead chose to showcase an intense athlete who is part of the LGBTQ community and give a voice to serious side of the Pride movement and ideas of equality. Not only does this short-film break down barriers by featuring a transwoman and celebrating the LGBTQ community, but it also is the first time a major sports brand has recognized 'voguing' as a sport.
Many campaigns this year, like those above, made a successful move towards the serious side of the LGBTQ community and Pride. Perhaps this is a reflection of the current political climate and the urgency of what is occurring in terms of equality. Or, perhaps it also represents an evolution in perception of the LGBTQ community – less stereotypes and parades, and more respect and equal treatment.
So, how can your brand effectively participate in cultural moments like Pride?
Be respectful of the space.

Equinox did this really well. They were conscious of the LGBTQ community, collaborating rather than directing what Pride and its celebration mean. The brand's executive creative director explained, "

We didn't want it to be us dictating meaning around what these letters stood for… this is not Equinox saying this is what this means

". What's more, Equinox did not overstep into a realm where they have no credibility. The membership base at Equinox is so diverse that they already have authenticity and credibility in the realm of LGBTQ equality.

Align the campaign with who you are as a brand

. The most effective campaigns are ones that fit cohesively with the brand as a whole. Equinox's executive creative director said the best place to start is to ask "

What do I have the right to comment on?"

and "

How does that connect back to the core of who we are?

" Nike did this seamlessly with their short-film – instead of focusing the ad solely on Pride they featured a prominent figure from the LGBTQ community as an

athlete

and the associated challenges that come with the sport of voguing. This undeniably fits Nike's core mission that everybody is an athlete.

Make the content compelling and share-worthy.

We can expect more and more brands to attempt to enter conversations about a variety of cultural moments. To stand out, your content needs to inspire your audience to rally around your message. The Nike ad proved share-worthy for key reasons: it featured a trans woman; it recognized voguing as a sport; the voice over (also by a trans woman) was moving and inspirational; and, the dancing showcased in the video was 'athletic', professional, surprising and provocative. The more reasons you give consumers to share your content, the more likely it will become widespread and make an impact.
Connect with We First!
Twitter: @WeFirstBranding
Facebook: WeFirst
LinkedIn: WeFirst
Youtube: WeFirstTV
Join our mailing list and invite Simon to speak at your next event or meeting.
Title image via 

iStock.com/MarcBruxelle.