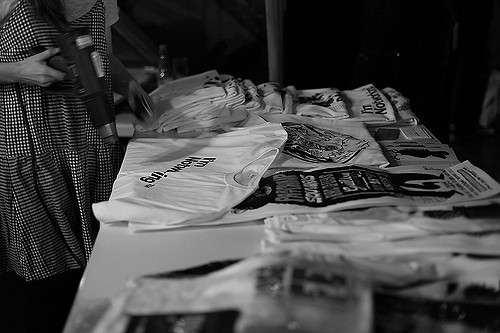 How Brand Purpose Drives Earned Media & Business Growth
Written By
October 5, 2017
Purpose is a rising trend in the business and marketing community. While corporate do-gooders are using purpose-driven campaigns to make measurable social impact, they are also generating earned media and scaling the reach of their advertising initiatives.
The D&AD Impact Awards – presented by D&AD and Advertising Week – highlight excellence in creative work that's also making a measurable difference in the world.
Here are seven lessons from seven award finalists that demonstrate how purpose can help your brand reach and engage with a larger audience:
1. Make Change, Not Waste: An excellent way to make a difference and turn heads is to transform a problem into an opportunity. It's important to ensure that your initiative awakens meaningful change for real people, rather than simply paying lip service to social challenges.
A great example of an innovative and related campaign that presented a new way to look at food waste and garnered earned media is the OzHarvest Market.
About a third of the food grown for human consumption is wasted every year. To tackle this issue OzHarvest opened a grocery store that invited shoppers to pay what they want for food that would otherwise be thrown away.
This creative and impactful initiative, which was launched along with a short video, not only provides people on the poverty line with an affordable source of nourishment, but also gained the organization social shares, news coverage and more than 7.6 million views with just a $30 Facebook ad spend.
2. Embed empowering hidden messages: Secret calls to action inspire curiosity and are a great way to ignite engagement.  Plus, making it easy for consumers to support causes they feel passionate about helps scale social impact.
The rock band Portugal The Man did a great job of arousing interest, awareness and media buzz with the song "Feel it Still." The track featured 30 hidden links that connected viewers with ways to get involved and donate to social and political causes.
The innovative music video spread around the web and reached the number one spot on Spotify in the U.S. and the top 10 around the globe. It goes to show that marrying pop culture, social empowerment and encrypted messages is a great way to peak people's' interest.
3. Liberalize information: Information has the power to change the world. And brands that add valuable insights to cultural conversations not only progress justice, but also etch their name in history as social change-makers.  
A company that utilized influential information to amplify political transparency and brand recognition is Reclame Aqui. In The Color of Corruption campaign, Brazil's leading consumer protection company collected data and created a plug-in that highlights politicians name in purple who have a history of misconduct. When a user hovers over a highlighted politician's name, a short write up and stats summary appears, effectively exposing political corruption.
The plug-in was downloaded 100,000 within a week of launch, and the campaign got picked up by news outlets like The Guardian, Bloomberg, Estado, Huffington Post, Buzzfeed, effectively generating over $8.5 million in earned media.
4. Celebrate marginalized communities: Brands that celebrate their customers inspire consumer goodwill and strengthen community connections. While the advertising industry has historically glorified conventional beauty, campaigns that shine the spotlight on real people who don't typically receive celebratory media attention foster deeper emotional connections with audiences and leave lasting impressions.
Mars Chocolate Maltesers 'Look on the Light Side' campaign does a great job of normalizing what's societally considered abnormal by featuring disabled people as the protagonists in advertisements.
When individuals with disabilities are portrayed in advertising, they are typically made out to be victims. Instead the Mars campaign highlights the humanity and reality of life with a disability by telling funny stories about a spasm sex joke, a hearing aid eaten by a dog and a person in a wheelchair running over the foot of the bride at a wedding.
Within the first 4 days the campaign sparked impressive social media interest and increased the mention of Maltesers by over 520 percent. Overall, the campaign was picked up by more than 50 news outlets, received over 50 million impressions and won multiple advertising awards.
5. Inspire actionable dialogue: Empowering people to take meaningful action in their lives is a proven way to increase engagement and marketing reach.
The Ask For A Raise campaign by The Muse, Ladies Get Paid, PayScale and Reply.ai did a great job of helping women increase their salaries and sparked media buzz.
The organizations teamed up to create a Facebook Chatbot that assists people to prepare for getting a raise. The chatbot provides users with information on average pay for their positions, gives information on the best time to ask and helps users prepare their case.
The initiative was covered by Forbes, Fortune, Mashable and other outlets. To date, it's generated more than 110 million impressions and was used by over 100,000 people, all without spending a dollar on paid promotion.
6. Expand perspectives: Brands that expand people's perspectives and introduce them to new possibilities make waves in society.
Verizon's #WeNeedMore campaign did a great job introducing students to career opportunities that they might not be aware of and earned the brand media recognition.
During the NCAA Verizon aired a spot that featured famous celebrities like Lebron James, Adriana Lima, Drew Breez and others.  The pop culture idols sent a simple message: the world doesn't need more athletes or supermodels, it needs more scientists, innovators and engineers.
To take it further, star influencers shared the message on social media and Verizon gave a select group of students technology and information to inspire them to explore alternative career paths.
The campaign earned over 1.9 billion impressions and was picked up by major news outlets around the globe.
7. Turn environmental challenges into innovative solutions: Environmental crisis plagues our planet. And companies are often responsible for over consumption in the name of short term benefits at the expense of long-term sustainability.
Companies that turn this dialogue upside down by utilizing their business to advance sustainability not only contribute to building a better world, but also distinguish themselves as environmental leaders.
A brand truly practicing sustainable innovation is San Francisco-based Hangar One. In response to California's drought the craft spirits maker used fog catchers to harvest water, which they then used to make vodka.
A video about the innovative product was discussed in media outlets around the U.S. and earned over half a million organic YouTube views.
The key takeaway is that consumers and the media are hungry for impactful initiatives that change the world. Accordingly, brands that make measurable social impact will be rewarded with with earned media and positive PR.
Connect with We First!
Twitter: @WeFirstBranding
Facebook: WeFirst
LinkedIn: WeFirst
Youtube: WeFirstTV
Join our mailing list and invite Simon to speak at your next event or meeting.