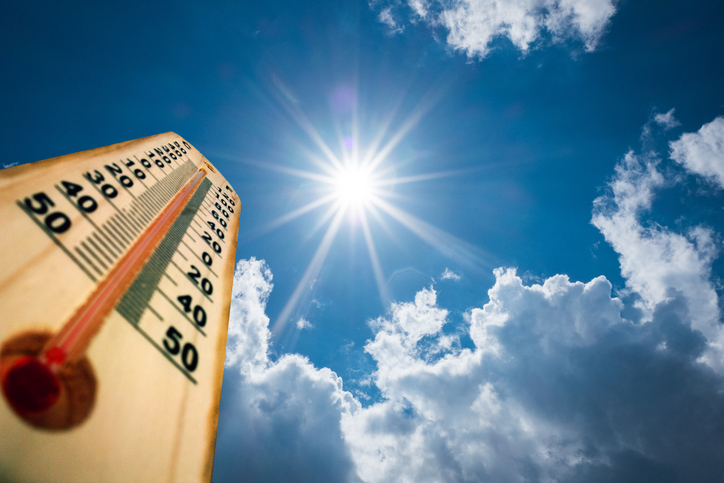 Why Brands Can't Afford To Ignore Climate Change
Written By
September 7, 2017
This July marked the second hottest month in recorded history topped only by July, 2016. And recent studies show that we only have a 5 percent chance of meeting the emissions targets set forth in the Paris Climate Agreement.
If the global economy doesn't undergo an unprecedentedly rapid advancement in sustainability, earth will experience irreversible natural catastrophes, and we are already beginning to see disastrous effects.
Climate change is more than a buzzword or a phenomenon only affecting the developing world. It is arguably the most pressing crisis of the century and is already costing corporations and society billions of dollars and influencing millions of lives.
Over 65 million of people have been displaced by social, environmental or political turmoil and climate variability threatens to disrupt more communities as temperatures soar.
From a corporate perspective, natural disasters cost the global economy more than $2.5 trillion from 2000 to 2012. Further, the United Nations estimates rising temperatures will cost businesses an additional $2 trillion by 2030 because it will be too hot to work. This is especially true for sectors that rely on laborers working outside such as extractive industries, construction and agriculture. What's more, rating agencies are assessing supply chain risk and starting to consider climate vulnerability assessments in credit ratings.
Despite the fact that the Trump Administration removed the United States from the Paris Accord, all countries – except for Nicaragua and Syria – ratified the pact and over 350 corporations including Hewlett Packard, Starbucks, Nike and Dupont publicly support emissions reductions.
The time has come for every business to actively tackle its carbon footprint, for long term profitability and the collective prosperity of our planet.
Here's why it's so important for brands to address carbon emissions
Stakeholders demand climate action: In today's digital world, stakeholders have more information and are more conscious about the impact companies have on the planet. It follows that mindful shoppers are eager to support companies doing their part to make a positive impact in the world and equally ready to boycott others that take actions contrary to their beliefs.
A great example of stakeholder activism in response to corporate climate impact is the divestment movement. To date, more than 750 institutions and over 58,000 individuals have taken over $4.8 trillion and $5.2 billion out of carbon intensive investments, respectively.
The key takeaway here is that consumers, shareholders and institutional investors are demanding corporate climate action. It follows that companies must undergo concerted action to reduce carbon emissions in order to meet stakeholder pressure.
Regulatory risks are growing: Although the United States does not have a national cap and trade system or country-wide climate targets, regional governments are taking aggressive actions to meet climate targets.
What's more, the vast majority of other countries are implementing the Paris Climate Agreement and related emissions reductions policies.
An excellent example of regulatory uncertainty regarding climate policy is the discrepancies in U.S. national vs. state-level emissions standards for passenger vehicles. California's Advanced Clean Cars Program, which was adopted by 13 other states and the District of Columbia, mandates automakers to meet more stringent emissions standards than federal law. Therefore, car companies that want to sell in California – the largest auto market in America – and states that follow suit have to meet more stringent targets or risk getting cut out of attractive markets.  
In the words of Lars Sørensen, Harvard Business Review's top rated CEO of 2016, "If we keep polluting, stricter regulations will be imposed, and energy consumption will become more costly. Corporate social responsibility is nothing but maximizing the value of your company over a long period of time, because in the long term, social and environmental issues become financial issues."
Laggards will be left behind: Some of the biggest and most innovative companies around the world are already diving head first into emissions reductions strategies. Corporations that fail to take action risk being viewed as slackers, losing the competitive edge, and incurring higher operational costs in the long run.
The RE 100 is a coalition of over 100 companies committed to operating on 100% percent renewable energy. The group includes global giants such as Bank of America, Coca-Cola, Ebay, Ikea and others.
What's more, renewable energy is becoming cost competitive with fossil fuels and businesses that make the transition will reap the long term benefits of owning their own power supply and fixed energy prices.
There's no denying it, climate change is affecting the entire planet from Antarctica to New York City. Companies can no longer afford to ignore the impacts and urgency of climate change. With the increasing adoption of corporate emissions monitoring and rating systems, brands that fail to take action will not only generate bad PR, but also increase regulatory risks and will essentially be outpaced by corporations embracing the shift towards smarter, more sustainable business practices.
Connect with We First!
Twitter: @WeFirstBranding
Facebook: WeFirst
LinkedIn: WeFirst
Youtube: WeFirstTV
Join our mailing list and invite Simon to speak at your next event or meeting.
Title image via iStock user batuhan toker