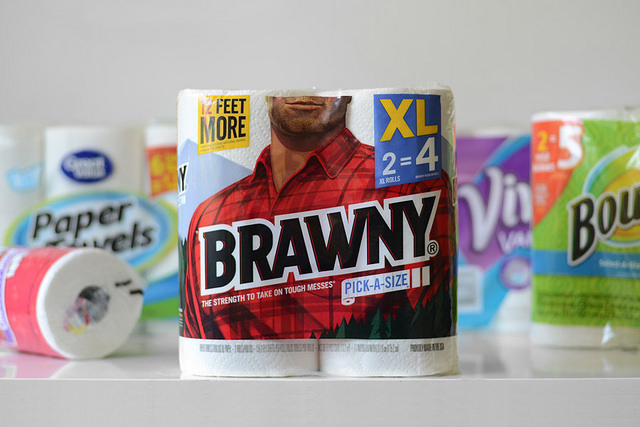 We First 5: Brawny, Bail Outs, & Breaking the Internet
1. Brawny Celebrates Mothers Through the Eyes of Their Toddlers
In the latest installment of Brawny's 'Stay Giant' campaign rollout, the brand once again retired its iconic, burly-flannel-clad-lumberjack-man to, instead, showcase the strength of women with its 'Once a Mother, Always a Giant' Mother's Day spot. To celebrate the strength and resilience of mothers in an authentic way, Cutwater shot the spot using Snapchat Spectacles — on toddlers. Enlisting the help of 4 real families, the footage was captured over a 2-day period and gives viewers "a fisheye glimpse at the daily challenges of motherhood" and all of the chaotic, messy (the spaghetti…), and heartwarming moments that come with it.
2. Cannes Strives for Equal Gender Representation
This year, the Cannes Lions International Festival of Creativity is making progress on its historically bleak female representation with a more gender-inclusive selection of judges and jury. This years festival will enjoy the company of a 43.5% female panel of judges and a remarkable 8 of 23 jury presidents will be women — a huge leap considering there have never been more than 2 female jury presidents in the history of the festival. In an industry that is notorious for being a 'boy's club', it's great to see organizations like Cannes promoting visibility and equal opportunities for female creatives.
3. Kim Kardashian: #NuggsForCarter: 'Break the Internet'
A teenage Tweeter from Reno, Nevada managed to bring together Twitter users worldwide with one very important question: "Yo @Wendy's how many retweets for a year of free chicken nuggets?" The fast food company, whose sassy social media presence has garnered attention on the platform as of late, gained so much traction that Carter's plea for chicken nuggets became the most Retweeted Tweet in history (ousting the reigning champion, Ellen DeGeneres, whose Oscar selfie held the record since March 2014). Wendy's honored Carter's request for free nuggs and kicked in an additional $100,000 to charity. It's always great to see brands engaging with consumers in a personable, light-hearted way; shoutout to the quick-witted Wendy's Social Media Manager for keeping it real.
4. American Apparel: American-Made Comes at a Price…
Clothing company American Apparel will soon allow their online customer base to choose where their purchases are produced with a U.S.-versus-overseas option upon checkout. However, shoppers who opt for the American-made version will see a 25% increase in cost (ouch). Seeking to stay true to the company's domestic-manufacturing roots and namesake, while also keeping costs down, the company's checkout option could be very telling as to what their audience's — largely made up of 'fashion-forward millennials' — consumer values are.
5. Mama's Bail Out Day
Racial Justice organizations and activists nationwide are teaming up for 'Mama's Bail Out Day', a fundraising effort seeking to pay bail for incarcerated black mothers so that they can be reunited with their families in time for Mother's Day. The campaign brings attention to flaws in the criminal justice system that put low-income individuals at a disadvantage. The women that are being bailed out have not actually been convicted of any crimes; they are awaiting trial for low-level misdemeanors such as loitering. Without the financial resources to pay bail, many of these women lose their jobs while they wait to be seen by a judge. Women of color are at a particular disadvantage, as statistics show that they account for 44% of the female prison population in the U.S. and are twice as likely as white women to receive a jail sentence. Bravo to Mama's Bail Out Day for this worthy cause to help financially-strained families reunite for Mother's Day.
Connect with We First!
Twitter: @WeFirstBranding
Facebook: WeFirst
LinkedIn: WeFirst
Youtube: WeFirstTV
Join our mailing list and invite Simon to speak at your next event or meeting.
Title image via Flickr courtesy of user Your Best Digs at https://flic.kr/p/HVUAwL.