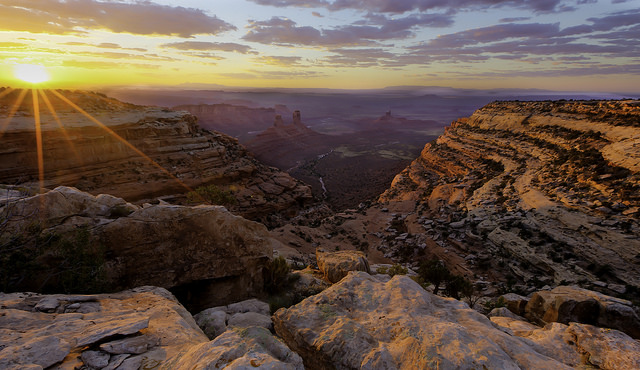 We First 5: Twitter Trolls, Patagonia Protests, & Starbucks Serves Legal Aid
Written By
February 10, 2017
1. Patagonia Protests Utah over Bears Ears
Bears Ears, Utah —1.3 million acres of land, rich with archaeology & landscapes so epic that it is observed as sacred ground by Native American tribes — became a designated National Monument under the Obama administration in December 2016. Sadly, the designation (which protects this land from coal mining and oil drilling) will likely be short-lived as GOP lawmakers move to eliminate federally-protected land, allowing the land to be bought and sold. Utah state officials in support of overturning the recent protection of Bears Ears, have come under fire from Patagonia CEO Rose Marcario, who called the repeal "totally unprecedented" and "a horror". In response, the outdoor-gear retail giant has taken a powerful stance by issuing an open letter to Utah governor Gary Herbert, publicly withdrawing their attendance from the semi-annual outdoor clothing trade show hosted by Salt Lake City that generates over $40 million in direct spending each year. As yet another company to join the growing list of corporate dissenters, Patagonia's Marcario cites this act of protest as an "issue of principles and values".
2. Stricter Controls for Twitter Trolls
We've all witnessed the toxic chats and abusive users on Twitter. It has finally reached a head, to great relief by marketers and brands, with Twitter committing to plans that will keep these trolls silenced or out altogether. Here's to cleaner, more uplifting conversations.
3. Starbucks Now Serving Employee Legal Aid
Over the past few weeks, Americans have seen dozens of companies publicly taking a political stance on today's hot-button issues. This trend of corporate dissent, though polarizing, has helped brands establish a strong identity with consumers and increased customer loyalty. Starbucks has once again demonstrated a strong opposition to the controversial Travel Ban. In addition to the coffee giant's vow to hire 10,000 refugees over the next 5 years, the company will now offer free legal advice to it's employees affected by the ban. Full-time and part-time employees, as well as their families, will have unlimited free access to legal aid as part of the company's new Immigration Advisory Program. Clearly, Starbucks is not just jumping on the bandwagon; they are truly committed to upholding their values.
4. Volkswagen Invests Heavily In Restoring Its Brand
Following its court settlement on excess diesel emissions, Volkswagen announced Tuesday a $2 billion investment in its Electrify America platform which will see electric charging infrastructure, awareness and education around electric vehicles, and a Green City initiative. By providing tangible actions and putting dollars behind their commitments, Volkswagen is starting to take the necessary steps in turning its brand around.
5. Black History Month Highlight: Coretta Scott King
As we mentioned in last week's We First 5, each week throughout Black History Month we will be highlighting an African American leader who has had a profound and purposeful impact on our world. In light of recent events, we are celebrating Coretta Scott King: an American author, speaker, civil rights leader, and activist in both the Women's Movement and the LGBT rights Movement. King is recognized as not only one of the most significant African American leaders of her time, but also as one of the most influential women leaders in our world. Through her devotion to social justice, peace, and the values of human dignity, Coretta Scott King undoubtedly made our world a better place. Today, we reflect upon these words from King:

"The greatness of a community is most accurately measured by the compassionate actions of its members…a heart of grace and a soul generated by love."
Connect with We First!
Twitter: @WeFirstBranding
Facebook: WeFirst
LinkedIn: WeFirst
Youtube: WeFirstTV
Join our mailing list and invite Simon to speak at your next event or meeting.
Title image via Flickr courtesy of user Bureau of Land Management at https://flic.kr/p/PrpoL2. 
Related News
Top 17 in Purposeful Branding for 2017: The We First Year in Review

President Trump Ushers In Tomorrow's CEO: Chief Environment Officer

Purpose At Work: Starbucks' Special Ingredients To Scaling Impact