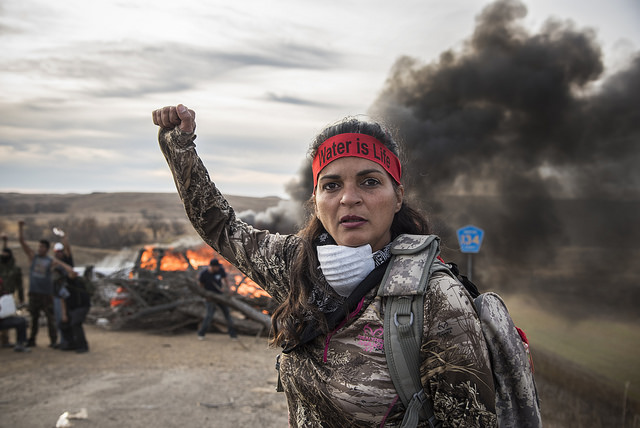 We First 5: Uber Scandals, Oscar Ads, and Standing Rock
Written By
February 24, 2017
1. #DeleteUber: The Sequel
After less than 1 month since its first viral spread, the #DeleteUber movement gets an encore as thousands more people choose to delete the app from their smartphones. In the latest of a series of scandals, Uber has once again found themselves under public scrutiny and user protest after former employee Susan Fowler penned a blog detailing claims of brazen sexual harassment, physical threats, and Human Resource negligence within the company. The shocking allegations, and subsequent uproar, have once again shown the brand that company values (or lack thereof) can have a devastating impact on both customer loyalty and internal morale.
2. 'Carry' by Cadillac
With a strong brand heritage and recent positioning of 'Dare Greatly', Cadillac's latest ad debuting this Sunday during the Oscars, 'Carry', brings forward a beautiful undertone of unity, strength and reflection. Through flashes of inspirational Americans like Monroe and Ali, mirrored alongside protests past and present, Cadillac elegantly reminds us to have solace in our current political climate. It is exciting to see another brand awaken to the power of its voice on cultural and societal issues.
3. NASA says, 'Take me to your leader"
On Wednesday, NASA announced the discovery of "the first known system of seven Earth-size planets around a single star." The press conference captivated the attention of Earthlings everywhere as NASA revealed that three of the seven planets are believed to have climates capable of habitable ecosystems, thus potentially harboring life. According to Thomas Zurbuchen, associate administrator of NASA's science mission directorate, the discovery is considered "a leap forward towards answering" the question, "Are we alone out there?".
4. Standing Rock Encampment Falls to Ashes
For the last six months, thousands of demonstrators have called an encampment at Standing Rock 'home' — resurrecting makeshift lodges, supply tents, and communal kitchens — in an effort to halt the construction of the highly controversial Dakota Access Pipeline. This week, all hope was lost on these efforts, as law officials declared Wednesday the deadline for activists to vacate the grounds. The resistance, which has garnered worldwide attention, officially ended in a final act of solidarity with the Sioux tribe as demonstrators set the campground on fire — observing a ceremonial tradition of tribe. See the stunning photos of the camp here.
5. Rihanna Named Humanitarian of the Year
Earlier this week, Rihanna was named the 2017 Harvard University Humanitarian of the Year, a prestigious recognition that has been honored to others including actor James Earl Jones, activist Malala Yousafzai and UN secretary generals. Perhaps an unusual choice to some, Rihanna has invested in creating game-changing opportunities for those from her home country Barbados – building an oncology center and creating a Scholarship program to name a few – in addition to supporting the Global Partnership for Education. Well-deserved recognition for a humble global citizen and activist.
Connect with We First!
Twitter: @WeFirstBranding
Facebook: WeFirst
LinkedIn: WeFirst
Youtube: WeFirstTV
Join our mailing list and invite Simon to speak at your next event or meeting.
Title Image via Flickr courtesy of user Oceti Sakowin Camp at https://flic.kr/p/Pk9Ses.