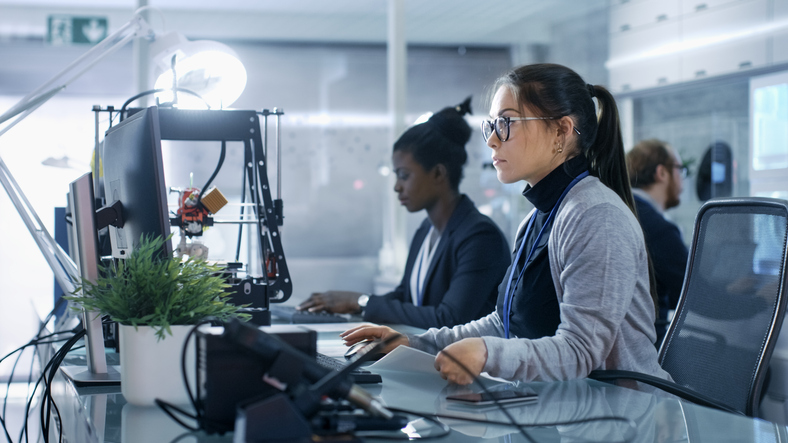 How to Foster Diversity and Inclusion in the Workplace: Tech Industry Spotlight
Written By
October 30, 2017
Corporate diversity and inclusion not only position your brand as a socially responsible employer, but also improve the wellbeing, productivity, and creativity of your employees.
Numerous studies have established the direct relationship between employee happiness and  productivity.
One report in the Harvard Business Review found that employee satisfaction increases productivity and sales by an average of 31 percent and 37 percent, respectively.   
Interestingly, yet not surprising, diversity and inclusion tend to increase happiness. A study discussed in Psychology Today found that employees who embrace diversity and inclusion have a significantly higher likelihood of optimal wellbeing.
The thinking here is that by embracing a wider spectrum of people and ideas, companies have more options, a better sense of global markets, improved wellbeing and creative perspectives. In turn, there's less likelihood of getting stuck in a rut or running into a branding PR crisis like the recent Dove campaign that many people criticized for being racially insensitive.
To be clear, diversity refers to having a team built of people from various nationalities, ethnic backgrounds, races, religions, sexual preferences, socio-economic backgrounds and ways of thinking.
Inclusion refers to establishing the feelings of safety, belonging, community and creative freedom within your entire staff.
Studies show that diversity and inclusion also improve creativity and innovation.
For example, a Credit Suisse study found a strong correlation between financial performance and the presence of female board members.  
Another study conducted by Stanford and University of Illinois professors showed that groups consisting of people from multiple races were more effective at solving a murder mystery than groups consisting of a single race.
Ultimately, diversity and inclusion increase wellbeing and productivity and creativity.
While your company would benefit from diversity and inclusion, cultivating these essential elements into your corporate culture can be challenging. It can also be uncomfortable to speak about sensitive issues such as sexual harassment and race related topics with your partners and colleagues.
Here are 3 systemic setbacks to embedding diversity and inclusion into corporate culture:
1. Limited supply of skilled labor: It's difficult to attract and retain top talent regardless of where your hires come from.  The competition only increases when you are looking for skilled labor in the tech industry.
What's more, African Americans and Latinos make up less than 5 percent and 11 percent of U.S. tech workers, respectively.  
Women account for roughly one quarter of tech workers; however, African American and Latina women make up less 5 percent combined.
The paucity of women and minorities in the tech industry partially stems from the lack of diversity in tech education. In fact, just 18 percent of computer science majors are women  and 6 percent African American and 8 percent latino.
The problem actually originates from a lack of exposure at an early age. A study conducted by Google and Gallup found that while black and latino K-12 students are more likely to express interest in the computer science, they typically have less access to computers at home and at school, which makes it more difficult for them to acquire the necessary familiarity and training.
Essentially, the applicant pool of female or minority tech workers is less than white or asian male candidates. This can make it difficult to find female and minority applicants with the specialized skill set you are looking for.
2. Internal cultural isolation: While the pipeline issue is a problem, there are more minority tech graduates than workers in related jobs. Part of the problem is that some qualified graduates may feel isolated in corporate culture.
Corporate tech cultures are often dominated by cisgendered white men. It's hard to feel included if you are the only women, person of a particular ethnic background, sexual orientation or religion on your team.
Essentially, if your corporate environment lacks diversity it can perpetuate a lack of inclusivity of minority employees or jobseekers. This sense of discomfort can deter women and people of color from joining your team.
To help ensure that employees feel a sense of inclusion it's important to rollout a company wide policy that sets the groundwork for unity within your organization. It's also impactful to have a dedicated person to address inclusion and diversity and lead related initiatives.
3. A lack of leadership: Leaders set an example of acceptable conduct throughout an organization.  If the leadership doesn't treat women or minorities respectfully, it normalizes bad behavior within the culture.
Unfortunately, sexual harassment cases aren't uncommon in the tech industry, or corporate culture in general.
While cultural and media events like the #MeToo movement and the Uber sexual harassment debacle have been shedding light on the problem within corporate culture, that's just the first step in fostering true inclusion.
It's clear that companies must address inclusion from the top down. This means ensuring respectful protocol amongst executives and clear consequences for bad behavior.  
It's important to note that this not only includes sexual and gender issues, but also racial prejudice within the leadership and promotional opportunities.
Ultimately, a lack of inclusion can come from overtly unacceptable behavior to unconscious bias. So, it's important to establish that culture before hiring executives and actively discuss issues and consequences within the C-suite.

While these systemic problems present obstacles to championing diversity and inclusion, they can be overcome with the right strategy.
Here are 3 ways to overcome the setbacks to fostering diversity and inclusion:
1. Hire and promote people from different backgrounds: The first step to building diversity and inclusion is to hire people from myriad races, genders, and beliefs.  
If you are looking for qualified engineers from diverse backgrounds, check out Interviewing.io, which can help you find applicants with vetted tech skills.
To establish inclusion and leadership that promotes socially diverse corporate culture  it's also important to ensure women and people of various races and genders advance to management and executive roles.
2. Measure it: To truly change corporate culture you must obtain a benchmark of where you are, set standards and paths for improvement.  
The National Center for Women & Information Technology offers excellent tools that can help you assess and improve gender equality and diversity in the workforce.
3. Build community around purpose: While being cordial with your colleagues is essential to operating efficiently, it doesn't always build meaningful connections.
Sharing a common vision of how to build a better world and collectively dedicating your work towards progressing that mission cultivates genuine connections between colleagues.  
This common goal creates a sense of meaning and community that goes beyond making a paycheck or meeting profit-driven benchmarks.
When people start working together towards a common goal they care about they strengthen the bond between them, which can bring your company closer together, no matter what your internal demographics look like.
Unfortunately, the underlying prejudice and unconscious bias against women and people of color in the workplace has a long history throughout society. With growing awareness about the need for diversity and inclusion in the workplace and consumer demand for companies to promote socially responsible businesses, it's increasingly vital take responsibility within your organization.  
In today's world, HR now has a greater responsibility than ever to be a guiding light and demonstrate an active voice on cultural issues like diversity, sexual harassment, hostile workplaces and beyond.
Connect with We First!
Twitter: @WeFirstBranding
Facebook: WeFirst
LinkedIn: WeFirst
Youtube: WeFirstTV
Join our mailing list and invite Simon to speak at your next event or meeting.
Title image via iStock user gorodenkoff.