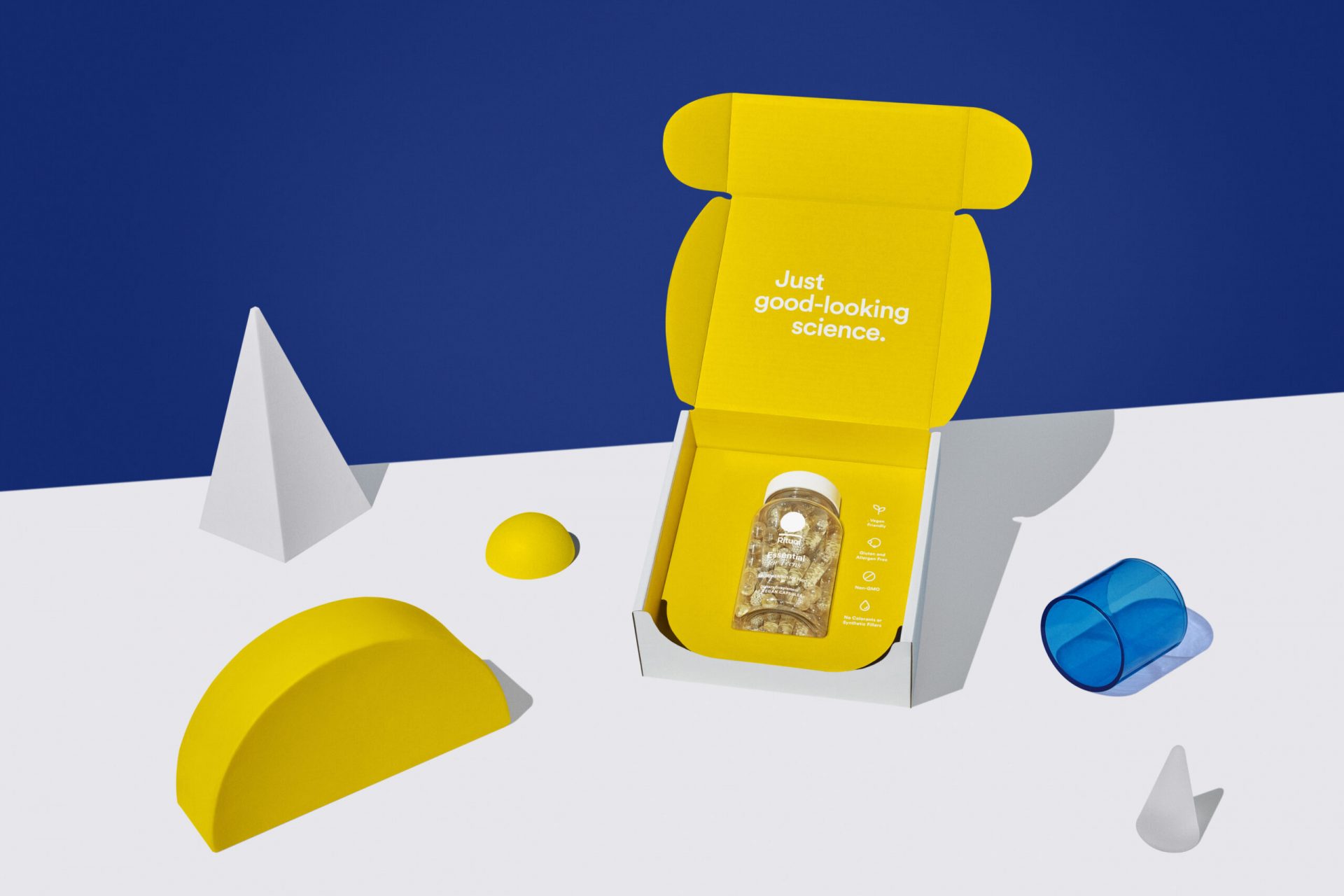 Purpose At Work: How Ritual Is Revitalizing The Vitamins & Supplements Industry
Necessity truly is the mother of invention. Businesses that find ways to better meet people's needs carve out competitive advantage and build community around their brand. An exceptional example of a business breaking the status quo is Ritual. The vitamin and supplements brand is investing in leading science and transparency to make it easy for women and men to get the nutrients they need every day. 
Katarina Schneider immigrated from the Soviet Union as a 4 year old refugee to live in a welfare hotel in Brooklyn. She now runs one of the fastest growing multivitamin brands in the U.S.A. Ritual's vertically integrated Los Angeles headquarters now employs over 80 people and is growing. Schneider started Ritual five years ago. After she became pregnant, she couldn't find the prenatal vitamins she was looking for, so she made her own.  I had the opportunity to speak with Schneider about building Ritual and how she's able to Lead With We.
Simon Mainwaring: What steps did you take to get Ritual up and running?
"I'm on a quest to re-imagine transparency."
Kat Schneider: I was in LA, running a tech fund for Troy Carter, Lady Gaga's manager. He was a big motivator in my life and definitely encouraged me to start something. 
My pregnancy gave me motivation. It also changed my perspective on the way I saw the world and the products in my home. I was always health conscious and scientifically-driven. I studied math in college and was obsessed with chemistry. I started questioning what I was putting in my body in a different way.
When it came to vitamins, no brands had everything I was looking for. I was on a quest to re-imagine transparency. We've elevated that to traceable supply chains and rigorous science. We've invested in a human clinical study with Auburn University. Our multivitamin is USP verified. There weren't any products out there that were traceable and scientifically backed that we could trust ourselves. So, we decided to reimagine those the best we could.
The key is habit formation. How do you help someone form a habit with something that's so foundational in their lives every single day? How do you elevate something from a routine, to a habit, into a ritual? 
It started with the multi prenatal and evolved to being a trusted daily multivitamin for hundreds of thousands of people. The vision was to become the most trusted destination for people's health starting with nutrition, then going more broadly over time. If I could build a brand that people trust with what goes into their body during the most vulnerable stages of life, then I will be a brand that people will trust for a lot of other things.
SM: Help us understand what you're trying to solve in the vitamin space.
KS: How you define 'clean' as a company is very important. What a lot of companies don't do is choose ingredients without certain excipients and have clinical studies around them showing they work.
Folic acid is a good example. So, over a third of people have a genetic variation where they can't properly utilize folic acid. 90% of multi prenatals have folic acid. It is important for us to use methylated folate, which bypasses genetic variations. We source it in Italy from a company called Gnosis. We're making those conscious decisions every single step of the way.  
SM: Routine has a generational perspective. Why is that important?
KS: Your needs as a woman change dramatically as you give birth, postpartum and after going through menopause. That really impacts your need for different nutrients. We've created this multi-generational brand. We have multis for everyone in your household. We think about formulations based on life stages. We look at diet, intakes, genetics, lifestyle and all these factors. 
It was important for me personally, as I have three little kids. I wanted something my whole family could take together. There's something beautiful about building habits together and supporting future generations collectively. 
SM: When launching Ritual, how did you approach your first customer base? 
KS: It always came back to doing what we thought was the right thing and initially building products for ourselves and our communities.  For us, that means building a traceable brand. If you're seeking information about ritual and the reasons behind our decisions, it's very easy for you to get the answers you're looking for. That's been and will always be the North Star for us as a brand. From the way we respond to our customers on social media to interviews with our suppliers on our site. That understanding has been the biggest driver of trust amongst our customers.
SM: What is your purpose and what is your role in the world of Ritual? 
KS: We're working to build the most trusted destination for everyday health. Health is not just the vitamins we consume, it's so many parts of our lives. It's drinking enough water, it's moving our bodies, it's being happy. Ritual can play that role for so many people on so many different levels. 
We're starting with multivitamins and about to launch a protein. For us, protein is an extension of the foundational nutrition part of our business, which is micronutrition, macronutrients, but also all nutrition. 
SM: What advice would you give purposeful entrepreneurs in terms of how deep you go on one particular vertical before you step into another one?
"It's important to perfect your craft and perfect what you know really well. Only start going wider when you feel like that next product is also best in class."
KS: Our first product was a multivitamin for women 18+. There can be pressure to quickly expand if business is booming. We said, 'Let's focus on making our core product better. Let's make this the best product in its category.' It has omega-3 DHA from microalgae. As I mentioned, it has a traceable supply chain and tastes like fresh peppermint. It's two little capsules, has a delayed release bypass in the stomach. It's pleasant to take. Now it has a USP verification, which is the gold standard, it has a human clinical study with a major university. We just kept layering on these things that we thought made it truly best in category. Then we decided to expand.
Ritual is a direct to consumer subscription company. With this kind of business, it's important to not go super wide, fast. It's important to perfect your craft and perfect what you know. Only start going wider when you feel like that next product is also best in class. We built trust and our customers were asking us for a prenatal vitamin and we'd been developing one since the beginning.
SM: Was it hard to break into this category? Did you get any pushback for mind share or from the industry?
KS: There was pushback on the investment side. On the category side, companies have been chasing trends. For the most part, they've left the multivitamin and prenatal categories alone. 90% of us aren't getting enough vitamin D from our diets, 95% of us aren't getting enough omega-3s. We doubled down on science and on filling those gaps. It's made it easier to scale. We didn't have much competition.
SM:  How did you get off the ground? Did you get investors out of the gate?
"It's important to overinvest in your supply chain. Overinvest in testing. Overinvest in studies."
KS: We've invested a lot of money into R&D and scientific affairs since day one. The first person I hired was a well-known scientist. Before I started, I raised over a million dollars just to hire scientists. We partnered with a multi-billion dollar contract manufacturer and we developed technology with them. That's also made it hard to compete.
It's a risk to invest in the clinical study knowing it's not a requirement in this category. Most brands don't have human clinical studies, especially at the scale we do. We didn't know if it was going to impact our sales. We're still trying to figure that out, but it's the right thing to do. It's important to overinvest in your supply chain. Overinvest in testing. Overinvest in studies. 
SM: How do your stakeholders know? Did you have to educate them as to what those clinical studies mean and how that makes a qualitative difference to your product? 
KS: Ritual isn't selling vitamins, we're selling transparent information. I spend my nights, days and weekends thinking about how to say this in a way people will understand and connect to it. We have scientists, designers, engineers and customer service all in-housed. Everyone's working together to build this funnel of transparent information for consumers. It can be overwhelming. I'm proud of how we've simplified it. 
SM: How did you land on the name?
KS: The first name was Natals, it's still our parent company. Because I was so focused on the prenatal, I couldn't think outside of that. I really wanted Ritual to be a household name and this iconic brand in people's everyday lives. So I was up all night thinking, 'What should this company be called? What is the ultimate habit? It's a ritual!' It's something you enjoy making part of your every day. That's what I wanted the brand to represent.
When it came to the brand identity, I didn't feel quite right with the initial branding. How do you create something that scales, is accessible, bright and makes you smile? And when I saw the brand work that we did for Ritual, I smiled. I felt something visceral, I felt emotional. 
SM: What is a mistake or learning you've had along the way? 
KT: One of the things I'm most proud of is the team we've built. Our scientific team is led by Dr. Nima Alamdari, who's ex-faculty at Harvard with a PhD in physiology. I met him a year before I ended up actually hiring him. He was like, 'You guys should do protein.' I was like, 'No, we're going to do multivitamins.' Now we're about to launch protein and I couldn't be more excited. I wish we'd launched it a year ago. 
One of my big learnings is how fun it's been to create new products and how interesting it is when you have your method. Our method is around traceability, science and habit formation and how you can apply that to two different products.
And it's such a reinvention also and I feel like that muscle of reinvention we learned even sooner. I would have loved to launch more products over the last five years. At the same time, it's been incredible to build trust with people for that long in this one category. I didn't realize how much fun it would be to really reinvent other categories in that same way.
SM: Why is sustainability important to you? 
KS: We're only as healthy as the health of our planet. That's been important since day one. I personally eat a plant-based diet and that's why our products are vegan. It's very hard to do what we do with plant-based ingredients. Our omega-3s come from micrology in British Columbia instead of fish oil. We use a vegetarian vegan capsule instead of gelatin. 
Sustainability plays an important role in our packaging. Our bottles are made of 100% percent post-consumer resin, meaning trash bottles and plastics. We use 100% percent recycled mailers made with newsprint from Pennsylvania. It's not just about the materials on the packaging side. It's also about stability and looking at the product and how it performs into certain materials. We test our way into the right thing.
SM: You're working with some interesting and powerful women. How important is the role of influence in raising awareness about what you're doing?
KS: It's been very important. We have a team in-house that's just focused on influencer relationships and managing influencer partnerships. It's very important that someone they trust also trusts the brand. People most likely won't partner with us unless they love the product and they're using it. We also partner with influencers that share our values. You mentioned some amazing women and people who we partnered with for a campaign called "Make Yourself." We were trying to figure out how to sum up our mission and who we want to represent in the world. It came down to this spirit of self-determination.
Simon Mainwaring: What advice would you give the leader you are now compared to when you first started?
"If someone says, 'no,' it motivates me to do it more and prove them wrong."
Kat Schneider: Some of those learnings have become our values internally. One thing I would share is to think through all of the decisions and figure out where you can make the biggest impact as a team and as a business as a leader. It's important for brands to have a voice and stand up for what they believe.
Another mantra is to 'embrace the no's.' If someone says, 'no,' it motivates me to do it more and prove them wrong. I was four months pregnant when I raised our first round. An investor said, 'You can either start a family or start a company, but good luck trying to do both.' I was like, "Great, I'm going to do both. Thanks for that.'
Even with our manufacturer, he's told me that what I want to do, in terms of making our products with the clean ingredients we want, is not possible. I say, 'No, we're going to figure out a way. It's exciting you're telling me this is impossible.' That's the culture that I'm after and I think it's the culture we have internally. When someone says, 'no,' it just means it hasn't been done before.