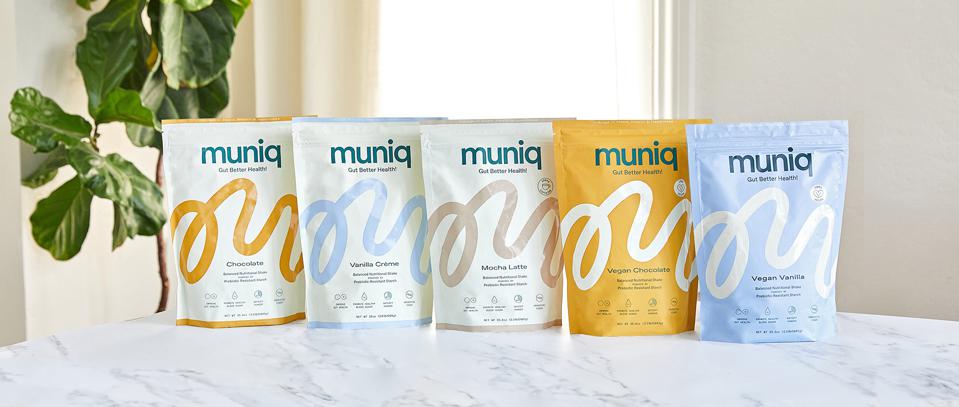 Purpose At Work: Lessons From Muniq On Building A Purpose-Driven Startup
Written By
April 26, 2021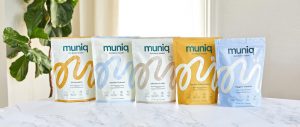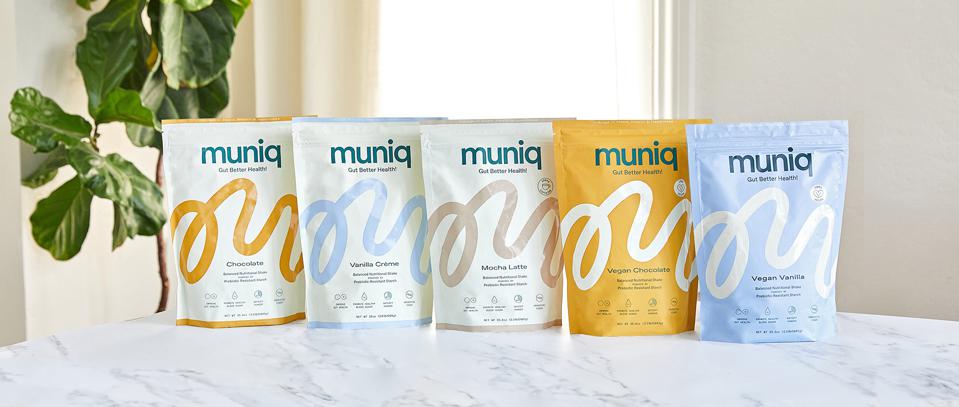 Today's consumers want to support businesses that make a positive contribution in the world. With so many companies vying for people's attention and dollars, it can be a challenge for a startup to gain traction.  "If you have a real business opportunity and you're addressing a true need, you will find a way," Marc Washington, founder and CEO of the Uplifting Results Labs (UR Labs) and Muniq, tells We First.  Washington launched Muniq during COVID-19 and it is revolutionizing gut health by focusing on healing the microbiome in your gut.
Before UR Labs, Washington studied engineering at Princeton and went to Harvard Business School. He then held executive roles such as CFO and COO in the health and wellness industry for companies like McKenzie & Company, Wonderful Company (owner of POM Wonderful, Fiji Water and other brands) and Beachbody.
"I've been the right hand to very successful founders and entrepreneurs throughout my career.  I really enjoy this path and successfully helping other entrepreneurs scale their visions," Washington says. "I learned a lot of tips along the way as to how to do this successfully, how to motivate consumer behavior in a healthier path, how to successfully grow businesses through brand, team, strategy and product. But along the way there were things I saw that I would do differently."
When he decided to take on his own project, Washington was originally going to purchase and grow an early stage startup, then he had a realization. "Why not take one additional step from a risk profile standpoint and start it myself?" he questioned. "That's when I threw my hat in the ring."
Just 6 months after launching, Muniq is experiencing growth that investors might expect after a couple of years. Washington's journey provides important lessons for entrepreneurs looking to Lead With We on how to establish a purposeful startup.
Lead with purpose
While Marc knew he wanted to work on addressing chronic illnesses in communities of color, he wasn't quite sure how he would achieve that. "There's a real need and an opportunity to fundamentally help people overcome these chronic conditions," he says.
On a personal level, Washington feels very strongly about helping people with chronic illness. "My sister Monica was vibrant, colorful and the life of the party but like so many she struggled with her health. She struggled with obesity, diabetes, hypertension and these multiple conditions had too much control over her life," he says. After her third pregnancy, Monica suffered from preeclampsia and lost her life. Washington says the combination of health conditions had a significant impact on her death.
"By empowering people with nutrition products that could fundamentally bend their curve, we can present solutions that could have made a difference in Monica's life," he says.
Washington estimates that more than 100 million people in the U.S. suffer from conditions that Monica confronted. "The majority of individuals that face one chronic condition deal with multiple," Washington says. Black and brown communities are as much as 50% more likely to suffer from fighting these conditions than other communities, he says. "It results in what I call the health disparity gap."
Washington named the brand after his sister. "Monica plus unique equals Muniq," he explains. "This is an opportunity to honor her legacy, by helping and empowering other people who, just like Monica, needed to overcome these overpowering chronic conditions in their life and health."
Washington is using Uplifting Results Lab to develop brands like Muniq to help people regain control of their lives through nutrition and gut health. While they are developing science-based products to balance your microbiome, Washington says, "The business we're in is about hope and empowerment."
By prioritizing solutions to some of today's most challenging public health issues, Muniq is growing a loyal customer base, earned media and investor attention.  The lesson here is to focus on improving people's lives in the best way possible and let your products come in the form of solutions.
Collaborate with experts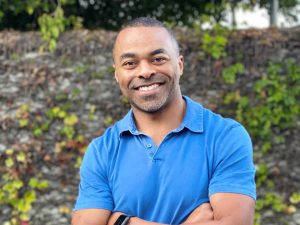 While Washington had clarity about his mission, the specifics of how to apply it commercially were unclear. He says that he had taken probiotics but it wasn't until he started diving deep into the microbiome research that he had his 'Aha moment'. "There is really solid research around the connection between what's happening in your gut and many other aspects of your health," he says.
Marc's first hire was a PhD food scientist who could help him hone in on the right science. UR Labs focuses on addressing many chronic conditions but is especially honed in on tackling diabetes. "I call it the gateway disease," Washington says. "There is a tie to the gut and effective blood sugar control." After running clinical trials and extensive research he and his team "landed a unique class of prebiotics called resistant starch that could fundamentally change the way that you manage, not just your gut health, but your blood sugars."
Essentially, it's critical to know your strengths and work with other people that are more knowledgeable than you in areas you aren't as experienced.
Meet consumers where they are
"The foundation of the business is the science of the gut microbiome, which helps us differentiate from competitors," Washington says. The founder also prioritizes impact. "Making a product and a solution that was accessible, approachable and frankly enjoyable was huge."
A big part of accessibility is education. With a product like Muniq, consumer understanding tends to be fairly low.  There is substantial information and learning tools on muniqlife.com; however, Marc tries to meet consumers where they are in their journey about health and its connection with gut health.  Muniq also has a direct to consumer eCommerce focus, which further addresses accessibility and education challenges.
"It's about the consumer. The way we go about communicating and educating is with emotion. We lead with the benefit and empowerment," he says.
To help connect on an emotional level, Muniq highlights consumer stories in its marketing efforts. It gives people hope and aspiration to take more control over their health, Washington says.  "That gives us license to educate around the gut. We have a lot of content around the difference between probiotics versus this prebiotic called resistant starch. We're working to build literacy, not just about the condition itself and effective blood sugar control, but also around gut health and the gut microbiome and why this matters; why this is the foundation for your health," he says.
Essentially, the more you raise awareness around the problem you're addressing, the more you position your product as a solution. That said, it's important to present information to consumers in an easy to understand way that doesn't alienate or overwhelm them.
Join cultural conversations
The Black Lives Matter movement has brought a lot of attention to issues around social justice and systemic inequalities.  Muniq is dedicated to addressing the "health disparity gap that exists for multicultural communities."
The founder also sets an example with his own actions. "I've experienced this for myself and other Black and Brown entrepreneurs can probably relate, it feels like a longer putt, so to speak. The majority of the meetings that I've had are with people that typically don't look like me. There's a fundamental disadvantage," Washington says. "Despite that, if you focus your eyes on the prize and deliver against a true need, you will eventually get there."
While Washington says there are some positive advancements that have come from the BLM movement, there's still a long way to go. "Actions speak louder than words," he says. "There's still a lot more words than there have been actions. I've definitely gotten more calls for board opportunities and things of that nature. Others have expressed interest, who might otherwise not have. But in terms of real actions, I think we have so far to go. The jury's out to be honest."
By leveraging business to address access inequality and systemic bias in the healthcare system, Muniq is effectively joining cultural conversations.
Build community around shared values: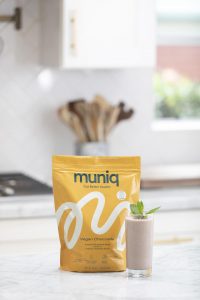 It's important for brands to act on their core values by reflecting them in their internal corporate culture. "We're very outspoken about our desire to have an impact on multicultural communities," Washington says. "We're also very intentional about representation. We try to show the full diaspora, so that people out there can understand that this is a product that can be for you. I'm very proud of the team that we have. It's 70% to 80% diverse. So, it's a minority majority. It is infused in how we think and operate as a business across all different dimensions."
Marc had been building relationships in the health, wellness, nutrition and food space. Those connections helped him secure initial support and investment. "I had a relationship with a group called The Production Board, based out of San Francisco," Washington says. He presented his passion and desire to "use food as medicine." The group's founder, Dave Friedberg, was working on gut microbiome technologies and saw a potential for collaboration. He provided early financing. "I had a seed investment well before we had a product," Washington says. Ultimately, focus on making connections around a higher purpose and relationships that will strengthen your network and ability to execute.
Prepare for challenges:
Although Muniq is off to an impressive start, the brand has faced some challenges along the way. "One is just breaking through the noise," Washington says. With COVID-19 and the Black Lives Matter movement, there are a lot of organizations talking about social issues. Muniq is working to differentiate itself from other smoothies and effectively educate people about the health benefits.
"Another challenge we're facing is that there's a significant amount of understandable skepticism. There's been so many empty promises that many customers have tried blood sugar control products that have failed in the past."
The other big challenge Muniq is facing is accessibility. COVID-19 has exacerbated people's need for the brand's products, but also amplified the economic challenges that many people suffering from chronic conditions face.
The takeaway here is that regardless of how purposeful, well funded or prepared you are, there will be challenges that arise. When they do, be ready to adapt and be flexible. Like Washington, stay true to your purpose in challenging times. Build a foundation of trust, so that people can have hope and on the strength of that hope, find joy in their life.
Related News
3 Ways to Invest in Employees to Become Your Best, and Most Authentic, Storytellers

Ken Lander, Founder & Chief Sustainability Officer at THRIVE Farmers, to Speak at We First Brand Leadership Summit

Conversation Leadership – How Brands Build Business & Inspire Change by Leading Proprietary Conversations