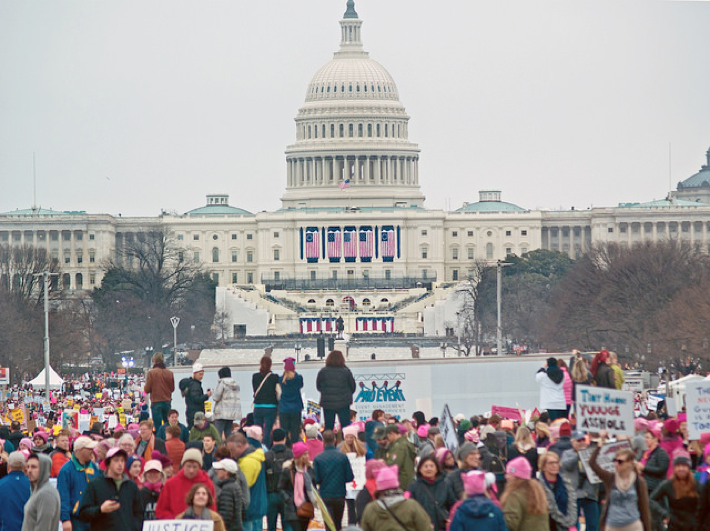 Why Your Brand Must Become Purpose-Driven in Today's Political Times
Written By
January 23, 2017
With the change of guard in the White House comes a change in the way the American government will allocate resources. The incoming leadership plans to reduce discretionary spending and begin cutting back on mandatory spending by: repealing Obamacare, shifting the management of national parks from federal to state-run oversight and private parties, and reducing funding for programs like Planned Parenthood. Whether these reductions in government expenditure balance America's debt and make the nation financially stronger by decreasing taxes is yet to be seen. What is certain is that if they're carried out, these plans will reduce federal support for services – many of which are social and environmental – by $10.5 trillion over the next 10 years. Now, more than ever, the country needs the private sector and brands to practice servant leadership and to stand for issues that are bigger than themselves or their industries. For, while these changes are spurring conflict and division in society, they also offer an opportunity for businesses to grab the steering wheel and build their business by becoming purposeful brands that deliver meaningful and measurable social change.
Here are three ways your brand can carve out a competitive advantage by showing leadership and excelling in the purpose game:
1. Start and join coalitions to promote purpose-driven practices and policies: While some political decisions are driven solely by financial considerations, companies are in a unique position to not only influence policy makers because of the contribution they make to GDP and the tax revenue they generate for states and national governments, but also to leverage their brands as a positive force for change.
An amazing example of this is the open letter, spearheaded by outdoor apparel company REI and signed by over 100 executives from the outdoor industry, including representatives from Clif Bar, Patagonia and Black Diamond, which encourages the country's leaders to 'keep public lands public'. "This is not a red or blue issue. It is an issue that affects our shared freedoms," the letter states. Moreover, the founders of Black Diamond and Patagonia, Peter Metcalf and Yvon Chouinard, each published statements directed at Utah's government indicating that if the state doesn't protect its public lands the outdoor industry should consider holding its biannual Outdoor Retailer show – which brings in an estimated $50 million into the state's economy – in a different location. When you mobilize around a cause with national or global impact you not only generate word of mouth advertising and publicity, but also serve a higher purpose and distinguish your brand as a leader.
2. Connect products with purpose: Creating products that give a portion of proceeds to fund social impact not only makes a compelling story and creates a positive halo effect for your brand, but also encourages people to tell others about the great work you are doing – whether that be word of mouth or on social media. What's more is you can make amazing contributions to the world that have a sustainable source of funding and ultimately scale business growth. As a result, your brand's impact will grow along with your bottom-line.
A brand doing an excellent job at connecting product with purpose is Sir Richard's Condoms, which donates 1 condom for every condom purchased to Haiti and other developing countries and also created a jointly branded condom with RED – the HIV awareness and prevention organization – that contributes 5 percent of sales to the fight against AIDS. As the brand says, "Doing good never felt better". This is an creative way to engage consumers and to exercise contributory consumption as what you buy does good and that, in turn, builds your reputation and profitability.
3. Support employee engagement in purpose: Encouraging employees to directly participate in causes they believe in strengthens internal culture and helps to attract and retain top talent. What's more is that happy and productive employees – who actively represent your business purpose and values – become effective brand ambassadors.
Snowboard and outdoor apparel company, Burton, is a powerful example of a brand supporting employees to get involved in a global movement by offering to pay for their travel expenses to the DC Women's March. The CEO was joined by about 30 of her team members. This example demonstrates that by bringing your internal community together you not only build a sense of meaning and service to higher good, but also make an external statement to society which can increase consumer loyalty and attract media attention.
In times of conflict and division, people are passionate about supporting the change they want to see in the world. Your brand can be an inspiration to employees, customers and consumers who will ultimately reward you with their goodwill, loyalty and purchases. That said, working towards a purpose-driven mission must be bigger than building your bottom-line alone. It must be an authentic commitment to your higher purpose and to leading a movement that creates measurable impact. Only then will all your brand stakeholders work with you to build your business for they will want you to succeed because of the positive difference you are making in the world.
Connect with We First!
Twitter:@WeFirstBranding
Facebook:WeFirst
LinkedIn:WeFirst
Youtube:WeFirstTV
Join our mailing list and invite Simon to speak at your next event or meeting.
Image via Flickr courtesy of user majunznkathttps://flic.kr/p/Rf2tGN.