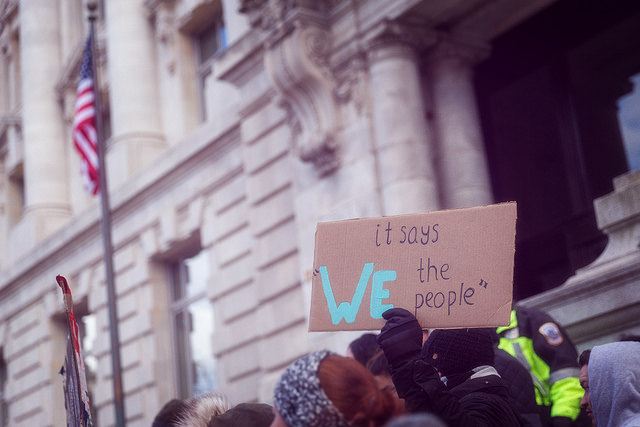 We First 5: 100% Human, Silent Homes, & 'A Day Without Immigrants'
Written By
February 21, 2017
1. Businesses Close Doors as Protesters Observe 'A Day Without Immigrants'
In response to our new administration's immigration agenda, immigrants across the US sought to demonstrate how much they contribute to the economy and workforce by calling for 'A Day Without Immigrants'. On Thursday, supporters acted in solidarity by abstaining from shopping and staying home from work. Some businesses showed support by closing for the day or donating proceeds to nonprofits that aid immigrants; others found themselves forced to close their doors for the day. It seems that the grassroots-efforts-turned-movements that have been sweeping the country can be expected to continue long after inauguration day.
2. 100% Human by Everlane
In today's political climate, brands are increasingly becoming advocates around issues that they and their consumer base care about. Everlane's 100% Human collection is a prime example of a timely, relevant and evocative campaign that appeals to the t-shirt statement-maker in all of us – each piece donating $5 to American Civil Liberties Union.
3. Sonos' Silent Home
Instead of addressing issues via the popularized one-for-one business model, Sonos is tapping into a latent, yet incredibly powerful, insight around modern living. Its latest campaign, Silent Home, explores the causes, conditions, and human realities of living in a space absent of music which, in turn, amplifies stress and the pressure of contemporary life – a problem that affects more than two-thirds of homes.
4. Date Night at…Burger King?
Amidst the heavy and heady social debates that have been dominating headlines, two brands came together to give a glimmer of relief by providing a moment of lightness. Coca-Cola and Burger King's Valentine's Day Cup gave true romantics "the solution to have a perfect Valentine's Day", debuting a plastic lid with not one, but two straw holes. With this holiday marketing innovation, love was in the air AND in the drive-thru.
5. Black History Month Highlight: W. E. B. Du Bois
This week, we are honoring one of the most important social thinkers and activists of the 20th century, W. E. B. Du Bois. Considered to be one of the prominent spokesmen for African-American rights, Du Bois co-founded the NAACP and published over 19 books that opposed ideas of racial inferiority and advocated for equal rights for women and African Americans. Today, we reflect on these words from Du Bois:
"The cost of liberty is less than the price of repression."
Connect with We First!
Twitter: @WeFirstBranding
Facebook: WeFirst
LinkedIn: WeFirst
Youtube: WeFirstTV
Join our mailing list and invite Simon to speak at your next event or meeting.
Title Image via Flickr courtesy of user Lorie Shaull at https://flic.kr/p/QX4Le4.