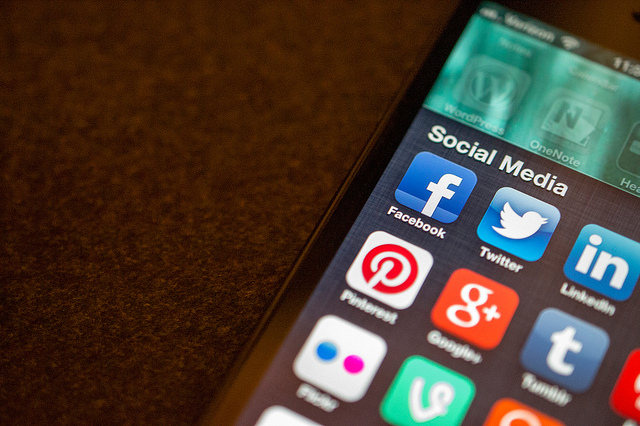 We First 5: Social Media, Science & 'Straya
Written By
January 28, 2017
1. Women's March on Washington
On January 21, 2017, men, women, and children across the globe – on all 7 continents – united in what became an historic act of solidarity to send a bold message to the new Presidential administration on their first day in office: women's rights are human rights and human rights are women's rights. The grassroots effort, conceived over Facebook on election night, called for women across the United States to join together in Washington DC to march. As this call to action gained momentum, activists all over the world began to organize 'Sister Marches' in their own cities, resulting in a movement that unified millions based on a series of shared principles ranging from reproductive rights to environmental justice. As a company born on idea of scaling social impact and actively trying to better the world, I am proud to share that the We First team — among an estimated 750,000 people in Downtown LA — marched together as a staff.
2. Environmental Crises Compound
After campaigning on pledges to dismantle the EPA and cancel funding towards environmental programs, the 45th President of the United States is making good on his promises. In his first week on the job, the Trump administration has frozen grants and funding for the EPA in a memo which also issued a gag-order on the government agency. In an act of defiance, dozens of 'rogue' Twitter accounts claiming to represent various federal agencies, such as NASA and Park Services, have begun pushing scientific facts and research out to the public. Their clever quips seek to keep Americans informed, despite being barred from speaking to press or public. As the renegade Parks Service account put it, "You can take our official twitter, but you'll never take our free time!".
3. We First Book Giveaway
We First took to Instagram to challenge its followers to 'pick with purpose'. Users were asked to tag a purposeful friend or colleague; selected at random, both tagger and taggee were entered to win a free copy of the We First book. Congratulations to our two lucky winners: @ABetterLifeforKids and @JenCiok. Happy reading to both of you!
4. Un-Social Media
Among various polls and data confirming that Americans are now more divided than ever, there is a more subjective source that many feel backs up the research: their Facebook Newsfeed. Over the last year, many North Americans have seen the platform being used more and more as a kind of 'cyber-soapbox', where the social, environmental, and political rhetoric turns to vitriol debates between family and friends. With the proliferation of fake news being spread across the platform only compounding the turmoil, many are choosing to 'unfriend' their loved ones, or delete their accounts altogether as a coping mechanism. As a result, research indicates that 2017 will see a decline in social media engagement. A sign of our times…
 5. 'Happy Australia Day, Mate!'
Thursday, January 26 was a very g'day in the We First office… (couldn't help myself). In celebration of our CEO & Founder's Australian roots, our staff partook in National Australia Day by indulging in lamingtons, a gratuitous display of kangaroo and wallaby photos, and a tone-deaf rendition of the Australian National Anthem by the one and only Simon Mainwaring. Check out some photos of our 'Straya celebration: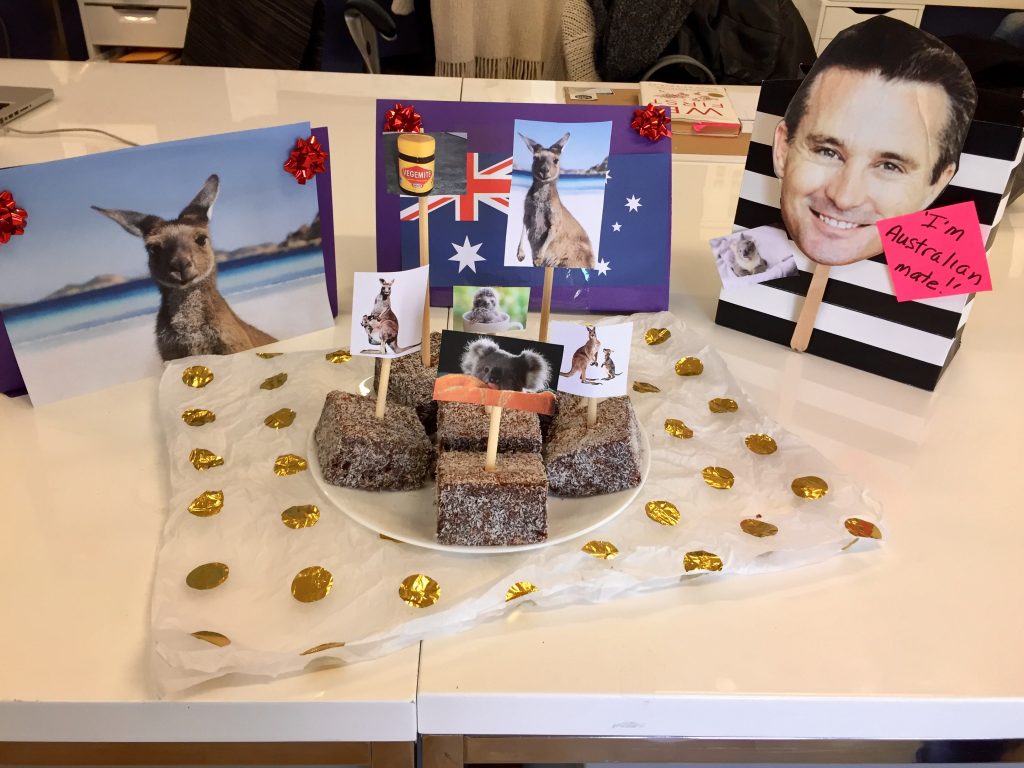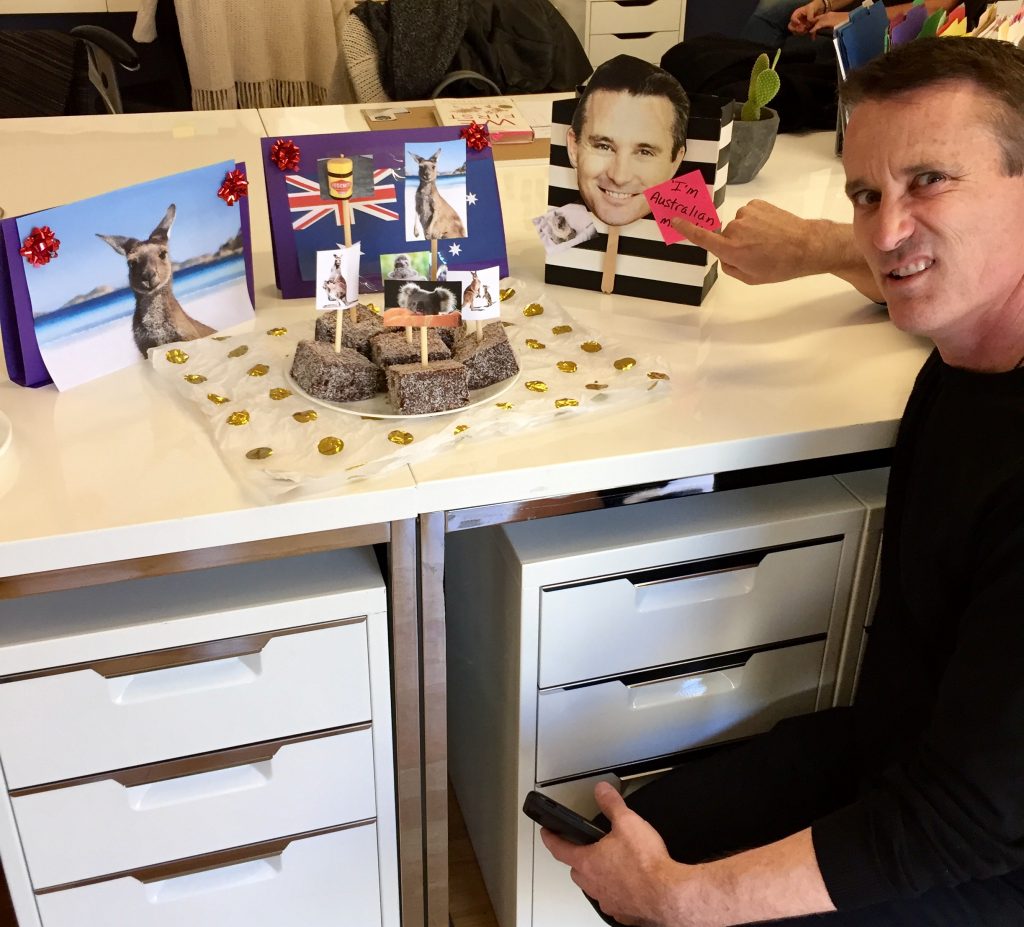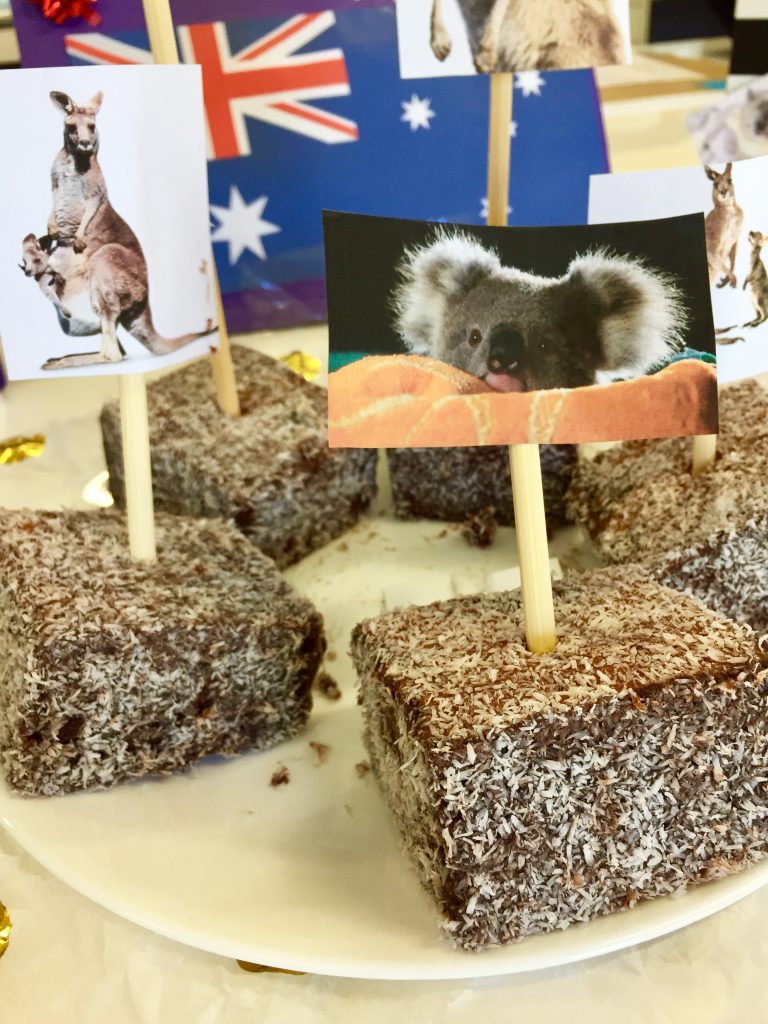 Connect with We First!
Twitter: @WeFirstBranding
Facebook: WeFirst
LinkedIn: WeFirst
Youtube: WeFirstTV
Join our mailing list and invite Simon to speak at your next event or meeting.
Title image via Flickr courtesy of user Jason Howie at https://flic.kr/p/e5wZ3t.