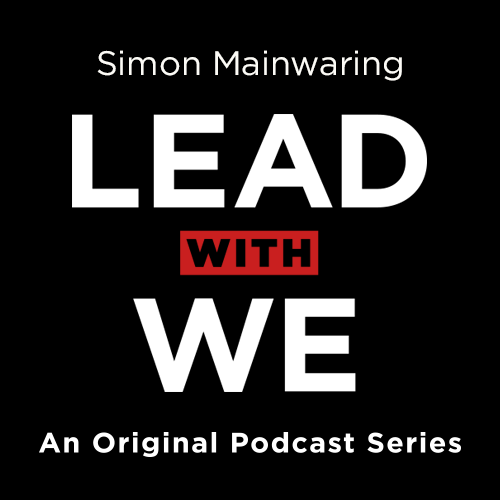 Lead With We: Our New Podcast That's Your Guide to Building a Purposeful and Profitable Brand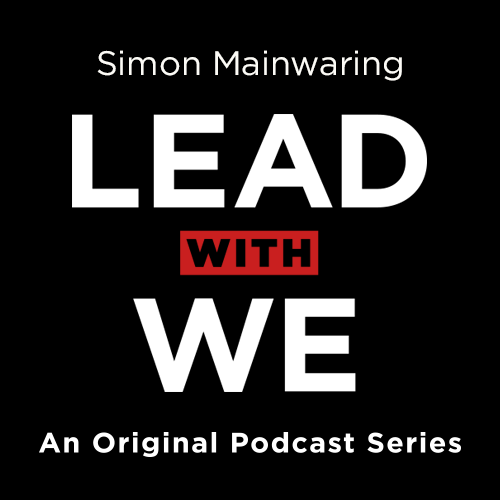 We First is excited to launch our new podcast, 'Lead With We.' Its purpose is to share with you the strategies, tactics and insights that ensure your brand not only survives in these challenging times, but thrives. 
Our guests will include CEOs, CMOs and founders of the smartest and most purposeful brands in the world. Plus we'll be sharing insights from our own work with the global corporations, high-growth companies and exciting startups – all of whom want to drive growth through purpose.
Each episode is hosted by our founder and CEO, Simon Mainwaring, an award winning branding expert, purpose thought leader and New York Times bestselling author of the book, We First. 
Listen every Tuesday for candid discussions about business and brand strategy, culture building, and impact storytelling that inspire everyone to build your business because your business benefits everyone. 
For the June 23rd launch, we're releasing two episodes. Episode One features Bob Lord, Chief Digital Officer and Senior VP of Cognitive Applications at IBM. Simon and Bob discuss everything from strategies for reopening business during COVID-19 to digital tools that enable collaboration and innovation. Touch points include:
How to reposition your brand so it thrives during the pandemic and beyond.

How crises can create marketplace opportunities.

How IBM's 'Call For Code' is catalyzing collaboration between the world's brightest coders and data scientists to tackle society's most challenging issues.

How recent 'Call For Code' award nominees like Safe Queue and the "Are You Well?" App are tackling coronavirus challenges.

How to drive innovation with open source technology.

How to foster human interactions in a digital world.
Episode Two features Amy Smith, Chief Strategy & Impact Officer at TOMS. Garnering wisdom from the brand's purposeful pioneer history, Smith sheds light on topics like:
How TOMS retooled its business strategy to have a greater impact.

Critical lessons on how to define your brand's purpose and mission.

How brands navigate politically sensitive issues like gun violence.

How TOMS builds a productive employee culture around purpose.

How TOMS is leveraging its Impact Platform to take on mental health issues around COVID-19.

How to stay authentic in the face of media criticism.

TOMS' strategy goals for scaling business and impact.

How you can join and build a movement.
This is just the beginning of a series of engaging discussions with the advance guard of business leaders reengineering capitalism by 'Leading with We.' 
Join Simon every Tuesday for the latest episode and be sure to share it with friends and peers so business can become a force for good.
Related News
Purpose At Work: How The Home Depot Is Empowering Everyone To Live Sustainably

Purpose At Work: How Huel Is Fighting Global Degradation, One Meal At A Time

Purpose At Work: Is One Small Company Trying To 'Eclipse' The Brightest Stars In The Dairy Industry?